For those that have been following me for a while (thank you) you know I like to write about Chesapeake Energy Corporation (NYSE:CHK). Having held the name on and off over the past few extremely turbulent and trying years, Chesapeake Energy Corporation always stays on my radar.
Recently, in light of CHK moving down and finding support around $5/share, I decided to buy back in. This is my thinking as to why Chesapeake Energy Corporation at $5 is worth taking a deeper look at.
Near term catalyst
One of the biggest catalysts quickly approaching Chesapeake Energy is divestment news out of the Mid-Continent region. Selling off assets to cut down on its debt burden (reducing annual interest expenses) and eliminate its onerous midstream agreements (bringing down GP&T expenses) is the core part of Chesapeake's bull thesis.
These endeavors require cash Chesapeake doesn't have, so divestments are the only option. Is this a great position to be in? Of course not, but it's the situation Chesapeake is currently facing and is already (to some degree or another) baked into its stock price. So any positive movement on the debt and midstream obligation front should have a favorable impact on CHK's stock price.
Chesapeake's management team has "multiple divestment packages" in mind regarding the firm's southern and eastern operations in the Mid-Continent. This could include acreage in Kingfisher, Canadian, Logan, Grady, Caddo, and Oklahoma counties.
Acreage in Kingfisher and Canadian counties, especially if prospective for core(-ish) parts of the Meramec, Oswego, or Woodford plays, could fetch a decent price. Depends on what is ultimately put up for sale, but it appears Chesapeake is going for at least a couple hundred million dollars in proceeds.
Midstream gains
Chesapeake is happy to tout that it brought its annual GP&T (gathering, processing, and transportation) costs down and decreased its commitments going forward by $6.7 billion versus 2014 levels. This process was made possible through renegotiations with third-parties, asset "sales" (see Barnett deal), and by paying cash upfront to eliminate obligations.
Most of this, expect for a few key renegotiations, required Chesapeake to put up cash to encourage other parties to take on or remove its midstream burden. Cash that was put to good use but ostensibly had to come from divestments.
However, Chesapeake's GP&T expenses (net of marketing, gathering, and compression revenues of $1.284 billion) still came in at $399 million in Q1. Stacked up against Chesapeake's Q1 net income of $75 million, it is clear bringing that down further could have a material impact on its financial performance.
For reference, Chesapeake (net of marketing, gathering, and compression revenues of $960 million) spent $464 million on GP&T in Q1 2016.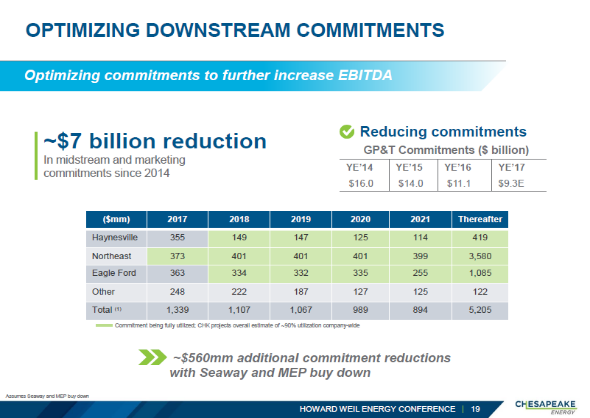 Source: Chesapeake Energy Corporation (March 2017)
Haynesville and Utica agreement
There is one key midstream renegotiation that investors interested in Chesapeake should definitely keep in mind as it will see the firm's GP&T expenses on a production-weighted basis fall further next year.
Chesapeake signed a deal with Williams Companies (NYSE:WMB) back in September 2015 to switch to a fixed-fee system in the Haynesville with reduced rates. Chesapeake's gas gathering fees are set to move ~$0.10/Mcf lower starting in 2018 on top of a $0.20/Mcf reduction back in January 2016.
In return, Chesapeake agreed "to turn 140 equivalent wells online before the end of 2017." Lower gathering rates combined with higher volumes better covering minimum volume commitments (lowering or eliminating Chesapeake's MVC fees) are why Chesapeake's 2018 GP&T commitments in the Haynesville are set to drop off in 2018 versus 2017.
The second half of this deal involved setting up a 250 MMcf/d MVC in the Utica and dedicating more acreage to Williams in return for reduced Haynesville pain and cheaper Utica midstream rates. Starting mid-2017 Chesapeake will have to meet that obligation, an easy task now that it has two rigs and frac crews operating in the Utica (management estimated it would take one rig to do so).
Other improvements on this front include Chesapeake reducing its Powder River Basin midstream expenses (starting this year), paying down more of its natural gas transportation obligations with "proceeds" from the Barnett sale, removing the massive Barnett headache, attempting to reduce its Eagle Ford midstream fees, and recently paying out $290 million to get rid of $450 million in crude transportation commitments regarding the Seaway Pipeline.
Debt update
In the past a lot of attention has been trained on whether or not Chesapeake could ride out low energy prices while dealing with its mountain of notes coming due in 2016-2018. Considering those maturities have been either paid off or effectively pushed back through refinancing, Chesapeake doesn't have to worry about bankruptcy for the time being.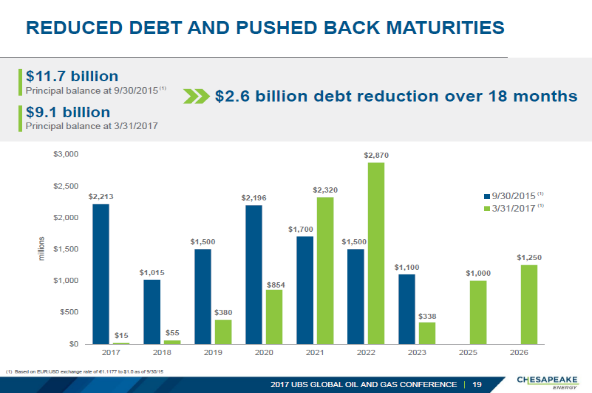 Source: Chesapeake Energy Corporation (May 24)
Chesapeake is currently issuing debt to buy back notes with nearer term maturities, but that is being done at a premium and usually the interest on the new notes are higher than the one's being bought back.
That will drive up Chesapeake's interest expenses and result in more cash being used than debt being retired. As open market purchases can't be done at the steep discounts seen a year earlier, only debt reduction through divestment proceeds will bring down Chesapeake's annual interest burden now.
Elusive cash flow neutrality big risk
One of the biggest downsides to Chesapeake is that its plan to restart production growth will cost the firm a lot of money. So much so that management pushed their free cash flow guidance back to 2019, from 2018 previously.
The argument is that the new wells Chesapeake is bringing online will have much stronger margins than its current portfolio due to well productivity improvements and cost reductions bringing down DD&A, LOE, GP&T, and other expenses on a BOE basis while revenue climbs higher.
Sure, but that doesn't mean the returns will be high enough to justify taking on more debt (the higher interest expenses from such a plan means these wells have to generate an ROR above 8% after-tax to offset that).
In a time when the market rewards fiscal discipline, not growth (unless the firm is a pure Permian player), it would be better to see management focus on cash flow neutrality or at least outline a more concrete strategy as to why higher capex spend is the right call.
Final thoughts
A significant divestment or series of divestments would help keep the momentum going. Chesapeake Energy Corporation needs divestment proceeds to reduce its debt burden and bring down GP&T expenses, it doesn't have the ability to do so any other way.
The bullish catalysts mentioned above act as a floor and make it easier to sleep at night while holding the name. While I see Chesapeake Energy Corporation riding out the storm my position is short term in nature due to the heavy influence energy prices have on its stock price. I don't see Henry Hub moving far above $3 and WTI's future is in limbo.
If WTI falls to $40, CHK will be dragged with it regardless of its performance (even though ~75% of its production is dry gas). That's why, until there is more certainty on the macro stage, I don't want to hold risky energy names for a long period of time. In the event CHK goes up to $6 I would very seriously consider taking profits, and if it falls back down to $5 (what I see as the rough floor for CHK based on its YTD performance), I would seriously consider buying back in.
To read about Chesapeake Energy Corporation's other big divestment/JV opportunity, another potentially major catalyst in the marking, check out its Powder River Basin ambitions.
Disclosure: I am/we are long CHK.
I wrote this article myself, and it expresses my own opinions. I am not receiving compensation for it (other than from Seeking Alpha). I have no business relationship with any company whose stock is mentioned in this article.