Almost three years ago, U.S. domestic production began its quick ascent to unprecedented levels, shocking the supply global crude oil supply picture. In 1986, the Energy Information Agency recorded domestic production just 60,000 barrels below the 9 million mark, a previous thirty-five year high that was easily broken by the burgeoning shale producers that emerged in 2014. Weekly supply estimates peaked two years ago when the EIA recorded production at 9.61 million barrels a day the week of June 6th, 2015. After lower prices pushed expensive operations out of the market, daily production fell. Prices drifted higher, and now, the market finds itself facing output levels above 9 million barrels a day once again. These fluctuations have caused major volatility in the oil futures markets, a factor that can weigh heavily on exploration and production firms. Three years later, the question for these firms and other commodity trading entity remains: when will the oil markets find its equilibrium?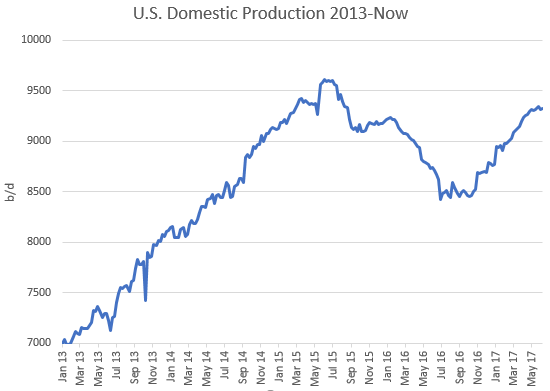 From EIA
With the supply and demand picture in flux, the price of light, sweet crude has been in flux since 2015 after falling from highs above $100 in 2014. Since then, deviations in pricing have become robust forcing market participants to manage hedging in disequilibrium. However, this phenomenon has become increasing less intense as the shock starts to loss its bite. According to standard deviations calculated for the halves of 2015-2017, the range of trading has continued to shrink entering the back half of 2017. In 2015, the standard deviation of the WTI spot price averaged a little over $5 with that peaking in the first half of 2016 at $7.26. Over the past year of trading though, volatility has been cut by more than half. This observation is interesting because fluctuations in U.S. production has been increasing.
| | | |
| --- | --- | --- |
| Standard Dev: | WTI Spot Price | U.S. Domestic Production |
| 2015 H1 | $5.48 | 146.5 b/d |
| 2015 H2 | $4.75 | 157.0 b/d |
| 2016 H1 | $7.26 | 195.3 b/d |
| 2016 H2 | $3.33 | 122.9 b/d |
| 2017 H1 | $2.57 | 151.9 b/d |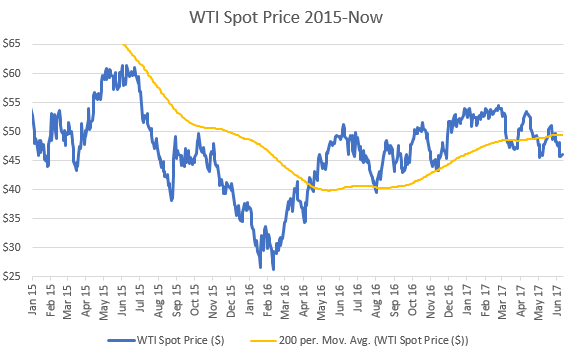 From EIA
If any equilibrium arises from a narrowing trading range, forecasters suggest that the lower for longer scenario is the most likely. In its most recent Short-Term Energy Outlook, the EIA forecasts WTI to average $51 a barrel and Brent to average $53 a barrel through the end of 2017. In the same report, they suggest production will flatten out to 9.3 million barrels a day in that same period. These projections are priced in at the higher range of the past 6 months but still imply that the market may be feeling for an equilibrium around that value. In 2018, the EIA sees a $3 increase in crude oil prices despite predictions of all-time high production at 10 million barrels a day. Based on shrinking volatility, the probability of an equilibrium being found is certainly higher.
Oil and gas majors have also suggested that an equilibrium state could be on the horizon through their words and actions in the last round of earnings reports. Here are some of a few highlights from Exxon-Mobil, BP, Shell, and Chevron:
· Exxon-Mobil (NYSE:XOM), at the end of 2017 Q1, chose to increase their dividend after earnings more than doubled sequentially. On top of that, management assured investors that Exxon would "remain focused on adding resources that are attractive in the current price environment." Based on these two observations (and the steep recover in XOM income), the company looks to be planning to thrive in this environment going forward perhaps intimating that they see an equilibrium at or near the current pricing landscape.
· Management at British Petroleum (NYSE:BP) made comments of their own during their 2017 Q1 conference call saying they "think things bode well for the North Sea going forward, especially as oil prices have firmed around $50 to $55 a barrel." In addition to the preceding comment, BP's management consistently refers to a $50 a barrel price point as a base case for their numbers suggesting they see this number as solid going forward.
· Royal Dutch Shell's (NYSE:RDS.A) earnings discussions have come in more bullish than the previous two as management cites a $60 base case in some of their projections. With this optimism, the company also voiced its desire to begin its buyback program as they see an increase in cash reserves as the market begins to stabilize.
· Chevron's (NYSE:CVX) management was less candid about where they saw oil prices, but in the call, they use $50 a barrel as a base case. In the Q&A, the hypothesis that "oil prices rise from $50 to $60 to $70" was mentioned which puts CVX's outlook in line with Shell's.
In the Organization of Petroleum Exporting Countries' latest monthly oil report, the commentary pointed out that the futures curve structure flattened even more in the past month. The 12-month spread (12th futures month - front futures month) shrunk from $1.50 in the WTI market and $1.49 in the Brent market to $0.65 and $0.85 respectively. This transformation suggests that investors see pricing getting narrower and could, perhaps, reach some kind of equilibrium. Citing a "technically oversold" market, OPEC sees benchmarks drifting to the low $50's, a level observed by the structure in the futures market. After finally deliberating on output controls and allowing them to settle in, member nations will be looking for a way to ease back into full capacity when an equilibrium emerges. A bullish process that may have already began as the cartel added 336 thousand b/d of production just last month.

From OPEC
Based on price movement, commentary from the EIA, actions of the largest oil and gas majors, and OPEC's latest observations, the argument for an equilibrium in the crude oil markets going into 2018 is strong. Every institution mentioned in the above analysis cited oil prices in the near future above $50 a barrel in both WTI and Brent. Some saw prices nearing $70 in the longer term (around 2020). With this in mind, investors should see some stabilization in capital expenditures in the energy sector after most of the industry slashed their budgets when prices fell. Additionally, earnings over the next three quarters through the end of the year will improve significantly, especially for mid-cap upstream firms that are craving an environment in equilibrium. The oil market route is just about over, and a "lower for longer" scenario looks to be the end game in both the U.S. and global markets.
Disclosure: I/we have no positions in any stocks mentioned, and no plans to initiate any positions within the next 72 hours.
I wrote this article myself, and it expresses my own opinions. I am not receiving compensation for it (other than from Seeking Alpha). I have no business relationship with any company whose stock is mentioned in this article.