The huge and loyal user base of Apple (NASDAQ:AAPL) put it in pole position to leverage on healthcare opportunities. Recent developments on diabetes emphasize this point. Apple's financial and intellectual muscle put it in a better position than Fitbit (NYSE:FIT) to take advantage of this. However, as my article in January pointed out, Fitbit should not be excluded completely from the equation.
The Big Picture.
Specific healthcare monitoring and applications are the logical next point of development from the fitness tracking revolution. Increasing health costs and an ageing population in the developed world make the opportunity ripe for digital healthcare. This can produce better healthcare at a lower cost at a time when society everywhere is grappling with healthcare costs.
For instance, diabetes is increasing rapidly. This is particularly so in the USA. Poor diets and affluence have combined with a more sedentary lifestyle to see the incidence of the disease shoot up. Something as simple as a Fitbit fitness tracker helps a bit, as it encourages people to walk. Fast medical and diagnostic information will lead to some losers, such as healthcare providers, but will benefit individuals and society in general.
Much of this will be done through downloadable apps, which obviously benefits Apple. Indeed the FDA approved 36 health apps and devices last year. China is seeing big investments in digital healthcare. Telemedicine, in which patients interact with their doctors on the phone, is increasing rapidly. IHS Market predicts there will be 5.4 million mobile consultations in the USA alone by 2020.
This new marketplace is seeing quite a lot of unicorn start-ups. The big boys of Google (NASDAQ:GOOG) (NASDAQ:GOOGL) and Amazon (NASDAQ:AMZN) have various initiatives in place. Apple with their approximately 700 million user base and Fitbit with their 63 million device user base may be best positioned though. They can be what links the disparate elements of medical device companies, IT/AI smart mobile companies, and healthcare providers.
Diabetes.
There are estimated to be 80 million Americans whose blood sugar level makes them officially "pre-diabetic." That is, there are 80 million Americans who, if they were smart, would wear something like a Fitbit to monitor their blood sugar levels. Fitbit is working with Medtronic (NYSE:MDT) on continuous glucose monitoring.
Apple is working on a diabetes initiative that monitors glucose using optical sensors rather than finger sticks. As a sign of the kind of time-line involved, Apple is said to have been working on this for 5 years already. Tim Cook recently indicated he was trialing this right now on his Apple Watch. As part of its "Care Kit" program, the company has created the "one drop" app for managing blood sugar levels.
Google has an initiative whereby such monitoring would be done through a smart contact lens.
Other specific medical conditions on which the companies are thought to be focusing include kidney trouble and epilepsy seizures.
Electronic Health Records.
A separate but related market is for electronic health records, what is commonly termed "Health Information Technology." There are quite a few small companies in this space. One that was much touted a couple of years ago was Allscripts Healthcare Solutions (NASDAQ:MDRX). Profitability, and as a result its stock price, have not been what many analysts had predicted.
Different countries are adopting such measures at a different pace. In Denmark, for instance, it is commonplace for patient care regimes to be recorded digitally and for prescriptions to be sent electronically.
Companies in the space need to overcome the problems of costs of digitization and lack of operability between different parties. Portability of patient records is legislated through the U.S. Health Insurance Portability & Accountability Act of 1996.
Apple has plans to overcome these problems through its expertise in encryption and to access securely through TouchID. Recent reports indicate this would be done through Apple's "CareKit." One big advantage, again, for Apple is the existing wide use of Apple software and hardware in the health industry. The platform is already there.
Security and confidentiality of patient records is a fraught business. This has been shown by the case initiated last week in U.S. courts against Uber. A woman who was raped in an Uber cab in India claims Uber got hold of her medical records illegally.
Apple.
The company already has almost everything in place to ride the boom of the new mobile health paradigm. No other company is remotely as well placed.
Its "HealthKit" is developing from collecting tracking fitness data to providing software that can interpret data and use that data to advise doctors on treatment. It aims long term to improve the diagnostic process. This would be done through improving interoperabilty of information between hospitals, and through providing analysis for better and more rapid diagnosis.
Its open-source "Research Kit" provides apps for medical researchers. An open source framework allows for huge medical study groups. Much interesting research has already been achieved through this means in studies of Parkinson's Disease and Autism, for example.
Its open source "CareKit" allows one to manage one's own health. This is proving especially beneficial in regards to post-surgical care and the management of chronic conditions.
Apple has its huge user base and almost unlimited funds. These were exemplified by its purchase in May of Beddit, a sleep tracking hardware and software company. This links to HealthKit through the iPhone. They were also evidenced by the story that the company has recruited 200 PhDs in the past year specifically for its healthcare applications.
Apple can hoover up small companies in the field as and when they feel like it. They seem well down the road in many future healthcare applications. For instance, a recent independent study by the University of California, San Francisco, showed the Apple SmartWatch was 97% effective in warning of atrial fibrillation, a heart condition that can lead to strokes.
Their future does hold some difficulties though.
Their reliance on connecting only through the AppleWatch is seen as a negative by many. It is expected that Apple may change this in the next iteration, Apple Watch 3.
Developments such as Amazon's "Alexa" using 3rd party hardware in health activities are also a challenge.
An interesting recent survey by Piper Jaffray reckoned that 71% of young people saw Fitbit as the best fitness band. Only 10% thought Apple, though of course the Apple Watch is much more than a fitness band.
What should not be ignored though is the huge success of the AppleWatch so far. Those Apple bears who try to say the Apple Watch has not been a success are just incorrect. The research below from Canalys for 2016 shows this: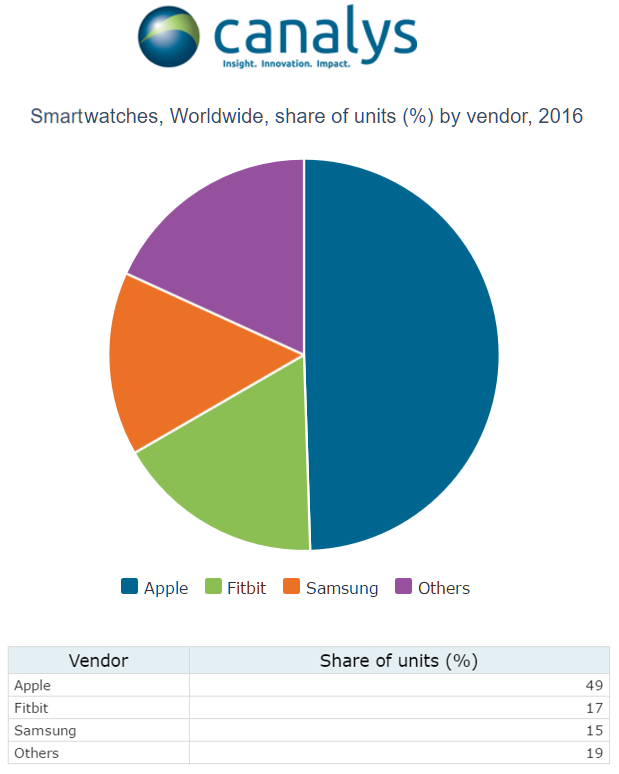 That research by Canalys puts the Apple Watch market share at 49%. Other research for Q1 2017 has put the share at 57%. Other research by IDC has recently seen an increase in high-end premium products in the wearables fitness band market. If true, that definitely benefits Apple.
This just goes to show the great platform Apple has created to launch healthcare solutions in conjunction with its market-dominating iPhone and Apple Watch products.
Apple doubters are always bemoaning the arrival of the "next big thing" for the company. The truth is there is a long spiral of "next big things" on which Apple is working through its huge user base. Healthcare is up towards the top of potential revenue generators for this.
Fitbit.
Fitbit exemplifies Clayton Christensen's often quoted theory of disruptive innovation. This is where tech companies see previously under-appreciated markets and move to reach those markets through innovation. However, such companies don't always come out the winners: think of Netscape.
The company's problems in 2016 have been well documented. Q1 2017 results showed sales of 3 million devices. That figure, according to research company IDC, puts Fitbit behind Apple and Xiaomi in the "smart wearables" market. Others do disagree with that positioning.
At least the Q1 2017 results saw some improvement. This was especially so in the areas of free cash flow (US$21 million) and revenue per device. The latter figure is charted below: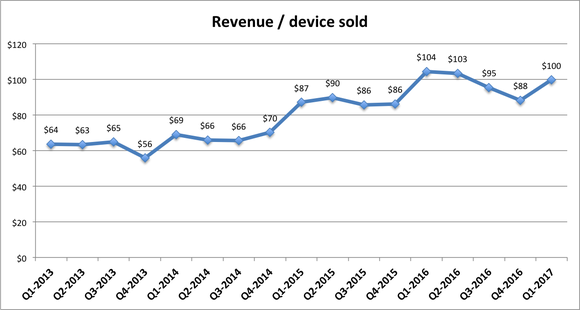 This figure is crucial as the company tries to move into a higher value arena, which includes its much-touted new smartwatch. At the Q1 2017 earnings call, Fitbit's CEO reckoned it would double their addressable market. Premium subscription services are also seen as enhancing this metric. The company has two key divisions: "Consumer Health & Fitness" and "Enterprise Health." Their best opportunity lies in leveraging the latter on the former.
The level of market share of Fitbit depends on one's definition of terminology. If one talks of "wearables" then Fitbit is almost certainly the world market leader, as per the graph below: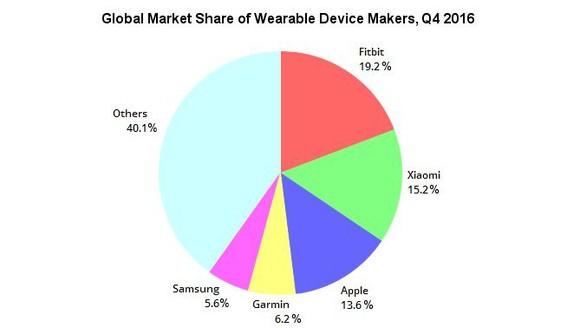 Management got re-organized after a series of missteps. These have included a lack of marketing resources in the huge overseas markets, such as Asia where their sales actually declined. This was against all macro trends. The wearables market in China alone is estimated to be approaching US$1.1 billion in value. Europe is also a market with huge potential, which the company has been slow to penetrate effectively. The lack of an App Store is a major disadvantage. This should be rectified in time through their take-over of Pebble last year.
Health rather than pure fitness should be the crux of their future marketing. My previous article gave details of their initiatives in these areas. Their success or not will be crucial to the future health of the company.
New products seem to have overcome the important area of the ability to measure calorie burn in non-step activity, and improved heart rate monitoring in general. Much may depend upon the timing and utility of its new smartwatch.
The fierceness of the wearables market is illustrated by withdrawal from it of the financially troubled Jawbone. It is relevant that they have decided, or so it reported, to focus on the medical market. Garmin Ltd (NASDAQ:GRMN) is another fierce competitor.
Fitbit could well be a takeover target in my view. Its large user base, brand recognition, and depressed stock price make it attractive. Under Armour (NYSE:UA) and perhaps even Nike (NYSE:NKE) spring to mind. In fact, Apple would in many ways be an ideal company to absorb Fitbit. That is highly unlikely though.
Fitbit's enterprise value of US$430 million as compared to its (depressed) Market Cap of US$1.2 billion also favors this idea, and emphasizes the large amount of cash on its balance sheet.
Q1 2017 results showed why it might be attractive:
Low market cap of US$1.3 billion (since reduced further).
Total assets of US$1.82 billion.
Liabilities of US$821 million.
Cash of US$706 million.
Accounts receivable of US$477 million.
Essential valuation metrics are good at a time when the stock price is close to 52-week lows.
For instance:
Price/Tangible Book = 1.30 (S & P 500 average = 3.16).
Price/Sales = 0.59 (S & P Average 2.09).
Negative perceptions are illustrated by short interest at 16%. Net cash per share of over US$3.00 shows to me that its valuation is well supported.
Conclusion.
There is little doubt that the prevalence of wearables will increase. BI Intelligence have estimated as per the graph below: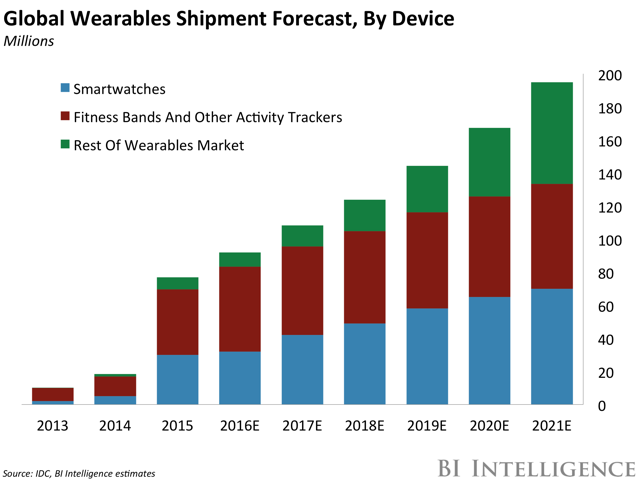 Digital medical applications will not mushroom overnight. There are regulatory and security issues to overcome, especially FDA approval. These are in addition to technological hurdles. Long term there is little doubt though. Global Market Insights has predicted that the digital health market will be worth US$379 billion by 2024.
86% of healthcare spending in the USA is from chronic diseases. These are the diseases that life-style choices by the individual can most improve. They are the conditions that fitness trackers and smartwatches can monitor most effectively.
For Apple mobile health will almost certainly be a substantial long-term revenue driver. Analysts have under-estimated the growth potential for Apple in this field. For Fitbit, there are undoubtedly opportunities but the uncertainties are of course a lot greater and depend upon improved Management performance.
Disclosure: I am/we are long AAPL.
I wrote this article myself, and it expresses my own opinions. I am not receiving compensation for it (other than from Seeking Alpha). I have no business relationship with any company whose stock is mentioned in this article.