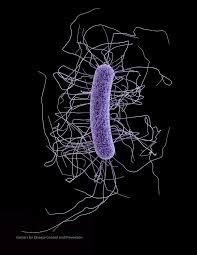 C.difficile bacteria Source CDC
The field of microbiomics involves using gut microbes to treat human disease. Seres Therapeutics (NASDAQ:MCRB) continues to break new ground in advancing microbiomic products into the clinic. While primitive approaches involve fecal transplants, Seres' approach is to prepare an appropriate cocktail of bacteria and deliver them by mouth in a capsule. Here I report on the status of a Phase 3 trial involving SER-109 for treating recurrent C.difficile infection (NYSE:CDI) and a Phase 1b trial involving use of SER-287 to treat mild-moderate Ulcerative Colitis (UC). These trials reinforce Seres' leading position in clinical application of microbiomics and suggest that FDA approval for treating CDI is coming into view. In addition to discussing progress with SER-109 and SER-287, I summarize key points from the webcast with CEO Roger Pomerantz concerning the Seres presentation at the Goldman Sachs 38th Annual Global Healthcare Conference last week.
I've written about Seres previously and readers are referred to these articles here, here and here for background information about Seres and the nature of its emerging products.
Microbiomics represent a new paradigm in healthcare and CEO Roger Pomerantz indicated that one might think about this area in a similar way to the development of monoclonal antibody drugs, which had some teething problems but today have a major place in human therapy. Roger Pomerantz indicated that Seres is very early in the microbiomics space and the SER-109 teething problems are just that. He made clear that while the initial therapeutic applications are in CDI and UC, the treatment area is much bigger. He sees the microbiome as being critical for autoimmunity and so microbiomic drugs have potential for many areas of treatment, including impacting on the very hot area of checkpoint inhibitors. Beyond gut disease, he sees application in obesity and diabetes, as well as various liver diseases. The science behind these claims seems very solid. He likes to position Seres as the AMGEN (NASDAQ:AMGN) or Genentech (OTCQX:RHHBY) of the microbiome space, and this might help some investors to get a sense of this opportunity.
Recent news involves Seres getting closer to product approval with their SER-109 "drug" for treating recurrent CDI, and Seres entering the clinic for the first time to treat chronic inflammatory disease Ulcerative Colitis (UC). If the SER-109 trial is successful, this will transform the risk profile for microbiomic products, while a successful Phase 1b trial for SER-287 will show application of microbiomic products in the difficult area of chronic inflammatory disease.
SER-109 ECOSPORE III Phase 3 trial for recurrent CDI
I've discussed preparation for this trial (ECOSPORE III) after earlier successful Phase 1 and unsuccessful Phase 2 trials elsewhere. When I reported on good progress in discussion with the FDA at the end of March, ECOSPORE III was planned as a large Phase 2 trial. In last week's news the trial is still planned to involve ~320 patients in a randomized SER-109 versus placebo trial, but importantly the trial is now designated as a Phase 3 trial. Even more noteworthy is that the trial is pivotal and, if successful, could lead to registration and FDA approval of SER-109 for treating patients with multiply recurring CDI. Remember that CDI is a big problem in hospitals and aged care facilities and recurrence is a major issue. CDI is not only unpleasant and debilitating. It is also life threatening. The cost of CDI just in acute-care facilities in the US in 2008 was $4.8 billion and was substantially more in long term care facilities. The number of patients with recurring CDI is not huge (~100,000 in the US), but the cost of each patient to the US healthcare system is ~$50,000. So this remains a huge and costly problem, especially because it recurs. This is the market that SER-109 addresses and Seres sees that the pricing for this drug will be attractive, while not requiring a huge sales force to service it (perhaps 100 or less reps in the US & Canada).
Enrolment completed for SER-287 phase 1b trial for patients suffering mild-moderate UC
SER-287 is the first microbiome therapeutic candidate to reach the clinic for a chronic inflammatory disease and the first indication outside of treatment of an infectious disease. Like SER-109, SER-287 is a first generation microbiomic product, which is prepared by processing healthy stool samples.
Enrolment has been completed for a Phase 1b study involving 58 patients with mild-moderate UC and who are failing current therapies. It is important to note that SER-287 does not involve immunosuppressive treatment. The primary outcomes of the study are to assess safety and tolerability and change in the microbiome of treated patients at up to 8 weeks after dosing. The 8 week trial involves varying the dosage from once/day to once/week dosing. There will also be clinical and endoscopy results reported from this Phase 1b trial. Initial results will be available by the end of this year.
Valuation
The valuation of Seres suffered a major setback when the smooth ride of its pioneering microbiomic product development in the clinic encountered a setback in July last year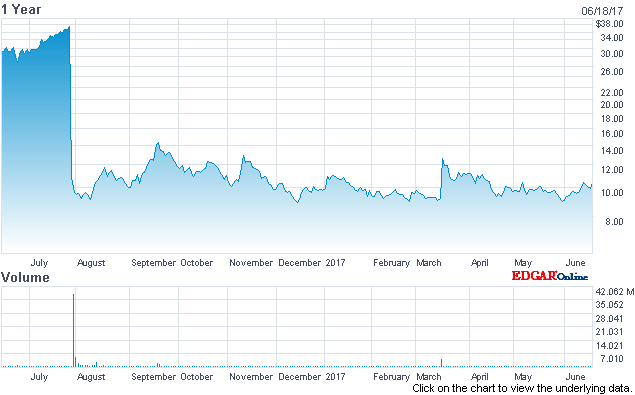 Seres Therapeutics 12 month share price chart. Source NASDAQ
The 12 month chart for Seres says it all, with share price crashing from $35.77 on 28 July to $10.94 the following day, with 38,238,220 shares traded. Since that time MCRB has traded in the range $8.99 to $14.36. Having traded below $10 for the past month, the last 5 days of trading have resulted in a share price above $10. Clearly investors remain nervous about Seres, but the recent announcements provide some hope that things might be turning around.
Clearly a revaluation of Seres depends on success with the ECOSPORE Phase III trial as this will signal FDA approval and access to a billion dollar market.
Finances
It is always good to get a $20 million milestone payment (from Nestle Health Science for entering a Phase III trial on CDI using SER-109), but this was not critical as Seres is well financed. The Q1 financial reporting indicates that Seres cash burn is ~$25 million/qtr and it had ~$190 million in cash and investments.
At least as important as the milestone payment is the fact that this signals acceleration with Nestle and discussions with European regulatory agencies, to develop a path to product approval for SER-109 for recurrent CDI in Europe.
It is worth remembering the benefits of the Nestle deal are not only financial ($120 million upfront, $20 million milestone payment last week) but also there is huge value in Nestle Healthcare's deep knowledge of gastrointestinal issues and big salesforce not only in Europe but elsewhere around the world. Note that the microbiome of European and US people seems to be quite similar, so Seres expects to be able to use the same source material for preparation of SER-109 to serve the US and European markets.
Risks
The two developments reported here represent significant de-risking of Seres' business, in that the SER-109 trial, if successful, will lead to registration and FDA approval. Likewise the SER-287 entry into the clinic represents reality with a new and huge market for microbiomic products in the area of chronic inflammatory disease. So this is good news, but there is still substantial risk, which goes with the territory of breaking new ground in biotech.
Being well financed, the risk for Seres is in further hiccups along the way to approval of its first product. While CEO Roger Pomerantz is confident and the company has made major progress in understanding their product, there could still be further twists and turns yet before SER-109 gets approved.
Conclusion
Seres sits at the front of a new class of biotech products based on the thesis that the health of our gut flora directly impacts on own health, and changing the gut flora will be an effective treatment for some hard-to-treat diseases. When Seres gets its first product approved, the market capitalisation will be substantially more than the current $418 million. The question is whether the current ECOSPORE III trial on CDI will go smoothly or whether there will be further setbacks.
Conservative investors probably would not be comfortable with being at the front of such revolutionary products, but some investors might find the risk/reward interesting at this time. Talk with your financial advisor if you have such interest.
I am not a financial advisor and so you need to do your own due diligence or talk with a financial advisor. I do have a significant technical background in biotech and offer my commentary to help provide perspective for investors. If my commentary is helpful, please consider following me.
Disclosure: I/we have no positions in any stocks mentioned, and no plans to initiate any positions within the next 72 hours.
I wrote this article myself, and it expresses my own opinions. I am not receiving compensation for it (other than from Seeking Alpha). I have no business relationship with any company whose stock is mentioned in this article.