Range Resources (NYSE:RRC) is an interesting long-term pick at current price levels. Natural gas fundamentals are going to improve in the next few months and the recent price action has taken this into an oversold territory. It is true that natural gas prices have been under pressure, but the fall in stock price for Range Resources has been far more brutal. The stock has lost more than 50% in the last year while natural gas prices have pulled back slightly over the last few months. MRD acquisition brings it geographic diversification and its operational efficiency is a key factor that will allow it to grow profitability as the natural gas fundamentals start to improve.
Fundamentals for Range Resources are not too strong at the moment. Record low prices at the start of the year and addition of debt has weakened its credit profile slightly. However, as the natural gas prices improve, its credit metrics should come back to normal.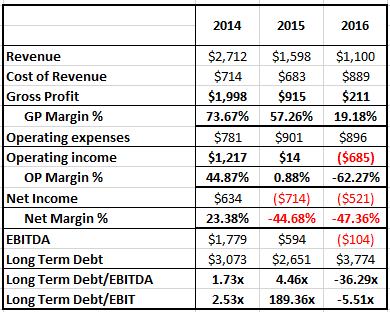 Data sourced from SEC filings and Morningstar
Historically, Range Resources have had efficient operations and a strong gross margin. However, as the revenues have fallen, the operational efficiency and gross margin have taken a hit. Over the last three years, GP margin has come down to 19% from 73%. However, I am expecting it to be an anomaly and revert back to the normal range of over 60%. Natural gas and NGL prices are expected to rebound as US LNG and natural gas exports rise along with the changes in weather. Summer months is a typically low consumption period for natural gas despite it being used for power generation. Also, the company has a solid control over the proved reserves and can accelerate the future exploration pace.
Operating expense are adjusted for the impairments and other expenses. This is a practice that I follow for my financial analysis of these companies and only include the expense that arise from the core operations of the business. Due to the low commodity prices and the acquisition, there were substantial non-core expenses that needed adjusting in order to have pure operating margin. The fall in revenues has been mirrored in the operating margin even after adjusting for these expenses. For 2016, Range Resources had operating losses on adjusted basis as well.
EBITDA figure has also become negative in 2016 which makes the leverage ratios irrelevant. However, even taking an average of its historical EBITDA, leverage ratio will be between 3.5-4.5x, which is quite high. There was an increase of more than $1.1 billion in long-term debt from 2015 to 2016. Increase in debt, however, is not all bad for the company. In the last two years, Range Resources has also tried to push back maturities for its debt and the company has achieved success in this strategy. At the moment, none of the notes outstanding mature before 2021.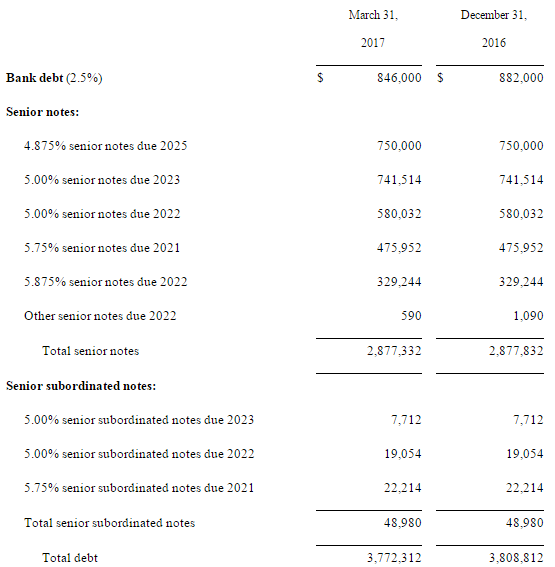 A look at the table above shows that the company has a lot of breathing room for future investments as it does not have any major debt repayments for at least two more years. Its bank credit facility, which is termed as bank debt above, will mature in October 2019. However, bank credit facilities are normally renewable as these are the auxiliary sources of liquidity. RRC's bank facility has a limit of $4 billion. I am expecting the company to renew this facility at its maturity and we might not see a negative change in its liquidity. Having debt maturities so far in the future gives a lot of room to the management to allocate more funds towards capital projects.
Natural gas prices have gone below $3. Lower than expected increase in the US inventory again pushed the prices higher, but I expect the prices to remain lower in the short-term due to the milder weather conditions. Range Resources has a strong asset base and a short-cycle drilling inventory which allows the company to have efficient operations and keep the costs under control. As natural gas prices recover, the stock price will start to move higher. I believe it is at its bottom. The company does not have any major obligations to pay in the next four years. Range Resources should certainly be considered. It is a risk worth taking. There is considerable upside for the patient investor willing to accept some risk.
Disclosure: I/we have no positions in any stocks mentioned, and no plans to initiate any positions within the next 72 hours.
I wrote this article myself, and it expresses my own opinions. I am not receiving compensation for it (other than from Seeking Alpha). I have no business relationship with any company whose stock is mentioned in this article.