Over the weekend, I've read this fantastic article that presents five charts that show glaring resemblance between the 7-8 years that precede both 2017 and 1999.
We all know how the 90s ended up and although I'm not a big believer in such resemblances between two periods, this article reminded me that credits (bonds) are a much better bellwether than equities (stocks).
I've decided to take a closer look at the most recent two major crashes while trying to figure out what we can learn out of those. On the one hand, we have equities - represented by the S&P 500 (NYSEARCA:SPY) - and on the other hand, we have credits - represented by the US Treasury 10-Year Yield ("UST10Y" (NYSEARCA:UST))
First, we have the tech bubble burst that started unfolding in September 2000 and lasted into 2001. Here's a view of the how the two gauges have performed throughout a 24-month period that covers this burst from 1/1/2000 to 12/31/2001: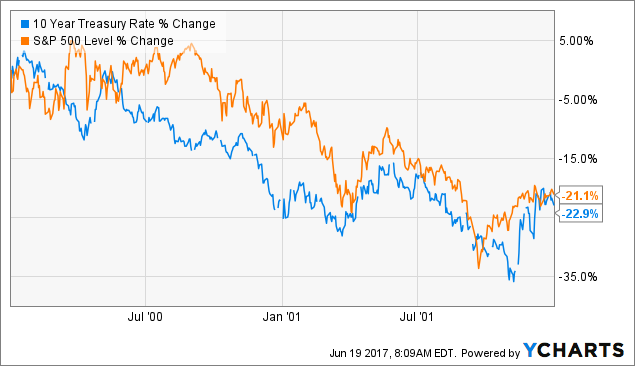 The UST10Y has clearly started to crack down, not only earlier but also in a more meaningful way than the S&P 500.
Interestingly, the UST10Y went down (percentage wise) even more than the S&P 500 did and the latter started recovering earlier than the former.
A few years later, we had the sub-prime crisis that started unfolding at the end of 2007 - beginning of 2008 and lasted till March 2009. Here's a view of the how the two gauges have performed throughout a 24-month period that covers this crisis from 7/1/2007 to 6/30/2009: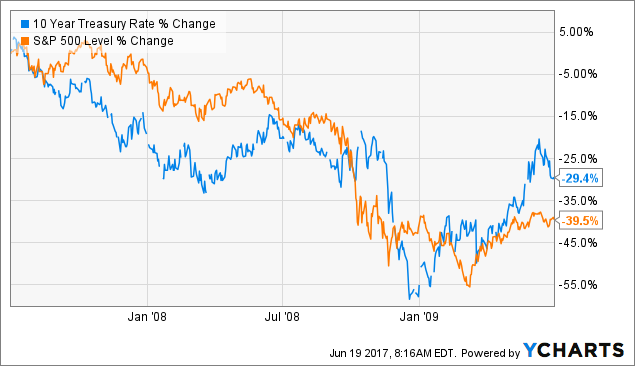 Once again, it's clear that the UST10Y started cracking down earlier and more meaningfully than the S&P 500. Although following the Bear Stearns and Lehman Brothers collapses equities went down dramatically, outpacing credits, it didn't take long for the UST10Y to catch up with the S&P 500 and, just as the chart shows, digging a deeper hole towards the end of 2008.
Once again, the UST10T recovery started about 2-3 months earlier than the S&P 500 recovery, providing another evidence for credits being a better seismograph than equities.
Finally, let's take a look at 2017. Although we are less than six months into the year, the divergence between the S&P 500 to the UST10Y is nothing short of stunning: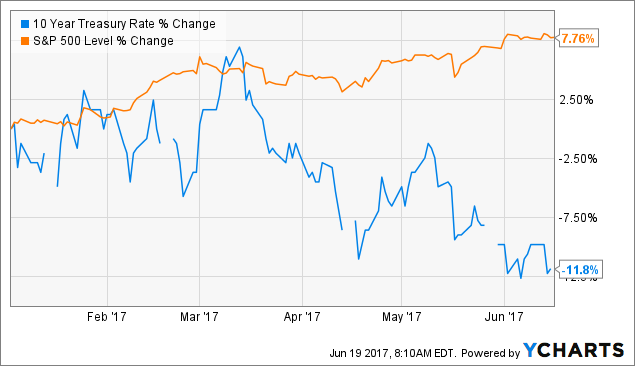 Although I'm fully aware that "past performance is no indication of future results," I also know that history tends to repeat itself; that's especially true when it comes to bubbles.
As far as I am concerned, we now have two bubbles that are running simultaneously. One bubble is involving equities (SPY, QQQ) that got way ahead of themselves. The other bubble is involving credits - both investment-grade ("IG") rated debts (AGG, LQD) but mostly high-yield ("HY") bonds (HYG, JNK).
In the most simplistic way, allow me to put all the above-mentioned, together with oil prices (NYSEARCA:USO), into one chart that runs from 1/1/2008 to 6/30/2009: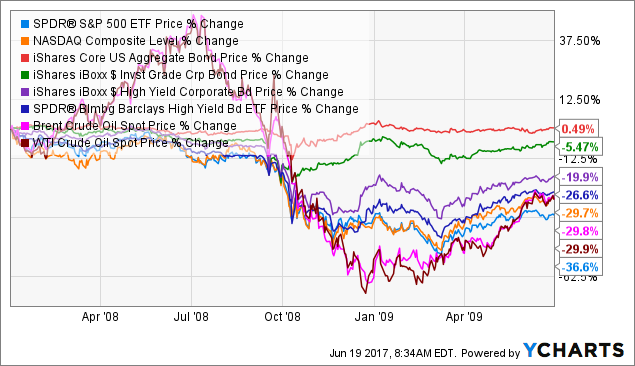 Few points I wish to make:
1. Oil prices lost more than 50% during the avalanche of 2008-2009. They also lost more than 50% since their 2014 peak.
2. HY bonds lost more than 20% alongside oil prices because there's a very high correlation between these two. Guess what? Since 2009 the energy sector weighting in the HY credits space has gone up massively, i.e. the correlation "supposes" to be higher. Nonetheless, HY spreads are at record lows. Go figure....
3. IG bonds were resilient all along the way - as they are supposed to be. Investors are buying IG bonds while seeking safety and protection against and during times of turmoil. Does the fact that investors are now long US treasuries more than anytime since 2009 mean anything to anyone?
4. Look at the UST10Y versus the S&P 500 back then versus now. In both 2000 and 2008, the gap between the duo has not been higher than the gap we're witnessing right now.
Something gotta give - and historically those are credits that proved themselves to be a much better and more accurate bellwether than equities.
"The market can remain irrational longer than you can remain solvent"
In spite of the famous saying, I believe that when credits speak out so loud - it's better for one (cautious investors as I am) to be sticking to its guns because history does tend to repeat itself - and fundamentals more so!
Disclosure: I/we have no positions in any stocks mentioned, and no plans to initiate any positions within the next 72 hours.
I wrote this article myself, and it expresses my own opinions. I am not receiving compensation for it (other than from Seeking Alpha). I have no business relationship with any company whose stock is mentioned in this article.
Additional disclosure: I am / we are SHORT out of the money CALL options on the SPY