Introduction

I have written about High Arctic Energy Services (OTCPK:HGHAF) several times in the past, so feel free to review one of my older articles for a more thorough understanding of the company. High Arctic's shares have been under pressure due to a combination of a lower oil price, and a lack of contract renewals for four rigs that are set to expire in June and July this year. I will discuss why I believe both contracts will be renewed, and what this will mean for the company going forward. I will also discuss the results of their Q4 and Q1 results in light of my earlier predictions. I will also discuss acquisition opportunities, as it is very likely that High Arctic will make another move this year. Finally, I will offer my estimate for High Arctic's Q2 2017 results, in light of the available information. Overall, High Arctic appears to be undervalued at the current trading price, with minimal risks.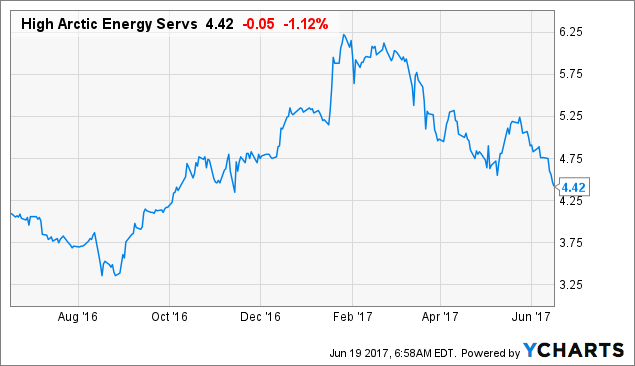 Previous Article
In my last article, I discussed a number of operational changes and anticipated another Q4 earnings beat of $8.5 million and EBITDA of $20 million, which was higher than the analyst average of $7 million in earnings; the results came in at $8.4 million in adjusted earnings and $18.3 million for EBITDA. While my predictions for their Canadian operations were almost spot on, the drilling/PNG revenue was lower than I thought. This was offset by higher day rates and utilization in the well-servicing division, which brought the total to fairly close to what I had originally predicted. I have included a summary of the Q4 2016 results here.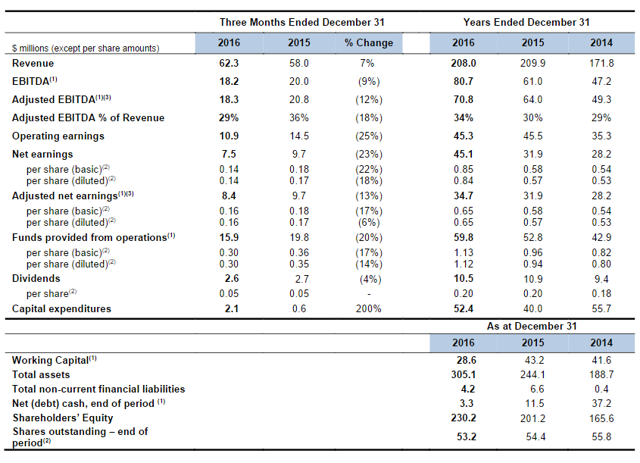 Rig Updates
Rig 115 & 116
Both of these rigs were purchased in 2015 and rig 115 has been working fairly consistently over the last two years. The contract is due to expire in June 2017, and unfortunately the rig was stacked in early Q2 and will remain stacked until the expiration of their contract. Rig 115 was active throughout the quarter; however, will generate only standby fees for Q2 due to being demobilized and stacked. Rig 116 has remained on standby and will continue to receive standby rates.
Rig 103 & 104
Rig 103 and 104 are leased from Oil Search Limited and have been operated by High Arctic Energy for several years now, with three previous contract renewals.
Rig 103 was deactivated in Q1 after drilling in January, and remains on standby, but is likely to be remobilized this year. This was responsible for the majority of the reduction in PNG drilling revenue compared to last year. Rig 103 was stacked in the Kiunga region to minimize costs and is located near the next planned drilling assignment. Rig 104 was active throughout the quarter and generated full revenue for the quarter.
Drilling Revenue
As we can see from the activity reports, the lower drilling revenue was mostly attributed to 103 being stacked at the end of January, thus producing a decline relative to last year. With only 104 being active in Q2, I anticipate drilling revenue will be significantly lower than comparable quarters. We can anticipate very high margins for this sector; however, revenue and EBITDA will be materially affected. I believe that revenue from drilling could fall below $25 million for the quarter, which is a significant decline; offsetting much of this, however, will be much lower expenses. Margins should be higher and overall profit should be lower.

Contract Renewals
103 and 104
The contract renewals for 103 and 104 have been a big question mark on the company for several months now, with contract extensions pushing forward their original 2013 contract up until July 2017. Now that Exxon (NYSE:XOM) /InterOil (NYSE:IOC) merger has finally been settled, management is confident that negotiations will proceed quicker than they have in the past. High Arctic's strong relationship with Oil Search Limited (OSL), compounded with the lack of competition in the area, extremely high relocation costs, the unique and high equipment costs required (heleportable rigs) and a less 'desperate' environment for contract drillers make the likelihood for a contract renewal very high. I see it as very likely that they will renew the contract, however, the margins will be much more comparable to international peers, and they will not likely maintain the very healthy profit margins they have done over the last couple of years.
115 and 116
Thomas Alford (High Arctic's CEO) mentioned some good news regarding the contract renewals on the Q1 conference call, and said that Exxon is no longer scanning the market for bids, and seems to be focusing on High Arctic specifically. The industry-wide trend in the contract drilling segment of moving rigs hundreds to thousands of miles to land a new contract has mostly subsided due to a combination of more demand and a shortage of available equipment (with crews able to operate). Unfortunately, High Arctic does not have the lengthy history that they have with Oil Search Limited. However, the aforementioned variables that will limit competition for the 103/104 renewals will also be at play for the Exxon contract renewals.
One thing that Thomas Alford mentioned in the Q1 conference call that I thought was worth discussing was the possibility of 116 not being necessary for future operations in PNG. I think it would be reasonable for Exxon to try and negotiate a renewal by only extending rig 115, and it would not surprise me if Exxon gets High Arctic to agree to a renewal by completely cancelling the contract on 116, possibly with a reduced or even no early termination fee (depending on the competitive of the bid). Overall, it seems that both Exxon and High Arctic have 'cards' to play.
Production and Completion Services
Snubbing
Snubbing activity was lower this quarter due to increased fracking activity, as snubbing is typically done after a well intervention has been applied. Although this is not a major revenue driver for the company, Thomas Alford stated that he believes this activity will increase later in the year.
Service Rigs
High Arctic had a fantastic quarter with respect to their well-servicing sector. High Arctic achieved the highest utilization in the country, as well as having above average day rates of exactly $600 for the quarter. In fact, High Arctic averaged a utilization rate of 62%, much higher than the national average of 37%. Management believes that day rates should rise materially by the second half of the year; however, recent declines in the price of oil could limit this rebound. There seems to be a lack of supply of available service rig equipment right now due to a combination of lack of maintenance capex investments in the downturn and difficulty getting experienced staff. Unfortunately, however, the industry-wide low day rates have minimized the profit recovery from these operations, and resulted in only a $1.9 million increase in gross profit. This increase in growth in profit from the servicing rigs was offset by lower snubbing activity. Another one-time cost that lowered margins was the initial start-up and maintenance costs for establishing a well-servicing center in Grand Prairie, which has already resulted in increased utilization.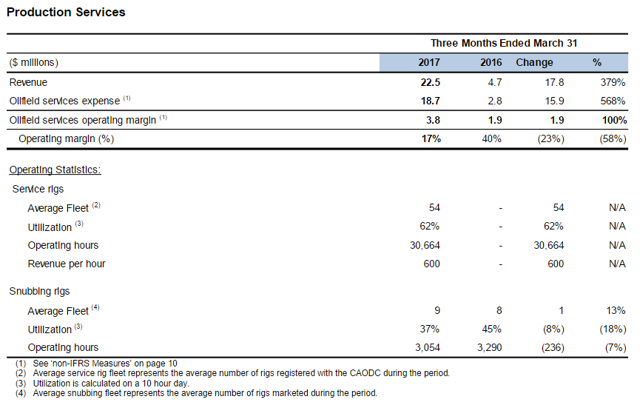 Equipment Rentals, Abandonment services, and Nitrogen Services (Ancillary Services)
Overall, revenues were almost unchanged year over year, due to lowered PNG equipment rentals being offset by increased revenue from the abandonment and compliance services they obtained from Tervita in August 2016. Nitrogen services also helped offset the lowered equipment rental revenue due to an increase in fracturing interventions. Overall, margins were slightly lower due to a lower impact of rental sales, which is typically very high margin.

Acquisitions
High Arctic Energy Services has been forthright about their desire to grow the company through acquisitions, and we got more clear guidance on where the company will be going on their Q1 conference call. Thomas Alford stated that they are very much considering additional acquisitions. However, they seem to be taking a very disciplined approach to this. Alford stated that they are not restricting their purchasing options too much, but rather are willing to make a move on certain assets at the right price.
Based on my research, the most obvious acquisitions are within the well-servicing industry, and there are no shortages of options in Canada right now, and to a lesser extent, in the United States. Alford stated that he has considered buying coiled tubing assets as well, which opens up a number of additional options to consider as well. Overall, it seems very likely that High Arctic will be able to make another successful acquisition this year. However, this topic will be discussed in depth in a future article as there is much to consider.
Q2 2017 Estimate Methodology
I have offered an estimate of what I think Q2 holds. However, the most significant room for error lies within my drilling revenue and expense estimate. I compared previous quarter's revenues while incorporating the standby fees with the full service fees, and multiplying the respective rates by the utilization in the quarter. My estimates came out in the $20-25 million range, as only 104 will be operating and the rest will be on standby rates. More specifically, I assumed $15 million for rig 104's activity, and $7 million for the standby fees for 103, 115, and 116. I believe expenses for this sector would be much lower, thus not eroding gross profit significantly, and I derived my estimate by studying previous quarter expenses in this sector by the overall utilization of their rigs, as they currently will be at 25% utilization for the quarter. For production revenue, I simply looked at historical annual declines of well-servicing utilization by the quarter and compared the ratios to the revenue High Arctic obtained in the comparative quarters. I made no assumptions with improved day rates, as they don't seem to have materialized yet. I assumed slightly higher margins for the well-servicing division due to management working to reduce costs and improve synergies since purchasing these assets. For ancillary revenue, I anticipated abandonment revenue would be similar, nitrogen activity would be slightly lower, and rental equipment I assumed would be unchanged (as PNG does not have the same seasonal fluctuations that Canadian operations have). Expenses were simply lowered proportionately to revenue. High Arctic recently moved to straight line depreciation calculations, so D&A were simply carried over from last quarter. There was no reason for SG&A expenses to have changed, and they were also carried over. Income tax was lowered due to anticipated lower profit. There will also be a small interest expense for their debt, due to the delayed receivables; however, this was not added as it will likely be only $100 to 200k. Another exclusion from this calculation that should be noted is the slight decline in the CAD relative to the USD, in comparison to previous quarter's. This was only a slight decrease, however, it will serve to boost overall profitability this quarter as PNG operations are in USD. Since the margins are especially high this quarter due to 3 of the 4 rigs being inactive, this could improve profit by a couple hundred thousand dollars.
| | |
| --- | --- |
| High Arctic q2 2017 Estimate | CAD millions ($) |
| Drilling Revenue | 22 |
| Drilling Expenses | 10 |
| Production Revenue | 14 |
| Production Expenses | 11.5 |
| Ancillary Services Revenue | 8 |
| Expenses | 2 |
| Depreciation and Amortization | 6.4 |
| SG&A | 4.5 |
| Operating Income | 9.6 |
| Income tax | 3 |
| Net Income | 6.6 |
| EBITDA | 16 |
| Earnings Per Share | .12-.13 |
Estimate
Overall, I am anticipating a decline in revenue, income, and EBITDA. As mentioned earlier, the numbers above will likely be somewhat accurate, however, the drilling revenue and expense will be the big question mark, and the most likely to skew the results. Unfortunately, the Q3 estimate has the potential to be much worse, depending on a number of variables. Most notably, the Exxon takeover likely has created delays in the PNG LNG drilling plans, and there is little booked for the remainder of the year. This is the first time ever since I started covering High Arctic that I am agreeing with the analysis consensus, as every previous earnings beat had come to fruition thus far.
Conclusion
High Arctic has once again become cheap after a big rally north of $6 earlier this year. On my last article, I offered a cautious buy on High Arctic Energy Services for people that want exposure to the oil industry, but I stated very clearly that I did not believe that it was generally a good time to invest in this sector. Since then, the industry has suffered a significant pullback, and I am changing my recommendation to once again a strong buy. The next quarter will not be too bad, but Q3 and Q4 do have the potential for some nasty results. Despite this, the strong balance sheet, likely contract renewals, and the fantastic discipline that management has shown over the last few years, still make High Arctic a strong buy for me. It currently remains as my second largest or largest position, depending on the trading price, and I will consider adding to it in the future.
Disclosure: I am/we are long HGHAF. I wrote this article myself, and it expresses my own opinions. I am not receiving compensation for it (other than from Seeking Alpha). I have no business relationship with any company whose stock is mentioned in this article.
Additional disclosure: I own HWO on the TSX, not on the OTCBB. I have no disclosures in any other securities mentioned. All values are in CAD unless otherwise stated.
Editor's Note: This article discusses one or more securities that do not trade on a major U.S. exchange. Please be aware of the risks associated with these stocks.