Hopefully, this article will help you grow your assets.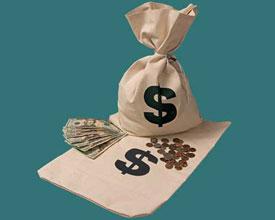 Ventas Inc. (NYSE:VTR) is a publicly traded REIT. It invests in, manages, finances, and leases properties in the healthcare industry. It has a portfolio of nearly 1,264 senior housing and healthcare properties in the U.S., the U.K., and Canada. The company's investments include hospitals, skilled nursing facilities, senior housing facilities, medical office buildings, and other healthcare-related facilities. It is expected to have its Skilled Nursing Facility NOI% down to 1% by the end of 2017. This should position it well for the ending of Obamacare. It should streamline its business model. Good management is a reason for bullishness. Its Q1 2017 YoY same-store cash NOI growth of 3.9% indicates perhaps a healthier outlook than its guidance for 1.5% to 2.5% same-store cash NOI growth. Its recent offering of $275 million in unsecured 2.55% senior notes maturing in 2023 (low interest rate) shows the benefits of its great credit rating of BBB+ and good management. Its beats on EPS and revenues in Q1 2017 were heartening. In this very uncertain time for healthcare and even for healthcare REITs, Ventas appears to be a stalwart.
The table below shows some of VTR's long-term growth metrics. They are impressive.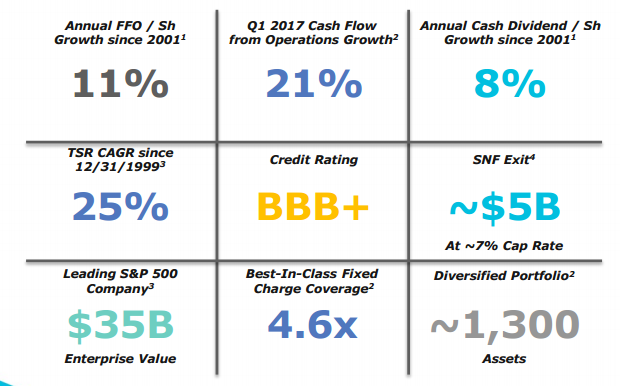 The charts below show VTR's recent total return performance versus benchmarks.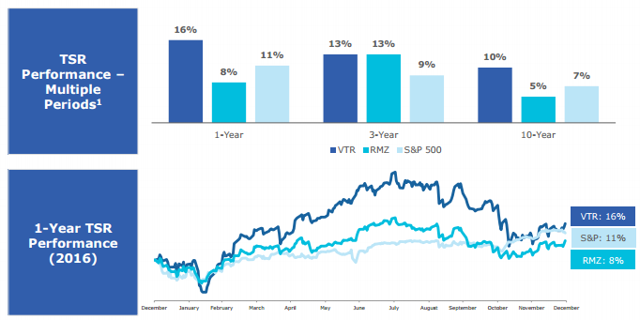 While VTR's performance may not have overawed investors, it did nicely outperform the SPDR S&P 500 ETF (NYSEARCA:SPY), especially over a 10-year period (see the rightmost top bar chart). It is also part of two of the biggest markets in the US - healthcare and real estate. Both of these have been showing some weakness of late; but over the longer term they will likely perform well. The healthcare market should get a long-term demographic boost in the US from the retirement of the Baby Boom Generation. The real estate market perpetually rises longer term because there is a limited supply; and there is a more limited supply for the choicest real estate. Much of VTR's real estate is in the coastal states, which are perpetually in high demand. In the Senior Housing sector of its business, VTR's properties are in areas with housing prices that are roughly twice the industry benchmark. This means VTR's operators can demand more rent. It means VTR's properties can grow in value faster.
The charts below show some of the long-term positive demographics of VTR's business.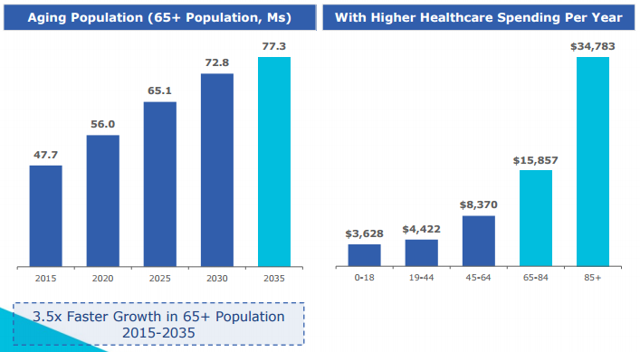 The above positive demographics are particularly important because VTR real estate's services are in highest demand by the elderly.
Some more of the positive long-term demographics are in the table below.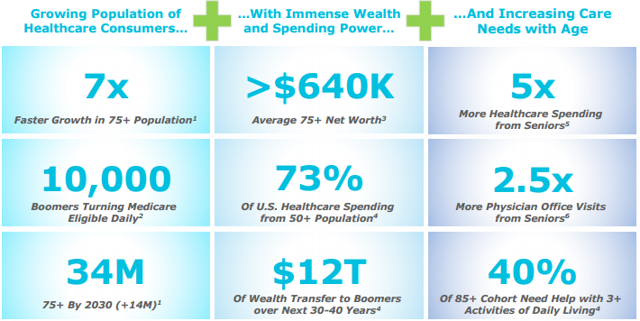 Readers will want to note that the 75+ aged US population is growing 7 times faster than the overall population. Also, there are 5 times the care needs for those termed Seniors. If you put these two items together, you would get an income of 35 times for a small, but growing subsection of the population (over younger healthier people). That is outstanding growth, even if it is limited percentage-wise.
The chart of VTR's business breakout is below.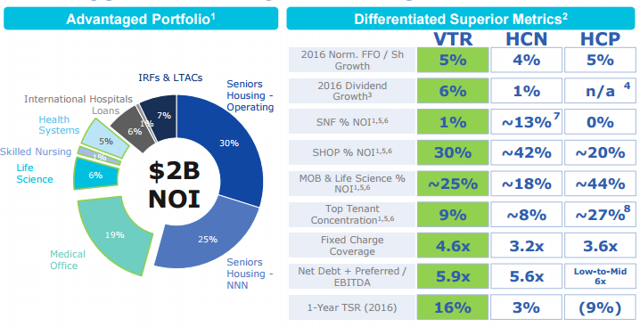 The pie chart on the left above shows VTR's business breakout. Notably, Senior Housing with about 55% of NOI is the largest category. The chart on the right gives an apt comparison of VTR to two of its significant competitors. VTR is very competitive.
The charts below give a more detailed breakout of VTR's business.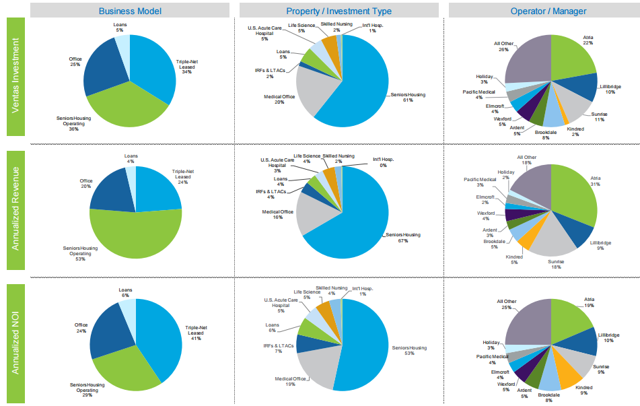 The business is broken out by the three different categories on the leftmost margin: Ventas Investment, Annualized Revenue, and Annualized NOI. Atria is a big operator, but much of the other operators have no more than 10% of the Revenues or NOI. With this kind of diversity, it would be hard for VTR to get into significant trouble without a major downturn in many areas.
Investors will want to note that Senior Housing accounts for a lower percentage of NOI than it does of Revenue or Investment. This might seem worrisome at first. However, the stability of the Senior Housing business during the Great Recession (see chart below) seems to justify the lower profitability for general case.
The orange line above represents Seniors Housing. It is easy to see that it almost completely avoided the dip in rents from 2008-2011. That is especially heartening when many people think the US is in for a BEAR MARKET and/or a RECESSION before too long. It makes one have faith in a VTR investment, even if Obamacare may be on the road to repeal and replacement.
The Medical Office Buildings part of the portfolio accounts for 19% of VTR's NOI. A few key points about the business that should reassure investors are the following:
VTR has 400+ customers
VTR has about 92% total occupancy.
about 95% of VTR's MOBs are affiliated with or on a campus.
about 85% of the affiliations are investment grade health systems or HCA.
All of the above translate into a stable and reliable cash flow. Few doctors will move their offices in a recession.
VTR's Life Science Portfolio accounts for about 6% of NOI. A few key points about this business are:
More than 75% of revenues come from investment grade tenants.
The terms of the triple net leases are favorable with a weighted average 10-year lease term and 2% annual rent escalators.
VTR has an exclusive pipeline agreement for growth.
Even in recessions, universities and investment grade clients can continue to pay their rents.
The Post Acute Care portfolio accounts for about 7% of VTR's NOI. These are IRFs (inpatient rehabilitation facilities) and LTACs (long-term acute care). A few key points about this business are:
The Q4 2016 EBITDARM coverage (operator cash flow/rent) was strong at 1.8x.
The leases are guaranteed.
The leases are long term through 2023 to 2025. Hence they provide cash flow stability in possible hard times such as a recession.
Skilled Nursing Facilities were less stable than many of the above. That is likely the reason that VTR has divested them (or is in the process of doing so for the 36 it intends to sell later in 2017 for about $700 million). As readers can see from the above, VTR's outlook should be very stable even if Obamacare is repealed and replaced. No effect would be too strong a statement; but the above should give investors a warm and fuzzy feeling given the circumstances. The long-term demographics are still tremendous.
The Q1 2017 results were also good. The declared dividend was $0.775/share for Q1 or $3.10/share annualized (4.46%). This was a 6% YoY increase. Same-store Cash NOI growth was +3.9% YoY. This compares well to the +2.7% growth for FY2016. Normalized FFO per diluted common share was $1.03/share. This was a modest decrease from the Q1 2016 figure of $1.04/share. Income from continuing operations per diluted common share grew 22% to $0.44/share YoY.
VTR's FY2017 Guidance is below: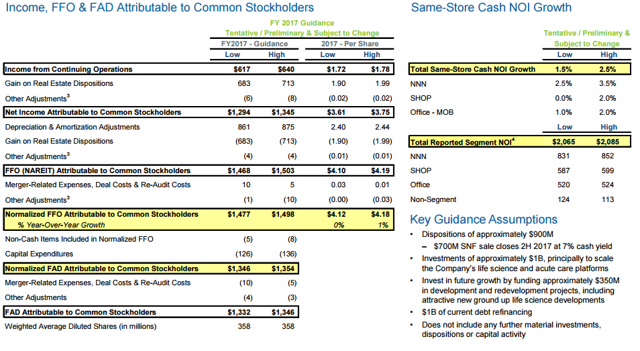 The figures above are in millions of USDs.
Readers should note that the Normalized FFO per share guidance is for $4.12-4.18. The $4.15/share figure is only about +0.5% higher than the FY2016 figure of $4.13/share. VTR has a history of beating. Hence one might use the high end of the guidance range of $4.18. This still amounts to Normalized FFO Growth per share of only about +1.2%. This is meager. The Same-Store Cash NOI Growth is also estimated to be lower at +1.5% to +2.5% (or a midpoint of +2.0% growth). The FY2016 figure was +2.7%. Again, the FY2017 guidance is a drop from the FY2016 figure.
Many companies have withdrawn from Obamacare in a variety of states claiming it is not profitable for them. In other words, some people are not finding coverage in 2017 with Obamacare. One might think this could be hurting VTR's top line and bottom line. Some estimate that if Obamacare is repealed and replaced then there will be roughly 20 million fewer people without healthcare coverage. This would likely hurt VTR's top and bottom lines. The results for FY2018 could be significantly worse than those of FY2017.
If you are a long-term investor, you can probably take this possibility in stride. The demographics of both the real estate and the healthcare industry are tremendously positive. VTR will likely do well longer term. There is the risk of socialization of all of medicine (price cuts for services); but that seems much further down the road at this point. Investors should take from VTR's historical performance. For the last 17 years, VTR has delivered a 25% Compound Annual Shareholder Total Shareholder Return. While historical performance is no guarantee of future performance, the trend in the chart below of the above-mentioned performance still seems strong.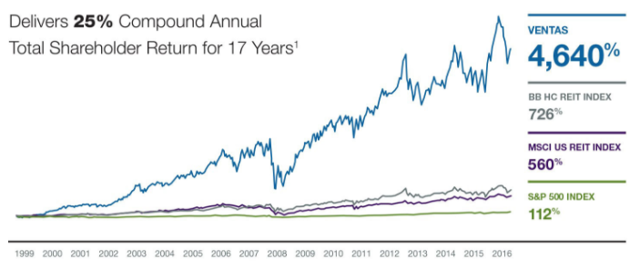 The two-year chart below of VTR's share price performance provides some near-term direction for a trade/investment.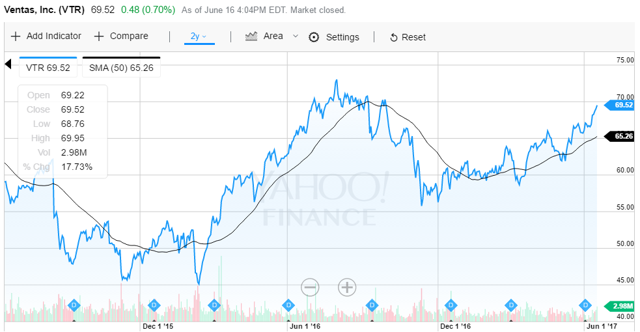 The uptrend showing at the end of the chart is a strong one. However, it may be near technical overhead resistance from its previous peak high. That resistance may also coincide with fundamental resistance. That coincidence of resistances is probably not a good one for further near-term upside to the stock price.
When looking at the above chart it is important to remember that VTR completed its spin-off of its Skilled Nursing Facilities as Care Capital Properties (CCP) on August 18, 2015. This would have been near the first bottom on the above chart. Naturally, the price of VTR stock fell with CCP no longer being a part of the company (the total value of the company went down). The rally after the second trough above seems to be more related to Donald Trump's election on November 8, 2016. The Price/FY2017 Normalized FFOPS using the top of the guidance range of $4.18/share is 16.6x. Given VTR's history, this is not an excessive valuation. However, given the likely hit to the healthcare system in 2018 of repeal and replace (or significant modification) of Obamacare, there is more near-term risk than would normally exist for VTR. However, the planned divestiture of further Skilled Nursing Facility assets in 2H 2017 should position VTR better for the repeal and replacement of Obamacare. This shows good management.
I like the company; but it is a bit risky in the short term. I would rate it a HIGH HOLD at this time. Don't forget that there is some risk of a BEAR MARKET before too long also. VTR should be able to survive such an occurrence well, but it is still a short to medium-term concern.
NOTE: Some of the fundamental fiscal data above are from Yahoo Finance.
Good Luck Trading/Investing.
Disclosure: I/we have no positions in any stocks mentioned, and no plans to initiate any positions within the next 72 hours.
I wrote this article myself, and it expresses my own opinions. I am not receiving compensation for it (other than from Seeking Alpha). I have no business relationship with any company whose stock is mentioned in this article.