Notes for the readers
The different data, figures or graphs have been retrieved from a report of Interactive Brokers, the broker I used currently to purchase and sell my stocks. Please also note I am a personal investor; please do your own research prior to making an investment decision.
The Momentum Stopped
My portfolio performed very well in 2016 and ended with a 32.82% gain. Compared to the chosen benchmark indexes - the S&P 500 (NYSEARCA:SPY), the MSCI EAFE ETF (NYSEARCA:EFA) and the Vanguard Total World Stock ETF (NYSEARCA:VT) - my portfolio performed better. But now, what's happened in 2017? Regarding the YTD performance of my portfolio, it could be considered as a mess or a disaster. My portfolio ended April 2017 with a YTD 6.18% loss, or a 1.23% negative performance in May, while the chosen benchmark indexes had a positive return in the same period. The positive momentum shortly started in March was destroyed by the negative performance in May.

Source: Interactive Brokers' analysis report
The negative performance in May is mainly driven by Awilco Drilling (OTCPK:AWLCF) and Sears Holdings (NASDAQ:SHLD), while Actia's and Atlas Financial Holdings' (NASDAQ:AFH) positive performance partially offset the negative contribution of the UK-based drilling contractor and the US-based retailer.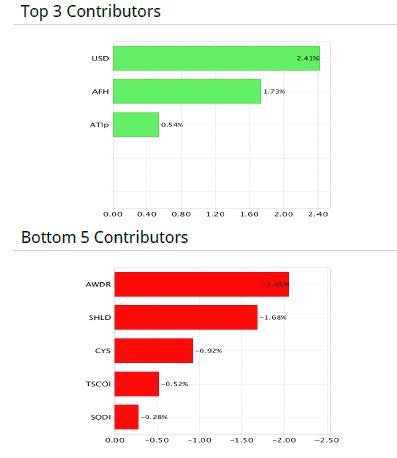 Source: Interactive Brokers' analysis report (Monthly report)
On a YTD basis, the negative performance is driven by the drop in Tesco PLC (OTCPK:TSCDF) and Atlas Financial Holdings. It was partially offset by the stock price increase of CYS Investments (NYSE:CYS), Actia and a positive contribution to cash balance (i.e., positive effect regarding foreign exchange rate fluctuations).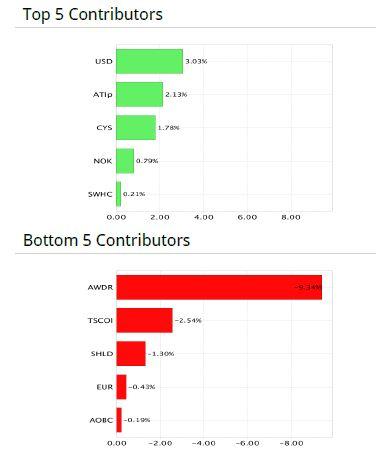 Source: Interactive Brokers' analysis report (YTD report)
As I repeat in all my portfolio review articles, I am not afraid by the volatility of my portfolio. I am not happy to virtually lose money, but I know my unrealized losses are partially related to bad investment decisions, as I explained previously. Furthermore, my investing horizon is a long-term one, as I am only 28 and do not need the invested money for the moment.
On the asset management side, I bought some Awilco shares before the results release and tried afterwards to reduce my exposure to the company, but the market price did not reach my target price (around NOK 37-38 per share). Hence, I decided to keep all my shares, even if the huge stock drop in the last days of May impacted the overall portfolio performance harshly. Furthermore, I sold half of my position on CYS and reinvested the amount in Atlas and Kingstone Companies Inc. (NASDAQ:KINS). The results released by Atlas were higher than the market expectations; hence the price increased slightly in May, with investors going back to the stock.
May 2017 Portfolio Allocation
My current portfolio is small and consisted of the following nine companies at the end of May 2017:
Actia Group, a French-listed company that is not listed on any U.S stock exchanges. It manufactures automotive electronics and telecommunications electronic products. Actia is a mid-market company founded in 1986 that is very internationalized.
Tesco PLC, a British multinational grocery and general merchandise retailer.
Awilco Drilling PLC, a UK-based drilling contractor owning and operating the two refurbished and enhanced mid-water semi-submersible drilling units.
Atlas Financial Holdings Inc., a US-based niche specialty insurer focused on the light commercial automobile sector.
CYS Investments Inc., an mREIT which invests in agency residential mortgage-backed security (Agency RMBS) collateralized by fixed-rate, single-family residential mortgage loans.
Sears Holdings Corp., a declining retailer which operates in the United States.
American Outdoor Brands Corp. (NASDAQ:AOBC), the new corporate name of Smith & Wesson. The company manufactures firearms. Last year, it acquired other firms to diversify its sources of revenue. In January 2017, AOBC created its new Outdoor Recreation division to expand its portfolio of consumer brands and products further into the rugged outdoor recreation market. Regarding the last AOBC's presentation, the "Outdoor recreation" market size is around $30-35 billion.
Solitron Devices (OTCPK:SODI), a company which designs, develops, manufactures and markets solid-state semiconductor components and related devices primarily for the military and aerospace markets. Solitron is a "net-net" company which entered into Chapter 11 protection in 1993 but recovered thanks to the action of the former CEO, who left the company after a bloody battle with Eriksen Capital Management, an activist fund.
Kingstone Companies Inc., a multi-line regional property and casualty insurance company writing business exclusively through independent retail and wholesale agents and brokers. The insurer is licensed to write insurance policies in New York, New Jersey, Connecticut, Pennsylvania, Rhode Island and Texas.

Source: Interactive Brokers' analysis report
As mentioned previously, I reduced my position on CYS to use the cash for purchasing more Atlas Financial Holdings stocks (just before the Q1 result release) and opening a position on Kingstone.
Actia: Increase In Turnover, As Expected
Actia published its turnover for the first quarter of 2017. The turnover reached €112.7 million ($126 million), an improvement of 6.8% compared to the same period in 2016. International customers represented 71.3% of the turnover in Q1 2017. Company management expects Actia to grow in new international markets, like Mexico, which continues its expense growth driven by the pre-presidential period. At the segment level, the rise in turnover was mainly driven by the Automotive division (+8.8%) and partially offset by the slowdown in the Telecommunications division.
The drop in turnover for the telecom segment is mainly explained by an exceptional level of sales in Q1 2016, which was not repeated. However, Actia remains confident in the performance of this segment. With an EV/EBITDA ratio of around 5, the company remains, in my view, undervalued and underfollowed.
Awilco: Results In Line With Expectations, Higher Stock Volatility, But No Gain
On the 11th of May, Awilco shared its Q1 2017 results on the market. As expected, the declared dividend amounted to $0.20 per share. The management remains optimistic on some upward trend in 2018. Despite the higher volatility mainly related to the results release, I was not able to move back and forth on the stock.
Atlas: Back to Olympus?
During the last two months, Atlas Financial Holdings' stock price decreased significantly due to the announcement of the deterioration of the claims situation in Michigan. As I mentioned before, I was optimistic regarding the reserving process of the P&C insurer, the future claim case evolution in Michigan and the strategy of the management to avoid this kind of event for a second time. That's why I tripled my position just before the announcement of the results, reducing my bought average price mechanically to $13.08 per share.
Regarding the Q1 2017 results, they were more or less in line with the expectations, even if the combined ratio slightly deteriorated. Despite the deterioration of the underwriting performance, my target remains $21 per share, or at least a 40% upside.
AOBC: Still Undervalued, But Waiting For June
AOBC stays undervalued, in my view. Regarding EV/EBIT and EV/EBITDA ratios (slightly more than 7 and 5 respectively), I consider that the potential upside remains substantial (more than 40%). I may be completely wrong, but I am very confident in this stock regarding the acquisitions management has done in the past and the efforts the company has made for diversifying its revenues. If the share price climbed to $35, I could reduce my position by around 20%
Solitron: First Figures Released For FY 2017 Results
On May 31, Solitron issued a press release announcing that it expects to take charge of inventory due to excess and obsolescence. The inventory adjustment should impact negatively the FY 2017 net income. Furthermore, the company also provided preliminary figures related to FY 2017 results:
Sales decreased by $1 million to $7.4 million.
The backlog at the end of fiscal 2017 increased by 43% to $8.4 million from $5.8 million in 2016.
I would assume that the market could react negatively with regard to the adjustment made by the company. As Solitron is a net-net company and represents a small portion of my stock portfolio, I will continue to sleep well.
Tesco: As for AOBC, Waiting For June
On June 16, Tesco released its quarterly sale results. They were high (mainly in the U.K), but were completely overshadowed by Amazon's (NASDAQ:AMZN) announcement of its purchase of Whole Foods Market (WFM), which is also present in the U.K market. At the moment, I maintain my position on Tesco without increasing it.
CYS Investments: Reduced Position
In spite of the estimates beat in Q1 2017, I reduced my exposure to CYS to increase my cash position and redeploy the money by investing in Kingstone, Awilco and Atlas.
Sears Holdings: The Rollercoaster of the Volatility
As I have written many times before, Sears' situation is fascinating. The stock price is still decreasing, with many investors considering that the efforts made by management would not be sufficient for company to recover. I keep following Sears' stock price evolution and the news related to the enterprise, but I do not expect to strengthen my position in SHLD (as a reminder, I am keeping my shares for tax purposes).
Kingstone Companies Inc.: The newcomer
Kingstone is the new arrival in my stock portfolio. What I like about this company is its operating performance (82.9% 5-year average combined ratio), the focus on one geographical market (NYC, Long Island and Westchester), the steady growth over the years (23% per year over the past five years) and the constant effort to improve its credit rating. What I dislike is the increase in the remuneration of the CEO (double in 5 years), who is the largest shareholder of the company, and the growth of the dividend. Am I crazy? Well, I, for one, do not need a dividend. That's why I prefer having a company which uses its cash differently than distributing an annual dividend. The good news is the dividend increases every year, gradually and without deteriorating Kingstone's financial situation (i.e., the payout ratio remains low). I would prefer the company to repurchase its shares, but I cannot have everything.
Asset Allocation: No Funds Transfer, Redeployment of Cash From CYS's Share Sales
Regarding my asset allocation at the end of May, I'm still too leveraged.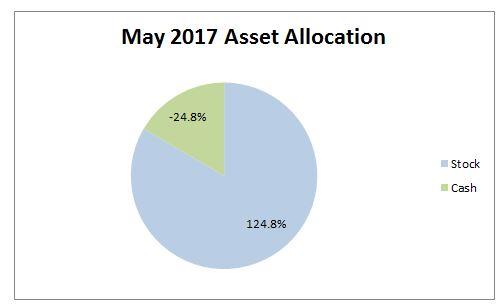 Source: Interactive Brokers' analysis report
Unfortunately, I was not able to transfer funds to my accounts yet because of the increase in my personal expenses.
And Now... What's Next for June and Ahead?
As mentioned previously, I have decided to be slightly more active in my portfolio management for two reasons: reducing my cash leverage, and boosting my performance by strengthening/lowering my position in the stocks I own. Hence:
I will stay long on AFH, AOBC and Actia in 2017 because I am quite confident in the results delivered by these companies. Depending on AOBC's results, I could reduce or increase my exposure to the gunmaker. If the market overreacts on the positive side, I could reduce my position by around 20% to reduce my cash leverage.
I will stay long on AWLCF, whatever the evolution of the oil price, as long as the remaining contract backlog exists, but I may reduce my exposure to Awilco in case of a significant increase in the stock price.
For Tesco, I will hold onto my shares for the moment. In some days, the company should release its quarterly results. Depending on the numbers and on the reactions of the market, I will continue transferring more funds from my cash account to restore my cash balance and to invest in more stocks. I do not know if I will be able to do it in June - I would like to do, but it would depend on the evolution of my personal expenses.
Increasing the portfolio diversification is an open option.
However, I do not have any goal regarding asset allocation for 2017.
My target remains an 8-9% annualized long-term return.
Conclusion
As sure as I am acutely aware of the irreproducibility of my 2016 performance over the long term, I remain confident of reaching an 8% annualized long-term return. For the moment, I am underperforming all the chosen benchmarks on a YTD basis. As in May, I should be slightly more active with my portfolio asset management at least to do the right market arbitrages.
Disclosure: I am/we are long AFH, AWLCF, CYS, SHLD, TSCDF, AOBC, SODI, KINS, AND ACTIA (ISIN: FR0000076655).
I wrote this article myself, and it expresses my own opinions. I am not receiving compensation for it (other than from Seeking Alpha). I have no business relationship with any company whose stock is mentioned in this article.
Additional disclosure: As mentioned previously, Interactive Brokers is my broker
Editor's Note: This article covers one or more stocks trading at less than $1 per share and/or with less than a $100 million market cap. Please be aware of the risks associated with these stocks.