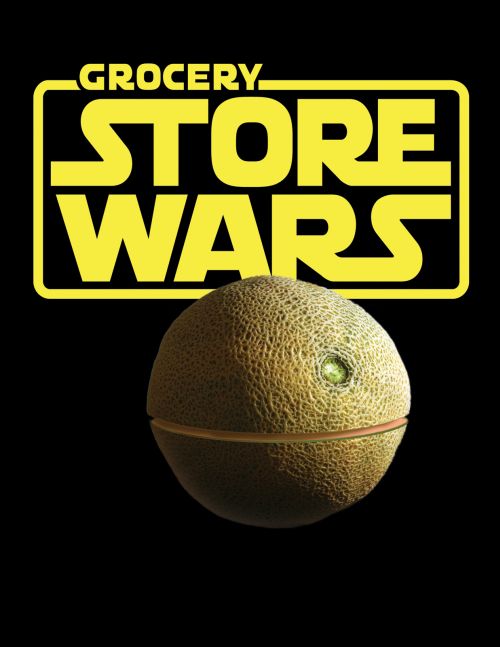 (Source)
Overview
The big news recently for Wal-Mart (NYSE: WMT) was Amazon.com's (NYSE: AMZN) $14 billion purchase of grocery chain Whole Foods Market Inc. (WFM). Who Wal-Mart's competitors are in e-commerce and brick-and-mortar continues to be blurred. Game on.
What follows is a trade idea, discussion of Wal-Mart's changing business strategy, as well as fundamental and technical analysis of the company.
Trade Idea
Both Amazon and Wal-Mart are super companies for shopping. However, one has to look at the technicals and fundamentals to determine if they are good investments. If I could only invest in one - either Amazon or Wal-Mart - I would prefer to be long a stock that is taking market share from an ecommerce company rather than an ecommerce company taking market share from a brick-and-mortar approach to selling groceries. While not the only measure (more are discussed below), Wal-Mart's Price/Earnings (P/E) is currently at 17, while Amazon's is 186.
With that said, I am pleased to see some volatility in Wal-Mart stock. As an options trader, I like some volatility in stocks. I do think the drop last week in Wal-Mart stock was overdone, as things generally are, and that we might see a short-term bounce. However, technically, we could see more weakness in the stock per the discussion below.
Note, I do think the overall market is due for a small (5%) correction, which most likely will bring Wal-Mart down with it. For now, if we see a short-term uptick this week, I will consider selling bear call spreads whereby call options are bought and sold together to minimize upside risk.
Wal-Mart's Changing Business Strategy
WMT controls 22% of the U.S. grocery market, with groceries accounting for approximately 56% of the company's $481 billion in revenue. With Amazon's success in controlling the vast majority of online sales, should its Whole Foods purchase be a concern for Wal-Mart?
As Amazon has been able to capitalize and become the ecommerce leader, Wal-Mart would be wise to keep in front of Amazon as much as it can. However, Wal-Mart and Amazon cannot forget about the other grocery companies that are flanking them - specifically, Lidl and Aldi, two German-based discount grocers who have big expansion plans in the U.S. Aldi plans to invest $3.4B to grow from 1,600 stores to 2,500 stores by 2022. Lidl plans to operate 100 stores in the U.S. by the middle of next year.
Wal-Mart's net sales worldwide from 2006 to 2017 ($B):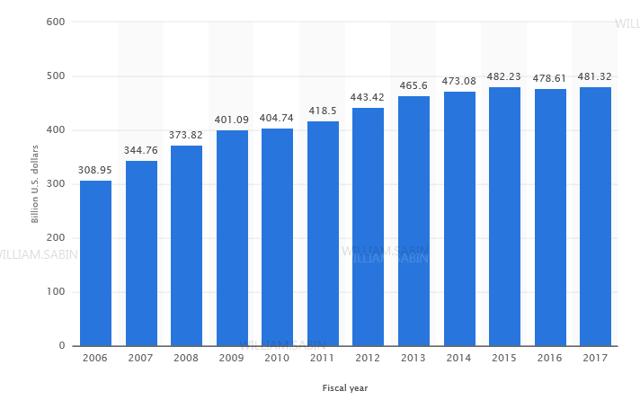 (Source: statista.com)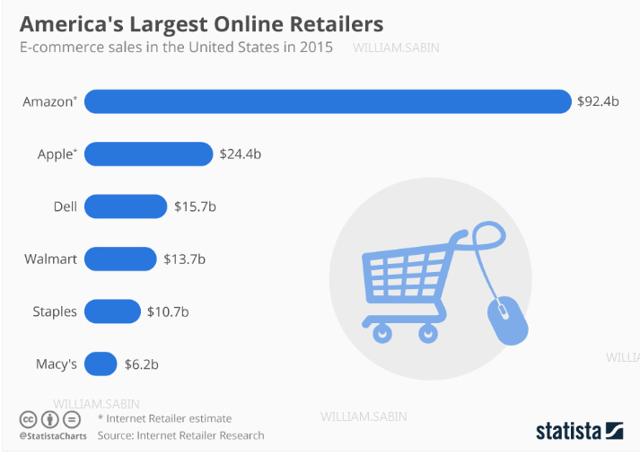 (Source: Statista)
Wal-Mart, of course, is very familiar with the risk of German-based Aldi and has been conducting pricing tests in 11 U.S. states. From the studies, Wal-Mart is marginally less expensive. However, both German chains offer a no-frills shopping experience, limited products, and low costs, all of which have changed the grocery market in the United Kingdom and which have cut into sales at Tesco (OTCPK:TSCDF, LSE: TSCO.L) and Asda, Wal-Mart's UK arm.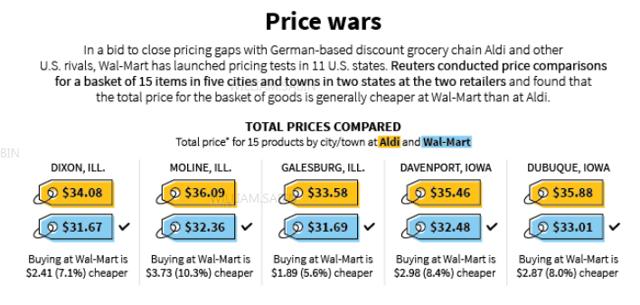 (Source: Reuters)
Both Amazon and Wal-Mart have plenty of money to spend - Amazon reported $12.5B in cash and equivalents and free cash flow (FCF) of $10.2B for the year ended March 31, while Wal-Mart reported $6.9B in cash and equivalents and $20.9B in FCF for the year ended January 31.
Amazon's purchase of Whole Foods' will give the company 460 stores to compete against Wal-Mart. The challenge for Amazon (which it clearly recognizes) is that it will need to take Wal-Mart customers who are generally more cost conscious and lure them into a Whole Foods store. Wal-Mart shoppers are going to be hard to win over, as Whole Foods stores are generally perceived to have higher prices than Wal-Mart. As an alternative, Whole Foods 365 offers private-label goods and lower prices than typical Whole Foods stores - I suspect Amazon will capitalize on Whole Foods 365's branding as the focus for taking market share from Wal-Mart.
In addition, to increase its online sales efforts, Wal-Mart has started to offer curbside pickup of online grocery purchases at 700 locations, with 300 more planned by year end. It also is testing same-day fresh and frozen home delivery from 10 of its stores.
Wal-Mart has announced free two-day shipping to U.S. shoppers for orders over $35. It is also directly competing against Amazon Prime shipping program by offering a similar service for $49 versus Prime's $99. To counter, Amazon also recently jumped into Wal-Mart's turf, offering low-income customers discounts on Amazon Prime membership. This discount is for people with electronic benefits transfer (EBT) cards which are used via government assistance programs. EBT customers pay $5.99 a month rather than the normal $99 a year.
Fighting back, Wal-Mart recently introduced a program offering discounts on approximately 1 million items purchased online, but these must be picked up at a local store. Wal-Mart has also launched its own mobile payment system called Walmart Pay in all of its 4,500-plus U.S. stores in July 2016.
In addition to the Jet.com acquisition, Wal-Mart apparently is going after Amazon's higher-income shoppers with recent acquisitions of online brands such as Moosejaw, ModCloth and, on Friday, menswear e-tailer Bonobos. It also recently upgraded its phone app to benefit pharmacy and money services, allowing customers to create orders on their phones, while limiting the time standing in lines at Wal-Mart stores.
I suspect that the game will be won with technology - more automation inventory reorders, fewer employees involved in the checkout process, quicker response to competitors prices, more and unique delivery methods (e.g., drones), and increased cross-selling of Amazon services within the Whole Foods stores.
Wal-Mart will have its hands full trying to keep up - but at least the company has a chance; I can't say the same for other grocery chains such as Kroger (NYSE: KR) and Costco (NASDAQ: COST).
Stock Price and Dividend Yield
Wal-Mart had been moving mostly sideways for much of the last year until April, when it moved from the lower $70s to $80, with a current yield of 2.7%.
Investors would prefer to have both stock growth and a steadily increasing dividend, if at all possible. If you are a buy-and-hold investor, dividends often provide investors with the power of compounding. Dividend stocks can have a place in your portfolio, if they are not traps - paying a high dividend, but having a stock with lousy fundamentals. One is looking for a high-dividend paying stock with strong operations to ensure that dividend payouts are well covered by earnings. The total package matters, not just the dividend yield.
Fortunately, Wal-Mart appears to be a strong company with solid fundamentals, plenty of free cash flow, and has paid out consistent dividends since at least 1975. It has an impressive 10-year dividend growth rate of 11.7%.

(Source: Dividend.com)

(Source: GuruFocus)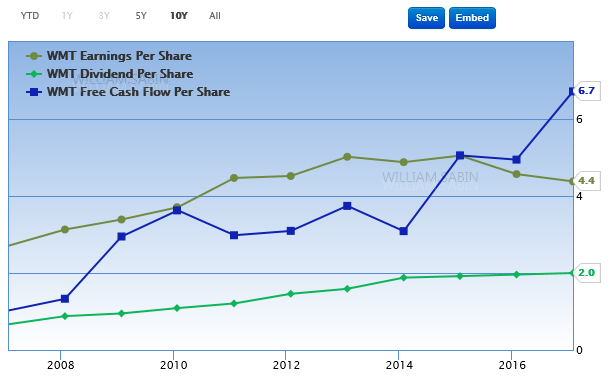 (Source: GuruFocus)
Technicals
Wal-Mart's RSI is below 50. The MACD is below its signal line and positive. The MACD generally must penetrate its zero line to expect further downside. Wal-Mart is below its 20- and 50-day moving averages of 78.80 and 76.51, respectively. The stock has penetrated its lower daily Bollinger band of 76.72.
Support should be seen at 70.1 and 67.9; resistance is at 76.9 and 78.3.
In addition, Wal-Mart has entered Wave C of its Elliott Wave cycle, which uses Fibonacci ratios. This is a bearish signal, and the target price was 78.13; however, the stock sank lower than expected due to the news from Amazon as discussed herein. Wave C is a corrective phase which moves against the direction of the overall market trend and generally is 1.618 times Wave A.
From a technical standpoint, it appears that Wal-Mart will trend lower and test the support at 70.1.

(Source: Fidelity.com)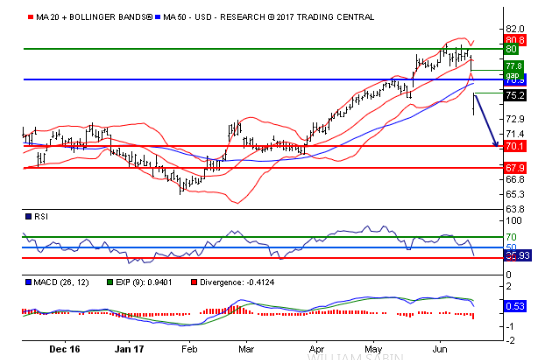 (Source: Fidelity.com)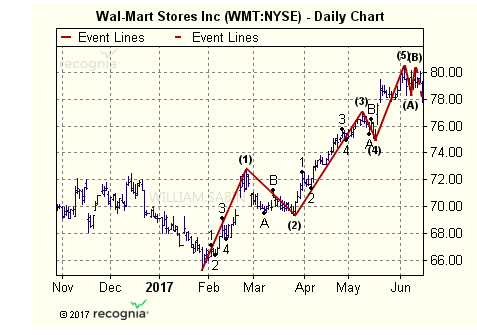 (Source: recongnia)
Fundamentals
It is nice to see reasonable forecasts which are not justifying a huge stock price now based on next year's home runs. As shown in the charts below, forecasts for earnings per share and sales for 2018 and 2019 anticipate only modest growth.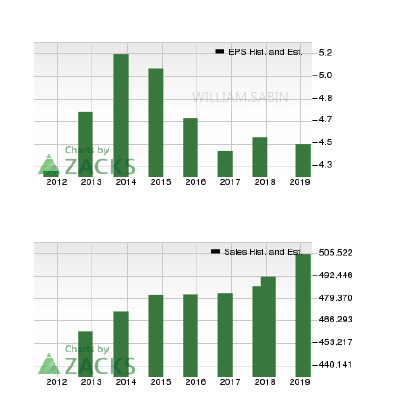 (Source: Zacks)
Wal-Mart's 1Q18 total revenue was $117.5 billion, an increase of 1.4% along with a 1.5% increase in traffic. Wal-Mart U.S. e-commerce sales and gross merchandise volume (GMV) increased 63% and 69%, respectively. The company also generated free cash flow of $3.4B.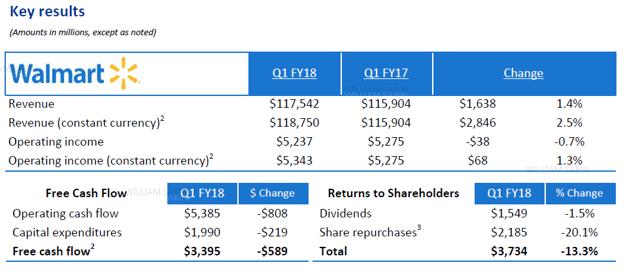 (Source: Walmart.com)
Its Price-to-Earnings (P/E) is currently at 17, which is higher than the historical average but mixed compared to that of its peers. Amazon's P/E is 186. Most of the other ratios that compare price to another measure are generally within long-term averages.
The company's Price/Earnings to Growth (NYSE:PEG) ratio is negative; there are only two possibilities for a negative PEG based on the widely accepted formula shown below: 1) the P/E ratio is negative; or 2) the earnings growth is negative. The PEG compares the stock's Price-to-Earnings (P/E) ratio divided by the growth rate of its earnings and generally provides a more complete picture than the P/E ratio alone.

If you have a negative PEG, a negative P/E is the worse of the two possibilities. Fortunately for Wal-Mart investors, the P/E ratio is not negative. Rather, earnings growth is negative. While one does not want negative earnings growth, it happens from time to time. The key is to watch this to ensure that it is just a temporary blip and not a longer-term issue.

(Source: Fidelity.com)

(Source: Fidelity.com)

(Source: Fidelity.com)
Insider Activity
While not a perfect indicator, it is interesting to view (legal) insider trading activity over a time period. Some investors believe there is a direct correlation to insider trading activity and future stock performance. However, I generally don't think insiders are that much better than the public in determining the direction of a stock. Many times, insiders exercise shares for a number of reasons, some of which have nothing to do with where they think the stock is headed.
As you will note below, Wal-Mart has had consistent and increasing insider sales. However, the volume compared to the options outstanding is quite small. As such, the activity seen in these trades might (or might not) point to a stock reversal.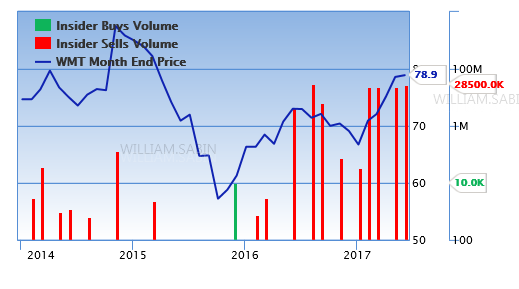 (Source: GuruFocus)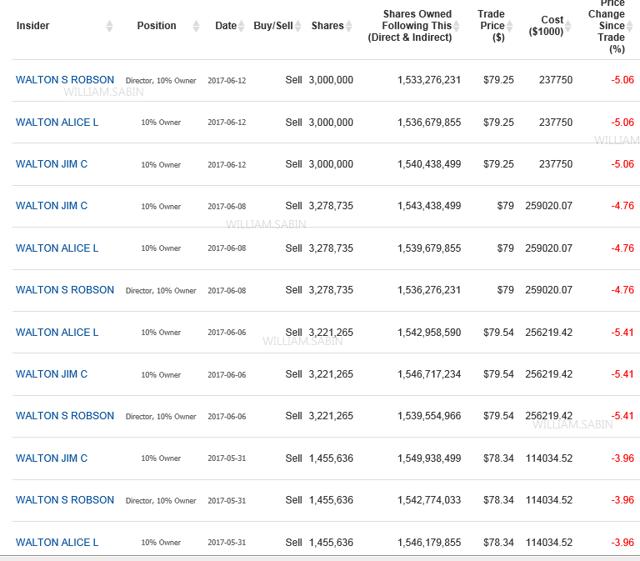 (Source: GuruFocus)
Summary
I am a frequent customer of both Amazon and Wal-Mart and shop based on price and convenience. From a consumer standpoint, I have no allegiance to either company (or any other company in this space); I suspect I am not alone. As such, the company that gets my business on one particular order might not be the one that gets my business on the next. Overall, more competition is good for the consumer, who should see great product availability, lower prices, and (hopefully) better quality.
While both Amazon and Wal-Mart are super companies, looking at the technicals and fundamentals, I would prefer to be long a stock that is taking market share from an ecommerce company rather than an ecommerce company taking market share from a brick-and-mortar approach to selling groceries.
Additional Disclosure
Thank you for your time in reading the above article. I read and write on a wide range of companies on a regular basis. If you would like to stay informed with articles like these, please click the "Follow" button at the top of this report and select "Get email alerts." If you have additional insights on the topic or contrasting views, please kindly share them in the comments section.
This article is intended to provide educational information to readers and in no way constitutes investment advice. Investing in public securities is speculative and involves risk, including possible loss of principal. The reader of this article must determine whether or not any investments mentioned in this article are suitable for their portfolio, risk tolerance and accept responsibility for their decisions. Neither information nor any opinion expressed in this article constitutes a solicitation, an offer, or a recommendation to buy, sell, or dispose of any investment or to provide any investment advice or service. An opinion in this article can change at any time without notice.
Disclosure: I/we have no positions in any stocks mentioned, but may initiate a short position in WMT over the next 72 hours. I wrote this article myself, and it expresses my own opinions. I am not receiving compensation for it (other than from Seeking Alpha). I have no business relationship with any company whose stock is mentioned in this article.