In my previous article on Potash Corp. (POT), I discussed how negotiations between Uralkali and Belaruskali could influence the potash market. Negotiations ended and negotiating parties did not announce any results. Russian business newspaper "Kommersant" reported (link in Russian) (translation) that Uralkali and Belaruskali will continue talks. This is a disappointing outcome given the fact that negotiations were strengthened by the presence of Belarus president Alexander Lukashenko and the head of Russian Sberbank German Gref. Potash Corp. shares reacted accordingly, returning under $17. Shares of merger-peer Agrium (AGU) as well as Mosaic (NYSE:MOS) were also under pressure.
Let's look at the reasons why negotiations are so difficult despite the obvious desire from both producers to improve the situation in the potash market. Last year, Uralkali's production declined by 5% compared to 2015 to 10.8 million tons. Sales declined by 2% to 11 million tons. Financial results took a hit with a 30% decline in revenue and a 38% decline in EBITDA. Uralkali's financial results were pressured from every corner - the average realized price fell to $172 per ton, costs increased by 6% to $35 per ton and sales declined as mentioned above. It is obvious that the company cannot be satisfied with these results and is highly interested in the improvements in the potash market.
Belaruskali's results weren't much better: last year's revenue declined by 23% compared to 2015. The company sold 10 million tons of potash in 2016 and estimates the same level of sales in 2017. However, it looks like the Belarussian side wants sales parity with Uralkali. This means that Uralkali will have to sacrifice its market share to stabilize potash price without a corresponding sacrifice from Belaruskali. Obviously, the companies won't be able to agree on these terms. While Uralkali is definitely interested in the deal with Belaruskali, the latter will have to cut its production if it wants any coordinated deal with Uralkali.
There's hardly any downside from the outcome of Uralkali - Belaruskali negotiations. The situation has been like this since the second half of 2013 and it won't become worse. It is still possible that Uralkali and Belaruskali will be able to agree on the terms of the deal, but in my view it is now a question of a more distant future.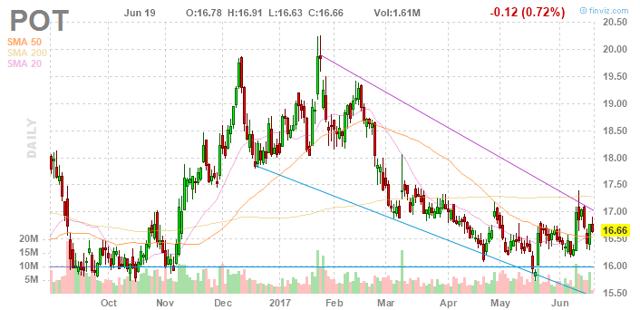 Nevertheless, I remain confident that Potash Corp. shares have found a very strong support around the $16 level. In my view, entry at this level presents compelling opportunity both for the long-term and short-term players. In my view, we've already seen the bottom in potash prices, and, although it may take some time, the general pricing trend will be to the upside.
While I don't expect any major action in Potash Corp. shares until the company reports its second-quarter results, I view Mosaic shares as interesting for a rebound. Mosaic's shares took a major hit after the company cut the dividend. When the wave of selling from income investors abates, a return to pre-dividend cut levels might be a real possibility.
To sum it up, I don't view the lack of results from Minsk negotiations as a big negative for potash producers. It would have been great if Uralkali and Belaruskali were able to reach a deal, but the lack of the deal does not change anything in the potash market.
Disclosure: I am/we are long POT.
I wrote this article myself, and it expresses my own opinions. I am not receiving compensation for it (other than from Seeking Alpha). I have no business relationship with any company whose stock is mentioned in this article.