Balance sheets are still fueling the rally
U.S. stocks continue to post record highs as markets weather some recent geopolitical strains and economic figures continue to remain stable enough in the key economies to keep confidence running high.
Although economic data remains positive it is clear that Central Banks are still fueling much of the rally in risk assets in what BofAML recently termed the, "only one flow that matters," in its recent research.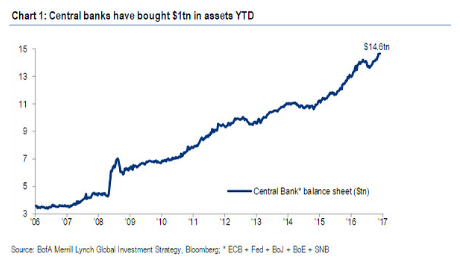 (Source: BofA Merrill Lynch)
It should also be noted that despite all the talk of shrinking balance sheets and normalizing policy, the rate of asset buying ramped up considerably in 2017 compared to recent years as the BoJ and the ECB take over from the FED.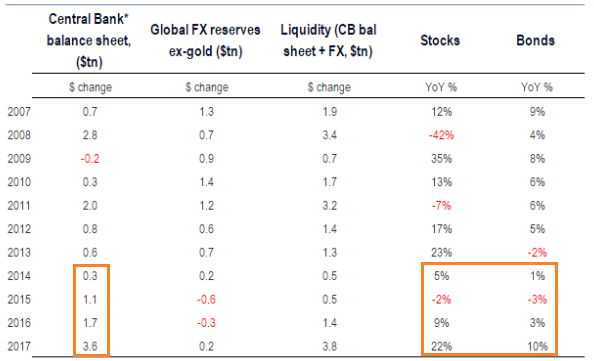 (Source: BofA Merrill Lynch)
It's hard to see how these Central Banks can collectively reverse from their policies of low interest rates and asset purchases without causing some distress in the financial markets. Although the drawdown of balance sheets would be a very slow process it is concerning that global economic conditions are still stagnating despite this large scale intervention by policymakers.
Beware the inverting yield curves
Despite many downplaying the potential of a slowdown in the global economy, it should be of concern to investors that yield curves in the U.S. have been flattening recently. Although not a cause for alarm quite yet, inverted curves (where short term yields are higher than long term) have been a key indicator of an upcoming recession which occurred in advance of the 2000 and 2007 crises.
In fact, a recent research piece by LPL Financial found that an inverted yield curve predicted every U.S. recession in the last 50 years.
"The yield curve inversion usually takes place about 12 months before the start of the recession, but the lead time ranges from about 5 to 16 months," wrote the author.
This flattening in the yield curve suggests that bond markets are concerned about growth stagnating or that the Federal Reserve may damage economic growth with its tighter policy, following the second rate hike of 2017.
It should also be noted that two relationships in Chinese bonds have already inverted- the 3yr/5yr and 7yr/10yr. It has been noted that the cause of this may be related to liquidity in the longer term yields but it should not be ignored as the Chinese government has recently been taking action to slow the rise in leverage, particularly in the financial sector. We have also seen other important developments in capital flows leaving China and also moves in the Renminbi as growth continues to remain subdued.
The FED has continued to raise interest rates and signal a normalization of rates to previous levels, yet as it attempts to unwind its balance sheet, these increases have been seen as premature by some investors. The FED has stated that the planned reduction in the balance sheet is expected to begin later in the year and the path will not be altered unless there is a "material deterioration" in economic conditions. So the moves to raise rates and reduce their asset holdings may not follow current projections.
The GDP growth rate has slowed in recent quarters so it remains to be seen whether the economy can meet FED expectations going forward. Alongside the yield inversion it will be important to track this in the second half of 2017 to gauge whether will see another tapering or whether it will be put on hold. The FED will be wary of repeating the "Taper Tantrum" of 2013 but any reduction in its balance sheet would be deflationary and brings further risks.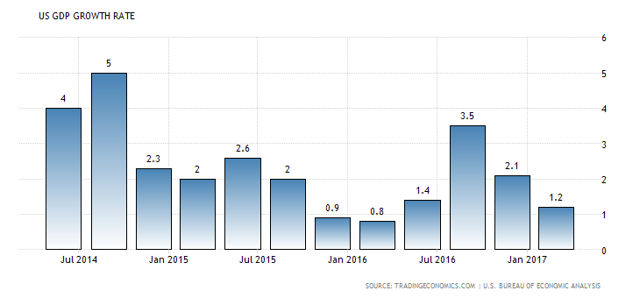 (Source: trading economics)
Is debt ceiling risk underplayed?
Another risk for the U.S. is the upcoming debt ceiling issue. Previous projections were that the U.S. Treasury would reach its limits around October are likely to be revised forward as many wealthy Americans and corporations have been deferring tax payments in the hope that they might benefit from Trump's proposed tax rates. This would slow tax receipts and see the ceiling hit sooner.
It should also be noted that previous debt ceiling discussions were taken to the wire and it's likely that some Democrats will take advantage of another opportunity to put the squeeze on President Trump. Even within his own party it will be hard to win votes when faced with the dilemma of raising the ceiling or finding cuts outwith Social Security and Medicare which he previously refused to touch.
As Gary Cohn commented in a recent interview that concessions may be needed despite hopes of a clean bill: "Every Treasury secretary would love to have a clean debt ceiling. But if you need to get things attached to get it through we will attach things. At the end of the day Congress is going to raise the debt ceiling because they have no other choice."
Although it is fairly certain that a debt ceiling deal will be agreed, there may be some turbulence in the markets as the deadline looms closer.
Conclusion
A recent slowing in GDP and some subdued inflation may be a transitory event and one that President Trump has promised to reverse with his plans for tax cuts and growth-boosting initiatives but recent Congressional stalemates and the potential for concessions in the debt ceiling deal may hamper his ability to push through meaningful reforms. Therefore, we cannot ignore the flattening in the yield curve alongside this recent downward trend as investors may be moving into safe haven longer term yields due to the short-term risk of a debt ceiling tantrum and a longer-term expectation that the FED is moving too quickly, raising the risk of recession or profit-taking in risk assets. Whichever it is, don't expect Central Bank balance sheets to be shrinking anytime soon.
Disclosure: I/we have no positions in any stocks mentioned, and no plans to initiate any positions within the next 72 hours.
I wrote this article myself, and it expresses my own opinions. I am not receiving compensation for it (other than from Seeking Alpha). I have no business relationship with any company whose stock is mentioned in this article.