Those who follow me here know I have a bias towards the defense sector as an investment vehicle. There are many reasons for this, and I could write a small book on why I feel everybody should have exposure to defense and aerospace in their portfolio. Many investors choose to invest in broad sectors or indexes using exchange traded funds, but not all of these ETFs are created equal.
When it comes to the defense sector there are three ETFs that dominate. They are the BlackRock (BLK) managed iShares Aerospace and Defense (ITA), State Street's (STT) SPDR S&P Aerospace and Defense (XAR), and Invesco's (NYSE:IVZ) PowerShares Aerospace and Defense Portfolio (PPA). Although ETFs are passive instruments they deserve an active look before purchase.
ITA
Managed by the venerable BlackRock, ITA (prospectus here) is the largest A&D ETF with $3.1 billion in assets as of 16 June. The ticker started trading on May 1st, 2006 and since that time has returned an average of 11.65% annually since, or nearly 233% (total return) over that time. It has been a steady and solid market-beater.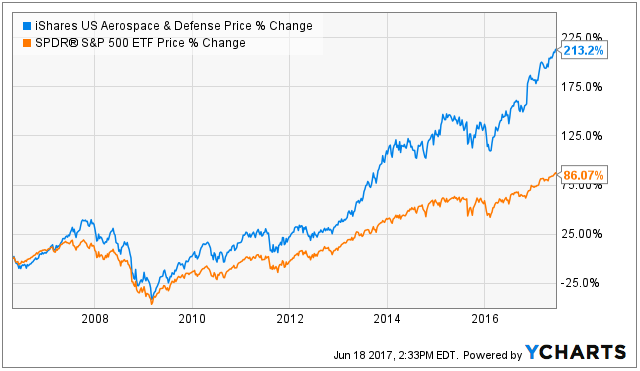 The fund holds 40 companies and the top 10 are some of the more recognizable names.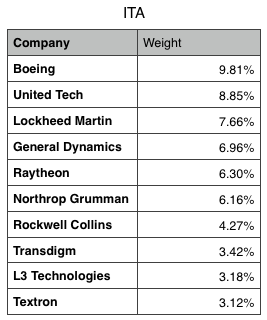 The names that stick out the most to me are Transdigm (TDG) which has been heavily criticized lately by Andrew Left of Citron Research, and Textron (TXT) which is more of a conglomerate than a dedicated defense firm. For that matter, United Technologies (UTX) also fits more into the conglomerate and were it not for Pratt and Whitney they wouldn't have any meaningful exposure to the defense sector.
There is a small and varying distribution from the fund at 0.95%, which is nothing to get excited about but every little bit helps.
One of the most underappreciated aspects of an ETF is fees. For this fund, they sit at 44 basis points. This means that for every $10,000 invested it will cost the investor about $45 a year. The managers keep turnover relatively low at just 14%, keeping expenses inside the fund lower and aligning better with buy-to-hold investors.
XAR
State Street's well-known SPDR has been trading XAR (prospectus here) since September 28th of 2011. Since that time the fund has returned about 22% annualized which is quite remarkable and has easily beaten the S&P 500.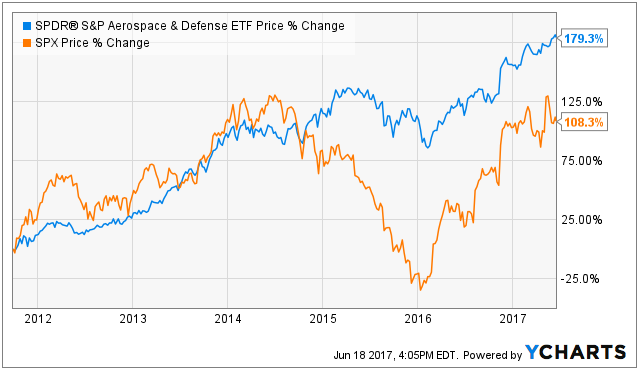 The fund holds 36 companies in total and has $639 million in assets. The top 10 companies held are pretty interesting and not at all what I would expect.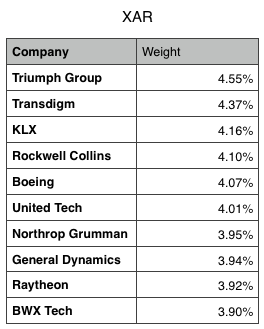 Again, Transdigm is a top holding which I find interesting. This, however, has more to do with its performance recently due to the construction of the fund where each company begins with an equal weight.
The fund yields 1%, just slightly beating ITA. The portfolio turnover is much higher at 30% but perhaps that could explain some of the outperformance. I always find it interesting to see these "passive" vehicles have such "active" management baked right in. Fees are low at just 35 basis points, letting investors keep a few more dollars of their hard-earned money.
PPA
Invesco's PowerShares offering, PPA (prospectus here), is the smallest by assets with $630 million invested in the fund. Performance has been 11.45% annualized since their inception on October 26th 2005, which also makes it the oldest of the three.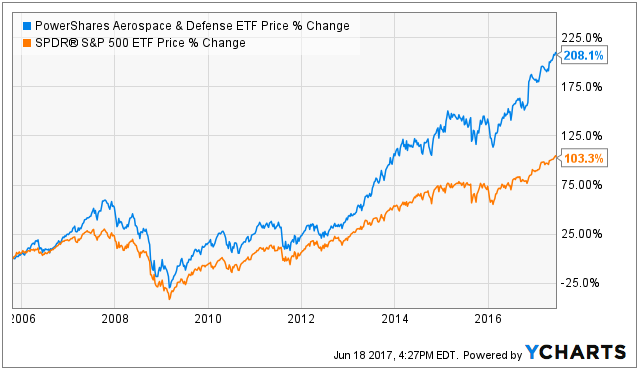 This is the largest fund in terms of total companies held at 52, but the top 10 are what I would more expect to see.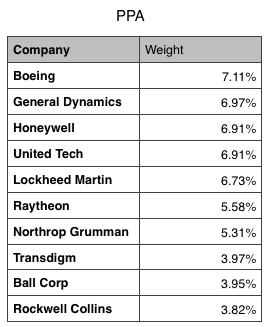 PPA has the highest yield at 1.4% but also has the highest fees at 65 basis points. Management keeps the turnover at 16% which raises the question why the higher fee for the same performance of ITA, the yield does help eat that up though.
And the Winner Is...
...XAR. Based on the steady outperformance, the low fee, and the middle-of-the-pack yield I think today that XAR is a good bet. Below I've listed the three and used (SPY) as a baseline for quick reference.

Of course, with anything that has outperformed, reversion is an ever-present threat. Seeing how the top ten holdings of ITA and PPA are quite similar, as well as their performance, a possible strategy could be to go long XAR and also either ITA or PPA. An appealing aspect of ETFs covering the same sector is that it is much easier to harvest losses for tax reasons at any point of the year but maintain exposure to that sector by rotating into a similar but not identical "cousin." (Always consult an investment and tax professional prior to attempting a tax-loss harvest). With very similar standard deviations of around 12%, the three funds aren't more volatile than the other in any significant way either.
With so many A&D companies enjoying record highs, and the valuations to go with them, jumping into any one company at this point is risky. To increase my exposure to defense, but not subject myself to the heightened risks of single-company ownership, these ETFs are looking all the more attractive. I expect the sector to continue to outperform the broad market over the near and long term.
Author's note: I hope you all got something out of this article. I do appreciate the time you took reading it. If you are one of those who follow me here, I appreciate it; if you'd like to include yourself amongst those individuals, please hit the "Follow" button next to my name as well as following other contributors whose work you enjoy. As always, please leave any feedback and questions you may have in the comments below. Best of luck to you all.
Companies included in tables: Boeing (BA), United Tech (UTX), Lockheed Martin (LMT), General Dynamics (GD), Raytheon (RTN), Northrop Grumman (NOC), Rockwell Collins (COL), Transdigm (TDG), L3 Technologies (LLL), Textron (TXT), Triumph Group (TGI), KLX (KLXI), BWX Tech (BWXT), Ball Corp (BLL).
Disclosure: I am/we are long R. I wrote this article myself, and it expresses my own opinions. I am not receiving compensation for it (other than from Seeking Alpha). I have no business relationship with any company whose stock is mentioned in this article.