So it looks like everyone agrees that the coffee market currently doesn't tally with fundamentals (talking about the Arabica variety, which is traded on the New York exchange), and that recent weakness on futures prices is speculative-driven.
But I'm not comfortable with that reasoning. Is there any "tangible" reason behind it?
In their latest report, the International Coffee Organization "ICO" said: "Coffee prices continued to fall as the market remains well supplied and inventories in consuming countries are high as a result of strong exports in the first seven months of the coffee year", while Judith Ganes explained further saying that "the rise in coffee stocks in the United States... will serve as a buffer against lower supplies in the second half of the October-September marketing year."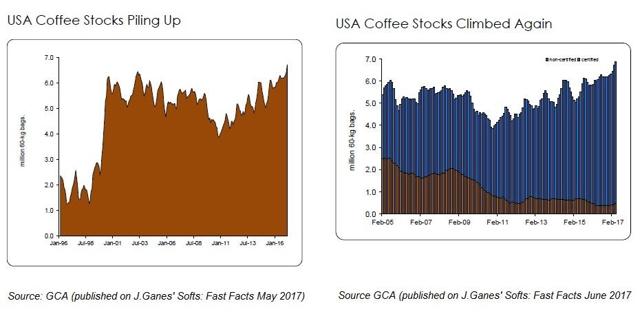 Okay, now we got something to blame for recent weak coffee prices in New York: current high USA inventory levels. And it's not such a surprise if we look at the historical negative correlation between Coffee C price and the compilation published by the Green Coffee Association "GCA" every month, which totaled 7.115 million bags in May, 2017, the overall highest level since 1994.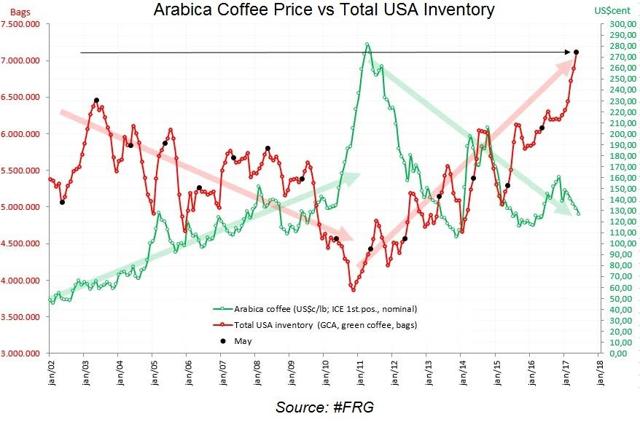 I'm sorry, but I'm not comfortable just yet. With a deficit of 10.8 million coffee bags over the last three years (as published by the "ICO"), neither I nor my partners in the growing coffee area understand why those 7.1 million bags in the USA have the market so tranquil, lately. My reasoning is that, if we continued in a world supply/demand deficit at that pace (which may be in the cards), the green coffee in the USA should be out of stock in less than two years.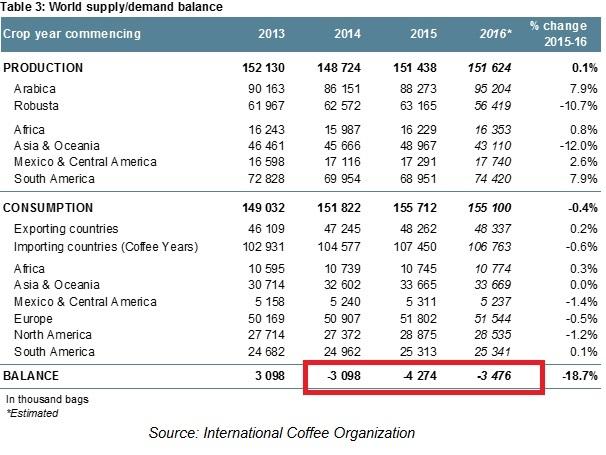 So, is that a big enough buffer to be so tranquil?
Whether it is or not, the market is tranquil. Speculators have kept building short positions with Managed Money Long/Short ratio sitting at lower levels, at 0.56.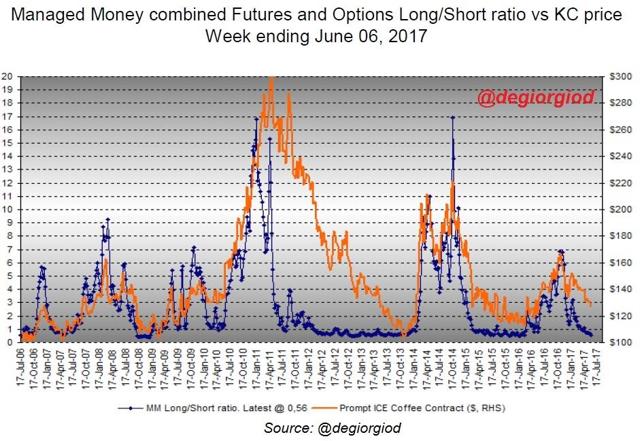 Why? Is there something we still don't know?
While the Brazilian harvest is ongoing - which can be one of the causes behind the bearish seasonal period from late May to early June because of the speculation on final numbers - my view is that, the cause behind recent weakness of prices can be for the most part, the one-million dollar question: Inventories in producing countries.
There is no mechanism in Brazil and Colombia - the two major Arabica Coffee producers - to compile and count all the coffee that exists in warehouses, so that we can get a verified number of stocks in main producing countries, as it does exist in the USA.
And it leaves a lot of room for speculation...
Having said that, although USA stocks are not enough to determine the "actual" amount of coffee inventories world-wide, in my opinion, the market seems to need some verified number to stick to, and the GCA's statistic seems to be the number to watch at this point.
Well, at least for now... until July comes with final numbers about the first-half crop in Colombia, as well as more advanced numbers of Brazilian harvest season, which in both countries, coffee growers agree that current high expectations with regard to crop numbers won't be fulfilled, claiming poor flowering and adverse weather conditions as some of the causes. Will all they be wrong? We will see it soon.
See you at the next post!
(Sourced from Coffee Insiders Blog).
Andres Agredo, Cafe Trading Advisors @CafeCTA / Commodity Trading Advisor, NFA Member
Disclosure: I am/we are short COFFEE C.
I wrote this article myself, and it expresses my own opinions. I am not receiving compensation for it. I have no business relationship with any company whose stock is mentioned in this article.
Additional disclosure: This material should be construed as market commentary, merely observing economic, political and/or market conditions, and not intended to refer to any particular trading strategy, promotional element or quality of service provided by Cafe Trading Advisors. Cafe Trading Advisors is not responsible for any redistribution of this material by third parties, or any trading decisions taken by persons not intended to view this material. Information contained herein was obtained from sources believed to be reliable, but is not guaranteed as to its accuracy. The risk of loss in trading commodity interests can be substantial. You should therefore carefully consider whether such trading is suitable for you in light of your financial condition. This material is for informational purposes only and should not be construed as an offer or solicitation to buy or sell securities or commodity futures.