It started May 2015… I graduated from college with my Masters in Mechanical Engineering with a job waiting a few weeks later. June 2015, I started the job in a program where I have the opportunity to travel North America, South America and Europe as an engineer helping solve problems in manufacturing plants. I had officially left the world of net losses every month and migrated into the world of net income every month.
That is when the obsession with investing began. Having signed a 2-year contract promising to move wherever the company needed me, moving directly into investing in real estate seemed risky. Therefore, I moved onto stocks. I coupled this with my desire to one day live on a body of water and decided to start a portfolio to assist me with the purchase of a lake house.
This likely sounds like an odd idea as a majority of people write about saving for retirement. Their goal is to produce enough income from stocks to prevent themselves from having to work until they "see the light at the end of the tunnel". I have that goal too... And am also working very hard towards that goal… But would like to have a little fun on the water along the way.
Why REITS?
I mentioned earlier that directly investing in real estate would be risky in my situation. After all I would not be present to assist if anything would go wrong and my analysis showed that hiring a property manager would eliminate any profits. The potential for income and asset appreciation that real estate investments offer was still enticing.
This led me to REITs. REITs allow average investors with small amounts of capital to invest in real estate. They are beneficial to folks like us because it keeps our starting costs and labor requirements low. In addition, it allows us to reduce our risk by pooling money together and allowing the management to purchase multiple properties, reducing the problems of owning a single real estate asset.
Likewise, REITs provide a great dividend opportunity. The SEC states:
To qualify as a REIT, a company must have the bulk of its assets and income connected to real estate investment and must distribute at least 90 percent of its taxable income to shareholders annually in the form of dividends.
The S&P 500 has recently been producing dividends around 2% whereas the Vanguard REIT Index ETF (NYSEARCA:VNQ) which closely tracks the return of the MSCI US REIT Index and produces a solid dividend of approximately 4.2%. I never intend on selling the principle and using the dividends to support my lake house endeavors.
Why Healthcare & Data Center REITs
I have chosen to focus on Healthcare and Data Center REITs.
Baby Boomers are retiring at a rate of 10,000 per day and the number of Americans turning 65 is expected to remain steady or increase through 2050. Also, the number of 85+ years old is expected to double in 20 years. There is an undeniable increase in demand for healthcare in the future as shown by this graphic produced by Welltower (HCN).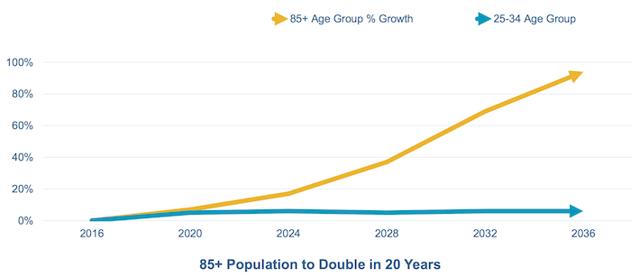 Data is now a huge part of our lives. IP traffic is expected to grow by 78% over the next 3 years and I don't foresee data usage slowing down. Who doesn't spend at least 20% of their day in front of their computer? I know my day consists of several meetings with colleagues all over the world using technologies such as Voice over IP and video chat. Not to mention my side gigs require that I keep files on cloud storage allowing others to have access to files no matter where we go and no matter what time of day we are working. Not to mention the up and coming usage of cryptocurrencies.
I think Digital Realty Trust's (NYSE:DLR) investor presentation said it best with this graphic.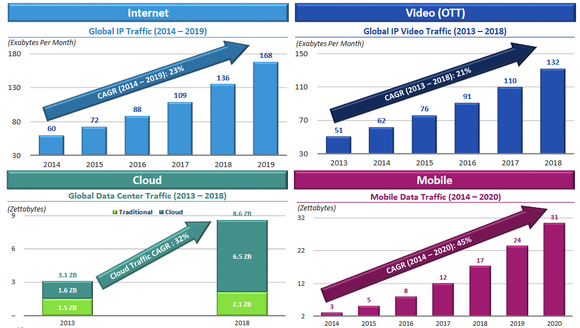 Previous & Future Lake House Portfolio Funding
Below is a table that shows my previous contributions to the Lake House portfolio, totaling $1250. I started out by investing $50/month for the 10 months. Recently, I have doubled my contributions to $100/month. I plan to continue contributing $100/month for 12 months or until I get my house/car/marriage situation under control plus any profits from my side gigs. Whichever situation comes first. Also, in June of this year my grandfather passed away and left me a small inheritance, I decided to use a portion of it in the Lake House portfolio since him & I spent a lot of time fishing together.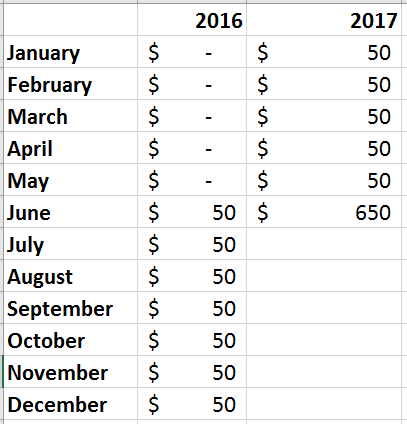 In the table below you can see the details of the portfolio as of June 9, 2016. You may notice that several of the holdings are not in the Healthcare or Data Center REIT sector and 2 of the holdings aren't REITs at all!

This is because I am still phasing out stocks that don't match my process. Before I had decided on the strategy of Healthcare & Data Center REITs I had other investing goals.
This brings me to my current portfolio goal:
Produce enough dividends to pay for 50% of the yearly value of the mortgage payment on a lake house
And the current portfolio strategy:
Focus on Data Center & Healthcare REITs
And the very beginnings of my process (rules):
Focus in markets with data that indicates future growth. Dividends >2.5%
What is driving my goals
I am a big fan on constant improvement and I apply the concept to myself in the form of new skills. Now that I am making more than I am spending, I have been investing larger and larger sums of money in the stock market. Most of this is in my 2 retirement accounts. Instead of blindly investing in my 401k & ROTH IRA I wanted the skill of understanding what I am purchasing to optimize the investments.
Financial independence. This term is thrown around a lot and is a goal for many people. Ever since I was 15 and had my first job that consumed a majority of my free time. I felt the sting of the working world. From that point on I have wanted financial independence. My definition of financial independence is not having an "8 to 5" to pay for living expenses and entertainment. For this portfolio I plan to fund 50% of a lake house, my entertainment source.
Simply the desire to live on a body of water. My soon-to-be-wife (STBW) and I have always had the dream of living on a body of water.
Financial Constraints
My retirement savings and 5 items below take priority over contributions to the Lake House portfolio. I contribute 6% of my pre-tax income to my 401k to receive the maximum company match & max-out the $5500 year in my ROTH IRA.
Everyone knows weddings aren't cheap. The city I live in has an average wedding cost of $33k. Sure we could cut costs on our wedding but I willing to splurge on a one-time special event. Plus, a nice honeymoon is much needed as I haven't taken a day off work in several months! The savings goal for my portion has been met.
With a wife comes the need for a house to raise a family (although this is still a few years off IMO). My STBW and I plan to purchase a house near the end of 2016/beginning of 2017. My savings for a down payment will not be invested in stocks as the risk is too high for plans in the near future. I am contributing $1k/month to this account.
I'm near the end of the 2-year contract with my current company. There is no guarantee of employment after the end of my contract that I will be offered a job (Although I should be offered something soon!). I have been using some excess capital to build up additional safety funds in the event I have to go job searching again. I am currently contributing $500/month to this account.
My college vehicle is nearing the end of its life. Being out of the country 50% of the last 2 years has allowed me to put off this dreaded purchase. I am not a fan of investing is assets that depreciate as quickly as a car. But, I can only avoid this subject for so long. As a mechanically inclined individual, I am expecting major repairs on my old college vehicle in the next couple of months. I intend to swap it out for a used car (or Tesla Model 3) near the beginning of 2017. Currently, I am contributing $500/month to this account. Once I have a job secured, any addition money from the safety fund account will be transfer to here.
My STBW plans to return to school in 2 years to pursue her Master's degree. We have decided that during this time she will not be working to focus on school. After the wedding, house and car purchase, school savings will be our next savings goal. I will likely be contributing $1k/month to this account.
What I have left to do, in order of importance:
Define rules on when to buy & when to sell.
Explore other sectors of dividend producing stocks. Do these sectors match my goals and adhere to my process?
I have decided to write about this portfolio on Seeking Alpha to put my thoughts on paper which assists in my evaluation process and to gain the opinion of an interested group of peers.
Please leave comments with your opinion and let's discuss.
Disclosure: I am/we are long NRZ, JNJ, OHI, SBRA, CONE, DLR, HCN, VNQ. I wrote this article myself, and it expresses my own opinions. I am not receiving compensation for it (other than from Seeking Alpha). I have no business relationship with any company whose stock is mentioned in this article.