Amazon's (NASDAQ:AMZN) deal to buy Whole Foods Market (WFM), which gives the e-commerce giant the potential to disrupt yet another corner of the retail sales market, demonstrates for investors how hard it is to find that diamond-in-the-rough stock early on.
When Amazon started out in the 1990s as an online bookseller, few people recognized its potential to remake the retail landscape. Debuting as a publicly traded stock in the spring of 1997 at a humble $18 a share, Amazon struggled in its first few years to win converts to its business model.
Since then, Amazon has soared as Internet sales have irreversibly changed the way consumers shop for everyday goods and read and watch media and entertainment. Its stock trades near $1,000 a share. Someone who had invested $100 in the IPO - and, importantly, stuck with it even through the dot-com bursting - would have close to $64,000 as of the 20th anniversary of that debut in May.
Are you one of those lucky investors? Probably not. And that's the problem with trying to find those hidden gems. More often than not, investors who carefully select stocks of strong companies and diversify their portfolios across a wide range of securities are going to make money, but not make it rich on those investments alone.
The New York Times recently looked at this sobering reality. With the broad market indexes hitting record after record high, it become even more difficult for individual investors to win picking stocks. That is true of amateurs as well as professionals.
Hendrick Bessembinder, a finance professor at Arizona State University, studied this and found that while the market as a whole has prospered, most individual stocks have not. "A very small percentage of winning stocks have done splendidly, but when gains and losses are tallied up over their lifetimes, most stocks haven't earned any money at all," he wrote in his paper.
In other words, as the New York Times points out, most stocks behave like lottery tickets.
More than half of stocks since 1926 failed to out-perform one-month Treasury bills, his research found, which seems counterintuitive since the conventional wisdom is that stocks do better than bonds over the long term.
And, the professor found, only 4 percent of stocks, including Exxon Mobil (NYSE:XOM), Apple (NASDAQ:AAPL), General Electric (NYSE:GE), Microsoft (NASDAQ:MSFT) and IBM (NYSE:IBM), accounted for the net market returns from 1926 to 2015. That's right, only a small number of stocks, mostly representing giant American companies, have driven the entire market over that time.
Of course it is possible for an investor, after intensive research, to find a winning stock before it catches the attention of others. This is what made Peter Lynch a star when he ran Fidelity's Magellan fund in the 1980s.
Lynch, whose fund returned more than twice that of the S&P 500 during his tenure, urged investors to buy what they know. And he used a number of financial measurements to determine if the stock was a good value, looking at fundamentals like a company's earnings growth rate, its PEG ratio and debt/equity ratio.
That was his day job, however. Amateur investors can certainly find luck on their own by looking for stocks of companies that have strong track records and solid fundamentals and constructing diverse portfolios that avoid concentration risk and give exposure to a wide range of sectors.
But those without the time and resources to evaluate potential investments might be better off sticking with diverse indexed funds, and certainly that sentiment has helped push the popularity of these funds over the last few years.
This is the conclusion of Bessembinder and high profile investors like Warren Buffett, who tells ordinary investors to put their money into low-cost index funds tracking broad benchmarks like the S&P 500 and stick with those investments even as the market fluctuates. Market timing has tripped up many investors over the years.
"The trick is not to pick the right company," the Oracle of Omaha said on television last month. "The trick is to essentially buy all the big companies through the S&P 500 and to do it consistently."
But for many investors, there will always be the temptation to try and find the next Amazon or Apple , no matter how unlikely it may be. I believe that if you are going to try and pick stocks you should do it based on the fundamentals and valuations. Since 2003, I've been following the fundamentally based quantitative models based on the strategies of Wall Street greats like Lynch and Buffett. These strategies are far from perfect -- and they don't always outdo the market -- but by following these stock selection methods systematically investors can be confident they are buying stocks based on their real investment prospects and not because they are the golden ticket to riches.
Below is a list of stocks that currently pass at least four of the guru strategies I run with at least an 80% score. The list has a mix of value and growth stocks across a wide range of companies. If you're willing to put in the time and do the research this list may be a good starting point in finding the next investment idea but understand that none of them are likely to be the next high flying super stock.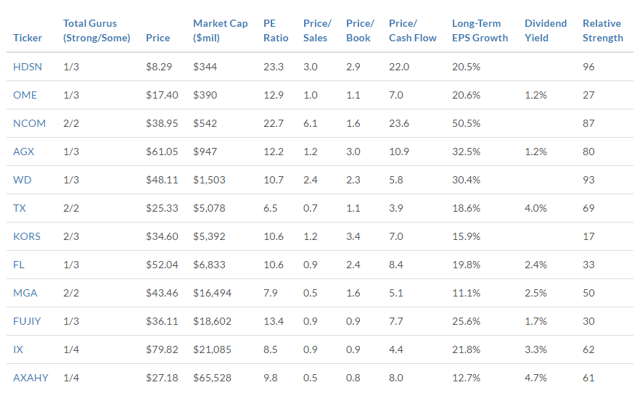 Disclosure: I am/we are long HDSN, OME, AGX, WD, TX, KORS, FL, MGA, IX AND AXAHY.
I wrote this article myself, and it expresses my own opinions. I am not receiving compensation for it. I have no business relationship with any company whose stock is mentioned in this article.
Editor's Note: This article discusses one or more securities that do not trade on a major U.S. exchange. Please be aware of the risks associated with these stocks.