By Christopher Armes
This is the third article in the "Sector Face-Off" series in which I examine stocks within the oil and gas sector following the first piece on ConocoPhillips (NYSE:COP) and second on Exxon Mobil (NYSE: XOM). This week, we look at BP (NYSE: BP) and compare the firm to a group of its peers.
Shares of the entire oil and gas sector have suffered dating back to 2014 in parallel with depressed commodities prices, significantly underperforming the high-flying S&P 500 and almost all other sectors YTD. Global supply and demand dynamics continue to surprise to the negative, with oil futures moving lower and demand-side data releases underwhelming market expectations.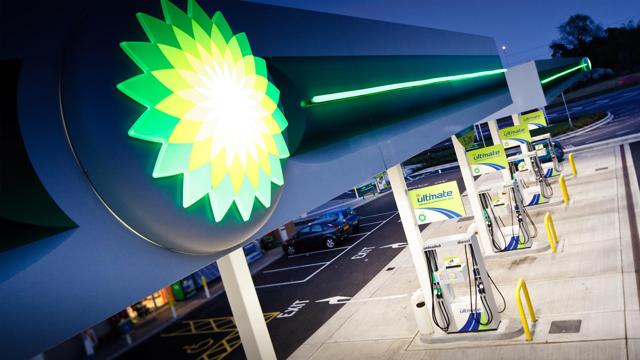 Credit: BP Global
In such a volatile and uncertain operating environment, is there value to be realized in the oil and gas space? And which oil and gas stocks seem to be a better buy relative to their peers?
Facing off the largest international players in oil and gas
The table below presents several metrics, from valuation to fundamentals, across 10 of the largest oil and gas companies by market cap: 2017 and 2018 P/E, 2017 PEG and cash-adjusted PEG, price-to-book, next year EPS growth, net cash as a percentage of market cap, trailing ROE, dividend yield and "distance" from 52-week highs.

Source: DM Martins Research, using data from Yahoo Finance and Zacks
To help better contrast the differences across the peer group, I also created the ranking below:

Source: DM Martins Research, using data from Yahoo Finance and Zacks
One notorious oil and gas player that appears quite middling based on the metrics above is BP. In comparing BP to a group of its peers, the company seems unremarkable in most facets. The firm's single best-in-class ranking lies in its dividend yield of 6.8%. While a high dividend yield is normally viewed as a positive, BP's yield far exceeds the peer group average of 3.9% and may actually be cause for concern given the company's current fundamentals. Further, BP records the most unfavorable PEG ratio (1.5x) in the peer group after adjusting for cash, suggesting the firm might be overvalued at the current market price. Other measures rank BP in the middle of the pack, including a P/E ratio in the high-teens (17.7x).
Can the "momentum" BP has generated over recent quarters translate into long-term value for investors?
BP has a long and storied history as a large international player in the oil and gas sector. Organizationally, the company is segmented by Upstream, Downstream, and its large position in Moscow-based Rosneft (OTCPK:RNFTF).
BP is coming off a strong first quarter in which it turned in one of its best performances in quite some time, recording $1.4 billion in net income based on $53 billion in revenue, beating analyst expectations. Oil and gas production rose and BP's CFO, Brian Gilvary, emphasized the firm's "… continued operational momentum" on the first-quarter earnings call.
The company has also provided extensive and repetitive guidance on its commitment to sustaining long-term sustainable free cash flow as well as holding an absolute commitment to shareholders. Although the stock price saw a Q1 bump following reporting results, current FCF suggests the firm still has significant work to do on this front. Specifically, FCF in Q1 notched a disappointing -$1.6 billion as capital expenditures, dividends payments, and continued disbursements related to the Gulf of Mexico oil spill in 2010 put pressure on the firm's cash position.
See below the five-year history of BP's free cash flow on a trailing-twelve month basis.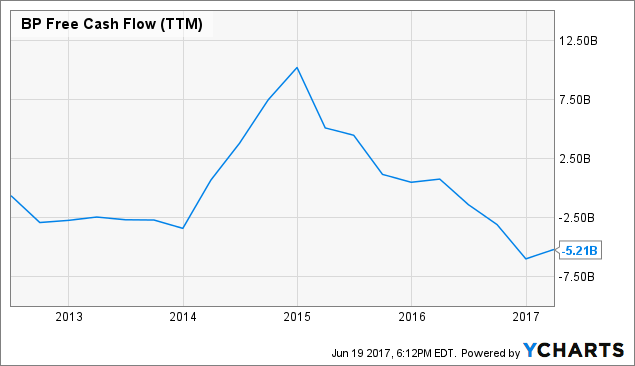 BP Free Cash Flow (TTM) data by YCharts
Specifically, BP made $2.3 billion in Gulf of Mexico oil spill payments and guidance suggests total 2017 payments will fall in the range of $4.5 billion to $5.5 billion, but will likely end up closer to the top of that range. In an already unfavorable macroeconomic environment where margins are razor-thin, additional firm-specific hindrances have proved a real drain on the firm's performance, pressuring cash flows as well as driving up the firm's proportion of debt from a capital structure perspective.
Turning to cash flows from investing, BP reported a $3.5 billion outflow in Q1. While the entire sector has seen a pullback in investment due to deteriorating market dynamics, BP has arguably been the least conservative in this regard. By comparison, larger competitor Exxon Mobil spent just $2.9 billion over the same period. BP has also offered guidance through 2021 in which it will keep a narrow annual capex target between $15-17 billion. BP's Upstream segment is the primary beneficiary of the capex proceeds as BP is aggressively starting seven major projects in 2017, the largest number in the company's history.
Looking at the balance sheet, it flows quite logically that when faced with negative FCFs and aggressive Upstream capex spending that debt has become an increasingly important funding source for the company. Total debt has increased at an elevated pace since 2016 and ended Q1 at nearly $62 billion. Net debt totaled $38.6 billion, an uptick of 9%. Company guidance has suggested that debt will level off in the second part of the year and whether this comes to fruition will be something to follow closely in tracking the firm's performance for the rest of the year.

Credit: Bloomberg
Bearish Outlook for BP
Looking to upcoming earnings, it is likely that revenue will weaken as crude prices have been pushed down in recent months stemming from OPEC developments as well as further signs of excess global supply. Brent averaged $54 per barrel in Q1 and resulted in BP-reported earnings of $1.5 billion; the average price of crude in Q2 is currently at $51.6 per barrel and could head lower still by the end of month. If it materializes, crude price weakness should weigh on BP's outlook going forward and conflict with the firm's overall rosier expectations for oil prices going forward as it expects above-average global oil demand growth.
The evolution of BP's balance sheet will continue to be a concern for investors if debt levels continue to rise, directly contradicting management commentary. But it is not simply BP's debt level or rate of growth that is concerning, but how debt is currently being used to effectively plug the gap created by BP's negative FCF. While cutting the dividend or capex might seem unlikely, it is unclear how BP plans to resolve the situation going forward.
As previously mentioned, BP's peer-leading dividend yield (6.8%) might represent more of a pain point for the company rather than a positive feature. Dividends at current levels coupled with growing levels of debt and negative FCF could further embroil the company. A BAML analyst recently suggested that BP would require oil at $60/bbl to meet FCF coverage based on current revenues from each of the firm's business segments.
Final Thoughts
BP is a company that looks challenged on paper. Although BP's recent Downstream investor day offered some welcomed details, the company must still show that it is moving towards its future projections that hinge on generating larger shares of revenue from its Downstream segment as well as an increased focus on natural gas. Although payments related to the Gulf of Mexico oil spill are expected to tick down after this year, this idiosyncratic drain (~$3 billion from 2018-2019) will continue to put BP at a disadvantage versus the peer group and pressure firm liquidity. As such, in my view, BP represents itself as one of the weaker options in the sector and its near-term performance in the "lower for longer" global commodities environment should further pressure the firm's fundamentals.
Note from the author: If you have enjoyed this article and would like to receive real-time alerts on future ones, please follow DM Martins Research. To do so, scroll up to the top of this screen and click on the orange "Follow" button next to the header, making sure that the "Get E-mail Alerts" box remains checked. Thanks for reading.
Disclosure: I am/we are long XOM.
Business relationship disclosure: This article was authored by DM Martins Research contributor Christopher Armes, edited by Daniel Martins