Today was an important day for economic data. The day saw inflation and interest changes from the Federal Reserve - with another potential cut at the end of the year - and the day also saw retail sales numbers released from the Census Bureau, which printed lower. The consumer is slowing down to what I would say is more realistic levels. Incomes are trending lower and the result is a lower increase in expenditures. I expect this to be the new norm going forward without any kind of new stimulus. I am a firm believer that the Federal Reserve's plans to increase interest rates while shrinking the balance sheet is going to seriously hamper the consumer, the main driver of the economy; this economy is going to come to a near halt.
For me, comparing personal incomes with expenditures is the first start for analyzing the United States economy. We are still awaiting income and consumption growth numbers for this month, so, this is the latest income data available for comparison versus retail sales.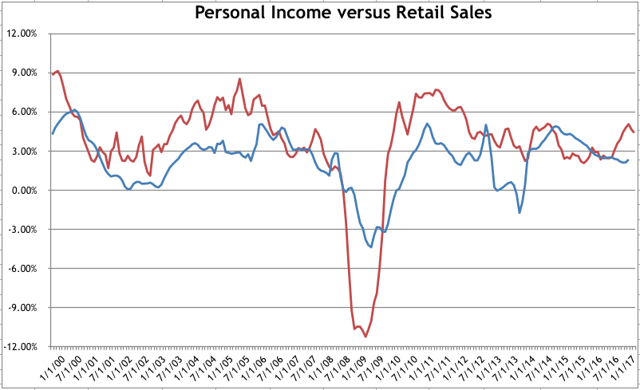 Retail sales have been elevated from the perspective of incomes lately. But, the two are not a 1:1 linear ratio, however they are strongly correlated.
Lately, though, the larger move higher in the retail consumption is explained with two events: The Trump election and increases in lending to sub-prime borrowers. A look at the past 5 years of confidence helps explain. If you look at this chart below, the drop in the last several months is October 2016. Then, the surge and subsequent moves all happened in November onward. That is what is being dubbed the "Trump Trade". At the same time, there was a decrease in lending standards to enable sub-prime borrowers to get loans. This helped surges in auto purchases and other retail factors. Looking at this chart, you can see the large increase in what is December of 2016: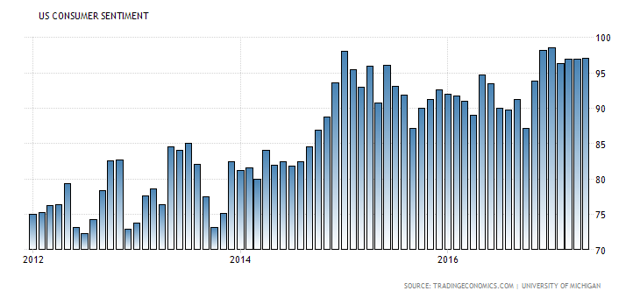 There is a reason why these individuals are labeled "Sub-Prime". The past several months have seen the effects of this: Sub-prime borrowers typically have high default rates. There has been a rise in delinquencies for auto loans and credit cards the past several months.
As this chart suggests, whereas Americans became unbelievably responsible at managing their finances, the push for retailers to get higher sales with lending to sub-prime has its downsides.
The Federal Reserve is removing policy accommodation. It is my belief that the long end of the yield curve is going to head higher. This will increase costs for debt service on credit cards - Americans carry an average of $16,400 in debt on credit cards.
At the same time, lenders are reeling from the increased delinquency rate. Capital One Financial Group (NYSE: COF) missed their latest earnings by some 22% from this. Lenders are not going to be extending additional credit because of this but, instead lenders are going to retaining capital for loan loss provisions.
So, where does growth in retail sales come from? With incomes on the lower end of the spectrum I do not see that being the shot in the arm that propels the economy past the increased costs of higher interest rates, nor the lack of credit to spend money they don't have.
Certainly this presidential administration is not going to be able to deliver anything coming close to economic stimulus. More and more Republicans are turning on the tarnished president. So, where does retail sales get increases in growth rates?
I do not see it happening. I see a continued contraction in the retail sales numbers. Over the next several months, I believe we are going to see more and more month-over-month changes being negative. And, eventually, I see the Federal Reserve back-pedaling on its policies.
This economy is slowing. Consumers are contracting. Retailers are feeling the pain. This will show up in their earnings reports.
Disclosure: I/we have no positions in any stocks mentioned, and no plans to initiate any positions within the next 72 hours.
I wrote this article myself, and it expresses my own opinions. I am not receiving compensation for it (other than from Seeking Alpha). I have no business relationship with any company whose stock is mentioned in this article.