Chesapeake Energy (NYSE:CHK) investors can't just look at the present, the future is just as important. Chesapeake has been a heavy user of hedges. As of May 1st, 75% of Q2-Q4's natural gas (NYSEARCA:UNG) production was hedged. Unfortunately, that luxury is now gone. With this safety net pierced, I am reiterating my bearish stance on the company once again.
Backwardation Presents Challenges
One look at the natural gas futures curve and you should be worried.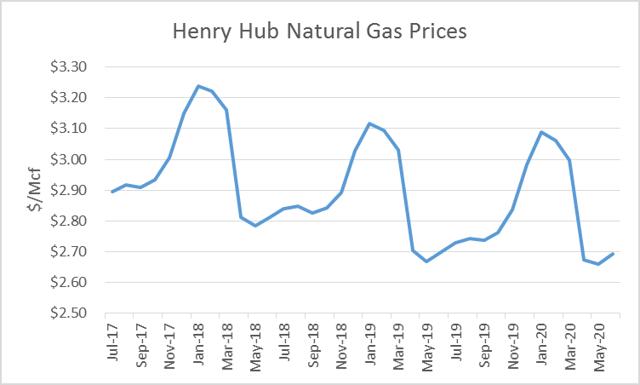 Source: data from CME
While there are spikes due to seasonality during winter months as the result of increased demand for heating, the long-term trend as predicted by the futures market is clearly negative.
The graph below allows us to interpret the data better: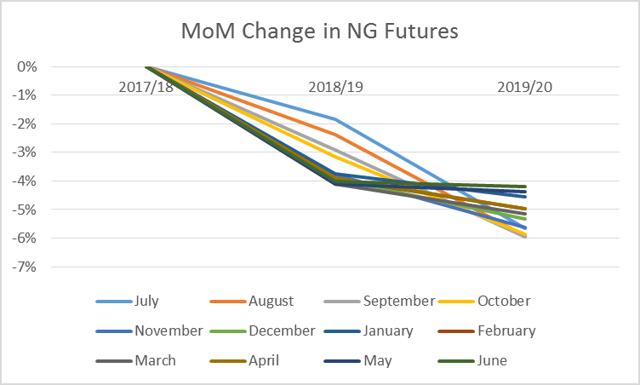 Source: data from CME
We can see that the market is pricing in potentially mid-single digit losses for natural gas in comparable months within two years. When I first started looking, the projected decline was actually in the double digits, but as the spot price got crushed on Monday, the curve became a bit more benign.
The implication for Chesapeake is tremendous. In the past I've advocated for Chesapeake to be even more aggressive with hedging, beyond the typical one year horizon. Due to Chesapeake's debt load ($9.5 billion as of Q1), having a stable source of cash flow is critical. While Chesapeake is not in an industry where stable cash flows are the norm, volatility is especially bad for the company right now due to its leveraged capital structure. As I've mentioned in my previous article (read Pain Awaits), the company is barely generating enough cash flow. Now that the futures curve in backwardation, the company has lost the opportunity to hedge 57% of revenue (natural gas's portion of Q1's revenue), unless the management wants to lock in lower prices of course.
This means that the management is faced with a tough trade-off, they could either lock in prices that are even lower than today's for the sake of protecting the downside, or just go with the flow and hope that commodity prices don't crater. Neither of these options are appealing to me.
Can Afford The Cut
The silver lining is that even if natural gas drops by another 5-6%, Chesapeake should be able to handle this decline. Of course I expect the stock to react negatively as prices fall, but I don't think it is a question of survival yet. First quarter's adjusted EBITDA translates to an annualized EBITDA of $2.1 billion at Q1's realized prices ($51.72/bbl oil (NYSEARCA:USO) and $3.02/Mcf natural gas). Assume that oil gets above $50/bbl (I'm being generous here) and take off $0.20/Mcf for natural gas to take the declining futures curve into account, the company should only lose $177 million of adjusted EBITDA based on the guidance of 885 Bcf of production. The new EBITDA ($1.9 billion) would still be much higher than the annual interest expense of ~$400 million. Unfortunately, cash flow would be non-existent by then if we include the current capex guidance of $2.1-2.5 billion; however, the management could tinker with the capital budget should lower prices materialize. In conclusion, it may be very uncomfortable, but this is not something that mirrors the challenges that the company faced in early 2016.
Conclusion
The current futures curve presents serious challenges to Chesapeake. The management can no longer rely on hedges to preserve profit and protect the downside, now they must make a choice. Neither option is very attractive as buying hedges would lock in lower prices, but not buying hedges would expose the company to potentially catastrophic losses. The one saving grace is that should the management choose to take lower prices, the company should be able to stomach the hit. It won't be pretty, but the company will survive.
Author's note: Click the "Follow" button beside my name on the top of the page to be updated with my latest insights. To learn more about the Core Value Portfolio, whose goal is to compound capital at 20% over the long term, I encourage you to read the introduction to my investment process. Premium subscribers get full access to the Core Value Portfolio.
Disclosure: I/we have no positions in any stocks mentioned, and no plans to initiate any positions within the next 72 hours. I wrote this article myself, and it expresses my own opinions. I am not receiving compensation for it (other than from Seeking Alpha). I have no business relationship with any company whose stock is mentioned in this article.