Bank Of America (NYSE:BAC) has become one of the largest holdings in my R.I.P. portfolio due to the stock's impressive performance over the last year, but I believe that BAC shares are still a great long-term buy at today's price. Not only are BAC shares attractively valued but, in my opinion, the bank has several tailwinds that will help shares outperform the broader market over at least the next two to three years.
BAC is well-positioned to benefit from a rising rate environment, so it should be viewed as a positive development that the Federal Reserve recently increased the Fed funds rate by 25bps and anticipates additional hikes over the next two years. However, I believe that the catalyst that investors should be most excited about now is the prospect of this bank paying a significantly higher dividend in the near future. As such, prospective investors should seriously consider starting a BAC position before the Comprehensive Capital Analysis and Review ("CCAR") results are released later this month.
The Catalyst To Be Thinking About
Many pundits believe that everything is already baked into BAC's stock price, but, in my opinion, now may be the best time to start a position in this bank because the financial community will soon realize that the changing regulatory environment, coupled with BAC's strong capital position, will soon allow for this bank to significantly increase the amount of capital that is available to be returned to shareholders.
In 2016, BAC returned ~$9.3b to shareholders in the form of stock buybacks (~$5.1b) and dividends (~$4.2b). The bank was finally able to raise its dividend last year from $0.05 to $0.075 after several years of keeping it flat.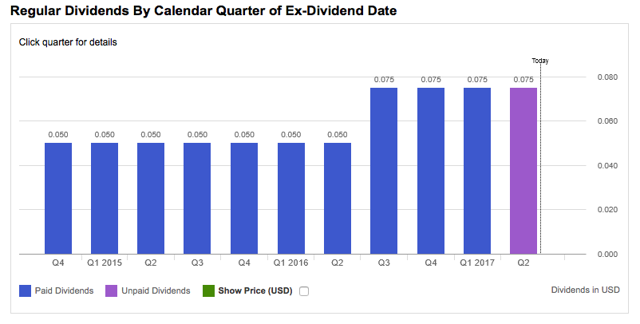 (Source: Fidelity)
The $0.075 per quarterly translates into a dividend yield of only ~1.25% based on today's stock price and this is one area where the bank is falling behind its peers.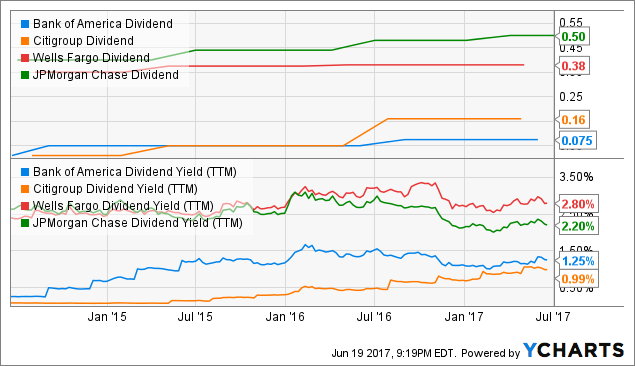 BAC Dividend data by YCharts
Before touching on BAC's payout ratio, it is important to note that the bank has been on the road to greater profitability over the last five years. The table below shows the progress that has been made in reducing expenses and increasing earnings over the last few years.
| | | | | | |
| --- | --- | --- | --- | --- | --- |
| ($ in millions) | 2016 | 2015 | 2014 | 2013 | 2012 |
| Total revenue, net of interest expense | $83,701 | $82,965 | $85,894 | $87,502 | $82,798 |
| % Chg | 1% | -3% | -2% | 6% | |
| | | | | | |
| Noninterest expenses | $54,951 | $57,734 | $75,656 | $69,213 | $72,094 |
| % Chg | -5% | -24% | 9% | -4% | |
| | | | | | |
| Net Income | $17,906 | $15,836 | $5,520 | $10,539 | $3,855 |
| % Chg | 13% | 187% | -48% | 173% | |
| | | | | | |
| Expenses as % of revenue | 66% | 70% | 88% | 79% | 87% |
(Source: Data from BAC's 2016 10-K; table created by W.G. Investment Research)
As shown, BAC's earnings growth is largely a result of management being able to reduce expenses. Managing expenses has been a lever that management has been able to pull time after time since the Financial Crisis and it appears that this may also be the case for 2017 and possibly 2018, too. In a recent interview, the bank's chief operating officer, Tom Montag, stated that BAC's 2018 expense target of $53b should be viewed as only the start for this bank because improving its cost structure is a significant component of management's long-term growth strategy. Mr. Montag's went further by explaining how BAC will leverage technology to reduce expenses, which I believe will be a key growth driver for this bank (and other banks) for many years to come.
Additionally, BAC is finally in a position to shift the focus to growing its business instead of only trying to manage expenses. The bank's operating results will be positively impacted by an improving operating environment, which includes both interest rate hikes and proposed regulatory changes.
According to FactSet, given the fact that the Fed hiked rates for the third time in the last six months, analysts have started to revise their earnings estimates for the financial sector. The firm mentioned that 58% of companies (38 out of 65) in the S&P 500 Financial sector had EPS estimates raised since December 31, 2016.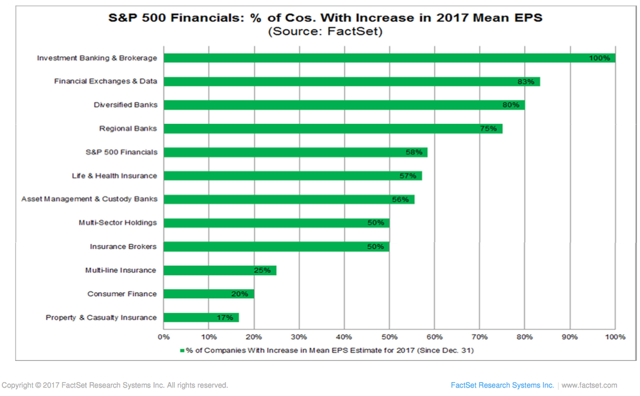 (Source: FactSet)
The interest rate hikes have a more direct impact on the banking sector's earnings, but the prospects of regulatory changes also have the potential to be a significant catalyst for the large U.S. banks, including BAC. A bill aimed to roll back portions of Dodd-Frank was recently passed in the House, but this is likely only the beginning for the Trump team attempting to scale back what are widely viewed as burdensome regulations for the financial sector. We have to take a wait-and-see approach to determine how the pieces will fall into place, but, from an investor's perspective, it is encouraging that the president sees the need to cut back on regulations.
Now, back to BAC's payout ratio, which is an important piece of the puzzle. This bank has a lot of wiggle room to raise its dividend in 2017 and beyond.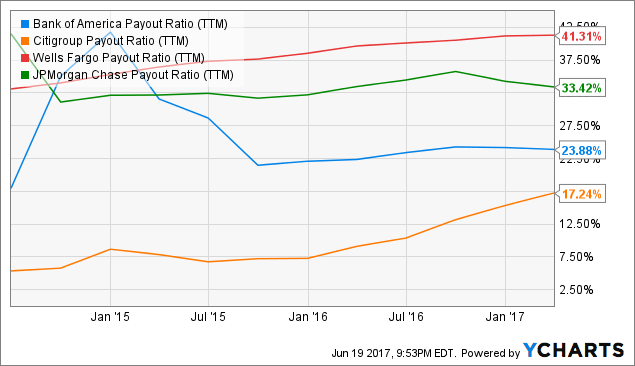 BAC Payout Ratio (NYSE:TTM) data by YCharts
The average payout ratio is 29%, and this includes Citigroup's (NYSE:C) low ratio. Excluding Citigroup, the average payout ratio is 32%. BAC has the opportunity to significantly increase its payout ratio in future periods, and let's not forget that the bank has already shown the ability to greatly increase its earnings over the last five years. Therefore, in my opinion, BAC's management team will announce a substantial dividend increase later this month. Mr. Moynihan has long stressed the importance of the dividend, so I expect for the bank to increase the quarterly dividend to the range of $0.10-$0.12 ($0.10 is more likely) later this month.
Bottom Line
BAC shares have performed well over the last year but, in my opinion, the stock still has plenty of room to run, especially if management announces a double-digit dividend increase in the weeks ahead. Similar to what I described in this Citigroup article, I believe that management will focus on the dividend over buybacks even if it seems that repurchasing shares makes the most financial senses at the moment.
Bank Of America is a great long-term buy today and investors may miss their opportunity of getting BAC shares in the low-to-mid $20 range if the bank announces a large dividend raise later this month. Therefore, long-term investors should consider starting a BAC position before the CCAR results are released.
If you found this article to be informative and would like to hear more about this company, or any other company that I analyze, please consider hitting the "Follow" button above.
Disclaimer: This article is not a recommendation to buy or sell any stock mentioned. These are only my personal opinions. Every investor must do his/her own due diligence before making any investment decision.
Disclosure: I am/we are long BAC, C.
I wrote this article myself, and it expresses my own opinions. I am not receiving compensation for it (other than from Seeking Alpha). I have no business relationship with any company whose stock is mentioned in this article.