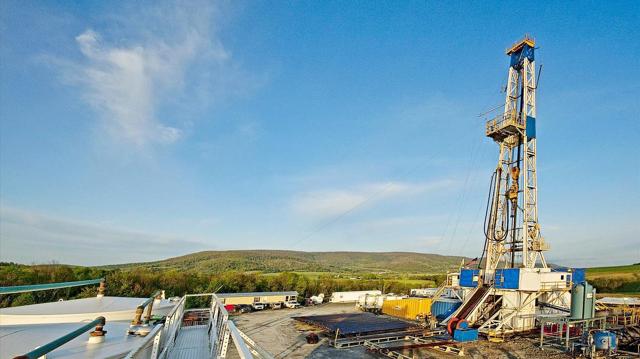 Source: Google Images
Review
First off, the good news. It was announced yesterday that EQT Corporation (NYSE:EQT) and Rice Energy (NYSE:RICE) had entered into a definitive merger agreement of approximately $6.7 billion. Under the agreement, EQT will acquire all outstanding shares of Rice common stock for 0.37 shares of EQT common stock and $5.30 in cash per share of Rice common stock. The transaction is expected to close in the fourth quarter of 2017, subject to customary closing conditions.
Rice's stock price closed the day up 25 percent to $24.57 per share, while EQT's stock price closed the day down 9 percent to $53.51 per share. Despite the surge by Rice, the stock price still closed just over 9 percent below the implied value of $27.04 per share as of June 16, 2017. Yesterday's stock price peaked at $25.52 per share.
Rice is a core holding of the Lean Long-Term Growth Portfolio (LLGP). The initial purchase was made in mid-December of 2016 at $21.66 per share including transaction costs. In early February of 2017, a second position was added at $19.62 per share for a combined total unit cost of $20.58 per share. Once the deal closes, the anticipated return will be greater than 31 percent. The $27.04 buyout price represents a nearly -19 percent return from Rice's all-time high of $33.32 in early June of 2014.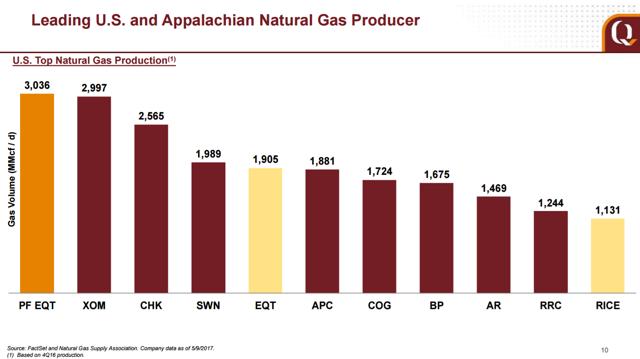 Source: EQT Corporation Announces Acquisition of Rice Energy Investor Presentation, June 19, 2017
The initial benefits of the deal seem clear, as the combined EQT and Rice will form the leading U.S. and Appalachian natural gas producer. Other benefits include Rice's upstream and retained midstream assets, as well as substantial contiguous acreage and synergies such as technological advancements and higher returns through longer laterals and lower operating cost structure.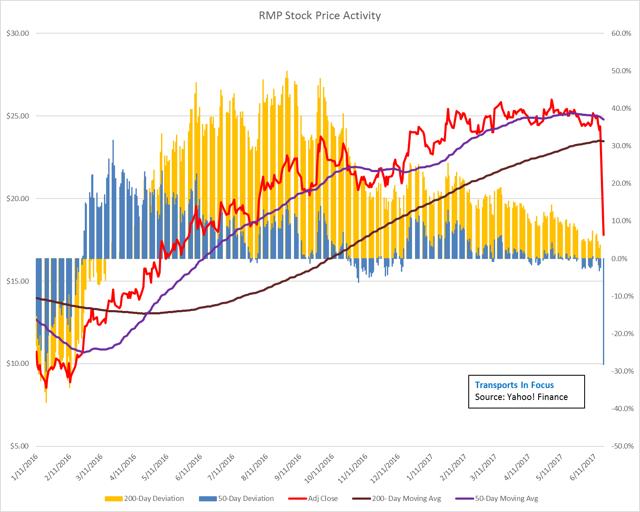 Now, the bad news. In addition to Rice, the LLGP also holds Rice Midstream Partners (NYSE:RMP). Before the markets even opened, Rice Midstream was active, but moderately negative. Early in the day, the stock price dropped by 8 percent; at the low point, the stock price was down as much as 29 percent. The stock price ended up closing down -27 percent to $17.80 per share.
At first glance early in the morning, it seemed like maybe a buying opportunity had emerged as Rice and Rice Midstream have traded in opposing directions quite often. But upon review of EQT's presentation, it soon became clear that certain of Rice's assets, which were being expected to be dropped down to Rice Midstream, would be going to EQT Midstream Partners (NYSE:EQM) instead.
This led to announcements of downgrades for Rice Midstream throughout the day, substantially weighing on the stock price. This is not necessarily based upon Rice Midstream's existing long-term contracts with Rice and EQT, which make up the substantial majority of the company's existing operating revenues. It was more about the long-term growth prospects beyond these core customers.
Rice Midstream had risks associated with its exposure to Rice as its core customer, especially as the Rice general partnership structure allowed for best interest preference to Rice and its shareholders, even at the expense of Rice Midstream. This risk scenario is exactly what played out based upon yesterday's announcement.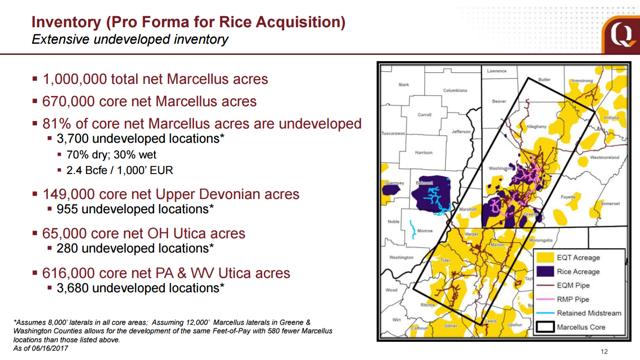 Source: EQT Corporation Announces Acquisition of Rice Energy Investor Presentation, June 19, 2017
As part of the deal, EQT will gain 92 percent of the Rice general partnership, including incentive distribution rights (IDRs) and 28 percent of Rice Midstream units. Today, Rice Midstream lost about 20 percent of the company's enterprise value, which stands at $2.4 billion. The good news for Rice Midstream is that the company is carrying only $190 million in total debt.
The challenging news is that without any new drop-down assets in the near term, Rice Midstream's $315 million capital budget plan for 2017 and future needs may be challenged. For 2017, $255 million is budgeted for the continued build-out of the company's Pennsylvania gathering and compression systems, and $60 million is budgeted for water services operations.
This will likely lead to a further dependency on the company's revolving credit facility to fund the 2017 budget and distributions to related parties and unitholders, as well as in the near term. Without future assets expanding Rice Midstream's geography over time, raising capital may be more limited and/or restricted. Expectations for unitholders will also be impacted as growth uncertainties are now prevalent.
Summary
In addition to analyst downgrades (mostly to hold and/or market perform), RBC and Drexel Hamilton made statements as to their expectations as follows:
"However, he views it as a near-term negative for Rice Midstream , which now lacks clarity and no longer has drops to support growth. Schultz added that he thinks EQT eventually will look to collapse the midstream structure to eliminate the IDRs."

"Drexel Hamilton analyst John Ragozzino downgraded Rice Midstream after EQT announced it would acquire Rice Energy, saying its future as a public MLP is unclear. The analyst eventually expects Rice Midstream to be acquired by Equity Midstream at some point, but with just a modest premium, and lowered its price target to $23 from $30."
For me, there are two takeaways. First, Rice Midstream still has existing contracts with Rice and EQT, with the potential to still invest and grow its business. The rate of growth has become murky, especially as EQM will now be gaining drop downs in favor of Rice Midstream.
The second takeaway is that another deal by EQM makes a lot of sense, especially as the company will only need to acquire the remaining 72 percent of Rice Midstream. This could even be performed in a joint manner if another party were interested. This could also work in the event the midstream structure was collapsed.
The fact of the matter is that Rice Midstream's stock price still dropped nearly 23 percent below the $23 new target price, displaying that uncertainty trumped any speculative opportunities yesterday. I took the liberty of adding a small position to bring my unit cost basis down to $21.68 per share. I'm looking for the opportunity to take it lower in preparation for a near-term deal.
Rice, on the other hand, will end up being a nice payout when the deal closes in the fourth quarter of this year. Ultimately, the LLGP has some other prospective companies that may end up fetching a short-term return. Aside from Rice Midstream, other possible acquisition target candidates include Arista Networks (NYSE:ANET), Calavo Growers (NASDAQ:CVGW), DexCom (NASDAQ:DXCM), Hanesbrands (NYSE:HBI), Hub Group (NASDAQ:HUBG), LINE Corporation (NASDAQ:LN), McCormick & Company (NYSE:MKC), Sprouts Farmers Market (NASDAQ:SFM), The J.M. Smucker Company (NYSE:SJM), Ulta Beauty (NASDAQ:ULTA) and V.F. Corporation (NYSE:VFC). The hunt for profits continues.
Disclosure: I am/we are long ALL STOCKS MENTIONED EXCEPT EQT AND EQM.
I wrote this article myself, and it expresses my own opinions. I am not receiving compensation for it (other than from Seeking Alpha). I have no business relationship with any company whose stock is mentioned in this article.