I find it utterly fantastical that market speculators float ridiculous rumors on a daily basis to influence markets and talk their talking books. Just yesterday, in fact, shares of Rite Aid (NYSE:RAD) were up 12% on rumors that Amazon (NASDAQ:AMZN) was considering buying them if the Walgreens (NASDAQ:WBA) merger fell through.

Source: Google Finance
Here is the story from Midnight Trader.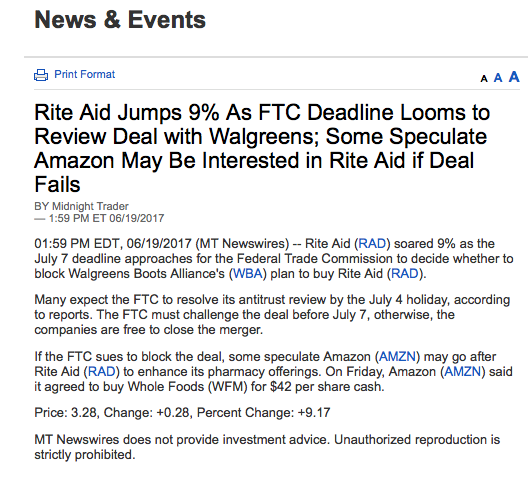 Source: Fidelity
As some readers may recall, I have been negative on RAD since the low $4s (as that is when I first started kicking the tires; arguably I would have been just as negative sooner if the name was on my radar screen).
See:
Should Walgreens Leave Rite Aid At The Merger Altar? (published May 9th)
and
Should Walgreens Leave Rite Aid At The Merger Altar? (Encore Piece)(published May 10th)
So I find it utterly laughable as this makes no logical sense for Amazon.
Amazon bought Whole Foods (NASDAQ:WFM) for:
A) Its incredible real estate development and site selection, including its early mover advantage and marquee store locations in glossy major urban destinations.
B) Its store innovation, unique in store shopping experience, leadership in the organic space, and vision in the super market arena (juice bar, coffee bar, fancy breads, meat, cheeses, craft beer and wine, flower shop, diverse hot and cold store selection. It is simply a much better shopping experience.
C) Whole Foods' valuable brand cache and strong foothold in hearts and wallets of folks with high disposable income.
Rite Aid is the antithesis of Whole Foods. If you look at Jeff Bezos' acquisition history, he is like a well regarded museum curator who only appreciates the finest art. He has a highly discerning eye and make very few deals, as he prefers to organically grow rather than buy companies. That said, he bought Zappos.com and Diapers.com because he saw genius and a unique first movers approach, not because he was bored and wanted to do a deal. Jeff Bezos is too busy for M&A misadventures.
Speaking of Rite Aid - what would Jeff Bezos actually be buying? A distant third rate competitor going up against the formidable CVS Health (NYSE:CVS) ($77 billion market cap) and Walgreens Boots Alliance ($82 billion market cap). There is a reason RAD's enterprise value is so low compared to the Big Two - because its operating metrics are much worse.
As I highlighted in my original piece, Rite Aid has a lot of long term debt: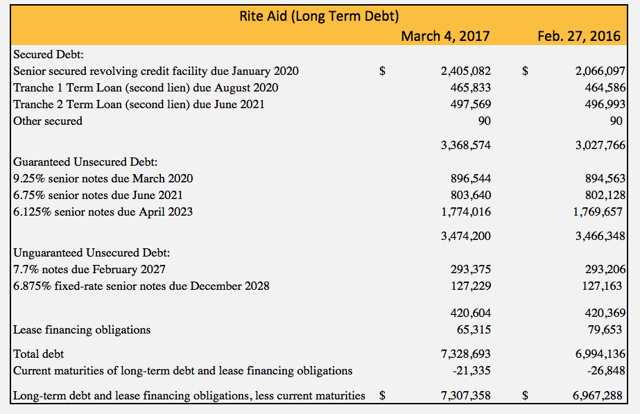 And lots of shadow debt: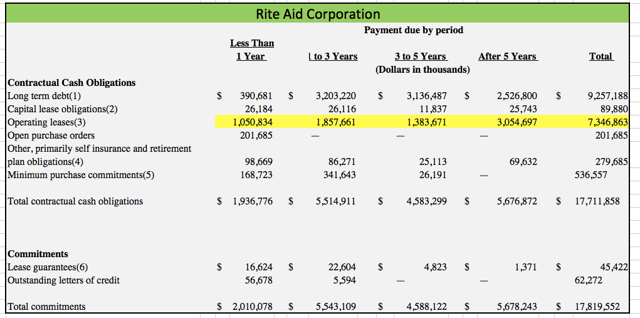 I strongly urge readers to take the time to review my original May 9th article and deliberately and specifically review RAD's financials. They are deteriorating, and they showcase how far behind RAD is compared to the Big Two. CVS is already in Target (NYSE:TGT), and Wal-Mart's (NYSE:WMT) pharmacy has the lowest prices.
Notwithstanding a miracle from the FTC, RAD is a just a badly busted merger and acquisition arbitrage nightmare. Moreover, Jeff Bezos is methodical, calculated, and patient. Why would he consider a deal for Rite Aid when the ink hasn't even dried on the Whole Foods deal and the deal still has to close? Why would he spread his best integration people so thinly and rush into a deal for RAD when it could take twelve to twenty-four months to fully integrate Amazon and Whole Foods?
Perhaps only in the age of super computers (algos) buying and selling upwards of 1/3 to 1/2 of all of the NYSE and Nasdaq share volume can nonsensical rumors, fueled by retail speculators, drive short-term stock price movements. Let me be crystal clear, singing from the church (speaking of altars) of reason and logic: Amazon isn't going to buy Rite Aid. Go dream up a better rumor. However, next time please tell a rumor that isn't a lie before it is halfway out of the rumor monger's mouth.
Disclosure: I/we have no positions in any stocks mentioned, and no plans to initiate any positions within the next 72 hours.
I wrote this article myself, and it expresses my own opinions. I am not receiving compensation for it (other than from Seeking Alpha). I have no business relationship with any company whose stock is mentioned in this article.