After months of ignoring the Fed and focusing solely on the new administration in Washington, the spotlight is back on Chair Yellen. The Fed continues to tighten monetary policy by inching up the benchmark rate. We now have a "1" in front of our fed funds rate for the first time in more than 8 years.
This is the 15th tightening cycle since the Second World War. In all but three of those cycles, a recession followed. During the typical recession the S&P 500 falls by nearly one-third. But the last two recessions produced much larger drawdowns of 49% and 57%, peak-to-trough.
In the 95th month of the current expansion, much of the pent-up demand has been exhausted. We are now fully into a new expansionary mode and are experiencing a very tight labor market. This is why the Fed is taking action by pushing up borrowing rates via the fed funds rate.
The 3-month Libor rate and 6-month yield have moved up alongside the fed funds and are starting to anticipate another hike: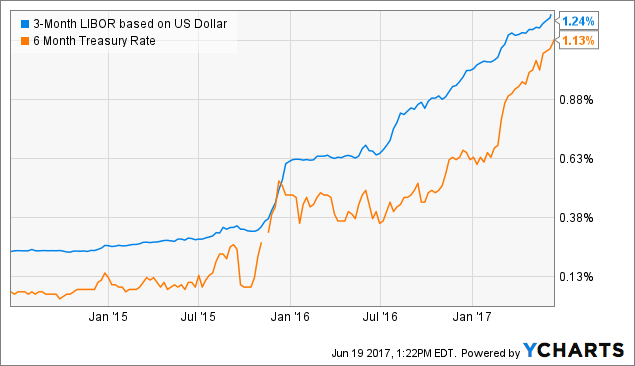 3-Month LIBOR based on US Dollar data by YCharts
Conversely, interest rates on the long-end of the curve have declined since the start of the year. The 10-year yield fell to fresh 2017 lows last week of 2.11% while the 30 year hit 2.78%. The 10 year-3 month T-bill Treasury spread is close to eclipsing the tightest levels since early in the Financial Crisis, set in mid-2016.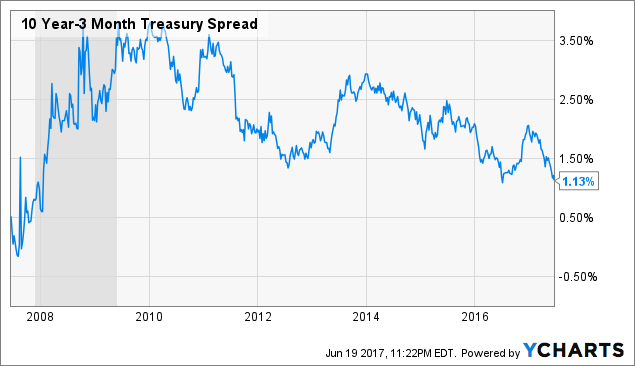 10 Year-3 Month Treasury Spread data by YCharts
What is driving long-term interest rates lower?
Lower Inflation Expectations!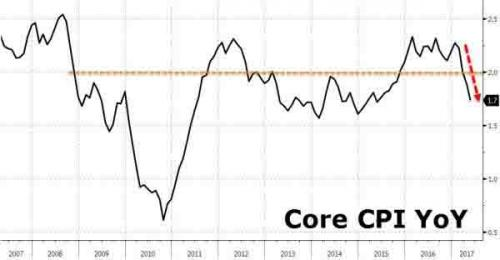 (Source: Bloomberg)
For the third month in a row, we had weak core CPI (consumer price index) results. This may end up restraining further action on rates by the Fed and force them to act on the balance sheet instead. We have been calling for weaker inflation readings in our monthly newsletters- although to be fair we thought it would be coupled with a stronger dollar. CPI is now at +1.9% yoy and given the lower PCE numbers, we expect to see that figure fall by at least one-tenth as well to +1.4%.
At its peak, yoy core CPI came in at +2.8% in February. Comparing to the year ago period we see that we are likely to witness further erosion in the yoy core CPI as we move through the summer.
Meanwhile, oil has cratered in recent days (surprising! [sarcasm]) as we learned that several members of OPEC have been cheating. We have been bearish on oil for all of 2017 and the price is down 17%. We continue to believe that we will eventually see a "3" in front of the price of West Texas Intermediate as US production continues to crank up.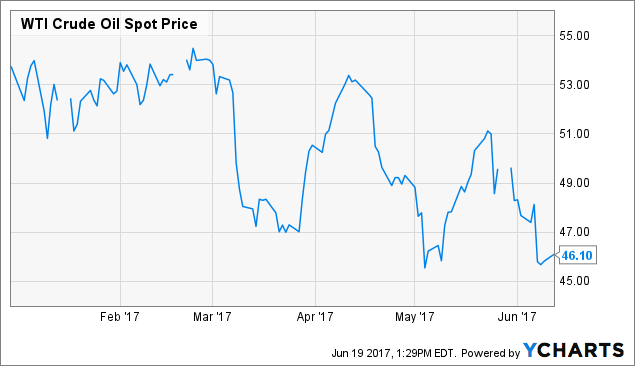 WTI Crude Oil Spot Price data by YCharts
With oil falling, high yield spreads very tight, the yield curve flattening, and the Fed tightening monetary policy, the room for error is becoming small. So while parts of the market are shrugging off the data, we remain vigilant and are seeking to improve the 'quality' of our portfolio.
Will The Yield Curve Invert?
Remember, the U.S. central bank is unique in that they have a dual mandate: full employment and stable prices. We are at full employment. In fact, Yellen commented that the rate is "a little below" full employment as the Fed reduced their forecasted unemployment rate for 2017-2019.
While stable prices doesn't imply a specific inflation target, the Fed has stated on many occasions that a 2% PCE figure is their objective. At 1.4%, the data point is well below that target.
So we have one of their mandates at or slightly ahead of their targets requiring "action" while the other half of their mandate remains stubbornly below their goals. The Fed officials with voting power are then forced to weigh both sides and determine which is the more pressing issue.
For most of the Fed officials, it would seem that playing defense on the employment side is swaying their decisions. The 'threat' from wage inflation at these levels of unemployment is real; but, looking at EPI's wage tracker, even that has rolled over.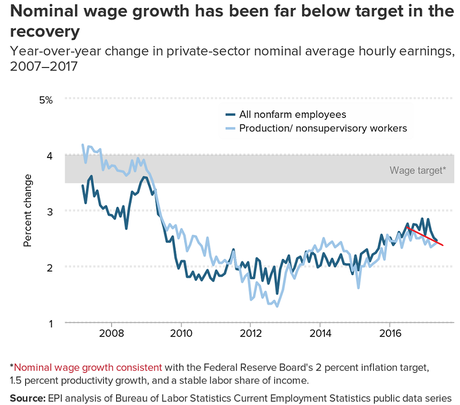 With wages hitting a ceiling and largely tracking with CPI, the threat doesn't appear to be real at this point.
Our Take
We think that the Federal Reserve conveyed a hike for June and backed themselves into a corner which forced their own hand. Hard data is not accelerating; in fact it has been declining in recent months. Inflation is decelerating to the point where the Fed typically is in an easing phase. Meanwhile, soft data is starting to converge back to the level of hard data, a call we made back in December.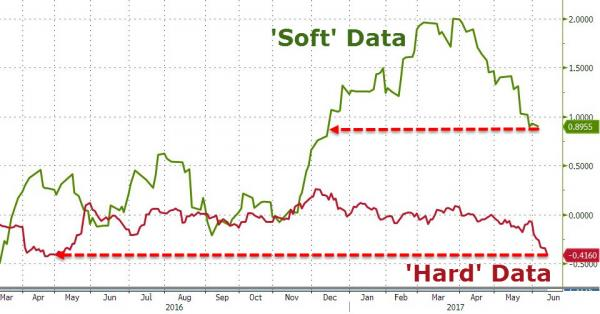 (Source: Bloomberg)
We think the chances of the Fed increasing rates again in December are low if the data continues to be in the same range in which it has been over the previous four months. The market is already discounting the chances with just a 38.1% chance of a December hike. This is the lowest level of probability that we have seen for a well-telegraphed hike by the Fed in this tightening cycle.
Still, even if the Fed acts again, it doesn't mean that the longer-maturity yields have to react. The copper-to-gold ratio, which correlates nicely with the 10-year Treasury rate, is trending slowly lower.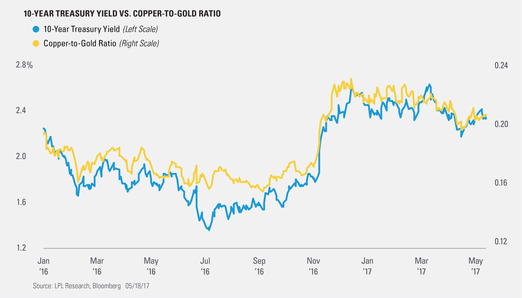 Most importantly, the cap on the change in Treasury rates on the long-end will be muted. The last three tightening cycles have seen little movement in the long-end of the curve. Below is a coup de grace chart:

Over the last three tightening cycles the average change in the 10-year yield has been just 96 bps. When the Fed initiated their first hike, the 10-year rose to 2.31%. The high it hit during this tightening cycle was 2.63%, or 32 bps above the initial rate. But we are down below that level today at 2.19%.
Conclusion
The bond market is being driven by the data, mainly inflation and softer hard data. Meanwhile, the equity markets continue to be fueled by optimism and sentiment, which is still high but waning in recent weeks. We remain cautious on the equity markets due to the Fed's tightening of the monetary supply and the lack of any traction to economic growth outside of employment.
There are a significant amount of real threats out there and with a VIX in the single digits, the market remains overly complacent. We think the Federal Reserve is tightening too rapidly, despite nearly 7 years of ultra-low interest rates.
The Fed and many analysts are using the same tools to measure economic performance as they did in prior expansions. But given the new normal, that playbook may be too aggressive and could cause volatility, and this warrants caution on the part of investors.
Note: To get these types of articles as soon as they are published, just click on the "Follow" button next to my profile and choose the "real-time alerts" option.
Marketplace Service For Those Hunting For Yield
In April 2016, we launched our marketplace service Yield Hunting: Alternative Income Investing dedicated to yield/income investors who wish to avoid the froth associated with most of the equity market. We encourage investors to utilize the free two-week trial in order to benefit from our yield opportunities within closed-end funds, business development companies, and other niche areas. Our goal is to construct a "low-maintenance portfolio" with a yield in excess of 8% on a tax-equivalent basis with capital gain optionality. The core portfolio is now up 26.6% over the trailing year through the end of May and generates a high-single-digit yield, while taking approximately half the risk of the S&P 500 on price and one-third on NAV. For safe and reliable income streams, check out our unique marketplace service.
To subscribe to Yield Hunting: Alternative Income Investing, click the link below:
Disclosure: I/we have no positions in any stocks mentioned, and no plans to initiate any positions within the next 72 hours.
I wrote this article myself, and it expresses my own opinions. I am not receiving compensation for it (other than from Seeking Alpha). I have no business relationship with any company whose stock is mentioned in this article.
Additional disclosure: The commentary does not constitute individualized investment advice. The opinions offered herein are not personalized recommendations to buy, sell or hold securities. As I have no knowledge of individual investor circumstances, goals, and/or portfolio concentration or diversification, readers are expected to complete their own due diligence before purchasing any stocks mentioned. The strategies discussed are strictly for illustrative and educational purposes and should not be construed as a recommendation to purchase or sell, or an offer to sell or a solicitation of an offer to buy any security. There is no guarantee that any strategies discussed will be effective. The information provided is not intended to be a complete analysis of every material fact respecting any strategy. The examples presented do not take into consideration commissions, tax implications or other transactions costs, which may significantly affect the economic consequences of a given strategy. This material represents an assessment of the market environment at a specific time and is not intended to be a forecast of future events or a guarantee of future results. This information should not be relied upon by the reader as research or investment advice regarding the funds or any security in particular.