Introduction
Nike (NYSE:NKE) is still a growth company. Growing earnings at a ~15% CAGR over the last 5 years with an ROIC of over 33%, Nike is poised to continue this outsized, efficient growth for the next 5-7 years, continuing mid-teens earnings growth in the future. Considering the disruption currently taking place in the North American retail market, Nike is being pro-active to not only successfully mitigate headwinds, but adapt to thrive in the future with its Consumer Direct offense. The mix shift into the consumer direct segment, from wholesale, not only allows Nike to navigate through the rough brick and mortar retail environment but also can add incremental gross margin expansion of over 150 bps over the next 5 years (from channel shift alone, ignoring further supply chain efficiencies), helping to offset promotional pressures. Thematic growth in the Chinese athletic market is causing projections for the market to nearly quadruple before 2025. Exposure to this hyper-growth, profitable market can add >$1.00 $1.50in EPS over the next 5-7 years. All in all, EPS has the potential to more than double in the next 5 -7 years to $5.00 with continued growth after that approaching $7.00 a share. I'll show that this consistent mid-teens earnings grower with a 33% ROIC should have a fair value of about $65, 27% upside from current levels. Any temperament to near term expectations shouldn't discourage the bulls, as there's enough potential to keep the excitement alive.
To be clear: I am not making a bullish call based on the 4Q:17 results or FY2018 guidance.
Absolutely to the contrary. I fully expect Nike to report an in-line or miss in 4Q (and possibly light on the sales and GM lines) and give an implied FY18 guidance below the current consensus estimate of $2.53. Recent sportscan data point to deteriorating footwear and apparel sales in North America driven mainly by a reduction in ASPs. While this probably bodes poorly for Under Armour (NYSE:UAA), it is also bad news for NKE investors. The wholesale outlook will probably be tempered by the mass shuttering of department store doors and retail malaise disrupting the brick and mortar channel across North America. This will most likely be offset by strong gains in the direct channel, which will result with North American sales commentary for flat to positive low-single digits (I'm modeling +low double digits in direct to consumer and down low single digits for wholesale for FY18).
Gross margins will be pressured by an estimated ~$850mm FX transactional headwind expected to occur in FY18 (~230bps to GM) partially offset by core GM improvement. SG&A $s will likely be flat to up a low single digit amount. All of this equates to an EPS of about $2.40 -$2.48, a mere low-single digit % increase over 2017, vs. the long term algorithm of a mid-teens growth rate.
Yes, numbers may have to come down. But not only am I alright with that, I expect and prefer it. First of all the entire disparity between the guide and the mid-teens EPS growth algorithm is the anticipated transactional fx detriment. Second of all it resets the bar to create beat and raise opportunities if the environment ever improves. What happens when the promotional environment subsides and gross margins (ex FX) improve? NKE beats and raises. DTC accelerates more than expected? Beat and raise. Velocity at existing wholesale accounts offsets the closed doors they lost? Another beat and raise. Once the bar for FY2018 is reset, analysts can concentrate on the tailwinds from the triple double and consumer direct initiatives. It is completely reasonable to assign a fair value of at least $63 based off of 26x $2.45, especially when there are dissipating headwinds and outsized growth on the horizons. Don't let the little grey Bob Ross could put up on the canvas next week distract you from the sunny landscape about to be presented.
The Triple Double Initiative and Edit to Amplify
The Triple Double Initiative; 2x Innovation, 2x Speed, and 2x Direct. Simply put NKE is enhancing its dedication to each of these areas. From a qualitative standpoint it's exciting in that these pillars ALL drive outpaced growth and demand. Increasing the direct to consumer exposure will aid in navigating the thematic shift occurring in retail. Edit to Amplify is another initiative that is reducing 25% of Nike styles to free up resources to give deeper offerings of key franchises. 99% of NKE sales come from 75% of available styles, so eliminating the tertiary styles will create efficiencies.
From a quantitative standpoint, it's a little harder to nail down all the puts and takes to the financials. Management did point out on the last call that the 2x speed initiative was giving them the benefit to gross margins in the tens of millions and accelerating. Now while this is somewhat evasive from a numbers perspective, the benefit of $10mm-$99mm to GMs will provide ~2bps-26bps of GM expansion, most likely incremental to the 30-50bps annual long term expansion goal. Speed to market will also provide more of a cushion to promotional pressures, and allow inventory to remain at a manageable level. Direct to Consumer (DTC) has been increasing as a % of sales for the last 5 years (from ~16.8% in 2012 to an estimated ~28% in FY17). GMs also grew ~275bps through FY16 (prior to the downturn in margins this year), understandably so given that the DTC channel typically carries 1000bps higher GM. An assumed 250-300bps of increased DTC penetration for the next 5 years should add at least another 150bps to GMs throughout that same time period. This improvement should be incremental to the current supply chain efficiencies being realized.
The Consumer Direct Offense
Announced last week, the Consumer Direct Offense will streamline geographic divisions and push a direct initiative on a global scale. In connection with this release, NKE announced a 2% reduction in its global workforce. At first glance, this news may seem troubling to a growth company, as if they're running out of growth levers to pull and now have to shrink-to-grow its bottom line (not true and in this case faulty thinking). The quick math suggests a 2% decline in its corporate overhead will add an incremental ~$0.36 to the bottom line (true, but also not my point).
What gets me incrementally more excited about this announcement is the efficiency implied in the business model. Typically when a manufacturer shifts more to direct, they receive the GM benefit but is almost all offset by the incremental SG&A also associated with it. This tells me given the built-in infrastructure and increased supply chain efficiency (one of the best-in-class) that this is more beneficial to the EBIT line than we've historically seen. Incremental global sales increases will therefore be more meaningful to bottom-line.
Growth in China
The thematic growth in the Chinese Sports economy thesis is widely known. Instead of regurgitating all the reasons for this out-sized growth, The Economist put out a thorough article in December which can be found here.
The points I want to draw upon here are that, the growth is plentiful, and the growth is profitable. The Chinese government predicts a $850bn Chinese sports economy by the year 2025, growing from 217bn currently, or an ~19% CAGR. This means that NKE's Chinese business can lose share and continue to grow at a mid-teens clip (share gain would all be incremental to the analysis). Furthermore, this segment is highly profitable (36% EBIT margins vs. company margins of 13.5% and 23% in North America). This outsized growth, assuming a mid-growth rate and stable EBIT margins would equate to ~$1.39 in incremental earnings over the next 5 years following FY18. This equates to 56% earnings growth over that 5 years or a 9.4% CAGR, from this market growth ALONE, which means that it is ignoring increased benefits from speed and innovation efficiencies in this market. This growth can account for more than half of the mid-teens earnings growth projections. Below is a chart of this incremental EPS growth along with a sensitivity analysis allowing for different variables to sales and EBIT assumptions.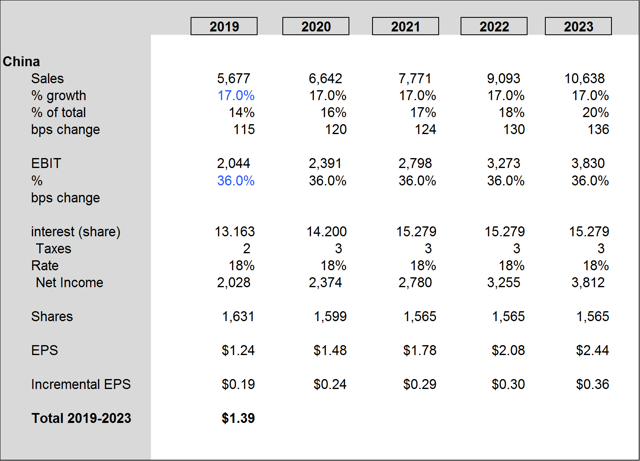 (source: Jared Orr estimates)
Total 2019-2023 incremental EPS sensitivity chart:

(source: Jared Orr estimates)
Valuation
Beginning with FY2018 as a base year of $2.45, a mid-high single digit revenue growth rate, with 60bps of GM expansion and a mid-single digit SG&A $ growth rate (all per year) gets you to > $5 in EPS by FY2022, implying a 19%-21% EBIT margin vs. ~ 13.6% in FY17. None of these assumptions seem too Herculean in nature given the current initiatives.
So what does this all mean? Valuation can be looked at several different ways. First of all a peak multiple can be applied to the trough-like earnings of $2.45 in FY18. This could be arguably due to the outsized growth prospects. The recent peak multiple of 30x applied to $2.40 = $73.50, a ~41% increase from current levels. Given some current uncertainties surrounding the North American retail market, this may be a little TOO optimistic for all the information currently available. 26x $2.45 =$63 seems is another reasonable fair value. Another way would be to apply a 10-12x multiple to the 2022-2023 reasonable EPS goal of $5-$6 which would also equate to $60, a 15.6% increase from its current level, with any improvement or clarity in the outlook providing for further upside from there (to the low $70 would be reasonable at that time, applying a higher multiple to the $5-$6 in EPS). I derive my $65 price target using a hybrid of these assumptions and possibilities.
Risks
There are several risks associated with this investment:
Improvement in the North American retail landscape. With department stores shuttering their doors, and recent sportscan numbers, a slowdown in athletic footwear and apparel could be more imminent than I plan. This will offset the growth projections and delay the EBIT margin improvement in my assumptions.
Athletic promotional environment could continue to heighten. Competition from UA and Adidas could pressure margins providing less upside than I have modeled. Gross margin is a key metric to watch going forward, the sooner NKE starts beating GMs the more bullish I'd become, conversely the opposite is true, if NKE starts missing on the GM metric I'd become more hesitant to add to current positions.
Chinese growth:
o The outsized growth predicted by the Chinese government, and the report in The Economist, may not be reliable.
o Chinese profitability may suffer from increased promotion (which has already been stated by at least one Chinese retailer). I kept EBIT margins stable in China thinking increased promotions would be offset by further direct initiatives, but these margins could come down a few hundred bps. Providing less upside from Chinese penetration than I assume.
SG&A ramp. In my projections I assume more than half of the EBIT expansion over the next 5 years comes from SG&A leverage. Any outsized reinvestment or rapid spend (above a high single digit increase in $ terms) will cause a downward revision to my estimates.
A Border adjustment Tax passed would cause me to reconsider my thesis.
NKE long UAA short Pair trade.
A good way, I believe, to hedge out some of the risk in the North American retail landscape would be to pair the NKE long with a UAA short. UAA short may be a little crowded (with short interest of 28.5% of the float). NKE is ahead of the curve with supply chain efficiency and is better positioned within the industry to thrive. A downturn in the North American athletic market, and UAA's premium valuation would allow for more downside in UAA shares than in NKE's. Aside from that, NKE is currently trading at ~20x next year's consensus with an ROIC of >33% vs. UAA trading at 41x next year's consensus with an ROIC of <10%. NKE is the safest bet on growth in the global athletic market. Nike is better positioned from a competitive standpoint, and a balance sheet/use of capital perspective.
Conclusion
Don't get deterred from a FY2018 NKE outlook that may be below current consensus numbers and seem draconian. The growth verticals available for NKE are plentiful and the future looks bright despite some current negative commentary. The future of Nike isn't shady, it's so bright that you better wear shades.
Disclosure: I/we have no positions in any stocks mentioned, and no plans to initiate any positions within the next 72 hours.
I wrote this article myself, and it expresses my own opinions. I am not receiving compensation for it. I have no business relationship with any company whose stock is mentioned in this article.