On June 5th, Seattle becomes the 8th city in the U.S. to vote in favor of a "soda tax". Now one of the world's most valuable nonalcoholic beverage companies, Coca-Cola (NYSE:KO) is finding its brands under attack with no signs of waning.
The Anti-Soda Drink Movement
In the new "healthy" age we're moving into. You can find more billboards, banners and posters shedding new light into how much sugar is in a regular can of soda and how it affects obesity. Look at this poster set up by the City of New York (source).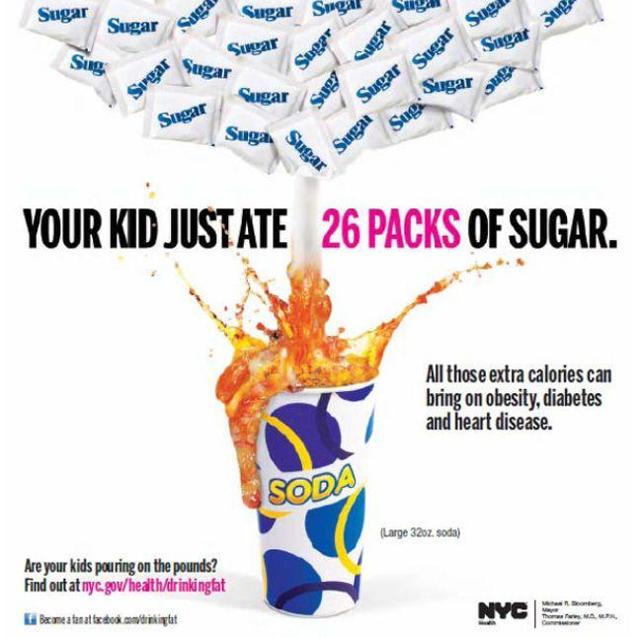 New York isn't the only opponent to soda either. Legislation is being passed in more and more cities to tax these sugary drinks. Currently Berkeley (CA), Philadelphia (PA), San Francisco , Oakland , Albany , Boulder (CO) and Cook County (IL) have implemented a soda tax according to the New York Times that usually results in a one-cent-per-ounce soda tax.
These taxes are aimed at reducing the amount of sugar drinks purchased in effort to encourage more healthy options in these cities. With more cities following suit including recently Seattle (WA) on June, 5th 2017 passed their own soda tax at 1.75 cents-per-ounce, exempting diet soda (source).
This trend of painting soda as the enemy continues to build steam as the percentage of children with obesity increases, tripling since the 1970's in the United States according to the CDC. Unless Coca-Cola is going to make obesity "cool", they're not on the winning side of this fight.
Is the Soda Tax decreasing purchases?
Well yes, in Berkeley the first city to pass the soda tax. Minority and low-income residents drank 21% less sugary drinks after the city implemented their soda tax while sugary drink sales increased 4% in comparison cities according to a study published in the American Journal of Public Health.
It's not like Coca-Cola, Pepsi and other sugar drink companies are absorbing those increasing costs, most of those costs are being passed to the consumers buying the drinks. Nearly 3 months after the soda tax was implemented in Berkeley, the retail prices of sugary drinks increased more in Berkeley than in nearby cities according to a study at the University of California-Berkeley's Nutrition Policy Institute.
It's not hard to imagine how the soda tax is hitting the individual consumer's pocket book. In the first month alone of the new Philadelphia (PA) soda tax, which taxed sugary drinks 1.5 cents-per-ounce. The city generated 5.7 million in taxes (source). Here's what 1.5 cents-per-ounce tax looks like to the individual consumer, a customer's receipt via Twitter.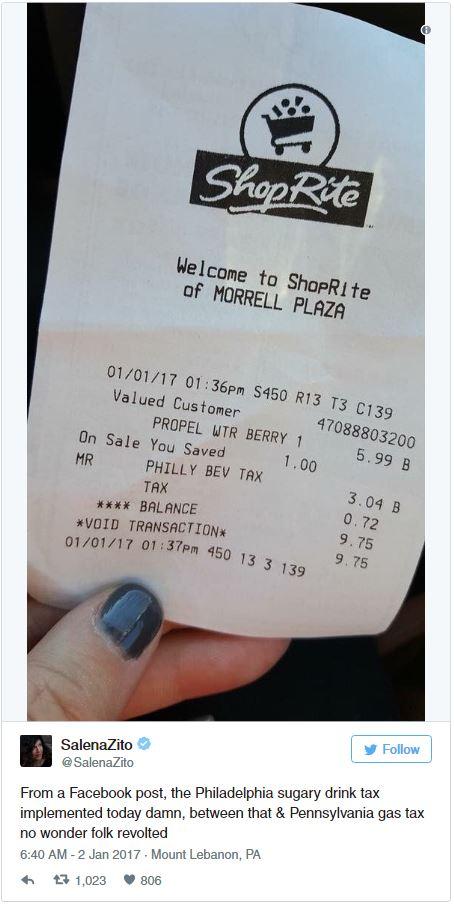 It's not only Soda that's being affected
It's called the "Soda Tax" but soda it's the only drink type being affected. Any drink with added sugar and low/no calorie sweeteners are being taxed under the "soda tax". To give you an idea, that's more than 1,000 brands sold in stores including teas, sports drinks, juice boxes, diet drinks and even almond milk (source).
Where are the soda tax dollars going?
In Berkeley for example, these tax dollars are going to a general fund with promises to fund child nutrition, healthcare and education. Specifically the money, over $2.5 million raised by January 2017, will be used to raise awareness of the link between sugar drinks and diabetes and other diseases. As well as generate revenue for community programs that combat the influence of the sugary drink market. (source)
Basically the millions of dollars generated by the "soda tax" will be used to further decrease the consumption of sugary drinks.
How is this hitting the bottom line?
The overall mindset of healthy, sugar free living has widely affected the soda industry. According to Beverage Digest's annual report, in 2015 the total volume of soda consumed in the United States has hit a 30-year low, dropping 1.2% in 2015, compared to a 0.9% drop in 2014. Americans consumed 1% less Coca-Cola and consumed 3.2% less of its competitor, Pepsi.
In a micro view specifically to the "Soda Tax" in Philadelphia, Coca-Cola sales have decreased by 32% by volume from a year ago resulting in the Philly Coca-Cola bottler to reduce its workforce of about 700 local positions by 40. Similarly PepsiCo (NYSE:PEP) announced it would be laying off between 80-100 of its 423 Philly employees due to the "Soda Tax" (source).
If more cities and counties (Mexico taxed sugary drinks in 2014) join the "Soda Tax" movement and feel a similar 32% decrease in Coca-Cola volume like Philadelphia (PA) or 12% fall in sugary beverage sales as Mexico did (source). We could to see a more rapid decline in Unit Case Volume Growth which grew only 2% in 2015 and decreased to 1% in 2016 (source). These declines continue to have a negative impact on Coca-Cola Net Operating Revenue.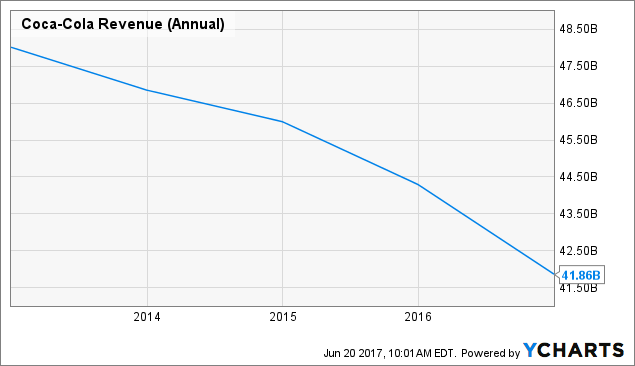 KO Revenue (Annual) data by YCharts
How is Coke-Cola addressing this trend?
Obesity is such a concern that the 2016 Coca-Cola Annual Report on Form 10-K mentioned the word "obesity" 12 different times, associated as risk factors to the company. Coca-Cola is taking several steps to reduce sugar in its beverages:
Coca-Cola continues to diversify into additional nonalcoholic beverage niches, adding over 500 new products in 2016 (source) and now about one third of their product portfolio is no/low calorie drinks. According to COO James Quincey "Since 2000, we've increased our business from about 10% of our volume coming from still beverages to almost 30% today" which is expected to grow further.
They are focusing in reducing the amount of sugar in existing beverages (source) and reducing beverage calories consumed per American by 20% by 2025 though the Balance Calories Initiative (NYSEARCA:BCI).
Coca-Colas is also starting to double down on mini cans and offering more drinks in smaller packages, which with cents-per-ounce taxes, carry a lower per-serving tax for its soda brands. In Philly in 2016, while Coke sales were down, 7.5-oz mini-cans grew 9% (source). Plus a small 8.5-oz mini can generates $1.60 in revenue per purchase while a two-liter gallon only generates $0.18 in revenue (source). That's nearly 9x more revenue.
In addition, they are bringing in James Quincey who will be the new CEO and lead the company into a more healthy future, while former CEO Muhtar Kent will continue as Chairman of the Board. Under one of his goals as new CEO, Quincey states in his Letter to Share Holders, he will be utilize Coca-Cola's massive distribution system to focus on consumers health concerns encouraging "more natural beverages, sometimes with less sugar, and with more and diverse functional benefits".
Disclosure: I/we have no positions in any stocks mentioned, and no plans to initiate any positions within the next 72 hours.
I wrote this article myself, and it expresses my own opinions. I am not receiving compensation for it (other than from Seeking Alpha). I have no business relationship with any company whose stock is mentioned in this article.