Tractor Supply's (TSCO) share price has been under pressure, as it has declined over 39% during the past year along with many valuation metrics declining. However, the firm remains profitable and has seen positive net income, revenue, and EBITDA growth.
What does Tractor Supply do? The description in the recent 10-Q says the following:
Tractor Supply Company (the 'Company') is the largest operator of rural lifestyle retail stores in the United States. The Company is focused on supplying the needs of recreational farmers and ranchers and those who enjoy the rural lifestyle, as well as tradesmen and small businesses. Stores are located in towns outlying major metropolitan markets and in rural communities. At April 1, 2017, the Company operated a total of 1,769 retail stores in 49 states (1,617 Tractor Supply and Del's retail stores and 152 Petsense retail stores) and also offered an expanded assortment of products online at TractorSupply.com.
The decline in Tractor Supply's share price has pushed the dividend yield higher: It is up over 94% in the past year (see chart below). Tractor Supply has a 30% dividend payout target ratio and recently increased the quarterly dividend from $0.24 to $0.27. This would suggest that the board is confident in its earnings prospects. In March, the earnings per share target was pegged at $3.44 to $3.52.
Revenue, net income, and EBITDA have increased over the past year (see chart below).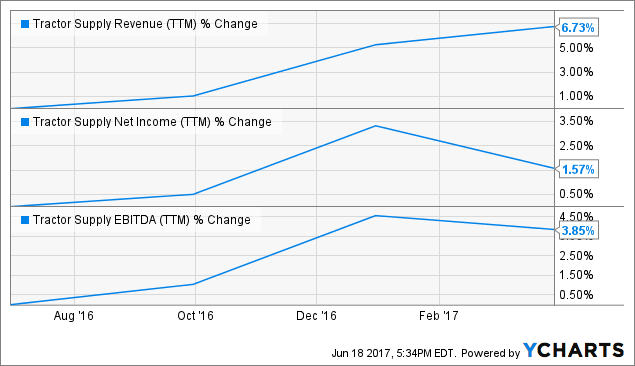 TSCO Revenue (ttm) data by YCharts
The growth rate of revenue, net income, and EBITDA have moderated leading investors to reduce the valuation in which they would pay for $1 in earnings. In other words, the price/earnings ratio has declined.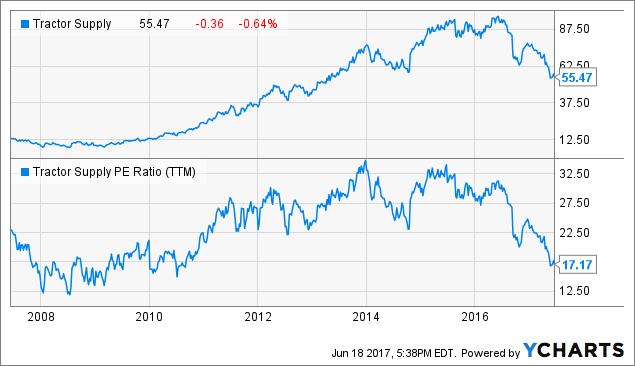 TSCO data by YCharts
Tractor Supply has indicated that it has a 30% payout ratio goal for the dividend and that the share repurchase program is designed to reduced the number of shares outstanding 2.5% to 3.5% annually. The share repurchase plan is a concern as the targeted share repurchase is $300 million to $400 million vs. capital expenditures of $250 million to $350 million annually. It is believed that capital invested into the business would be a better capital allocation approach to drive shareholder value. Or, the share repurchase funds could be allocated to owners via a special or variable dividend. This would be seen as a shareholder-friendly move and help drive shareholder value.
On area that could use increased investment or attention is the Tractor Supply website. For example, Tractor Supply sells top soil and mulch but it does not have an online calculator for potential customers to determine how many bags they would require, nor does it display a photo of the back of the bagged goods that would show coverage information. Therefore, a customer searching online must either visit the supplier website -- say, Scotts Miracle-Gro -- or another big box store to determine the number of bags required to complete a project. This might result in lost sales as customers decide to make a purchase at a store that provides more detailed information online. This would hamper the progress of the "buy online, pick up in store" effort.
During a recent conference call, Tractor Supply announced that it has 1.5 million members in its Neighbor's Club loyalty club. And its "buy online, pick up in store" program is driving e-commerce growth. This is a positive that could help drive sales going forward.
During the three months ended April 1, 2017, $114.5 million was spent repurchasing roughly 1.6 million shares at an average price of $71.77, with $31.263 million returned to owners via a cash dividend. Judging from the share price decline, the shareholders who sold have avoided a decline in the share price. It is unclear why the board preferred to allocate 3.66 times the amount of capital for those selling shares (share repurchase) compared to those holding or buying shares (dividends). However, the weakness in the share price suggests that market participants were not impressed with the capital allocation decision.
Investors might also be concerned with the increase in net increase expense from $1.125 million during the three months ended March 26, 2016, to $2.777 million for the three months ending April 1, 2017. Net interest expense was $0.02 per share for the quarter ended April 1, 2017. Long-term debt increased from $238.641 million to $589.919 million. Given that the Federal Reserve is lifting short-term interest rates and Tractor Supply is increasing the level of debt on its balance sheet, interest expense going forward is expected to increase.
How have the shares performed since the board increased the share repurchase authorization on Oct. 31, 2016?
On Oct.31, 2016, the Board of Directors authorized a $1 billion increase to the existing share repurchase program, bringing the total amount authorized to $3 billion, exclusive of any fees, commissions, or other expenses related to such repurchases and extended the program through Dec. 31, 2020.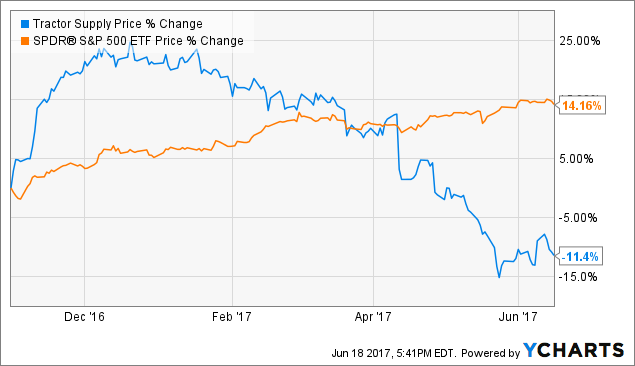 TSCO data by YCharts
Judging from the share price performance, shareholders were initially impressed. However, that was short lived as since early 2017 investors have not been willing to bid up the share price. In fact, as the charts above and below show, investors have reduced the valuation that they are willing to commit capital to purchase Tractor Supply.
Price/Book Value in the Past 10 Years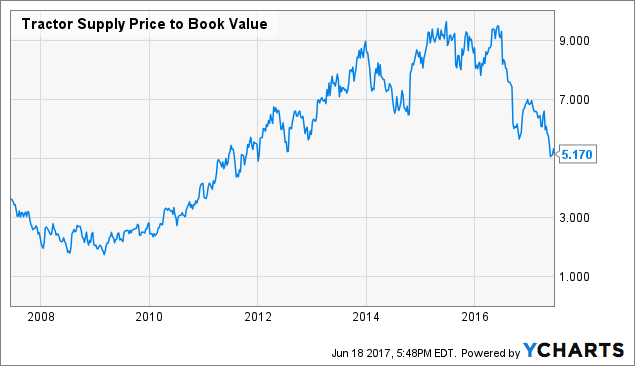 TSCO Price to Book Value data by YCharts
Using Tractor Supply's $3.44 earnings target, the shares are trading at 16.1 times forward earnings, with the shares offering a 1.95% dividend yield and a 6.2% earnings yield. Should the board and management of Tractor Supply regain investor trust and confidence, and historical valuation metrics increase, the share price might experience a nice rebound. If investors were willing to pay 18 times earning per share, then the share price could increase to $61.92 -- a gain of 11.6%. At this time the shares look attractive, but they have the potential of being a valuation trap.
What Could Go Wrong
Investors have punished many retail firms, and Tractor Supply valuation metrics have declined. The risk is that Tractor Supply continues to face falling valuation metrics and management shifts its focus to the share price and away from store performance. This is one reason the size of the share repurchase plan and the increased debt is a concern.
So far, management has done a great job by dramatically increasing the return on assets, as shown in the chart below.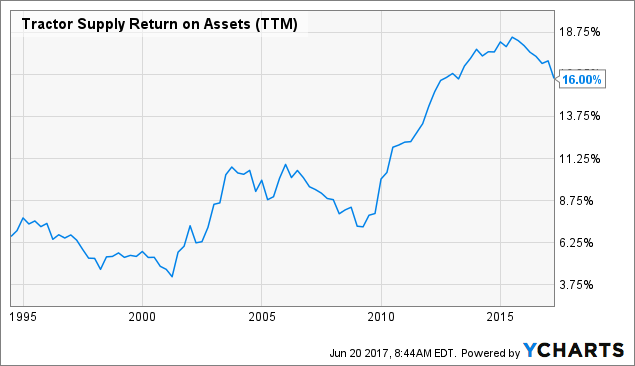 TSCO Return on Assets (ttm) data by YCharts
Disclosure: I am/we are long TSCO.
I wrote this article myself, and it expresses my own opinions. I am not receiving compensation for it (other than from Seeking Alpha). I have no business relationship with any company whose stock is mentioned in this article.
Additional disclosure: May also have or establish short put or call position to generate income and or add or dispose of shares.