Amazon's (NASDAQ:AMZN) $13 billion acquisition of Whole Foods (NASDAQ:WFM) caught many people by surprise. The announcement at one point wiped out nearly $29 billion in rival market cap in the grocery space. Exuberant figures aside, there is a lot of uncertainty in the air. How will the purchase of Whole Foods ultimately benefit Amazon's strategic vision and its investors? While no confirmed plans have been announced, we attempt to understand the strategic implications of acquiring Whole Foods through the AI examination of Whole Foods earnings call presentation. To provide context, we also examined Voice of Customer for AmazonFresh - Amazon's grocery vertical - and public domain business intelligence of the grocery space.
The following are highlights from our analysis:
Whole Foods is a troubled acquisition, mired by faltering core constituency, identity crisis, and a complete lack of the technology or management experience necessary to compete with modern grocery operations
AmazonFresh is not seeing the success of other Amazon businesses (AWS, Prime)
After 10 years, AmazonFresh still faces many problems with no easy solution; whether their technology can benefit Whole Foods is highly questionable
Unless AmazonFresh can work out operational kinks, it is unlikely the Whole Foods acquisition will lead to near term success
Analytics with Artificial Intelligence
This is part of an ongoing series of rational AI analyses on publicly traded company earnings. In a nutshell, the AI part of the analysis reads textual information like a researcher to bring out the important points into a visual medium. This enables a human user to rapidly acquire an objective situational awareness to discover insights they might not otherwise have. For an explanation of the technology, please visit our website.
The following graphs are Meta-Vision renderings of the Whole Foods 2017 Q2 Executive Statement and Answers to Analyst Questions. Key excerpts have been noted; analysis follows.
Meta-Vision of Whole Foods 2017 Q2 Executive Statement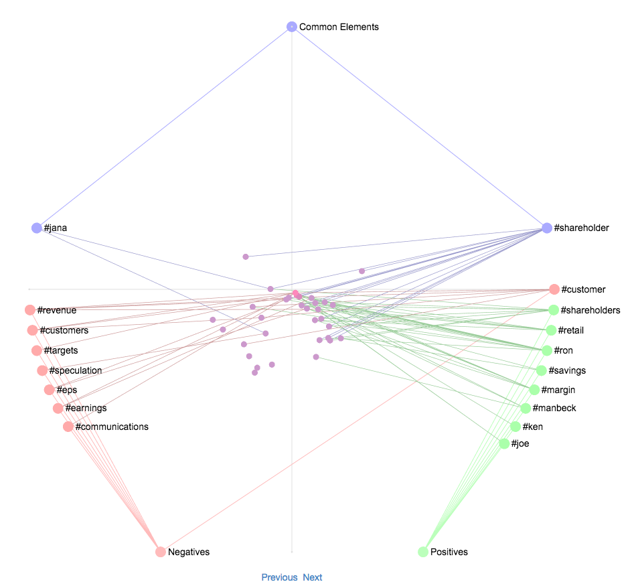 Meta-Vision of Whole Foods 2017 Q2 Answers to Analyst Questions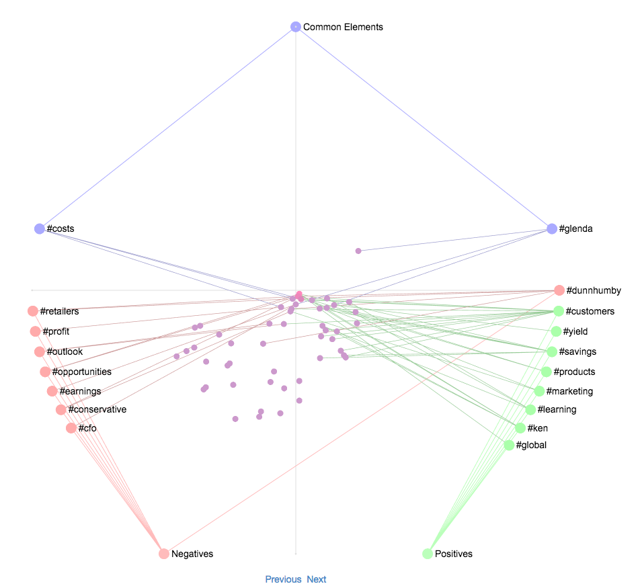 Meta-Vision Evaluation Guidelines
In our examination, we identified strategic points and corresponding supporting facts. We did so with the following process in mind:
For connected points, what is the nature of the relationships?
For negative points, are there supporting facts and/or business intelligence that can give us insights into other supporting facts that would mitigate the negativity?
For positive points, are there supporting facts and/or business intelligence that can give us insights into other supporting facts that would improve the benefit further?
For each of the points identified in the Meta-Vision view, are there conflicting facts within or between points that contradicts each other?
The following are points and corresponding context that were discovered via Meta-Vision based on the above criteria for the Executive Statement.
#revenue, #targets, #earnings
"First, we have put forth clearly defined financial targets. We expect to return to positive comp and earnings growth by fiscal year-end 2018."
#customers
"… our pilot programs have successfully driven increased trips and bigger baskets from participants. We're very excited about the incremental sales potential from our core customers, adding just one additional item per trip."
#margin
"We're taking a number of steps to reach these incremental savings, including having hired a top-tier consulting firm to assist with the implementation of this program. In terms of the timeline, we expect approximately $100 million in savings in year one and $300 million in total by 2020, driving EBITDA margin expansion."
#shareholders
"It is on us to ensure we have the right mix of skills and experience necessary to support the company's leadership team and our business strategy...."

"These new directors are value creators and recognized leaders in their respective areas of expertise. They have transformed, led, sold and driven businesses and have created substantial shareholder value."
#earnings
"We expect to return to positive comp and earnings growth by fiscal year-end 2018"
#Jana
" We first became aware of Jana's recent share acquisition when they made their 13D filing on April 10. Prior to that day, we had never been contacted by Jana"

"We are disappointed that our confidential discussions have been provided by Jana to the press."
The following are points and corresponding context that were discovered via Meta-Vision on the Executive Answers to Analyst Questions
#profits, #costs
"We have 22 365 stores currently in our pipeline and we will be increasing that number. That s a number you can expect to grow. And we like the profit model that 365 delivers. We take out so many costs. The percentage to operate the stores is so much lower than a typical larger Whole Foods Market...also has significantly lower capital cost."
#dunnhumby
"…it was very much a bottom-up and very detailed level process where we looked at each initiative separately, and the impact that we expected on basket size and transaction count and our costs from every one of the initiatives underway."

"…dunnhumby is definitely a key partner for us in analytics and better understanding what our assortment needs to look like. We're also focused with two other major partners, Infor and Nielsen…"

"We're fully engaged now with dunnhumby. Originally, when we announced it, it was going to happen over the course of several years and we've been able to shorten that timeframe by a year by bringing dunnhumby in and accelerating that using their tools."
#customer
"…we've realized that in certain categories we are priced we have a larger price differentiation with our customers with our versus our competitors than we need to and we're specifically targeting those areas through category management and through other purchasing initiatives so that we can get our costs down in order to be more competitive…."

"…one of the things that we've really seen in the program is the ability to incent them to grow their baskets…just by adding one additional item per trip amongst our core shoppers, which represents 40% of our sales, that s a $0.5 billion right there."
#marketing
"…we'll be seeing the results from that on the top line and from marketing, from category management, from order-to-shelf, from affinity, we'll be seeing we'll have lower prices."
Deriving Insights Through Bionic Fusion
The AI algorithm did the work of identifying important points, connotation, and supporting facts. We examined each point and supporting fact to draw inference into perceived strengths and weaknesses. To corroborate our findings, we also referred to our enterprise data lake for business intelligence around competitive market space and external market forces.
RE: Faltering core constituency is driving pivot towards price-conscious demographic in search of profitability (#earnings, #customers, #margin, #dunnhumby, #profits, #costs)
Whole Foods is struggling through the worst sales slump it has seen since going public. Investors have endured seven consecutive quarters of declining revenues. In May, Jana Partners adopted an activist role pushing for a sale to a 3rd party.
Consecutive same store sales declines have proven that brand loyalty only goes so far. To return to profit, Whole Foods has taken actions to cut costs and increase revenues. A new store concept - Whole Foods Market 365 - was created to attract price-conscious consumers. The stores are smaller, carry a third of the inventory, and cost less to operate (e.g. there is no meat or deli counter). The slow pace of roll-out (only four stores open) may be indicative of a lack of compelling results. Also, it is reasonable to speculate 365 stores may risk cannibalizing its brand and profits. Nevertheless, executive management strongly emphasized Whole Foods will increase its investment into this strategy.
RE: Whole Foods relies on technology as key-driver, but severely lacks technology experience and expertise - e.g. data analytics (#customer, #dunnhumby, #shareholders, #margin, #Jana, #earnings)
Our Meta-Vision analysis shows Whole Foods is driving new initiatives to cut costs and increase sales using technology (category management, data-driven personalization and loyalty programs). The initiatives appear to be working. The "affinity program" - a surprisingly new loyalty initiative driving personalized offers to consumers - on average helped add one additional item per trip for core customers. That increase, per Whole Foods, represented $500 million in sales.
Supporting facts show Whole Foods relies heavily on 3rd party consulting firms for technology experience and tools to drive these initiatives. They are fully engaged and dependent on consulting firm dunnhumby to accelerate cost reduction initiatives critical to meeting financial targets. This should be welcome news, but after seven quarters of declining revenues, we believe the timing of this execution demonstrates an intrinsic lack of experience. Leveraging business intelligence is critical to any competent organization in the hyper-competitive digital age let alone the grocery space. It is surprising these data-driven initiatives were announced only recently.
RE: Lack of faith in management experience to engineer turnaround (#shareholders, #margin, #customer, #revenue, #target, #earnings)
Perhaps an optics move, our Meta-Vision shows the Executive Statement heavily emphasized the introduction of new directors and their respective backgrounds in retail. In a telling response, our external BI shows Jana leaked information to the press suggesting it was disappointed with the lack of grocery experience. To put things in perspective, if investors had faith in the new initiatives and confidence in management, the Amazon acquisition should never have happened. Perhaps the initiatives were simply too little, too late.
Initial implications for an Amazon Whole Foods
Whole Foods stands to benefit greatly from Amazon's technology experience and expertise in data-driven inventory management, customer personalization, and operational optimization. Amazon's reputation was built on its superior logistics and fulfillment. Whether Amazon's core competency can telescope - to full effect - into groceries is highly questionable given its past performance in the space. AmazonFresh was launched in 2007; Amazon Web Services launched in 2006. For perspective, how has each Amazon initiative fared over the past 10 years?
For a more nuanced analysis, our team ran a Meta-Vision analysis on AmazonFresh Voice of Customer for the last 6 months: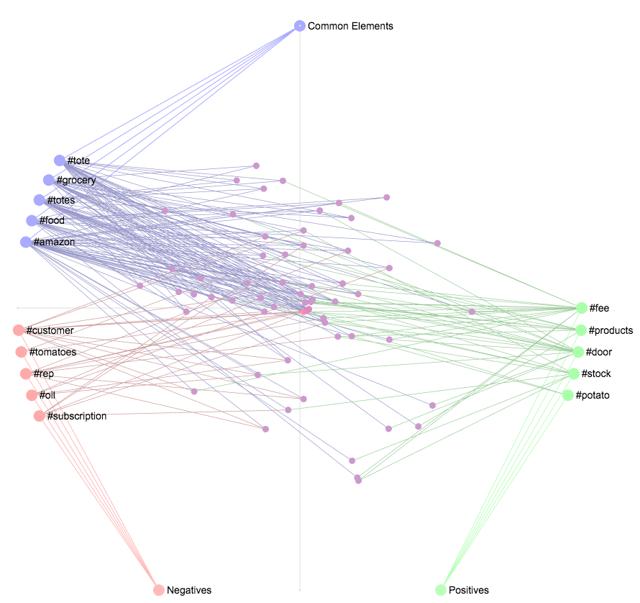 Key observations:
#totes, #tote
"The take-away totes were always great. After today's delivery... not sure we'll do it again and what a green waste footprint. The take-away totes were always great don't get me wrong, we were a customer for life w/ that. Had another $250+ order show up today and for the first time, there's paper bags involved. 3 totes and 6 paper bags with cardboard liners in them. The cardboard inside the big paper bags weighed twice as much as the bags themselves."

"Items were delivered promptly and in insulated totes where appropriate. Frozen items were delivered with dry ice packs and stayed reasonably solid."

"...only received 1 of 2 totes, the 2nd delivery never arrived; only received 17 of my 18 eggs."

"I was under the impression that the groceries would be delivered in reusable insulated totes, mine were not. The fridge items were placed in a paper bag that had an insulated liner with some freezer packs, however the liner was open and exposed at the top, essentially allowing all the cool air out and allowing for the warm air in."

"Awful Paper bag arrived all broken, oil all over the deck, tomato sauce exploded on the deck too, all the totes had oil on the bottom. It took me 1 hour to clean this mess, because the totes had oil on the bottom it also dragged out the oil inside the house, which I had to mop..."

"It was packaged very well to the point where your groceries could be left sitting out for hours in their totes and be fine. Nicely insulated with plenty of ice for frozen and refrigerated items."

"…the handle bars of one of my tote bags broke off immediately as I attempted to lift it. While not a huge problem, it did annoy me. 2. the dry ice included in the frozen packages is way easy to burn yourself on; all that separates it from contact with your skin is an easily collapsible cardboard barrier...one of the ice packs...was punctured and leaking water everywhere which, also while not a huge problem, definitely annoyed me...it definitely served its purpose. I would probably try it again to see if the service is a little more smooth...."
#door, #fee, #products
"Stress relief for busy parents. The two guys that delivered my groceries this morning eliminated so much stress from the week! I'm a stay at home dad. I'm mobility limited…"

"USPS usually never brings anything to my door…but with AmazonFresh they bring it to the door…I heard of the free trial while being sick with the flu so it's such a relief to rest more and get everything delivered"

"I LOVE this new concept of having groceries delivered to my door whenever I want…I work a LOT and it isn't always easy to grocery shop after a 12 hour work day."

"But when I got pregnant with my second child, and work part time outside the home as well as take care of a toddler the rest of the time… convenience, it's great! Place an order at night, and the groceries are at your door before 7am"
#stock, #products
"Another problem is items go out of stock, and remain out of stock for days. (Minute Maid Lite Lemonade 12 pks). There is no way to ask the system to alert you when it is back in stock, so you have to constantly keep checking if you can order what you want. Amazon will have to rethink Fresh if it wants to compete with the already established competitors."

"Though there was a large variety of items on AmazonFresh, they were not always in stock. Even common things like eggs I would get taken off my grocery list because they were not in stock of the brand I ordered."

"Not worth the monthly fee. Great idea, but not executed well. I've had to call after every order for many reasons, broken eggs, broken glass jar, missing items, 1/2 the order missing. I figured I'd try one more time as I paid for this month, 75% of my past purchases are out of stock"
Our analysis of the last 6 months of reviews for AmazonFresh helped us arrive at a few interesting takeaways. These are not necessarily reflective of the full user base, but are interesting leading indicators of performance and execution.
Our meta-vision on Voice of Customer for AmazonFresh demonstrates how Amazon's logistics with online retail is not translating effectively to groceries.
The principle difference stems from perishable nature of groceries, variable shelf-life, and need for cautious shipping & handling (e.g. eggs, produce, liquids). We see this reflected with #grocery and #totes being mapped in the negative quadrant. Not all experiences are necessarily bad. This is reflected by the fact that these hashtags are mapped as Common points; the supporting facts contain both positive and negative elements. The location in the negative quadrant, however, indicates a majority negative bias.
The supporting facts provide details that are both surprising and troubling when put into context of Amazon's 10-year lead time.
This rough experience may be expected. Poor shipping and handling can impact the quality of shipped groceries more than non-perishable products. A bump on a DVD box may not harm the disc but will bruise a tomato or crack an egg.
Amazon is learning and adapting - packaging is now one-way and curbside disposable, but adds significant complexity to the consumer.
By marrying groceries with online commerce, Amazon has tapped into the Service Level Agreement expectations with products that are fundamentally more susceptible to damage.
Amazon should see a higher rate of refunds for groceries as a result of the fulfillment process. Grocery delivery is supposed to save time. Consumers are less forgiving with bad grocery experiences.
Surprisingly, Amazon struggles with inventory management (stock outs) - a surprise given Amazon's history of logistical superiority. The Whole Foods acquisition may help Amazon keep its inventories better stocked, but with smaller inventory selection.
Implications for Amazon Whole Foods Revisited
As Lidl has demonstrated, private label offerings can successfully lower costs (less inventory to manage, middlemen) and increase revenues. The Whole Food pilot initiatives - "365 by Whole Foods Market" - fit perfectly with Amazon's broader pricing and user acquisition strategy. AmazonFresh Voice of Customer showed us they are relatively price-competitive. It makes even more sense when you consider Amazon's recently announced SNAP initiative (offering Amazon Prime discounts for people on government assistance). These benefits, however, come at a cost. On its current trajectory, category management will cannibalize sales from premium stores, reduce the breadth of inventory, alienate a core component of Whole Foods customers, and further erode differentiation. The grocery space is a low-margin, hyper competitive space. If competing on price alone, Amazon Whole Foods faces challenges from savings-centric challengers such as Lidl and Aldi, traditional mainstays like Wal-Mart (NYSE:WMT), Kroger (NYSE:KR), Safeway and regional ethnic chains with competitive pricing and niche inventory offerings. Amazon does bring an edge to the relationship: its technology and superior logistics/fulfillment. The Voice of Customer Analysis, however, confirmed our initial premise; Amazon's edge in online fulfillment has not translated well into perishable goods. If this were a relatively new service, it might be understandable. AmazonFresh launched in 2007. While many customers have noted the convenience of ordering online and door-to-door delivery, there isn't much left differentiating it from rival delivery services (e.g. Instacart). Moreover, glimpses of poor inventory management (stock outs, limited selection) are telling indicators that Whole Foods may not be getting the grocery technology help they need, which means the time for turnaround may take longer than anticipated.
Conclusion
Amazon's decision to acquire Whole Foods marks a new era for grocery retail.
For competitors, the purchase was a catalyst for change. Competition will intensify; forward-thinking grocery operations with home-court advantage will invest accordingly to beat Amazon at their own game. Case in point: Wal-Mart
For consumers, it's a win-win situation. Customers will benefit the most from the ensuing price-wars and innovation designed to enhance their experience.
For Amazon and its investors, while Amazon remains the undisputed leader in online retail, the road forward in the grocery space is full of challenges. Amazon has experimented in this area for 10 years and has yet to figure out the magic sauce that made their online retail divisions so successful. The acquisition of Whole Foods has great potential, but no plans have been announced. We can only draw conclusions based on what we see - e.g. Voice of Customer. Amazon has limited experience with brick & mortar. Based on our examination of Voice of Customer and Whole Foods 2017 Q2, we do not believe it is likely that they will be able to engineer a turnaround or resolve the logistics issues in the grocery space in the short-term.
Disclosure: I/we have no positions in any stocks mentioned, and no plans to initiate any positions within the next 72 hours.
I wrote this article myself, and it expresses my own opinions. I am not receiving compensation for it (other than from Seeking Alpha). I have no business relationship with any company whose stock is mentioned in this article.
Additional disclosure: I am neither a certified investment advisor nor a certified tax professional. The data presented here is for informational purposes only and is not meant to serve as a buy or sell recommendation. The analytic tools used in this analysis are products of SiteFocus.