Amazon (AMZN) announced Friday that it is set to buy Whole Foods Market (WFM) for $42/share, the deal to close 4Q 2017ish. Almost as quickly as the news was disseminated, speculation began about a bidding war, which still continues on today. This article will focus on the likeliness of a bidding war as well as how to play a potential bidding war. Headlines have been quite dramatic, and many have expressed that other retailers don't have any other option except to disallow this Amazon acquisition by outbidding Amazon.
Fox Business' Victoria Craig, in her June 16, 2017 article titled "Amazon's Whole Foods Deal Could Spark Bidding War," surmises Kroger (NYSE:KR), Walmart (NYSE:WMT), Target (NYSE:TGT), and Sprouts (NASDAQ:SFM) are all publicly traded grocers that could and should go all-in bidding up this acquisition. Furthermore, SA News Editor Stephen Alpher reported June 16 Barclays placed a $48 price target due to such a bidding war, due to the likelihood of a competitor grocer stepping into the deal (see "Barclays slaps $48 PT on Whole Foods - bidding war possible")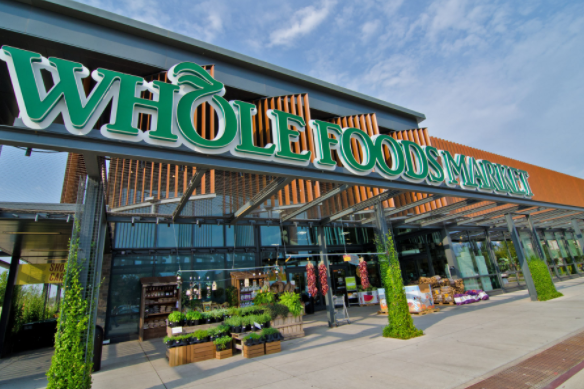 Though generally greeted with a very positive reception, the Amazon news to buy Whole Foods, though not a huge cash sum deal relative to other takeouts, is presumed to disrupt the entire grocery industry and be THE deal to watch in 2017. While I'm still not certain that this move by Amazon will work out in its favor, what I do feel strongly that the deal will go through, and that other grocers will 1) presume they cannot sit idly by without attempting to make WFM theirs, or 2) try to disrupt the deal or, at the very least, make the deal more expensive for Amazon.
There are a couple of ways to play this deal depending on your risk tolerance. The first is the riskiest, and second seems to contain very little risk.
WFM Bidding War Strategy #1
The disclosure on this trade is simple - if WFM shares are not run up due to a bidding war or an increased buy-out by Amazon, then this trade will lose money. I'm going to hedge the trade somewhat so, in the event no bidding war breaks out, I'll lose less money than others, but this is a simple trade to understand.
Buy 18 Aug $42 Call at around $1.25
Sell 18 Aug $44 Call at around $0.60
Total net debit spread around $0.60
If a bidding war breaks out, I expect it will happen sooner than later, and this is the reasoning behind the August expiration calls. I would imagine that most grocers were in emergency meetings over the weekend and this deal continues to demand their time and energy this week.
The most bullish way to play this trade is to simply own a call option and watch it run. However, that's usually not my style - I don't mind limiting the upside if it allows me to reduce my risk. The Pearly Pig loves predictable singles and doubles. This is what I've done here.
I give away all upside on this trade above $44. But I'm willing to do it to reduce my basis on this trade from $1.25 to $0.60. My breakeven is now $42.60 or better at the time of the options expiration. And if it is trading above $44 around options expiration, then I should have a net debit spread worth about $2.00, or a little over 3X my entry point.
The downside is that I'll lose 100% of the cost of this trade. If WFM trades back to Amazon's announced purchase price, I'm out the cost of this trade, or the debit spread plus commissions/fees.
Seem too risky to you but want to be in on this play? I'm playing this trade in my retired mother's portfolio a little differently.
WFM Bidding War Strategy #2
It will take a little more capital, but why not own WFM at $42/share (with then your primary risk of the deal falling apart, which I don't see happening) and sell calls, about 30 days out, against it in the money? I'll make sweet in-my-pocket premium while I wait for the deal to close. This is a simple form of M&A arbitrage - I know the end result and the market is providing me inconsistencies I can take advantage of while I wait for everything to normalize. I did it earlier this month with Yahoo/Altaba (NASDAQ:AABA), and now I'm doing it with WFM. As long as there is speculation to the bid for WFM going northward, I'll make money. And if no bidding war breaks out, I still own WFM.
Buy WFM at around $43.00/share.
Sell 21 July $42 Call at around $1.35/share
In the first month of this trade, I'll buy WFM at $1 over the takeout price but making it back instantly with my next trade - selling the call option and putting the premium in my pocket. I'll even get about a percent of profit on this trade. Any downside risk from here on out? Only if I think the deal falls apart and WFM begins trading below $42. I don't see it happening.
The plan then from here on out will be to sell calls against it each month for around the same premium. Again, for this strategy to work there will need to be speculation each month that WFM's price will be bid up. But even if this works out of the market, I'm still in WFM right and can wait it out. Or sell it later.
Like what you see here? Subscribe. It'll never be more economical to sign up for the Pearly Pig investment community than this month.
The Pearly Pig investment community got this trade Monday morning with a 4X upside, rather than just over 3X as seen in this trade.
While others are swinging for the fences, I love singles and doubles. While only using only a small portion of my portfolio on this trade, I think this will work out to a solid double here.
I'll invest .50% of my family portfolios in this trade. If the trade works out, it will add about 3% of gain to my 2017 total return results.

Disclaimer: Investors are always reminded that before making any investment, you should do your own proper due diligence on any name directly or indirectly mentioned in this article. Investors should also consider seeking advice from an investment and/or tax professional before making any investment decisions. Any material in this article should be considered general information, and not relied on as a formal investment recommendation.
Disclosure: I am/we are long LONG ALL POSITIONS MENTIONED IN THIS ARTICLE ACCEPT KR.
I wrote this article myself, and it expresses my own opinions. I am not receiving compensation for it (other than from Seeking Alpha). I have no business relationship with any company whose stock is mentioned in this article.