With expectations of rising rates, all the talk has been about how banks should benefit from higher net interest margins and how REITs would pull back. It makes sense that as rates rise, banks are able to pass on those higher rates to borrowers in the short-term as they delay increases in rates they pay to depositors, but at the same time increasing the rates they charge on loans. Over the longer term, in a rising rate environment, higher net interest margins come from the spread between short-term rates and long-term rates even as both rates rise.
But the misconception about how REITs perform poorly in a rising rate environment is, unfortunately, pervasive. I've written about this numerous times in the past and have highlighted not only how the broad REIT sector outperforms equities over the long-run, but how we can reposition our REIT exposure during rising rates to protect against a sell off.
What's actually happening in the markets is quite different than what most analysts have come to expect. Part of the reason is that as short-term rates have climbed, long-term rates have remained relatively stable or declined. So even though banks could potentially increase their lending rates on short-term loans and leave deposit rates flat, there doesn't seem to be any relationship between the net interest income of a bank and its stock performance since the first rate hike in December.
The chart below shows the lack of correlation between net interest income as a percent of revenue for a select group of banks and the total return of each bank's stock since the first Fed hike.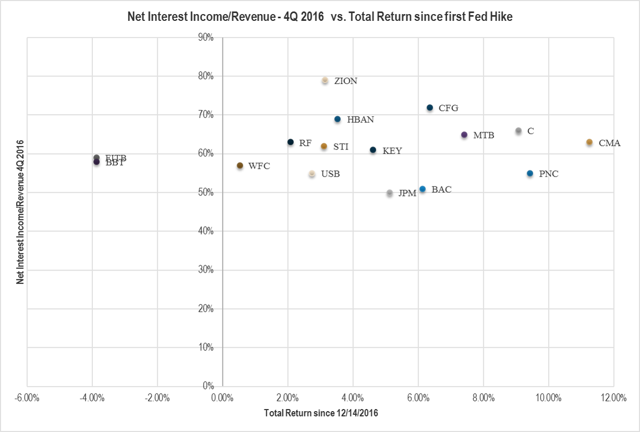 Source: Orenda Partners, Bloomberg
Zion Bancorp ( ZION) had a net interest income of 79% of total revenue as of December and its total return has been just 3.13% since mid-December. While PNC Bank ( PNC) had net interest income of 55% and it had a total return of 9.4%.
On the other hand, REITs aren't supposed to perform well when rates rise and let's be honest, they too have trailed the returns of the S&P 500 since December. But data center REITs are up almost 24% YTD, Infrastructure REITs are up 22.6%, and Manufactured Homes are up 20.5%. The FTSE NAREIT All Equity REIT index, which measures the broad performance of all REITs, is up 6% through June 19th. The worst performing sector was Retail REITs with a 13% decline due to pressure from retailer bankruptcies and a general trend towards online shopping - but most other sub-sectors have positive returns YTD.
So let's not count out REITs in a rising rate environment nor reallocate blindly to the banking sector. Neither of the popular prognosis' for either asset class have played out as expected thus far – and in this very uncommonly slow and long recovery, as rates rise, REITs may continue to outperform banks.
Note: Because of the market weighted methodology of the Vanguard REIT ETF (VNQ) and its overweight to Simon Property Group (SPG) and Public Storage (PSA), I have used the Guggenheim S&P 500 Equal Weighted Real Estate ETF (EWRE) and iShares US Real Estate ETF (IYR) in the Strategic Income Growth Portfolio.
Disclaimer: Please note, this article is meant to identify an idea for further research and analysis and should not be taken as a recommendation to invest. It is intended only to provide information to interested parties. Readers should carefully consider their own investment objectives, risk tolerance, time horizon, tax situation, liquidity needs, and concentration levels, or contact their advisor to determine if any ideas presented here are appropriate for their unique circumstances.
Past performance is not an indicator of future performance.
This post is illustrative and educational and is not a specific offer of products or services.
Information on this blog is not an offer to buy or sell, or a solicitation of any offer to buy or sell the securities mentioned herein.
Information presented is believed to be factual and up-to-date, but we do not guarantee its accuracy and it should not be regarded as a complete analysis of the subjects discussed.
All expressions of opinion reflect the judgment of the authors as of the date of publication and are subject to change.
Any positive comments made by others should not be construed as an endorsement of my abilities to act as an investment advisor.
Disclosure: I am/we are long EWRE, IYR.
I wrote this article myself, and it expresses my own opinions. I am not receiving compensation for it (other than from Seeking Alpha). I have no business relationship with any company whose stock is mentioned in this article.