Thesis
Realty Income's (NYSE:O) dividend increase that was announced this week was rather small, but investors do not need to worry. Through several raises a year the overall growth rate is still significant, and the relatively high initial dividend yield allows for compounding through dividend reinvesting.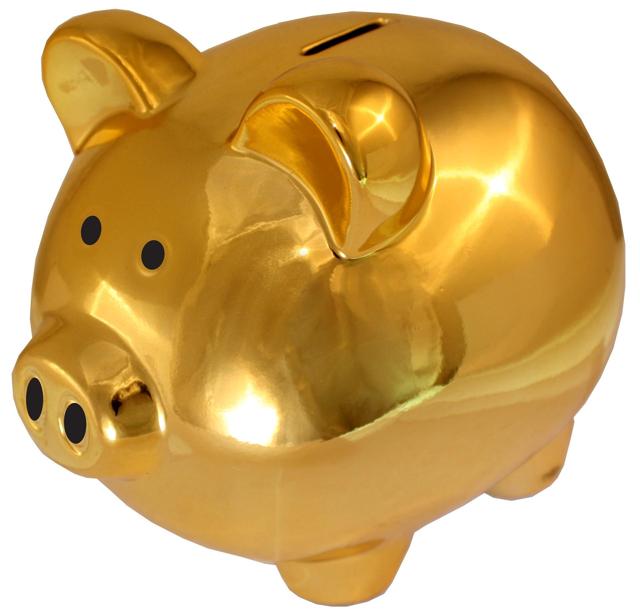 Realty Income announced its dividend payable in July last week, the payout has been raised from $0.211 per month to $0.2115 per month -- this represents a 0.2% increase month on month.
A 0.2% increase sounds insignificant, but due to the fact that Realty Income increases its dividend more than once a year, its overall dividend growth rate is much more attractive: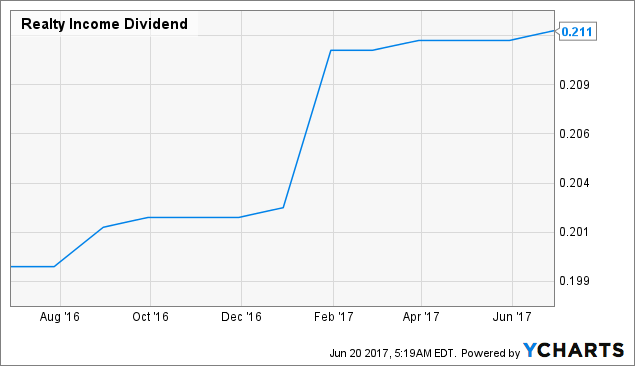 O Dividend data by YCharts
Over the last year the dividend has been raised from $0.1995 per share per month to $0.211 per share per month, an overall growth rate of a little more than five percent -- much more attractive than the 0.2% growth rate, even if it would occur several times per year.
We see that Realty Income's dividend increases are not all made equally, some raises are more significant than others (such as the hike we have seen at the beginning of the year).
For long term investors the total annualized dividend growth rate is important, as the exact timing of the dividend increases doesn't have a big impact in the long run: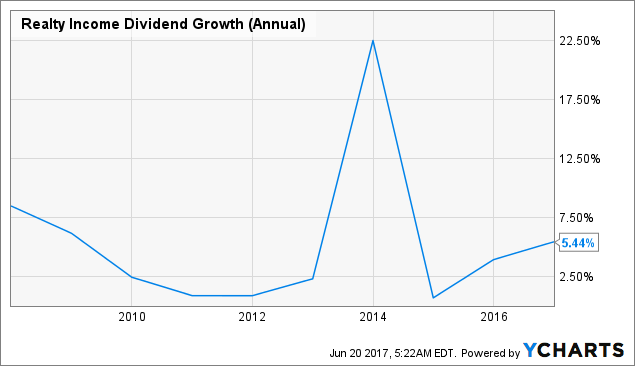 O Dividend Growth (Annual) data by YCharts
Realty Income's dividend growth rate stands at about five and a half percent for the last year, which is relatively in line with the company's record over the last ten years -- although there was one big outlier (2014), when the dividend growth rate totaled more than 20%. Annual dividend growth in the mid single digits has been the norm though, and as long as Realty Income keeps increasing its dividend in that range investors can generate significant income growth: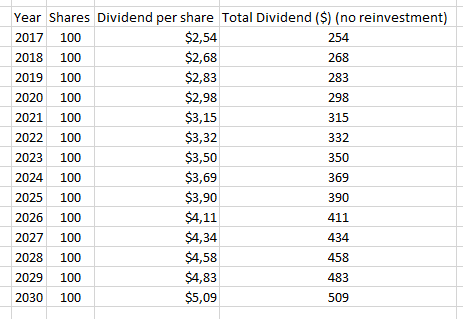 This is what the income received annually looks like when Realty Income continues to raise its dividend by 5.5% a year, if dividends are not reinvested. A 100 share investment would return about $250 this year, and almost exactly twice that amount by 2030 -- a big increase in annual income, even though the dividend growth rate in the mid single digits is not excessively high.
The story gets better though when we include the reinvestment of all dividends into the company's stock: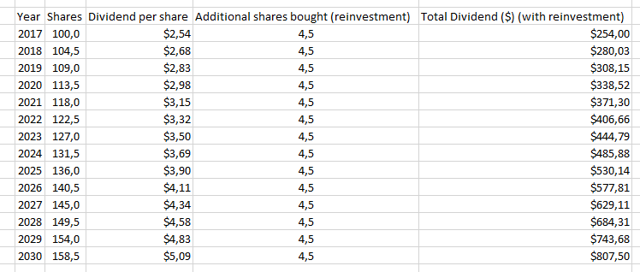 If the dividend is increased by 5.5% a year, and if all dividends are reinvested into the company's shares (at an average yield of 4.5%), the income one can generate from the stock grows much faster: By 2030, a 100 share investment would throw off more than $800 a year, which is more than three times as much as the dividend an investor would generate from the same 100 shares this year.
By reinvesting dividends into shares of Realty Income investors can thus generate far superior income down the road, which means that dividend reinvesting -- e.g. through the company's DRIP program -- makes sense for all of those investors that do not need the income right now. For those relying on their income generated from stocks such as Realty Income this is not a viable option, though.
The recent announcement that Amazon (NASDAQ:AMZN) would acquire Whole Foods Market (WFM) shook the retail sector, sending the shares of many other grocery chains lower: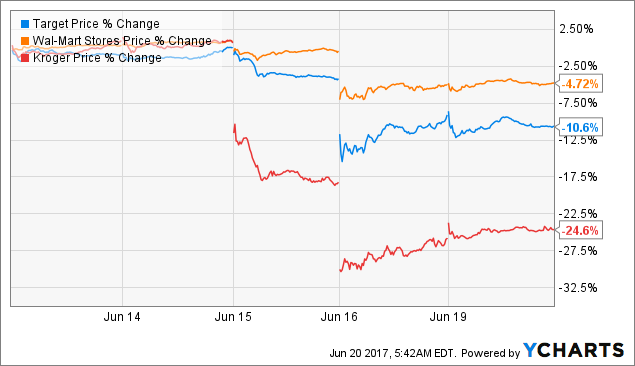 These fears should not impact Realty Income, though, despite the company's exposure to the retail environment.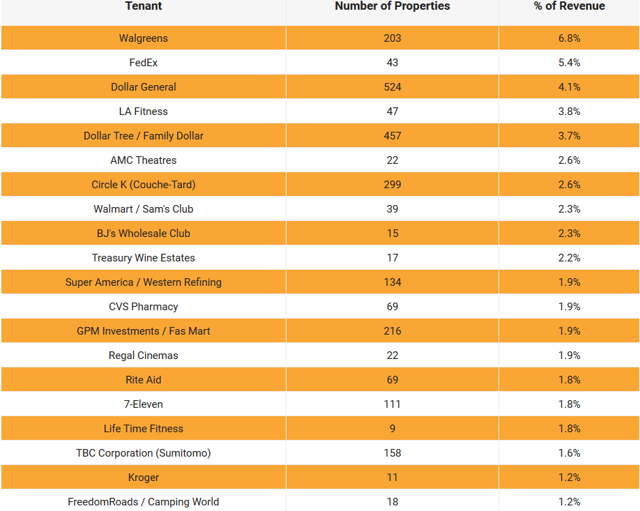 We see that Kroger (NYSE:KR) is responsible for only one percent of Realty Income's revenues, whereas Walmart (NYSE:WMT) is responsible for two percent -- neither of these is a key tenant for Realty Income.
Amazon's push into brick and mortar retail also showcases that the trend towards more online retail has limits. If Amazon innovates and creates new brick and mortar retail concepts, that could actually be a positive for Realty Income, as these brick and mortar stores all have to be located somewhere -- REITs with good properties, such as Realty Income, should be able to find willing tenants even if Amazon's push into traditional offline retail creates ripples in the industry.
Takeaway
I recently went long Realty Income, and this was the first dividend increase I saw in the stock. At 0.2% the dividend growth rate sounds insignificant, but the overall annual growth rate should come in well above that level.
Through dividend reinvestment one can generate high income growth even if the actual dividend is only increased by a couple of percentage points a year, thus I plan to hold these shares for a long time.
The recent announcement of an acquisition of WFM by Amazon should not lead to problems at Realty Income, Amazon's push into brick and mortar retail (although probably very innovative and with new concepts) could increase demand for the footage Realty Income and others have to offer.
Author's note: If you enjoyed this article and would like to read more from me, you can hit the "Follow" button to get informed about new articles.
Disclosure: I am/we are long O.
I wrote this article myself, and it expresses my own opinions. I am not receiving compensation for it (other than from Seeking Alpha). I have no business relationship with any company whose stock is mentioned in this article.