Sentiment in Target (NYSE:TGT) has really taken a nosedive since the announcement of Amazon's (NASDAQ:AMZN) acquisition of Whole Foods (WFM) this past week. Although Amazon has been involved in the grocery sector since 2007, its purchase of Whole Foods definitely sent a message that it wants to dominate this space with almost 500 extra offline stores. Analysts, however, mistakenly seem to believe that it's going to be a straight shoot out between Amazon and Wal-Mart (NYSE:WMT) over the next number of years. I do not necessarily see it this way.
Our premium portfolio has been long Target for quite a while now and although we are currently underwater on our position, we will definitely continue to stay long this position and continue to collect the dividend. Why? Because I don't believe the murmurs that have been circulating with relation to this stock in the sense that it could turn into a value trap. Although there is plenty of disruption happening in the retail sector at present, investors need to ignore all the noise and concentrate on the company's big picture and fundamentals.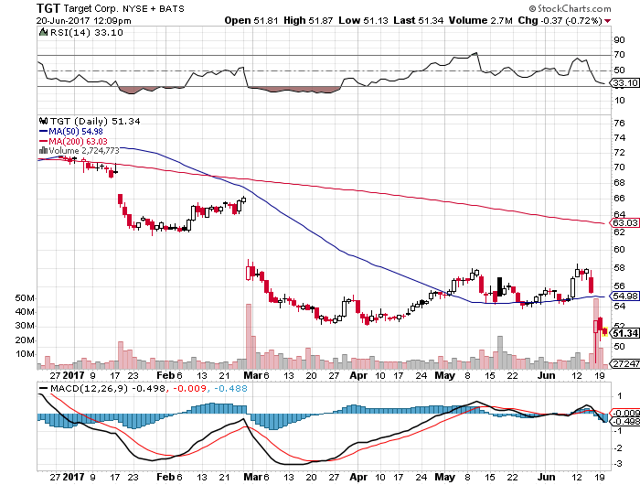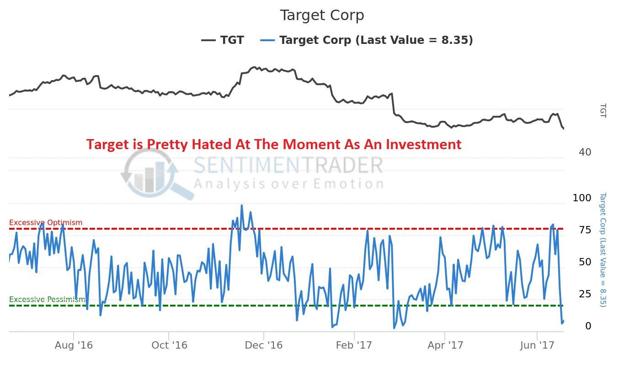 Source: Sentimentrader.com
From my experience, value traps usually come to light when companies report high debt levels and negative earnings. We just do not have these conditions currently with Target. For example, on a trailing 12-month average, Target's current earnings per share is $4.88, which is the second highest number the company has had over the last decade. From a debt standpoint, the company's current debt/equity ratio is around 100%, which basically means that the company's current level of equity is being matched by the current long-term debt load on the balance sheet.
In the company's latest quarter, total equity on the balance sheet was reported at $10.95 billion. That basically cancels out the long-term debt load, which currently stands at slightly over $11 billion. Furthermore, from a valuation standpoint, Target's current earnings multiple (P/E ratio) of 10.73 is way behind the industry's average 17.7, as well as Target's five-year earnings multiple average of 17.4. In fact, practically all of the company's valuation metrics sum up an attractive value play at present.
I look for a price-to-cash-flow ratio of under 10, which is what we have at present (4.5). Furthermore, the sales multiple is well under 1 at 0.4 and the dividend yield looks very strong at 4.6% due to the current payout ratio still being under 50% (49% in the latest quarter). The above numbers simply don't demonstrate to me much risk of a potential value trap. Bears will obviously point to the contraction in the company's gross margin number over the past few quarters. However, Wal-Mart also posted a negative print with relation to its gross margins in the first quarter of this year, but its bigger scale was able to access the decline to a large degree. I believe that once this sector settles down and Target doesn't have to be so aggressive with its pricing, its gross margins will revert to their long-term means.
On the e-commerce front, bearish investors seem to have short memories as Wal-Mart found itself in the same predicament as Target only a short 18 to 20 months ago. I remember Wal-Mart announcing during their annual meeting at the back end of 2015 that future earnings projections would be much lower than originally envisioned, as management knew it had to aggressively invest in its digital channels. The stock tanked on the news, which triggered commentary online stating that Wal-Mart was a dinosaur with relation to its e-commerce division compared to Amazon (AMZN), for example.
Nevertheless, look at how things have changed for Wal-Mart over the past 18 to 20 months as its stock has gone from sub-$60 levels to now almost $80 a share just a short week ago. Target seems to be at the same juncture now, but I feel its recovery will probably be swifter than Wal-Mart's. That's due to the improvements we have seen in the e-commerce area as a whole over the past two years.
Target took in almost $700 million in online sales in the first quarter of this year, which was almost a 22% increase from the same quarter 12 months prior. Now, investors can look at this number with a cup half empty outlook or a cup half full outlook. Personally, I would go with the latter because Target's online sales in the first quarter just made up 4% of its total top line take. Furthermore, Target should know the service it needs to give its customers to retain their business. I acknowledge that increasing fulfillment costs might hurt the bottom line in the near term, but as I have said the road map has already been laid out. As such, over time Target should take advantage of the work other retailers have done up to now.
Bears also point to the discretionary nature of Target's goods as opposed to the likes of Wal-Mart, where grocery (whose sales would be more predictable irrespective of market conditions) makes up a far bigger percentage of the company's turnover. I just don't buy this argument for two reasons. First, in the great recession, Target's top-line sales rose in 2009, and although earnings dropped that year, they bounced back in 2010. Second, the company's almost 2,000 stores will end up being a strong tailwind with respect to delivering on its e-commerce investments. As mentioned already, there is no need to reinvent the wheel here. Wal-Mart, to a large extent, has shown us the road map. Now Target has to deliver on it.
Disclosure: I am/we are long TGT.
I wrote this article myself, and it expresses my own opinions. I am not receiving compensation for it (other than from Seeking Alpha). I have no business relationship with any company whose stock is mentioned in this article.