Valeant (NYSE:VRX) is edging higher, leaving investors to once again wonder if this time is different. Is the low really in?
Unfortunately no-one can answer that question with 100% accuracy, but there are clues which can help us make an educated guess.
My last article highlighted one such clue. The market 'spoke' loud and clear when it broke out on huge volume after Q1 earnings.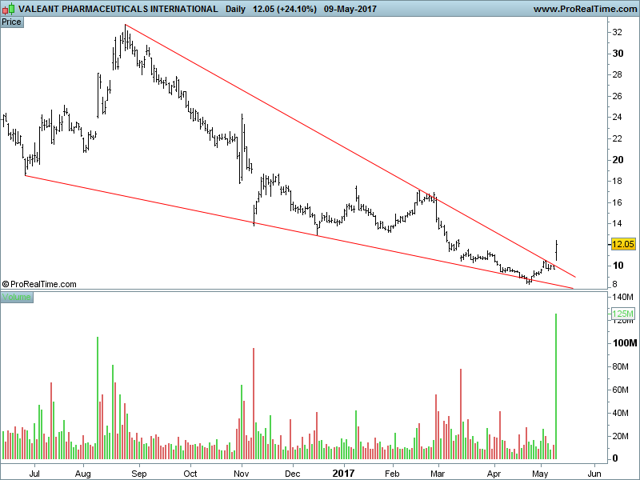 The point I tried to get across in that article was that we must not only make up our own mind about where VRX will go, but we must also listen to the market and what participants are doing. In the case above, no matter how you perceived the earnings, you had to acknowledge how the market acted.
This is why we must look at both fundamentals and how price reacts to them.
More Clues
The positioning and actions of participants - specifically 'smart' money - can determine whether good news is sold or bad news is bought.
Below shows a channel and potential resistance I pointed out in my last article. I speculated it may cause a pause (and was thankfully wrong).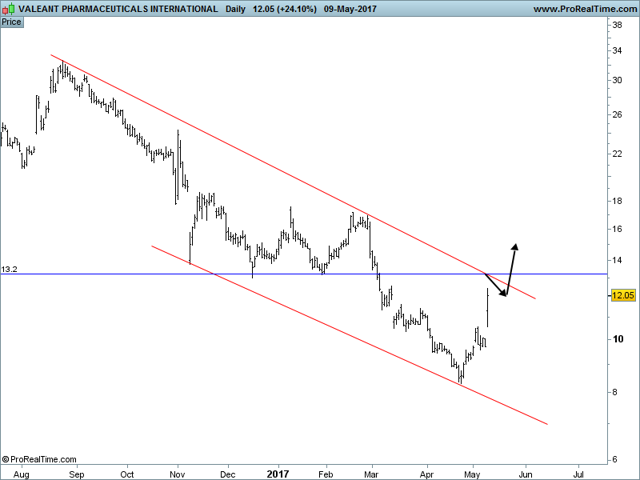 This is what actually happened.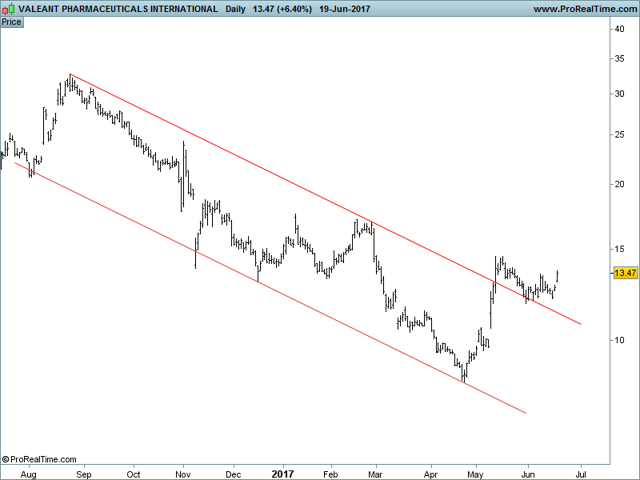 The channel broke without even needing to consolidate first and buyers stepped in exactly where they should on the re-test in early June. This is even more bullish than I expected.
Soon after we heard news of the Inova sale. Some authors criticized the deal, and called for a fall, but I think they failed to recognize the context and how the market reacted. If the sale was bearish for the stock, price should have broken down through the channel.
When a stock is in a bullish cycle, good news leads to new highs, and bad news leads to a short dip which is bought.
The way I interpret the news of the Inova sale is quite simple: smart money is now long VRX and they are happy with the sale as it buys more time.
You can dissect the details of the deal all you want, but in the bigger picture it changes very little. VRX is still in a lot of trouble over the longer term. Paying down debt and kicking the can down the road for a few years will at least let some longs profit before the next downturn.
Is This Time Different?
This isn't the first time VRX has rallied strongly during the down cycle. In fact, the current 75% is almost equal to the 76.5% rally in the summer of last year. Even the gap above the 50dma and 24% rally on high volume in May 9th is comparable to the move on 9th August 2016.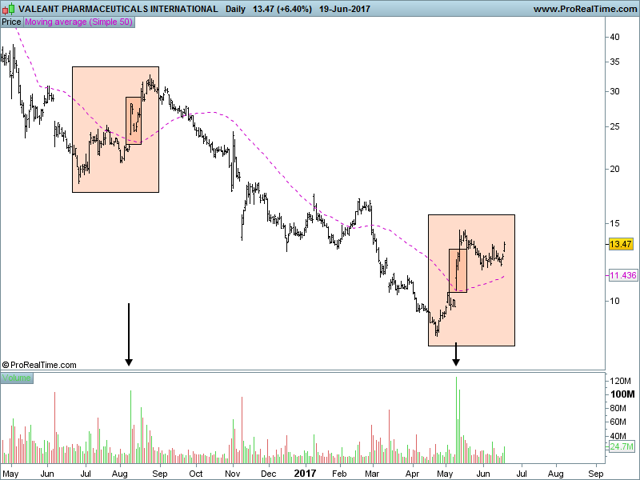 So despite all the bullish signals in recent months, VRX has done something very similar before, and continued to crash afterwards.
However, I think there are enough subtle differences and developments to expect a different outcome this time.
For a start, a further 8 month decline of 75% to the April low of $8.3 brought the capitulation necessary to form a bottom. Bill Ackman's notable capitulation was one reason I got interested at $11.
Strong hands are more willing to accumulate below $10 than they would have been in the $20s.
Fundamentals have improved. Debt is still a concern, but there is less fear of bankruptcy with the non-core asset sales.
The technicals are also slightly different this time around. The 2016 rally was clearly correctional and choppier, where the current rally looks more impulsive (trend like) and is forming a bull flag. Also it comes after what looks like a complete cycle of selling finished at the April lows, something I pointed out in my last article.
It is worth monitoring the similarities with the 2016 rally - take care if price drifts lower and breaks the 50dma - but for now I am cautiously optimistic of a different outcome and am staying long.
Conclusions
Whether or not the low is in for a multi year rally will only become clear when it is too late to profit from it. At this moment in time we can only speculate and look at the clues the market provides.
For now there is clearly bullish price action; the break of the channel and re-test was exactly what bulls would hope for. The Inova sale could have been interpreted as a bad deal and led to a break down in price, but the opposite has happened.
Is this time different? Well, so far the rally is actually remarkably similar to last year's bounce, so we would have to conclude that it isn't. However, I believe there are enough reasons to expect a different outcome and I will be watching closely for additional clues.
Disclosure: I am/we are long VRX.
I wrote this article myself, and it expresses my own opinions. I am not receiving compensation for it (other than from Seeking Alpha). I have no business relationship with any company whose stock is mentioned in this article.