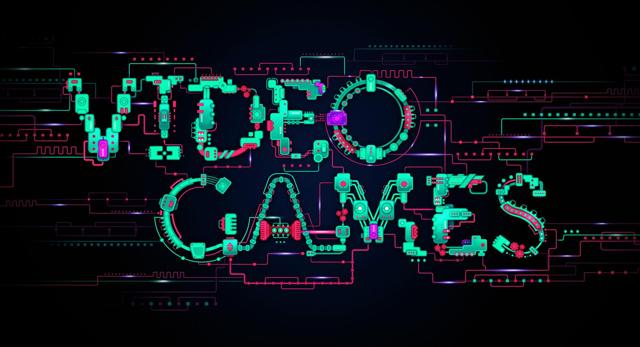 The stock price of Take-Two Interactive Software Inc. (NASDAQ:TTWO) has grown exponentially in 2017. And interested investors may be wondering if it is too late to profit from this popular video game publisher because, despite this stock's potential, its valuation is already quite optimistic.
TTWO doesn't enjoy the same massive margins and revenue growth of competitors: Activision (NASDAQ:ATVI) and Electronic Arts (NASDAQ:EA); but the company makes up for this with a significantly smaller sales multiple and a reasonable EV/EBITDA. The company's P/E ratio is extremely high at 107, but it makes up for this high valuation through a strong liquidity position, compelling pipeline, and potential in VR technology.
Take-Two Interactive: Balance Sheet
TTWO's balance sheet is very strong compared to many of its competitors. The company has current liquidity of $1.73 billion compared to long-term debt of only around $250 million. The market cap is currently around 7.7 billion and that means the company trades for roughly 4.5x its cash. ATVI and EA also have strong liquidity positions relative to market cap, but they have significantly more long-term debt on their balance sheets.
Over the long-term, TTWO's topline growth has been significantly less than some of its competitors, especially ATVI. But this is in large part due to the fact that TTWO hasn't yet embarked on the same level of massive debt-fueled acquisition-driven growth as some of its rivals. Although, that is not to say that TTWO isn't acquisitive. The company recently purchased Social Point, a mobile developer, in February of this year.
TTWO generated around $1.8 billion in revenue for the full year of 2016, and this gives the company a price to sales ratio of 4.13. This can be compared to a ratio of 7.2 for EA and 6.6 for ATVI. The different sales multiples, largely reflect the different gross margins for the respective companies.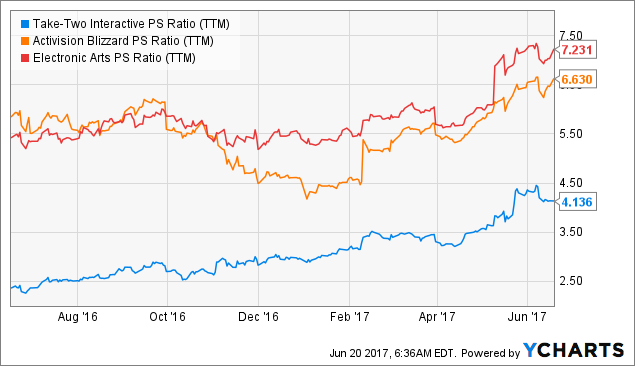 TTWO PS Ratio (NYSE:TTM) data by YCharts
On the bottom line, TTWO's multiples also look high compared to the competition. The company's EBITDA margin is only around 20% compared to 40% and 30% of ATVI and EA, respectively. On top of this, the company's price-to-earnings ratio of 107 is more than ATVI's and EA's put together. But despite these stretched bottom line valuations, TTWO's stock has huge potential and the market is willing to attach a strong valuation due to its iconic franchises: Grand Theft Auto and Red Dead Redemption. Few gaming companies have such a heavy hitting portfolio.
Conclusion
Take-Two has a very optimistic bottom line valuation, but the makes up for this through its strong, resilient franchises and its liquidity position. The company also looks set to benefit from the growth in virtual reality, but it is unclear how much of this potential is already priced into the stock.
Disclosure: I/we have no positions in any stocks mentioned, and no plans to initiate any positions within the next 72 hours. I wrote this article myself, and it expresses my own opinions. I am not receiving compensation for it (other than from Seeking Alpha). I have no business relationship with any company whose stock is mentioned in this article.