Apple Inc (NASDAQ:AAPL) will be launching a product which faces competition from some of the strongest tech companies. Apple's HomePod is slated to be launched in December 2017 at a price of $349. This already is much higher than $179 for Echo and $129 for Google Home. More importantly, by that time Amazon (NASDAQ:AMZN) would be looking to reach market saturation for its Echo devices.
A recent survey by Strategy Analytics estimated that Amazon shipped over 5 million Echo speakers in 2016. Another report shows that the pace of sales has increased substantially in the past few months. It estimates that between January and March 2017 2.5 million Echo devices were sold. Amazon's recent move of reducing the price for its prime membership for low income households shows that it is prepared to be very aggressive in reaching market saturation.
It is highly probable that Amazon makes a major cut in Echo devices and even sell it under $100 to increase the market penetration and make it more difficult for new competitors like HomePod to gain a foothold in this category.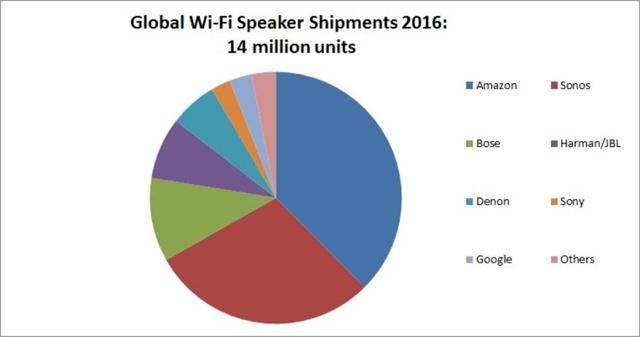 Fig: Amazon already has a lead in wi-fi speakers sold in 2016. It contributed over three-fourth of incremental sales in this category. Source: Strategy Analytics
Will HomePod complement Echo?
Apple has a huge disadvantage in this category. Amazon's Echo serves as an ideal device for using Amazon's vast retail operation. This makes Echo almost a must-have for any household which already makes a decent portion of their purchases on Amazon. There are reportedly 80 million Prime members in U.S. out of a total of 125 million households. A large portion (or almost all) should be an ideal customer base for Echo devices. In this situation it is more important to ask whether HomePod complements Echo instead of asking whether HomePod will take Echo's marketshare.
HomePod's price and functionality also makes it a bigger challenge for other higher priced wi-fi speakers. Currently the market leader is Sonos with its $300 Play:3 and $500 Play:5 speakers. Apple might be able to grab a decent share of market pie within the higher end wi-fi speakers. But a bigger issue is whether it can turn HomePod into a mass market device. Currently HomePod does not look like a must-have device and the initial sales should be restricted to die-hard Apple fans.
In a recent interview with Bloomberg, Tim Cook, mentioned an interesting point.
"If you remember when the iPod was introduced, a lot of people said, "Why would anybody pay $399 for an MP3 player?" And when iPhone was announced, it was, "Is anybody gonna pay" - whatever it was at that time-"for an iPhone?" The iPad went through the same thing. We have a pretty good track record of giving people something that they may not have known that they wanted.
Although Apple has been very successful with earlier devices, HomePod faces quite a unique situation. It will have to make inroads in a category which is already saturated by a must-have product by a company which has huge resources and is known for long-term planning. We also must look at the evolution of home entertainment as both the companies are aggressively pursuing original content development.
The bigger picture
Both Apple and Amazon are plowing huge amounts in development of original content. Eventually Apple might hope that HomePod is only the beginning in the creation of an entire home entertainment ecosystem. Both Apple and Amazon have their advantages in this pursuit. Amazon already has a decent penetration of Prime membership and would have planted its feet strongly with significant penetration of Echo devices. It also has a big lead in the development of original content (having spent an estimated $3 billion on it in 2016) which tied with prime membership becomes a good purchase for potential customers.
Apple's biggest advantage is the brand power and the huge cash reserves. Apple can either take a big leap and buy a major media company or organically develop content which is the current strategy. Eventually it would like to have an ecosystem of products, services and content which can be a strong moat against any competitor. Although Apple is behind in both launch of the product and development of content, it still has a strong fan base which can help it in overcoming some of the disadvantages.
Apple also is facing higher competition against iPhone in China and other emerging markets. iPhone contributes over 60% of its total annual revenue. Hence Apple needs to diversify to other products and services to shield itself from a possible stagnation or decline in iPhone sales. Home entertainment is a big category which will see a large number of products added over the next few quarters. By building a strong home entertainment ecosystem Apple will not only improve the revenue base but also create bullish sentiment for its stock.
Investor Takeaway
A big part of Apple's future success depends on creating a strong ecosystem in the home entertainment category. Amazon already has created a substantial lead by increasing its Prime membership, creating original content and aggressively selling Echo devices. HomePod is facing a more difficult market environment than earlier Apple products. A poor reception of HomePod in the holiday season will have far reaching negative impact on Apple's stock and can create more pressure on the management to undertake bigger acquisitions. Investors should focus on sales of HomePod this holiday season besides other Apple products.
Disclosure: I/we have no positions in any stocks mentioned, and no plans to initiate any positions within the next 72 hours.
I wrote this article myself, and it expresses my own opinions. I am not receiving compensation for it (other than from Seeking Alpha). I have no business relationship with any company whose stock is mentioned in this article.