Well, it's been a while, but Citi's celebrated credit strategist Matt King is out with a new presentation.
Of course this one was easy to see coming. Last week I brought you the latest from his colleague Hans Lorenzen and usually when there's Hans, there's Matt.
Sure enough, a couple of days after Lorenzen's latest psychedelic trip through surreal markets (full presentation here) King was out with a new note and those notes usually presage the release of full-blown, visual extravaganzas.
On Tuesday morning, King's latest is out and it's proof positive he hasn't lost his flair for creating the most aesthetically pleasing charts on Wall Street.
The thing about King's stuff is you kind of have to figure out how to break it down and present it in easily digestible ways, because his take on things is so sweeping that trying to give it the full treatment often results in posts that are too long to keep readers' attention.
So in the interest of giving you something that you can quickly appreciate and internalize, allow me to break out the charts that illustrate two of King's favorite points: the impact central banks have had on markets since the crisis and the waning global credit impulse.
I introduced the first point in the third linked post above, when I playfully asked, "excuse me sir, can you spare $1 trillion?"
The reference was to the amount of supply private investors will need to absorb next year once the ECB begins to taper in earnest and once the Fed starts letting its bloated balance sheet run down.
"Central bank buying has reduced the net amount of securities (in DM) the market needs to absorb, both this year and last, to near zero [and] we think this has played a critical role in propping up valuations at elevated levels," King said last week, adding that "next year looks very different."
Here's what he meant: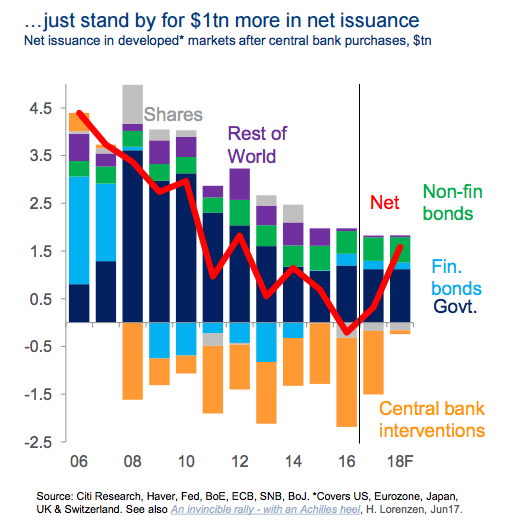 (Citi)
That right there helps you visualize what's been going on since 2008. The red line is net security issuance in developed markets.
See how it's been plunging? Yeah, that's because central banks have been sucking up so much supply that by last year, net issuance actually turned negative.
So why are asset prices rising? Simple: there are fewer and fewer of them available for the market to buy - they are scarce.
But that changes next year, as net issuance is set to spike with central banks stepping back. So it's the same dynamic in reverse. More supply with less money chasing it equals lower prices.
At a more basic level though, the issue is that central banks are "chasing the dragon." I've noted this on several occasions. Here's what I wrote late last month:
Coming full circle, the problem is that central banks don't seem to be ready (or willing) to come to terms with the fact that their models may no longer matter.

If that's true, they're chasing the dragon. That is, they're pumping more and more heroin into the system in search of an inflationary high that may not be attainable.

The longer they do that, the bigger the bubbles they're blowing will get.
King's contention is that inflation has been de-linked from credit expansion for some time: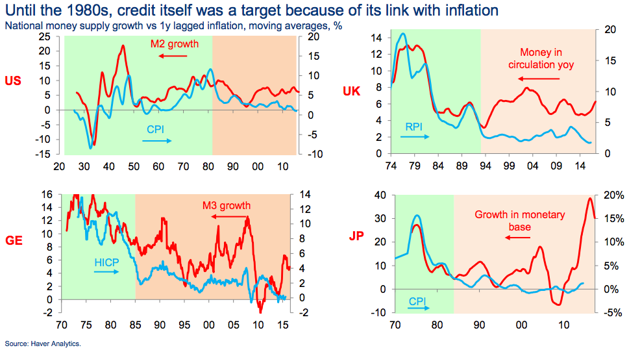 (Citi)
And that de-linking has prompted central banks to throw caution to the wind in terms of credit expansion, leading directly to the inflation of asset prices: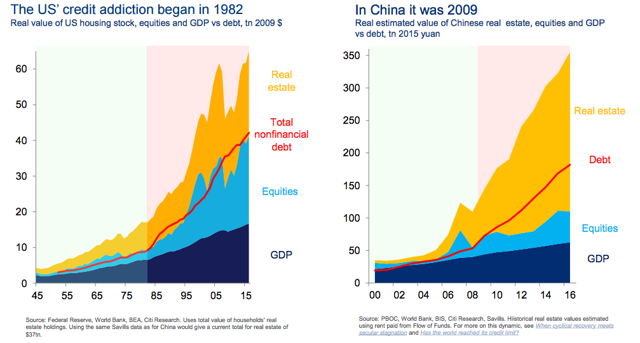 (Citi)
Which leads directly to this question: what happens when everyone slams on the brakes? That's especially relevant given the fact that China has embarked on a massive effort to rein in speculation and shrink its shadow banking complex.
Well, here's a visual that depicts credit creation, along with the credit "impulse" (i.e. 12m change in private credit growth as a % of global GDP):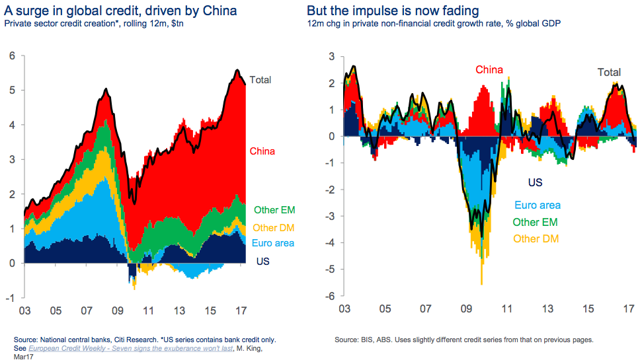 (Citi)
As you can see, the impulse (right pane above) is now negative. Or, more colloquially, one might posit that the world will soon be saying "give me some credit."
So why aren't risk assets like stocks (NYSEARCA:SPY) responding?
Well, if history is any guide, there's a lag: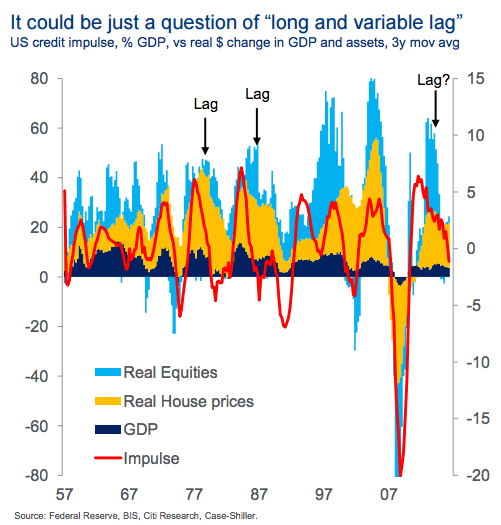 (Citi)
Ultimately, I doubt any of the above is going to sway anyone who is determined that none of this matters, but what I do hope is that you'll at least consider these types of things as part of a holistic approach to thinking about your investments.
Because if you aren't looking at things holistically, you're by definition operating with incomplete information.
Disclosure: I/we have no positions in any stocks mentioned, and no plans to initiate any positions within the next 72 hours. I wrote this article myself, and it expresses my own opinions. I am not receiving compensation for it (other than from Seeking Alpha). I have no business relationship with any company whose stock is mentioned in this article.