CNBC: 10:30 EST

US indexes are off to a low volume, range-bound start this Tuesday morning as they pull back slightly from yesterday's new record highs. With almost no news to contend with today, we are likely to see the range-bound nature continue through into the afternoon session.
Gold (NYSEARCA:GLD) futures have continued selling off overnight, currently down another 0.11% after hitting lows at 1242.4. The Japanese Yen meanwhile, is roughly flat on the day as investors continue moving back into risk-on assets. Crude oil (NYSEARCA:USO) has officially entered bear market territory, losing another 3%+ today after dropping 1.31% during yesterday's action.
The VIX is moving within a tight $.20 range today, sitting in the middle of the 10-handle.

CNBC: Monday Close

Both the Dow (NYSEARCA:DIA) and the S&P 500 (NYSEARCA:SPY) closed at record highs yesterday on the backs of a recovering technology sector. The Nasdaq (NASDAQ:QQQ), though a bit farther away from record highs, posted an even stronger 1.42% gain on the day.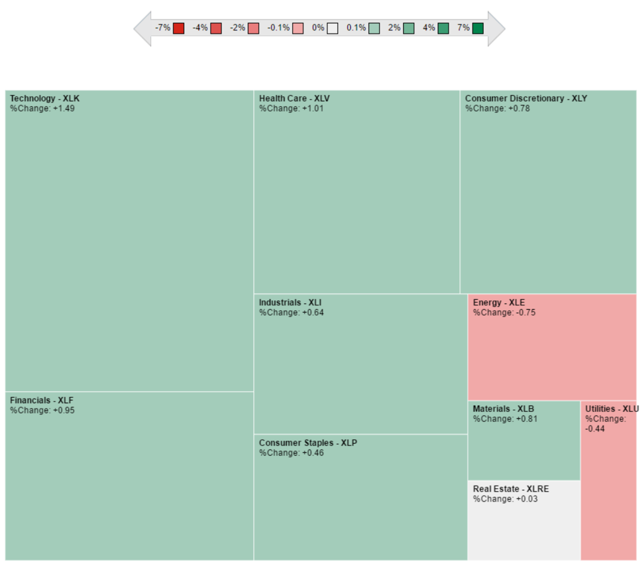 Source: SectorSPDR
While yesterday's big story was the tech (NYSEARCA:XLK) recovery, the health care (NYSEARCA:XLV) and financial (NYSEARCA:XLF) sectors posted strong days as well, each gaining roughly 1.00%. Energy (NYSEARCA:XLE) and utilities (NYSEARCA:XLU) were the lone sectors to close bearish yesterday, shedding a respective 0.75% and 0.44%.
Gold futures continued to fall yesterday, losing another 0.80% on its way down to monthly lows at 1244, while crude oil futures for August delivery dropped well over 1% yesterday to 7-month lows on no readily apparent news.
After last week's mid-week vol spike, the spot VIX has slowly retreated back into the 10-handle. A bit of noteworthy movement, the VIX hit its daily lows yesterday of 10.01 just after the US session open. It drifted marginally higher throughout the rest of the day even as stocks rose as well.
Shout-Out
Today we highlight a Monday afternoon article written by SA contributor The Heisenberg. Titled Vanishing Volatility: A Quick Trip Around The Globe, the piece discusses the current state of volatility, and briefly touches on why disappearing vol is a problem for risk-averse investors.
Heisenberg begins the article by displaying a chart showing realized 30-day volatility. Though much less often referenced in the financial media, realized vol is quite close to historic lows as well (the graphic below is for realized volatility of Asian Indices Ex Japan).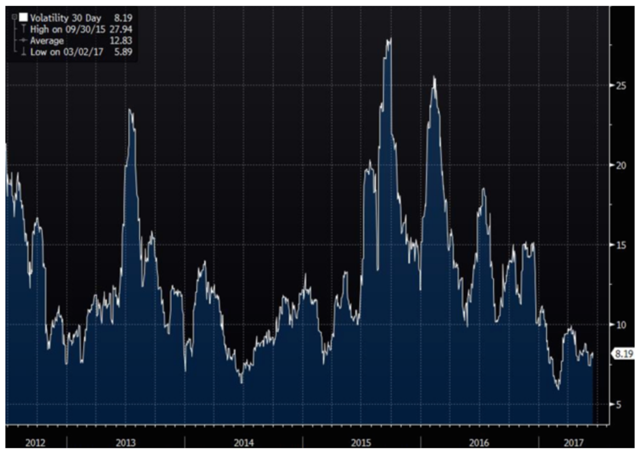 Source: The Heisenberg, Bloomberg
He notes that the current 8.1% level is near 17-year lows.
Next, the author points to the following chart to display just how unmatched this current bull market is in terms of resiliency. The current market goes nearly four times as long, on average, between 3% declines when compared with previous bull market periods since 2000.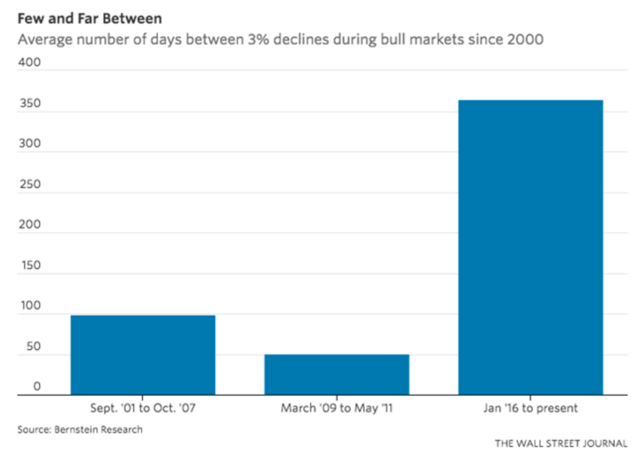 Source: Wall Street Journal, The Heisenberg
Heisenberg notes, too, that the low volatility is not just contained to US markets. We are at near post-crisis lows for the US, the UK, Europe, and Japan, and we are only a few days removed from meetings of those four central banks. The article includes the following excerpt of analysis from Goldman Sachs:
In the past two weeks, there were four major DM central bank meetings and statements. Among them, the BOE, BOJ and ECB did not make changes to policy rates, while the Fed hiked its policy rate by 25 bp and signaled that balance sheet normalization is likely to start soon…

The market shows little concern on the path of 10-year rates. Amid the recent meetings, implied rate volatility has come down even further, reaching or nearing post-crisis lows across regions.
Finally, in the following graphic, Mr. Heisenberg shows why this low volatility environment can result in dangerous investing behavior.


Source: Deutsche Bank, The Heisenberg
With so many investors chasing so few opportunities for a solid return, investors must increasingly turn to riskier assets, moving higher up the risk curve as they do so.
Thoughts on Volatility
As mentioned in the article above, volatility continues its state of compression not just in the US, but internationally as well. Just before the US session's open, the VIX is printing 10.54, just off overnight highs; as we publish, VIX is closer to 11. Today will be the last day of trading for June VX futures, as they are slated for expiration at tomorrow's open. Shown below, volume yesterday has already confirmed the move over to the July contract, and is likely to show the same today.

Yesterday we briefly discussed the contango situation of the VIX futures curve. We noted that although the probabilities still lie with the short side, moves to above the 10% area in F1-F2 contango should say something about the bull conviction of an impending VIX move higher. Though the F1 contract used in the following calculation expires tomorrow, current F1-F2 contango is 11.73%.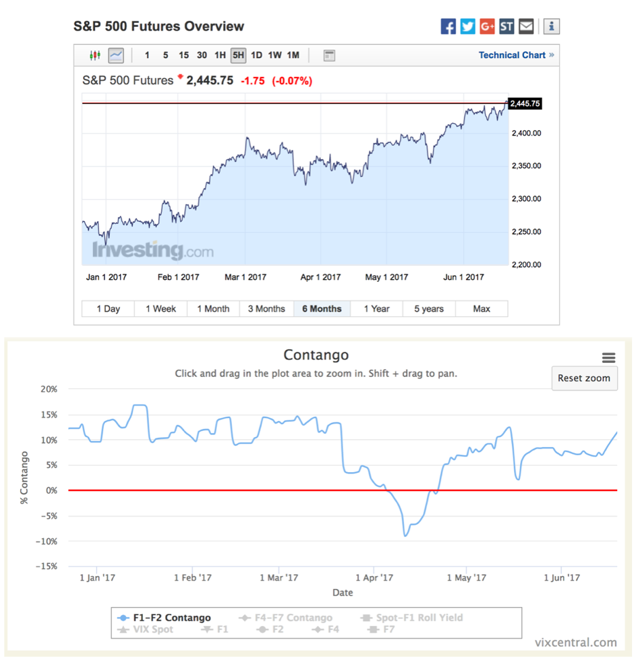 Observe in the above comparison that extended periods of time above 10% of F1-F2 contango seem to increase the likelihood for at least a small down move in the S&P. It is also of course noteworthy that for nearly the entire 1st quarter of the year, F1-F2 contango was above 10%, and a small market correction took place only after a 150-point run higher in the S&P.
As with much of our volatility analysis, our goal is not to produce information that we intend our readers to trade on. Rather, our goal is to encourage our readers to think about the volatility markets differently than they otherwise would, thereby increasing the tools available to trade with.

Organic at-the-money volatility is currently higher at the one-week and one-month levels, but the has barely budged at the quarterly level. This tells us that while we may see realized vol off its most recent lows, the forecast into September is for very low levels of actual volatility.
Consider that average spot VIX lies somewhere around 19; while today's realized levels of volatility are quite low, quarterly vol traders are stuck with the challenge of having to square that reality with the very real for a vol spike over the next three months. So far, they're not buying it.
At this point, anyone trading off anticipation of a vol spike needs to seriously consider the implications of low quarterly vol. As Hendrix sang: "No reason to get excited".
Tracking the Trade
Today we will begin a new trade to keep an eye on over the next couple weeks. The trade summary is as follows:

Strategy (laid out June 20 - this segment will largely stay the same so readers can see what we were thinking at initiation)
Remember, these are thought experiments, not real trades. It's less important that you actually agree with the thesis. A lot of learning takes place from the vantage point of imagining that you did agree!
Volatility is basically in its bottom 1%. For perspective, from a percentile standpoint this is the polar opposite extreme of say October 2008 when spot VIX was around 80. This is the "anti GFC".
Buy the dip has become the order of the day. There may be quite a bit of upside left in the ES' most recent move. We think there may be a dip lower that allows us to do some modification; but if there's not, we want to own some potential upside up into the 2525 region. Maybe we've got a blow-off top in store?
The market sure seems to want to push higher; as such, we'll put on a trade that positions accordingly. That said, we want it to flatten out in the event of a drop, at least for a time.
Because no dip has become too small to buy, we will supplement our call butterfly with a put sale. Now, we are not looking for anything too exciting on this front; just a way to add on a little extra time value. Also, we want something to "trade around" in case this market does indeed march higher.
As a final point - this is more of a "if you can't beat 'em, join 'em" kind of trade; it's going with the flow rather than fighting it. That said, the spread represents a relatively low-risk approach to going long the S&P (at least over a certain range of values).
Tactics
We will trade the following overall structure: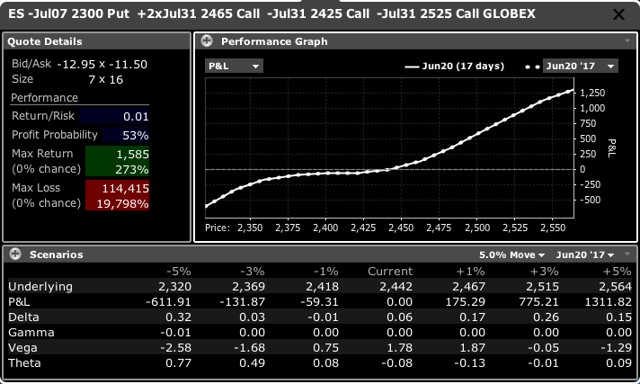 There are a number of ways to pick this trade apart. The individual legs are as follows:
Sell the Jul31 2425 call

Buy two Jul31 2465 calls

Sell the Jul31 2525 call
Those are the ingredients of the call butterfly: sell one, buy two, sell one.
As mentioned, we will supplement this spread with a (conservative) put sale:
If you observe this trade, it looks almost halfway between a long futures (a 45-degree diagonal line) and a call option (hockey-stick shape that is flat up to a corner point and then rises).
We will follow this spread until Jul 7, when the 2300 put expires. For now though, observe that the theta is quite mild on this, as is the delta profile.
If the ES were to simply tank - something it hasn't really done in quite some time - then this trade would begin to act more and more like a long-ES futures position. Otherwise, it will trade on its own dynamic.
Mechanics - trade entry
There are a couple ways you might enter this kind of position.
One might be to trade the Jul7 2300 Jul31 2525 strangle separately:

Not exactly a ton of premium - but maybe we can work with this over the next couple weeks.
Then, you could trade the Jul31 2425 2465 call 1x2:

That could work pretty well. If the ES had a momentary dip, you might wish to trade the 1x2 first.
You might find the split up trade has more liquidity than finding a counterparty with whom to trade the whole combined spread.
One could reasonably try to limit each of these at a mid (or perhaps even a little better than mid). This is a very slow market environment: you are quite likely to get an attractive fill if you're willing to wait it out. Of course, nothing is ever guaranteed with such a strategy.
Conclusion
That's a wrap - thank you for reading. We appreciate it when readers share their thoughts. These are big markets, and different individuals trade their own pet products using their own strategies. Please do add what you are doing (or thinking about doing) in the comments section.
Please consider following us.
Disclosure: I am/we are short SPY.
I wrote this article myself, and it expresses my own opinions. I am not receiving compensation for it (other than from Seeking Alpha). I have no business relationship with any company whose stock is mentioned in this article.
Additional disclosure: We actively trade the futures markets, potentially taking multiple positions on any given day, both long and short. It is our belief that the S&P 500 is meaningfully overvalued. As such, we typically carry a net short position using ES options and futures.