Introduction
Many of my recent articles start with some kind of motivation. I'll see something in the news and decide it will make a great Seeking Alpha piece.
Today's article was motivated by Argentina's sale of 100-year bonds denominated in US dollars. For those that don't know, Argentina is a serial defaulter and any investor with sense wouldn't lend them a dime. But we'll get to them later on.
The point of this commentary is to present my belief that bond markets around the world are mispricing risk and do not send useful signals on inflation. This is mainly due to unprecedented Central Bank intervention since 2008 and short investment memories.
United States
I just wrote a piece on the US Bond Market (located here) that shows bonds are the new Certificates of Confiscation. This is a sarcastic way of saying that yields are significantly below the "real" rate of inflation when you look at the large expenditures made by the average person.
Below are a few charts of rent and healthcare that I used in the original piece to make the point. Steadily rising rents and health care premiums are taking a big bite out of your income.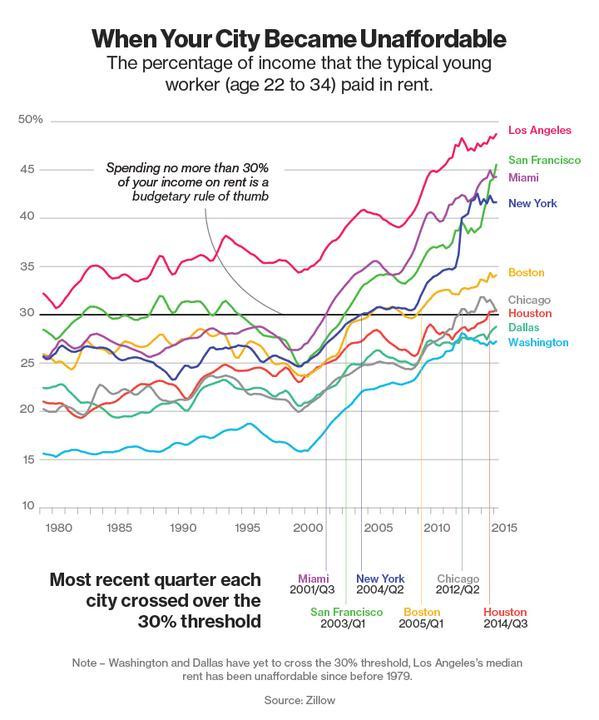 (Source: Zillow/FinancialSamurai)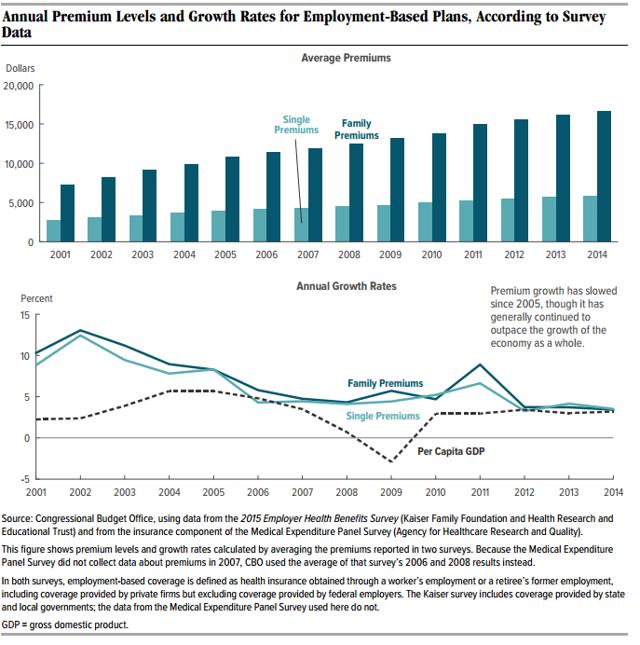 (Source: CBO)
To be fair to the US, I believe the Federal Reserve realizes they've blown several economic bubbles and are trying to rectify that by raising short term rates and allow their balance sheet to rolloff.
Still, yields are very low. As of this writing, the Ten Year US Treasury Bond yields a whopping 27 basis points above the official CPI figure.
Italy
ECB intervention has also driven down yields in Europe. Investors buy the bonds and front run their sale back to the ECB.
The result is the Italian 10 Year Bond yields 1.93% as of this writing. That is actually less than the United States!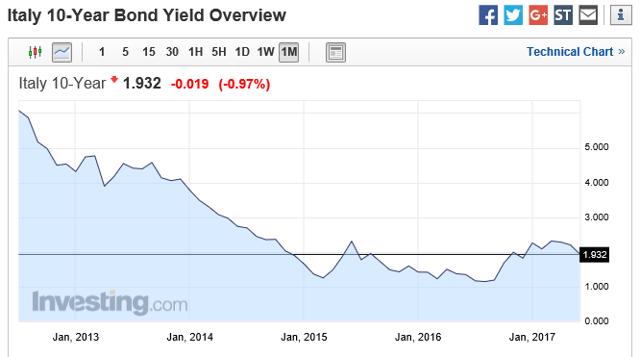 (Source: Investing.com)
Well, maybe Italy has really low debt levels that justify this?
Nope. Italian Debt-to-GDP is well over 100%.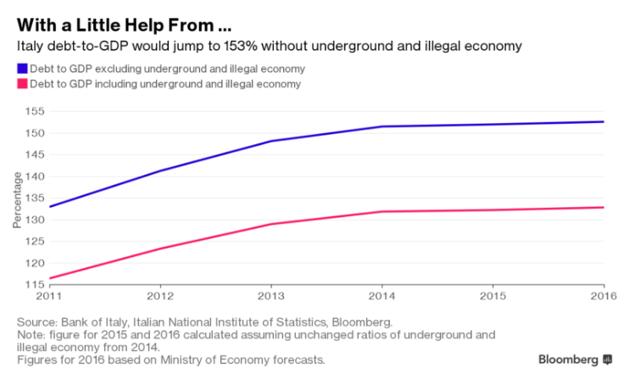 (Source: Bloomberg)
This is not a country I would lend to for 10 years at 1.93%.
Argentina
Finally, let's move on to Argentina, the country that started this article.
To recap, Argentina has defaulted on its debt SEVEN times since the country's independence 200 years ago. The 2001 debt default made international news due to the chaos it caused in the country.
So, when I read that they wanted to sell a 100 Year Bond (not a typo), I was sure no one would buy it. Who would buy a 100 Year Bond from a country that is a serial defaulter?
Well, look at the article I read this morning. The offering was 3-times over-subscribed!!!!
This is insanity.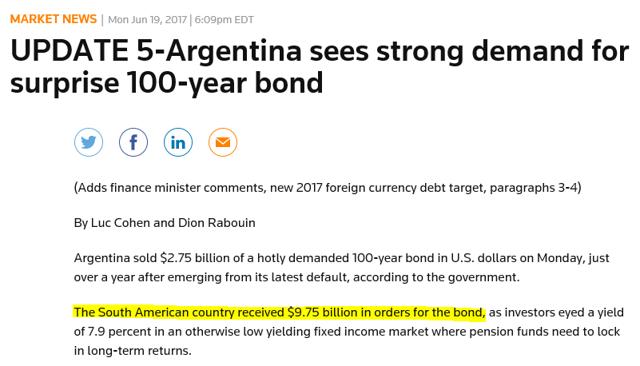 (Source: Reuters)
Conclusion
The global bond market has been seriously impaired by years of Central Bank intervention. I don't know how you look at the data above and conclude otherwise. Something is wrong when a serial defaulter like Argentina can sell 100 Year Bonds three times oversubscribed.
Most perplexing is those still using bond yields to make a point about the economy and markets in general. Bond markets are misrepresenting inflation risk (in places like the United States) and basic credit risk (in places like Argentina).
Buyer beware.
Disclosure: I/we have no positions in any stocks mentioned, and no plans to initiate any positions within the next 72 hours.
I wrote this article myself, and it expresses my own opinions. I am not receiving compensation for it (other than from Seeking Alpha). I have no business relationship with any company whose stock is mentioned in this article.