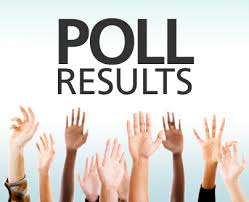 Merger Arbitrage Poll Question Results
Here are the results of last Monday's merger arbitrage poll. We asked the question, Is the last two day technology stock selloff a buying opportunity or the beginning of a tech wreck?
| Choices | Totals |
| --- | --- |
| Buying Opportunity | 62 |
| Tech Wreck | 56 |
The results were almost down the middle with slightly more people choosing 'Buying Opportunity'. They are correct. At least so far.
This week's Merger Arbitrage Poll Question
This week's question asks about the recent Amazon (NASDAQ:AMZN)-Whole Foods (WFM) deal announcement.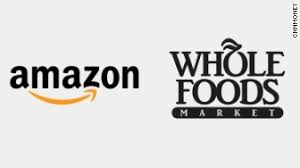 Whole Foods
It is probably the most surprising deal of 2017. Amazon buying Whole Foods for $42 per share in cash or 13.7 billion. The combination has been the talk of the market since Friday's announcement. Here are 23 thoughts I have on the definitive deal.
As Amazon continues its pursuit to take over the world (books, entertainment, cloud services, clothing, video, artificial intelligence, publishing, electronics, supermarkets) should regulatory agencies be paying more attention to a potential monopoly at the company as opposed to spending one-and-a-half years on the Walgreens (NASDAQ:WBA)-Rite Aid (NYSE:RAD) merger?
It is almost like Amazon has found a regulatory loophole:They have almost no brick-and-mortar and their business' are spread among multiple sectors and industries.
Analysts have surmised that Amazon would become one of the top five grocers within a few years. If a company is say top 4 or 5 in multiple industries would that be a monopoly?
A year ago, one of President Trump's campaign statements said that "The Washington Post (owned by Amazon CEO Jeff Bezos) is being used by the owners of Amazon as their political lobbyist so that they don't have to pay taxes and don't get sued for monopolistic tendencies that have led to the destruction of department stores and the retail industry."
Does that mean the Amazon-Whole Foods deal will get blocked? Probably not.
It seems logical to me that Amazon will use its efficiencies to lower prices at Whole Foods to gain share, though the company hasn't stated any of its plans for Whole Foods as of yet.
Are the declines since the Amazon-Whole Foods announcement in companies like Kroger (NYSE:KR), Walmart (NYSE:WMT), Costco (NASDAQ:COST) and Target (NYSE:TGT) justified? Are some or all of these stocks now buying opportunities?
The way we shop for groceries is changing. It has been so for some time. But Amazon isn't the only company moving in the delivery direction. Walmart, Kroger and Albertson's are among those that offer delivery or pick up services.
There have been stories and rumors of a higher bid for Whole Foods. Barclays put a $48 target on WFM and says they wouldn't be surprised by a bidding war. Oppenheimer raised their price target on WFM to $45.
But the hefty price Amazon is paying for a company with slowing growth will not be easy to beat. Would a Kroger-Whole Foods tie-up garner regulatory approval? Walmart-Whole Foods? If so, and that is an if, they might take a year-plus to close.
Hedge Fund Jana Partners has been pushing Whole Foods to make changes including a possible sale. Jana announced it had amassed an almost 9% stake in WFM two months ago.
Albertson's and Kroger had been rumored to be interested and had opportunities to buy Whole Foods but didn't.
Walmart-Whole foods is about as close to a compatible business model as are car dealerships and shoe stores.
Costco has their unique subscription model and not a likely fit for Whole Foods.
And Kroger's debt load would make a Whole Foods buy a bit risky.
Does the stock market know something? WFM stock is trading above the $43 level more than a buck over the deal price. The options market is signaling a possible overbid as well with, for instance, the out of the money Jan 42 strike call trading almost at $2 and the further out of the money Jan 45 strike call trading at $1.
Whole Foods' buyout price is about 37% below the 2013 high. So what? That was four years ago when Whole Foods was still growing and competition wasn't what it is now.
Amazon's offer is for more than 10x next year's expected EBITDA. In comparison, Kroger trades around 5.5x forward EBITDA.
One narrative going around the street is that a Costco or Walmart or Kroger might enter with a topping bid just to block Amazon. We are talking say $15 or $16 billion just to block? And if that did happen, Amazon would almost assuredly come over the top. So I see a higher bid as unlikely.
Brick-and-mortar is not dead.
Whole Foods' margins are too low to justify a higher bid. But.....
Whole foods customers are loyal and well off. Two more reasons Amazon did this deal.
Whole Foods has more than 430 locations. Assuming Amazon closes the deal, those locations would double as pickup sites and distribution centers. It makes sense for Amazon to use the stores as a pickup place for customers non-grocery orders. This may help to convert some of their Amazon customers to Whole Foods shoppers.
Conclusion
Amazon takes risks. The Whole Foods deal is one of those. Time will tell what Amazon's plans are for the organic grocer. Time will tell whether this will be the deal that changes the landscape of how people shop. And time will tell if another bidder emerges or if shareholders will hold out for a better deal. On the last part, the market seems to be saying yes. But my sense is no.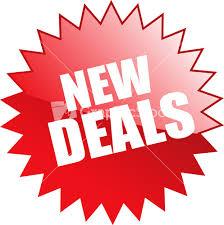 Rice Energy
There was a deal in the natural gas sector on Monday as EQT Corporation (NYSE:EQT) and Rice Energy (NYSE:RICE) announced that EQT was buying Rice in a cash and stock deal. Rice shareholders will receive .37 shares of EQT stock and $5.30 in cash. The deal has a total consideration of approximately $6.7 billion.
Rice Energy, stated, Natural gas is the key to a cleaner energy world; and the combination of Rice and EQT - two of the United States' largest, lowest-cost, and most responsible natural gas producers - creates an unparalleled leader in shale gas development that will benefit the environment and our shareholders for many decades to come-Daniel J. Rice IV, CEO
The transaction is expected to close in the fourth quarter.
NOVADAQ Technologies
Stryker Corporation (NYSE:SYK) on Monday agreed to buy Canada's NOVADAQ Technologies (NASDAQ:NVDQ) for $11.75 per share in cash, implying a total equity value of approximately $701 million.
The Arrangement is subject to applicable regulatory approvals, including Canadian Competition Act and U.S. Hart-Scott-Rodino approvals. In addition, completion of the merger will require the approval of holders of at least 2/3 of NOVADAQ Shares at a meeting to be held on or about August 4.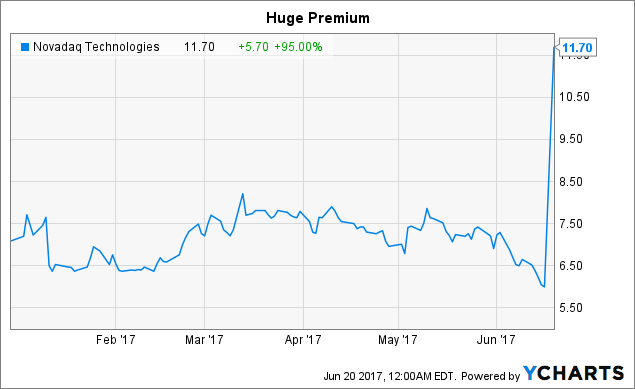 Follow! If you enjoy merger arbitrage, tender offers, exchange offers, spin-offs, liquidations and odd lots, please consider following me by clicking on the "Follow" button on top of this page.
Disclaimer: The above article is intended to provide my opinion to interested readers. I have no knowledge of individual investor circumstances, goals, portfolio concentration or diversification. Readers are strongly encouraged to complete their own due diligence on any stock or option mentioned in this article before investing. Merger arbitrage is a risky strategy because there is significant downside in the event of most deal rejections. I am not a licensed investment adviser. The information contained in this article is provided for general informational purposes and is not a substitute for obtaining professional advice from a qualified person, firm or corporation.
Disclosure: I am/we are long WFM, RAD.
I wrote this article myself, and it expresses my own opinions. I am not receiving compensation for it (other than from Seeking Alpha). I have no business relationship with any company whose stock is mentioned in this article.
Additional disclosure: My WFM postion is short out of the money puts.