Welcome to the storage forecast edition of Natural Gas Daily!
We expect a +59 Bcf change in the storage report for the week ended June 16. A storage report of +59 Bcf would be compared to +63 Bcf last year and +82 Bcf for the five-year average. Our estimate was unchanged from last Friday.

Source: ICE
Our storage forecast this week is the same as the ICE settlement report of 59 Bcf.
Facilities data didn't change our storage estimate for the week ending 6/16, although if supply/demand fundamentals were like last week, then we could see EIA report figures much lower than our estimate.
Natural gas prices were range-bound all day as overnight weather update was neutral with the 6/30 week trending cooler while the 7/7 week trended warmer. Looking across our fundamental models, US gas production continues to struggle to keep the same momentum it had earlier in June. The latest reading shows a drop to lower 71 Bcf/d and total gas supplies continue to trend below 2016 levels.
On the demand side, US gas exports demand dropped as LNG flow averaged around 1.4 Bcf/d. Power burn continues to be strong averaging above 30 Bcf/d and providing support for overall demand.
The movement in natural gas prices today came mostly in the back-end of the curve. Summer month contracts remain below $3/MMBtu and traders think this is a great buying opportunity.
For more clarity on where the traders stand with their positioning along with daily US natural gas fundamental updates, please sign up for HFI Research.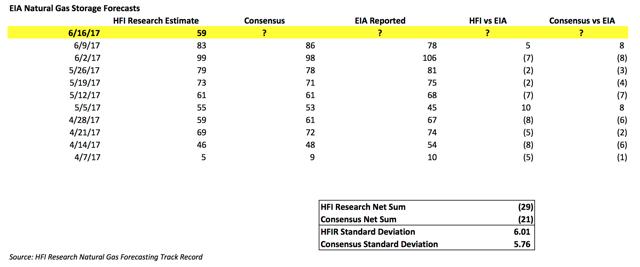 Disclosure: I/we have no positions in any stocks mentioned, and no plans to initiate any positions within the next 72 hours.
I wrote this article myself, and it expresses my own opinions. I am not receiving compensation for it (other than from Seeking Alpha). I have no business relationship with any company whose stock is mentioned in this article.