Welcome to the MLP edition of Oil Markets Daily!
The market correlation between MLPs and oil has increased. See chart below: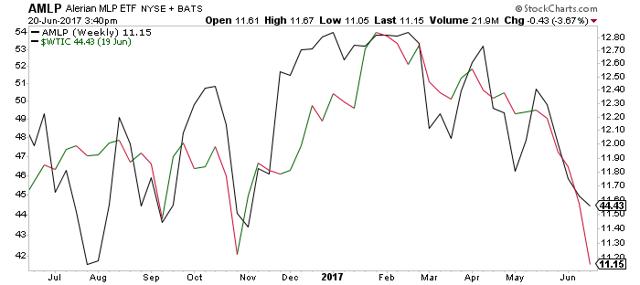 It's important to remember that as the middleman, MLPs shouldn't "in theory" be impacted by sell-off in the underlying commodity. The derivative nature of being the middleman however is a cause for concern in the market's eyes and investors and traders are succumbing to selling off MLPs (AMLP, AMZA).
The logic makes very little sense in our view and is exactly why this sell-off in MLPs will likely present a great buying opportunity for opportunistic investors.
Reason 1: US shale production growth is the crux of the bear oil thesis.
We have an investment philosophy at HFI Research and that's to understand the prevailing/consensus thesis better than anyone else. We read through every sell-side research report to dig through the assumptions and theses to understand their viewpoint. So call us puzzled when we see sell-off taking place in MLPs when the crux of the bear oil thesis depends on "massive" US shale crude production growth.
The consensus also expects this with natural gas. Morgan Stanley for example expects massive US gas production growth in 2018 to push the US natural gas market back into oversupply. If US gas and oil production are expected to reach record highs, how can the pipe owners get punished?
Don't be surprised when we tell you that the baby is getting thrown out with the bathwater, but this is precisely what's happening here. A useful gauge we use for analyzing overall MLP healthiness is to use the high yield market. When credit is tight, it's understandable to see MLPs struggle, but we aren't seeing that. (See chart below)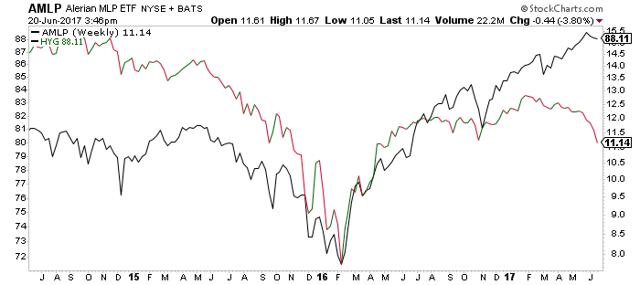 Watching the credit market will often give us signs if the "real" buyers think there's distress, and we clearly don't see that with the high yield market being unscathed.
Reason 2: Follow capex, not the price of the commodities.
Another often misunderstood point is to follow the underlying commodity for production growth. We urge investors to follow capex instead, and from our tables, we see upstream producers in the US increase capex by 70% year-over-year resulting in higher gas and oil production growth.
If capex is recovering, how can one expect MLPs to suffer?
There might be single name MLP concerns from time-to-time due to distribution issues, but the long-term trajectory of the MLP sector will continue to prosper as the world needs US shale growth. Shale oil will help fill in the holes left behind by non-OPEC producers. The $1 trillion in upstream capex cuts since 2014 will translate into a supply shortfall in the years ahead (crux of our bullish oil thesis), and US shale producers will need to pump all out to support the imbalance. This will see MLPs raise toll fees and increase distributions (very bullish).
Bottom-line: At HFI Research, our focus isn't on MLPs, but our deep dive into understanding what drives oil and natural gas gives us an edge in understanding what will benefit the middleman. We see the latest sell-off as just an aberration from the market as the crux of the lower for longer oil bear thesis depends on massive US shale production growth. Long term opportunistic investors will benefit greatly from taking advantage of sell-offs like this.
For more insights into how we analyze the oil and natural gas market, please see here for more info.
Disclosure: I/we have no positions in any stocks mentioned, and no plans to initiate any positions within the next 72 hours. I wrote this article myself, and it expresses my own opinions. I am not receiving compensation for it (other than from Seeking Alpha). I have no business relationship with any company whose stock is mentioned in this article.