Although shares of Alaska Air Group Inc. (NYSE:ALK) are up about 50% over the past 12 months, I think there's still a great deal of value here. In my view, investors should strongly consider taking a position in this name. I'll go through my reasoning below by highlighting some of the elements of the recent financial performance. I'll also provide a model of my future price forecast based on likely dividend increases. Since investing is a fundamentally relativistic activity, I'll then look at the stock, relative to other businesses.
Financial Snapshot
There's so much that I like about Alaska Air's financial performance that it's hard to know where to begin. Turning first to the income statement, the company has done an excellent job of growing both revenue and net income fairly consistently since 2010. This is a rare feat for any company, especially one that operates in such a volatile business as this one.
A very superficial reading of the most recent quarter's performance relative to the same period last year would suggest trouble at the company. The difficulty is that a comparison to the first quarter of 2016 is not completely relevant, as that period didn't include Virgin America, while Q1 2017 does. Stripping out the merger related costs boosts net income to $130 million (up from the GAAP reported $99 million). Looking more deeply, the Virgin America acquisition seems to be working, as the company announced 26 and launched six new routes during the quarter. It seems to me that the company is en route (forgive the pun) to becoming the premier carrier on the West Coast.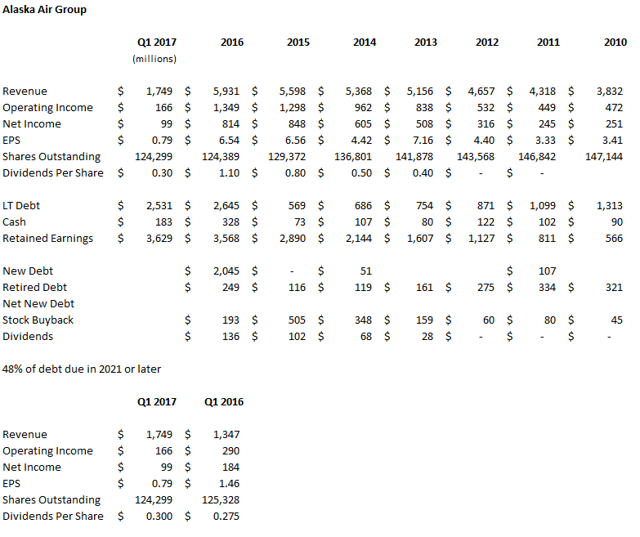 Although the Virgin acquisition was a good one in my estimation, it obviously added to the level of debt here, suggesting that the company has work to do to reduce the debt load over the next few years. It's obviously on the way to doing that, as the debt level has decreased by approximately 4.3% in the first quarter alone. This is a heartening trend in my view. In addition, there's little risk of a solvency crisis here, as 48% of the debt is due in 2021 or later. The only difficulty with the debt in my view is that it is going to mute the dividend growth somewhat (see below).
I find it difficult to measure management's performance in any meaningful way. That said, it is possible to judge their quality by reviewing how they treat shareholders regarding dividends and stock buybacks. In that regard, management here is quite good in my view. They have returned approximately $1.7 billion to shareholders since 2010 ($1.4 billion from stock buybacks and $334 million from the relatively recently launched dividend). This activity has reduced the share count by about 15% from 2010 to now (from 147,144 to 124,299). This is a great deal for an $11.2 billion company to do in my estimation, and demonstrates to me that management is quite shareholder friendly.
Modeling The Dividend
While the financial history of this company is interesting (to me, at least), investors buy a future rather than a past. It therefore falls on my narrow shoulders to attempt to forecast what will happen to price. When I try to forecast, I engage in a ceteris paribus exercise, meaning that I hold all variables constant but one. This makes the exercise far less complicated than it would otherwise be. The only variable that I move is the one that I consider to be the most relevant to creating value. In this case, I consider the dividend to be the "driver" of value here, so it's that I will focus on.
In the relatively short time they've been paying a dividend, it has grown at a CAGR of about 24%. As I stated earlier, the company will likely focus its free cash flows on paying down debt, and thus this growth rate will be muted somewhat. In order to be as conservative as possible, I'll forecast a dividend growth rate in the neighborhood of 12% from now until 2020. Although the payout ratio remains relatively low (about 38%), I prefer my surprises to be pleasant ones, and thus and will thus be as conservative as possible in my forecasts.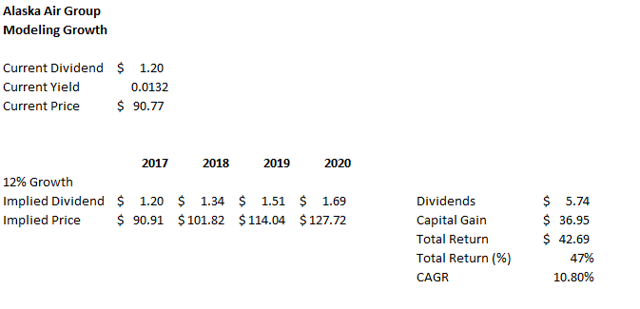 When I perform this exercise on Alaska Air, I infer a total return of about 47% from now until the end of 2020, which is a CAGR of about 10.8%. Given everything that's happened at this company over the past few years, I consider this to be a very reasonable return for the risks present.
The Stock
Like it or not, the behavior of the stocks that supposedly represent the fortunes of the underlying business often behaves according to a logic all its own. Stocks are at least as influenced by any number of other things than the fortunes of the underlying business (including macroeconomic activity, the bond market, the "mood" of the overall stock market etc.). It therefore behooves us to work out when the disconnect between stock performance and fundamental performance is sufficiently wide as to make for a profitable investment. In particular, I want to find a company that is performing well at a time when the market is pricing the shares for low or no growth. This is emotionally challenging, as you must buy when others are eschewing a given name, but it is where outsized gains come from.
Technical Snapshot
As per our ChartMasterPro Daily Trade Model, the trend for ALK turned bullish with a daily close above $89.00. This signals a bullish breakout from a Descending Triangle Pattern on the daily charts. From here we see the shares climbing to the $98.00 level over the next three months.
Today we may buy ALK call options which will provide us with approximately 12x leverage on our long trade (for details on the option, please visit our website). Our initial stop-loss exit signal will be a daily close below $88.00.
For investors in the shares, we recommend you hold for three months or $98.00, whichever comes first. For longer-term investors (years not months), we believe ALK is a solid addition to any dividend growth portfolio.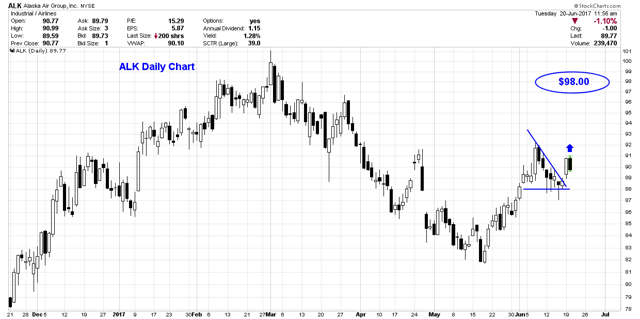 Conclusion
At the moment, the shares of Alaska Air trade at a 43% discount to the overall market on a PE basis, which is perfect in my view. This means that other investors don't recognize the value here, and that is the basis of the outperformance we've consistently enjoyed. In addition, with an EV/EBIT of approximately 9.89, the shares sport an earnings yield in the neighborhood of 10%, which is more than adequate. In my view, it makes sense for investors to buy Alaska Air at these levels.
Disclosure: I/we have no positions in any stocks mentioned, but may initiate a long position in ALK over the next 72 hours.
I wrote this article myself, and it expresses my own opinions. I am not receiving compensation for it (other than from Seeking Alpha). I have no business relationship with any company whose stock is mentioned in this article.
Additional disclosure: We trade options. Sometimes our trades last a few days, sometimes a few weeks, sometimes a few months. Please review our trade history listed in our BlogPosts to get a feel for our trading style.