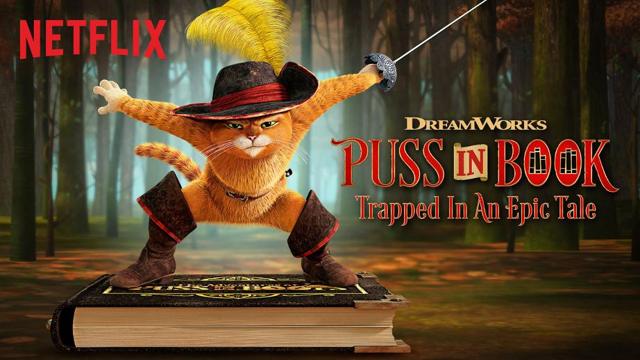 Source: Netflix
After quietly working for some time on its interactive storytelling initiative, Netflix (NASDAQ:NFLX) announced it is rolling out the first installment, launching it with 'Puss in Book,' an interactive story for children.
Netflix will follow up the release of 'Puss in Book' with 'Buddy Thunderstruck: The Maybe Pile' on July 14.
Since Netflix isn't doing this for no reason, we'll take a look at what are the most probable reasons it's going with interactive storytelling, and why it didn't roll it out across major platforms like Android.
Major reason for going interactive
I think it's fairly clear that the key reason Netflix is experimenting with interactive is it would not only get users more engaged but also result in more stickiness to the service if it ends up being successful.
Starting with children makes sense, but this could definitely be attractive to adults if it is done right. I remember the adventure books I used to read when I was younger that offered a very similar type of experience, where you would choose what direction the story would take.
To me, the overall reason it isn't offering this on Android and other devices or platforms is it wants to see if it'll work on iOS and the other platforms it's being rolled out on. It didn't want to commit to a full roll out before getting user feedback and engagement levels. If it is a hit, we can be sure it'll be offered wherever people want to use the service.
Focus on core users
According to Netflix director of product innovation, Carla Engelbrecht Fisher, Netflix is especially interested in seeing the engagement of its "power members" to the new format. That reinforces my thesis that this is first and foremost about finding ways to further reduce churn by making the service more sticky.
Let's face it. If our children or grandchildren are really into an interactive experience, it'll take a bold parent to remove that experience from them by getting rid of Netflix. That's very unlikely to happen.
Another part of this investors should consider is Netflix, by the limited way it's rolling it out, isn't totally sure about whether or not it'll work. Allowing it to be used on most TVs and iOS systems means it'll have a large enough user base to generate enough feedback and data to see if it's going to take hold and do what they're hoping it'll do.
Where interactivity could lead to
There are a lot of possibilities if interactive storytelling is a hit with children. There are many ways I see this being used in educational situations, and for adults, a way to interact with various historical and other areas of interest where they could go down all sorts of paths of interest using this type of format.
As an investor, I could see all sorts of possibilities when analyzing a variety of metrics and significant amounts of data. There of course is a lot of that available already on the Internet, but offering it, at least in part, in video form is something that is worthy of being explored.
This definitely has a lot of potential in the area of not only entertainment, but in numerous areas people are interested in learning about. If children start to pick up on it, they could be customers for life if they continue on with that desired experience as they grow older.
Also, adults enjoy giving their opinions on all the movies or TV series they watch, and if they have a hand in directing how the action will go, it'll give them the same senses as they get when watching sports and yelling about what they consider to be bad decisions by the coaches. This would simply be transferred to other areas of interest; they could now, at least in part, make decisions on what the characters in stories will do.
The obvious question is if Netflix will be able to convince customers to be more interactive with their entertainment. That's really the bottom line on whether this'll be successful or not.
Conclusion
Interactive engagement with storytelling isn't anything new, but the way it's being presented by Netflix is. The importance of this to investors is, in my opinion, if it is able to be attractive enough to users to the point of keeping them on the service.
Secondarily, it could attract new users over time if Netflix is able to make it compelling enough for children, and ultimately, to start providing similar options for adults, assuming there is a market for it.
Netflix is obviously being cautious in this endeavor, which, as I mentioned earlier, means internal data suggests it's not guaranteed to take hold. It also means there has to be a chance, or it wouldn't have made the effort to roll it out.
This is of long-term importance to shareholders of Netflix if it takes hold, and if it doesn't, it's not going to be something that gives the company's brand a black eye. It really has nothing to lose and a lot to gain if it's successful.
Disclosure: I/we have no positions in any stocks mentioned, and no plans to initiate any positions within the next 72 hours.
I wrote this article myself, and it expresses my own opinions. I am not receiving compensation for it (other than from Seeking Alpha). I have no business relationship with any company whose stock is mentioned in this article.