Based in Cranbury, New Jersey, Amicus Therapeutics (NASDAQ:NASDAQ:FOLD), a biotechnology at the forefront of individualized medicine, is focusing on the development of a novel chaperone therapeutic - that either stabilizes a defective protein by itself or in combination with existing enzyme replacement therapies ("ERTs"). In the second half of 2015, the stock enjoyed substantial gains, followed by the tumultuous tumbling in share price due to the FDA rejection of its lead molecule, migalastat (Galafold).
Thereafter, the share price climbed steadily and rewarded investors with +55% appreciation. From our experience, either strong market optimism or pessimism tends to lead to financial calamity. That being said, we shall review both bullish and bearish claims pertaining to this investing thesis.

Source: Stockcharts
About Amicus Therapeutics
In focusing on the development of chaperone medicine, Amicus is innovating individualized treatment for rare genetic conditions in patients with correctable mutations. Chaperones are proteins that stabilize the folding of other enzymes that are needed for proper functioning. Therefore, the applications of such molecules can enhance the functional deficiency of enzymes in lysosomal storage diseases (whose genes are not extensively damaged, and thus correctable with folding therapy).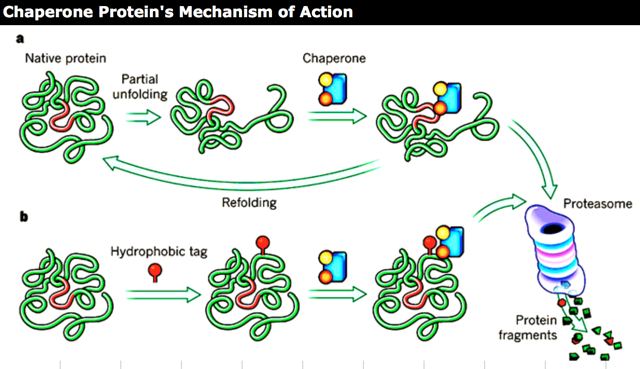 Source: Dr. Tran BioSci
Fabry Disease Market
We noted in the prior research on Protalix Bio Therapeutics (NYSEMKT:PLX),
"Affecting one in 35,000 newborns worldwide, Fabry disease is a rare lysosomal storage disorder due to a key enzyme deficiency. Lacking the protein coined alpha-galactosidase A, patients suffering from Fabry are unable to break down the fat, globotriaosylceramide. This lipid builds up mainly in blood vessels, thus causing narrowing complications. As the building up of fat is progressive, patients suffering from Fabry can experience the life-threatening functional compromise of key organs, including the heart, kidneys, and the brain. Hence, the gold standard treatment for Fabry is to replace the defective enzyme via ERT."

"There are currently three therapeutics utilized for the long-term management of Fabry. Generating approximately $1.2B in yearly sales, the Fabry disease market is growing at a compound annual growth rate ("CAGR") of 10%. Of those medicines, two are enzyme replacement therapies. Agalsidase beta is the ERT marketed by Genzyme, the subsidiary of Sanofi (NYSE: SNY). Sold under the brand Fabrazyme, it generated $716M in 2016. Commercialized by Shire (NASDAQ: SHPG), the other ERT, Replagal, procured roughly $441M sales for the same year."
Furthermore, "In May 2016, a new drug in its own class was approved by the European Medicine Agency to treat Fabry. Under the brand Galafold, migalastat helps abnormal enzymes to fold properly, thus restoring its function, at least to certain degrees. Pioneered by Amicus, the drug can benefit 30% of all Fabry patients with amenable mutations."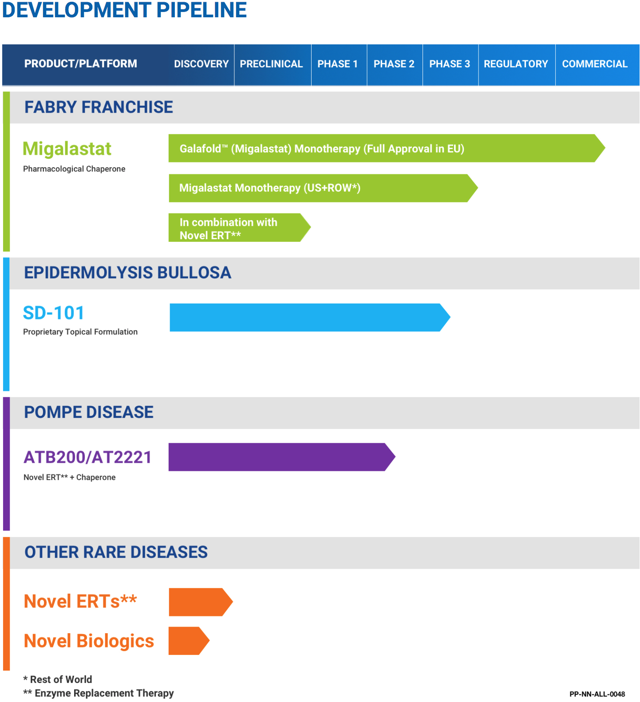 Source: Amicus
In addition, "Life Science Capital reported that significant opportunity exists for different therapeutics treating orphan diseases. Competing drugs can generate significant sales that are either at or near the range of a blockbuster. Notably, the premium drug pricing for orphan diseases enabled companies to enjoy a substantial profits margin. Moreover, it negated the need to decimate the sales of competitors. Arguably, the premium drug pricing for orphan diseases is justified. And this is due to the rare nature, the lack of treatment options, and the lengthy innovation process that has a low success rate."
Additionally, the report "showed that the first-to-market drug for a particular orphan disease tends to procure the highest sales, thus achieving the most market success. Other medicines that come later can, nonetheless, procure substantial revenues in this niche. A notable trend is that these firms do not outcompete each other by lowering drugs' price." Hence, that maintains stable sales growth for all competitors.
Bearish Argument
While research supports the ample room and low competitive threat in the orphan disease market, the bearish claim is that Galafold (despite being commercialized in the EU for half a year) has yet to deliver meaningful sales.
As the first-line therapy for long-term treatment of adults and adolescents aged 16 years and older, Galafold was launched in Q2 2016 and delivered only $4.2M net product sales for the latest quarter. Since six months is adequate time to generate substantial sales for a drug (if it is to have any sales traction), the elephant in the room is what caused the drug to post dismal sales.
One scenario is that the firm arguably does not have a robust sales team. The other reason is that migalastat demonstrated subpar clinical data in its Phase 3 trial. In the double-blinded, randomized, placebo-controlled study of 67 patients with Fabry and AT1001-responsive GLA mutations, migalastat failed to meet its primary endpoint (urine GL-3) after 6-months. It is highly likely that the unimpressive clinical outcomes made physicians stick to the familiar ERTs with better efficacy.
Europe aside, Galafold failed to gain the U.S. FDA approval due to its lackluster data, as mentioned. Yet, all is not lost. On Nov. 28, 2016, Amicus detailed the plan to conduct a 12-month crossover study (in treatment-naive patients who have fixable mutations and GI symptoms). The trial uses diarrhea as the primary outcome based on the agency's guidance and is expected to post results two years from now.
Bullish Case
Based on the Phase 3 high-quality data, the bearish argument pertaining to the application of chaperone therapeutic alone (as monotherapy) is strong. Nonetheless, the bullish case for the combinations of chaperone drug with novel ERT has merits. To fully appreciate this finding, let's take a look at the genetic condition, Pompe disease.
Like other lysosomal storage conditions, Pompe is due to mutation of a key protein coined acid alpha-glucosidase (that causes either a functional reduction or deficiency, thus leading to glycogen buildup. The high level of glycogen then causes a plethora of symptoms like muscle weakness and gait abnormality. Hence, it is logical that the best solution is to replace what is lost via ERT. However, enzyme replacement therapies have limitations. For instance, there is antibody formation (which clears out the drug, thus making it less efficacious over time).
Of note, Protalix Bio Therapeutics lead molecule (PRX-102) - potentially a new gold standard ERT for Fabry disease - has the capability to circumvent treatment limitations: it has a lower level of antibody formation and a much longer half-life than peers. Despite the aforesaid setbacks, ERTs are overall safe and efficacious.
In contrast to replacing the defective enzyme, the folding of a protein to restore its function via chaperone pharmacologic can theoretically achieve (at most) similar results to ERTs. In other words, ERTs are analogous to replacing a pair of torn sneakers with new ones, whereas chaperone treatment alone is similar to getting the holes in those shoes patched.
Hence, the use of combinations of a chaperone drug with a novel ERT (ATB200/AT2221) should achieve better results than existing monotherapy for Pompe. And the early trial data as elucidated by another author detailed these favorable outcomes. It is important to note that the data was from the early Phase 1/2 trial, which can only give indications rather than definitive claims.
Financials And Valuations
For fiscal 2016, Amicus procured $5M in revenues and absorbed $200M in net losses. Cash and equivalents stand at $45M as of March 31, 2017. Since inception, the company spent $834M and anticipates incurring further losses throughout this year and beyond. Typically, this should not be a concern for a developmental stage biopharma that hasn't launched any approved product.
Now Galafold has been launched in the EU; however, it has yet to generate meaningful sales, as elucidated. Even if the molecule can pass the crossover trial to gain FDA approval in the foreseeable future, our research indicates that it is unlikely to generate blockbuster results. Contrary to the Fabry franchise, it is likely that the Pompe disease innovation will fare as a better sales prospect due to the favorable clinical outcomes.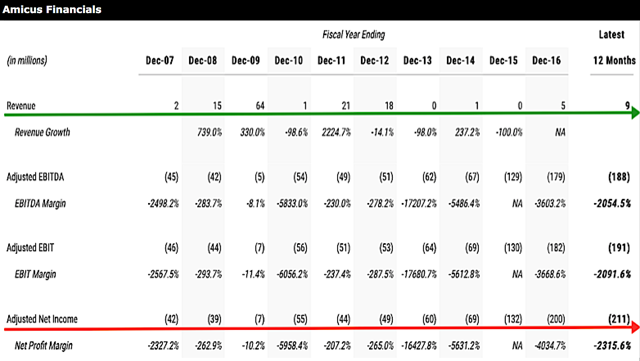 Source: Finbox
If you read our previous research, we stated that the appraisal exercise can be quite subjective, as different analysts can come up with completely different figures. What is important is to remain objective and to weigh heavily on key metrics. That being said, Wall Street quoted Amicus with a 37% premium (at the average price of $12.92).
On the other hand, Finbox valued Amicus at $4.84, and thus represents a 50% downside. Notably, our appraisal is similar to Finbox's (and is more reflective of Galafold's meager sales of $4.2M for Q1 2017). Nonetheless, the Pompe franchise may ramp up revenues to significantly higher levels in the long haul that is, if and only if it can post strong advanced-stage trial data (and to gain the U.S. FDA approval).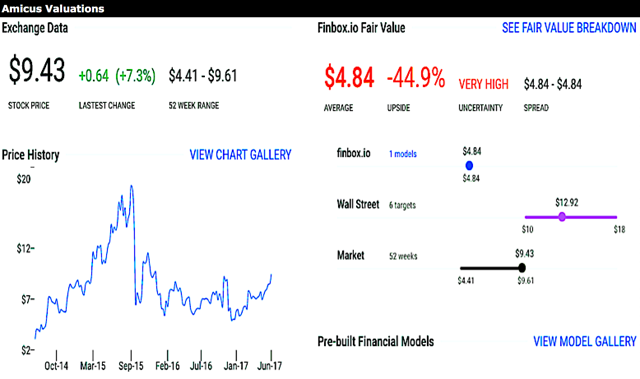 Source: Finbox
Potential Risks
The risks in this investing thesis depend on one's position. If you are long on the stock, the key issue is whether Galafold can generate at least several hundred million dollars (to justify the current valuation of $1.5B). To add further injury to the insult, it may fail to meet the primary endpoint of the crossover trial, which can cause the stock to tumble drastically. On the contrary, those shorting the firm should realize that the market can act randomly in the near term (and continues to levitate share price to new highs).
Hence, the shorting of Amicus can potentially deliver significant losses in the foreseeable future (at least prior to the data release for the aforesaid trial in 2019). In the long haul, ATB200/AT2221 has a good chance to deliver positive trial results that, in and of itself, can induce a "short squeeze."
Conclusion
With Amicus's share strongly appreciating in the latest biotech bulls run, short sellers suffered significant financial loss. While the binary event less than two years from now could reverse the fortune for all market speculators, what should you do as an investor? Either going "all-in" or to "fold" is seemingly not the amicable approach. For shareholders, it's best to take some profits, especially going into 2019, at the reporting of the crossover trial (for binary risks deleveraging).
At this crucial event, if the clinical outcomes are unfavorable for migalastat the share price will tumble. And it would be highly opportunistic to build further stakes in the firm (for profiting from the Pompe disease development). As for the market bears, it can be prudent to lower short positions to hedge against the current rally. All in all, how the future unfolds for Amicus still remains: Father Time is the ultimate judge. Needless to say, prudent diversification, opportunistic accumulation, and risk mitigation are all important aspects of successful biosciences investing.
Author Note: If you enjoy reading our research, be sure to click the follow button for latest insights.
Editor's Note: This article covers one or more microcap stocks. Please be aware of the risks associated with these stocks.