Introduction
This article is a continuation of our short Australian dollar "AUD" (FXA) thesis. For those of you who haven't followed along, please check out our previous posts for a quick primer on this idea chain:
Update on China
China iron ore prices showing no signs of a bottom. The pain continues!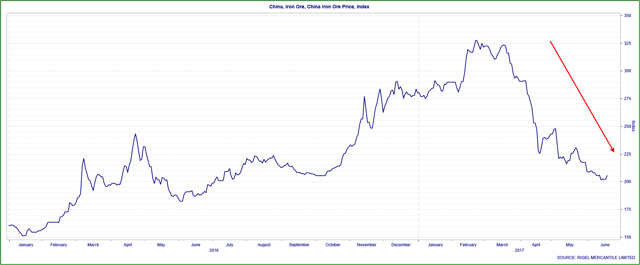 Check out the sharp turnaround in the inflation surprise index. With the demographic time bomb that is ticking in China, it is deflation surprise that we should be interested in, not inflation surprise!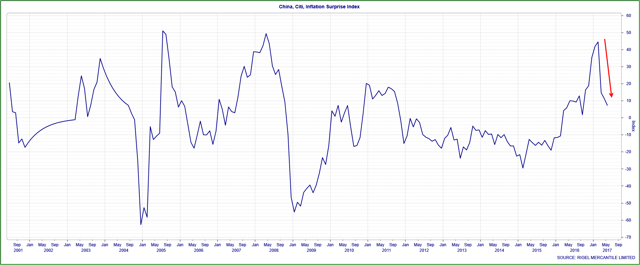 China's broad money, as measured by M3, grew at an average rate of around 15% from 2001 to 2013. It started decelerating in 2014 and is continuing to decelerate. It is now growing at a year over year rate of just over 10%! Decelerating money supply is a harbinger of 'slowing economic activity'/recession.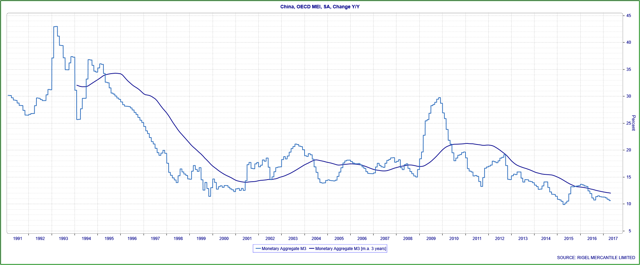 What is even more alarming is that China's yield curve, as measured by 10 year yield minus 2 year yield, has now inverted. Another warning sign of a recession to come!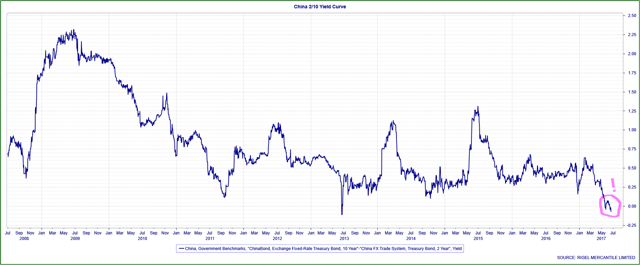 All signs are now pointing to a recession in China and being short AUD is a sure way to play that game.
Below is our analysis of a long British Pound Sterling "GBP" (NYSE:FXB)/short AUD trade idea. We'll jump straight in. Currently, this pair is trading at 1.6657.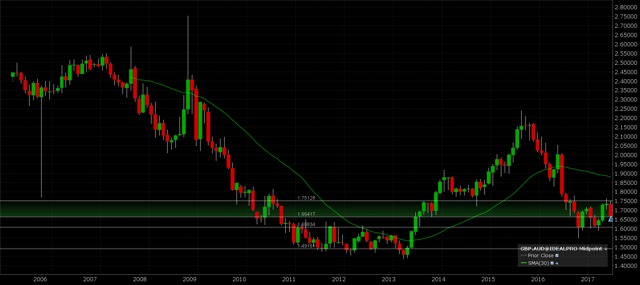 Monthly Chart
On the monthly chart, this pair found its floor around the 1.49 area and established a bottoming pattern that stretched over two years from 2011 to 2013. The pair subsequently rallied to the 2.16 level around late-2015 only to reverse lower. It then bounced off of the 61.8% retracement level of the move from 1.49 to 2.16. Subsequently, the pair met with strong resistance at the 76.4% retracement level, which coincided with the BREXIT referendum in June-2016, and turned sharply lower only to be held by the 23.6% retracement level around 1.62. The pair has been consolidating between 1.60 and 1.75 for over a year now.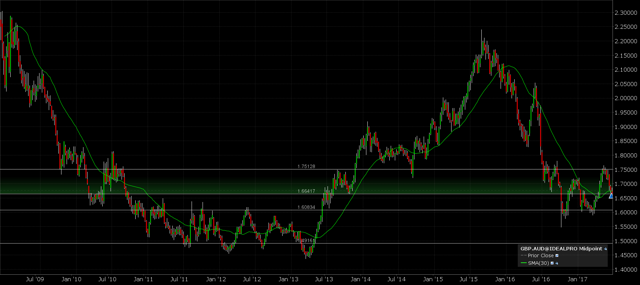 Weekly Chart
On the weekly chart, the trade reveals itself. Following this morning's speech by Governor Mark Carney at the Mansion House in London, this pair sold off but the bleeding stopped around the 1.66 area, which in addition to being a long-term support level also happens to be the 30-week average of this pair.
"From my perspective, given the mixed signals on consumer spending and business investment, and given the still subdued domestic inflationary pressures, in particular anemic wage growth, now is not yet the time to begin that adjustment."

Excerpt from Governor Mark Carney's speech at Mansion House, London.
If you'd like to read the entire speech, please follow this link: A Fine Balance
Initiating a long position on this pair at current levels, around 1.66, risking 1.60 and targeting 1.75, provides a reward to risk of roughly 1.5 : 1. We like to target much better reward to risk parameters but shorter term charts, specifically the hourly chart, highlights the increased probability of an up move before a down move. We'll expand on this below.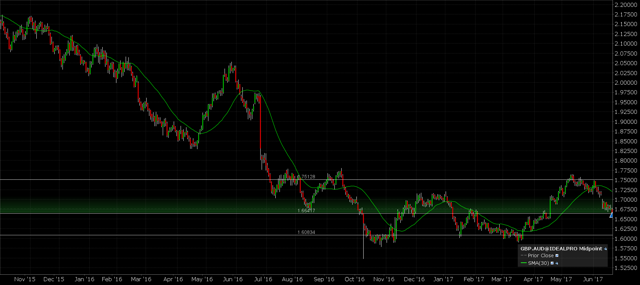 Daily Chart
Our main reason for looking at multiple time-frames before initiating a position is to see if we can spot any risks to our thesis; the daily chart of this pair highlights the risk. On the daily chart, we can see that this pair has been consolidating in a range of about 1500 points between 1.75 and 1.60 for over a year now and the risk is that this consolidation pattern continues for the foreseeable future, in which case a better place to buy would be the 1.60 level.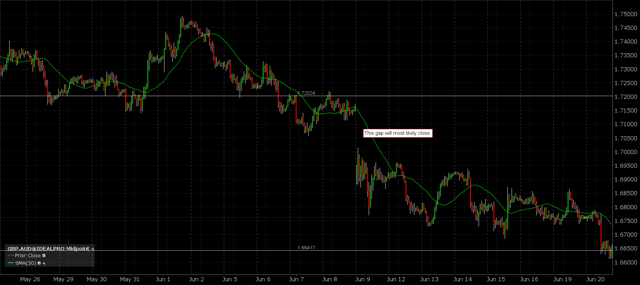 Hourly Chart
Despite the risk we see on the daily time-frame, we like initiating a long position in this pair at current levels because of what we see in the hourly chart. There is a general rule of thumb in forex trading: "Gaps always close."
Following the UK election results on June 8th this pair opened gap down by around 300 points. It had closed at around 1.72 and it opened at around 1.69. This gap hasn't been filled, to date. It is this that makes us feel comfortable initiating a long position using the 30 week simple moving average as our entry point.
Conclusion
Despite the fact that this pair has been in a consolidation pattern between 1.75 and 1.60 and that it seems to be headed from the upper end of the range to the lower end of the range, we think the probability of the gap (on hourly chart) closing is very high. In addition, we are of the view that all the negative news surrounding BREXIT, lack of a clear majority, and Carney's remarks is most likely priced in to the GBP. On the other side we are seeing many signs that China is most likely headed into a recession and we don't think this has been priced in to the AUD. We have initiated a long position in this pair at 1.6658, targeting 1.75 and risking 1.60. Upon a successful close of the gap and a move to 1.72 however, we would be inclined to move our stop higher to 1.70 and most likely manage our risk going forward via a trailing stop. We look forward to providing an update on this trade as it plays out.
Disclaimer: Rigel Mercantile Limited specializes in Macro/Value Research and Systematic Trading. The views expressed above are our discretionary ideas that we have arrived at using discretionary analysis and, therefore, are limited to our discretionary portfolios only. Our systematic strategies may or may not have a position (long or short) in the securities mentioned above. Under no circumstances should the information contained herein be used or considered as an offer to sell, or a solicitation of an offer to purchase, any security or investment service. The information presented herein is presented in summary form and is, therefore, subject to qualification and further explanation.
Disclosure: I am/we are long GBP/AUD.
I wrote this article myself, and it expresses my own opinions. I am not receiving compensation for it (other than from Seeking Alpha). I have no business relationship with any company whose stock is mentioned in this article.