Investment Thesis
Despite recent stock price gains, Jones Lang Lasalle (NYSE:JLL) remains a compelling value. While there are risks, most notably from Brexit and a maturing real estate market, the company continues to execute well, gaining market share and growing revenues. I plan on holding onto the stock, and I'd recommend buying on any pullback.
Background
Jones Lang LaSalle Inc. is one of two dominant real estate services companies, the other being CBRE Group (CBG).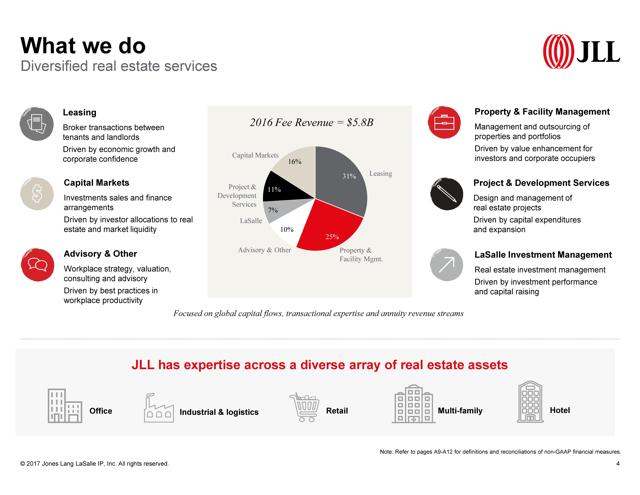 Source: JLL Investor Relations Presentation
JLL operates using an asset-light model. It manages real estate for other corporations which do not have the desire or expertise to do so themselves. It helps match real estate investors with appropriate investments. It arranges real estate financing. It brokers leases between tenants and landlords. All the while, it has surprisingly little direct exposure to real estate prices for a real estate company, with a steady stream of fees in its place.
Jones Lang LaSalle was formed by a merger of a 200-year-old UK firm named Jones Lang Wootton and a 30-year-old US firm named LaSalle Partners. The combined company is headquartered in Chicago, IL. Since that merger in 1999, the company has continued the M&A activity, and that is a key part of its growth strategy. In the past year alone, the company made 22 acquisitions.
While growth by M&A is often considered a risky strategy, in the context of the real estate services industry, it makes a great deal of sense. The global real estate services industry is essentially a duopoly, but locally, the industry is highly fragmented. The big two firms have many competitors on the local level all over the world. The majority of JLL's acquisitions are very small companies with local expertise. This allows it to provide both in-depth knowledge of local markets and the global reach of a big firm. As a result of this strategy, in combination with organic growth, JLL now has 78,000 employees in 280 offices throughout 80 countries.
I've been invested in JLL in a taxable account for a little over 11 months. The one-year anniversary of owning any stock is an important one for its US tax implications. Sell the stock before one year and your capital gains are taxed at the short-term rate. Sell the stock one year and one day later and you get a much more favorable long-term capital gains rate. So, once you reach a certain point, there is a strong mathematical argument to hang on until the full year has elapsed. As the one year anniversary approaches, though, it is a good time to reevaluate the investment and determine if it still offers value and makes sense in your portfolio.
Still A Good Value
Ticker: JLL
Recent price: 119.60
52-week low: 86.62
52-week high: 126.80
Forward earnings: 8.31
Forward PE: 14.4
Semi-annual dividend: 0.35
Dividend yield: 0.59%
Despite the stock trading well off its 52-week lows, it does not appear expensive. While an investor might be quite happy if they bought it on the dips in July or November of last year, it has underperformed both the large-cap and mid-cap S&P indices over the past 12 months.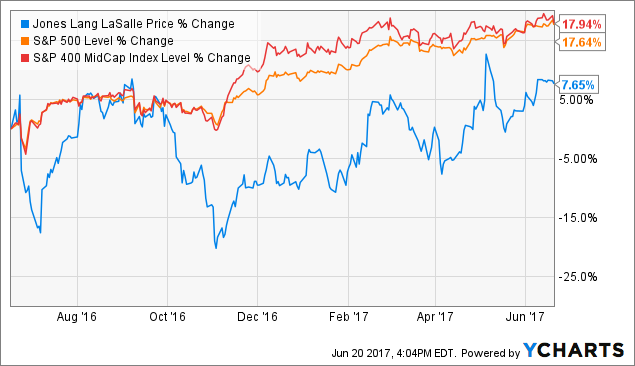 With estimated forward earnings of $8.31 per share, Jones Lang LaSalle has a forward PE of 14.4. The S&P 500 has a forward PE of 17.9, and the S&P 400 has a forward PE of 18.3 according to Yardeni Research. This means that JLL is trading at a 19% discount to the large-cap index and a 21% discount to the mid-cap index.
A lack of growth is not the reason for that discount. The company grew its revenues by 14% in 2016, and while it doesn't provide guidance, it is on track to grow its revenues by another 10% in 2017. Analysts are predicting continued revenue growth of 14% in 2018.
It pays only a token dividend, but the fact that it pays one and that it is growing its dividend is encouraging. The other major player in the industry, CBRE Group, pays no dividend at all.
Headwinds
Perhaps the biggest single cause for concern going forward is the political uncertainty in the UK surrounding Brexit. As the UK begins its negotiations with the EU, it is unclear what impact this will have on business activity, leasing, and real estate in the UK. In 2016, JLL reported 26% of its fee revenue coming from Europe, vs. 48% from the Americas, and 19% from the Asia-Pacific region. It doesn't break out its precise exposure to the UK, but based on its historical roots in the country, I would guess it is a significant part of that 26%.
While the concern over Brexit is very real, one bit of good news is that the most dire predictions concerning Brexit have been proven wrong. GDP has continued to grow in the UK, despite claims that a Brexit vote would plunge the country into recession. Real estate prices have remained strong, contrary to claims that they would drop significantly. While overall volume in the UK real estate services industry was down during the first quarter of 2017, JLL managed to capture a bigger portion of that. In its last conference call, it reported that its UK capital markets performance was up 2%, and its UK leasing revenues were up 4%. So, while concerns remain, it appears to be executing well in the current environment.
The other big concern is that the real estate bull market appears to be maturing. Morgan Stanley analysts recently predicted that the commercial real estate bull market will end in 2017. With the slow path of interest rate hikes in the US and a continuation of ultra-low interest rates in Europe and elsewhere, other analysts see more room to run. While this is certainly a cause for concern, JLL's fee-based revenue may be the best way to gain exposure to a mature real estate market, rather than betting on real estate prices.
Tailwinds
Where the UK is a concern, China and India remain bright spots for the company. In its May 5 conference call, the CEO says:
And we can see it in our business, our activities in China are really, really strong, people are upbeat. And the same applies to India. I don't know how closely you follow India, but they are really, really taking some important actions from the political side. And again, that plays really well for the real estate sector in India.
Not only has real estate activity in China been a boon to its top line but Chinese investors also have been a big component of growth in their investment management business. The CEO Christian Ulbrich in a March 22 interview on Bloomberg describes a "wall of money" trying to get into real estate from institutional investors, and beginning in the fourth quarter of last year, Chinese investors became the biggest foreign investors in real estate.
While much has been made in academic literature of small-cap outperformance, analysis in recent years seems to indicate that mid-cap stocks are the real outperformers. A series of white papers, including this one from John Hancock, describe how mid caps have been quietly outperforming for the past 30 years in the US. While I wouldn't recommend putting all your eggs in the mid-cap basket, there is a strong argument for being overweight mid caps, or at the very least, making sure you aren't underweight.
Morningstar notes in a 2015 article that mid-cap outperformance has been widespread, and it gives examples in the US, the UK, and Europe. It theorizes that this performance gap stems from less analyst coverage, greater earnings growth, and more M&A activity.
You can certainly see it in the coverage of a stock like JLL. Despite the company's strong fundamentals and leading position in its industry, only two articles have been written about it on Seeking Alpha in the past seven years. If you were to examine the list of the most popular mid-cap stocks on E*Trade (NASDAQ:ETFC), it would come in at around 600th out of 866 stocks. It is little covered by the media and underowned by retail investors despite a collective buy recommendation by analysts, a rating of 10 out of 10 by Thomson Reuters, and a wide moat rating by Morningstar. Normally, I would worry that the extreme optimism from analysts is a contrarian indicator, but with the stock's seeming obscurity, I view it as confirmation instead.
Conclusion
While there are concerns about Brexit and a maturing real estate market, JLL is a great business and promising stock that is underowned by retail investors. Since I already own it, I plan on holding onto it and making it a permanent part of my portfolio. If you aren't already invested, it is worth a closer look. I would consider buying on any weakness.
Disclosure: I am/we are long JLL. I wrote this article myself, and it expresses my own opinions. I am not receiving compensation for it (other than from Seeking Alpha). I have no business relationship with any company whose stock is mentioned in this article.