I once considered AT&T (NYSE:T) and Verizon (NYSE:VZ) staples of my portfolio. I viewed them as engines for boosting overall portfolio yield, with perhaps some room for capital appreciation along the way through multiple expansion. I ditched Verizon sooner due to its large amount of debt but held onto this idea from 2012 through 2015 for AT&T. Then, it started buying things like DirecTV and Time Warner (NYSE:TWX).
Don't get me wrong, but...
I don't necessarily think the two major US telecoms are necessarily bad yield plays, but as a younger investor, I don't really need the yield, and over the years, my thought process has changed when it comes to investing. I also don't like that these companies have added so much debt into their capital structures.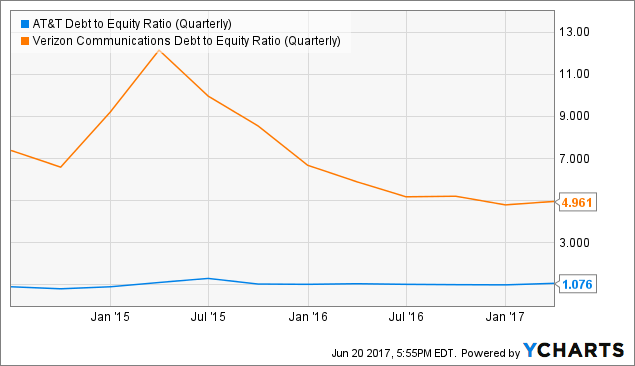 T Debt to Equity Ratio (Quarterly) data by YCharts
After acquisitions and such, both companies also carry a lot of "air" on their balance sheets (especially AT&T, where goodwill is now a quarter of assets), and both are in deep, deep negative territory if we decide to strip it away and only look at tangible assets.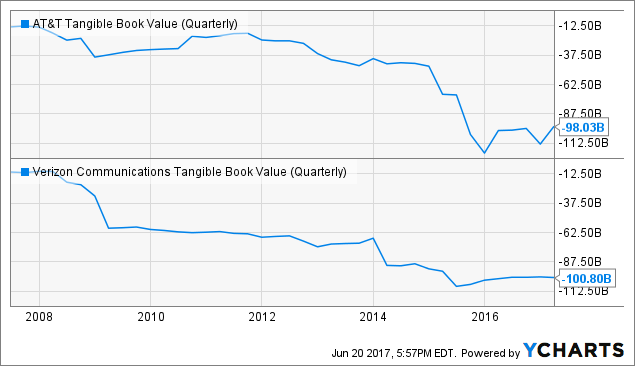 T Tangible Book Value (Quarterly) data by YCharts
I don't feel like these companies are as "safe" as I once thought they were despite the large amount of cash they churn out every year.
My alternatives
I currently own Canada-based BCE (NYSE:BCE) and am looking to establish a position in Singapore Telecommunications (OTCPK:SGAPY) soon as well, pending available funds.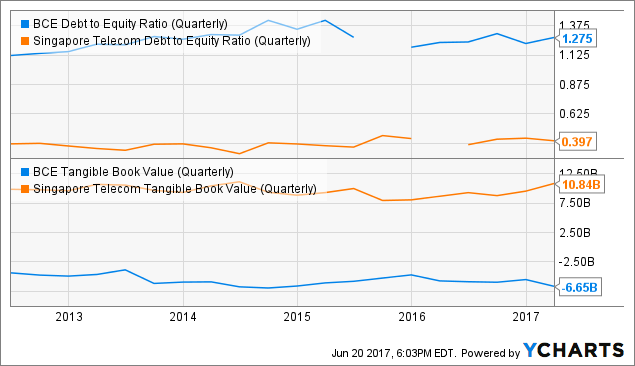 BCE Debt to Equity Ratio (Quarterly) data by YCharts
The prospective balance sheets of both look stronger, but SGAPY appears to be in notably better shape. There are other reasons why I've found these two companies suitable replacements for T and VZ as well. The first reason being related to capital allocation.
SGAPY and BCE both churn out double-digit returns on invested capital. Taking a glance at T's ROIC going back a decade using data from Morningstar, it struggles to consistently push through the 10% mark, if at all. VZ went from even weaker numbers all the way up until around 2013, where ROIC skyrocketed to 12.54%. It's resided in the double-digit range since, but this is mostly due to a huge bump in leverage from declining equity and large increases in debt. Its equity is mostly goodwill and intangibles, as well.
To put things in perspective, VZ's leverage ratio (assets to equity) for fiscal 2016 was 10.84x, which was actually down from the 14.89x in 2015 and the 18.92x ratio in 2014. For comparison purposes, T's leverage ratio sat at only 3.28x, while BCE and SGAPY's were at 3.70x and 1.71x, respectively, for fiscal 2016.
That large amount of leverage magnifies capital allocation ratios, giving VZ an unfair advantage and making its ratios basically meaningless. For instance, did VZ really generate almost 125% return on equity in fiscal 2015, or was this a result of its abnormally large leverage that magnified unlevered ROE by over 14x?
Valuations are a different story
Here's where the case for the domestic US telecoms can be made. T trades at about 13.33 times average estimated earnings for 2017. For VZ shares, that number is only around 12.25 times 2017 estimates. BCE is pricey in comparison at 17.63 times 2017 estimates, and (according to GuruFocus) SGAPY shares trade at roughly 14 to 15 times forward earnings. Price to free cash flow metrics tell a similar story.
Dividend yields are also higher for the US telecoms, both are paying around 5%. BCE and SGAPY pay around 4.73% and 4.67%, respectively, and yields fluctuate quite a bit due to movements in currencies.
Despite this, negative currency issues could reverse if the Dollar starts to weaken, as it's quite strong in relation to both the Canadian and Singapore Dollars. In fact, the US Dollar's purchasing power is still on the higher end of the scale looking back over the last five years, and even 10 years, especially in relation to the CAD.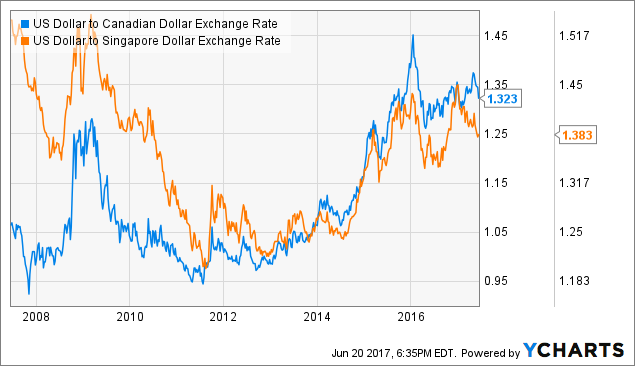 US Dollar to Canadian Dollar Exchange Rate data by YCharts
This would translate to automatically higher dividends as a US investor as well if the Dollar eventually weakened, creating a more advantageous exchange rate against the CAD and/or SGR. Now seems to be a decent time to transport USD into some SGD and CAD denominated investments.
Conclusion
T and VZ are usually the default options for telecom yields, but I personally would rather take my chances with BCE and SGAPY while the Dollar is still strong. I think SGAPY especially has better growth prospects with its investments in very fast growing emerging markets like India. It's also majority owned (over 50%) by Temasek Holdings (the investment arm of the Singapore government), which is another positive aspect I personally like. It means there's a higher chance that someone other than Vanguard is paying attention to what management is doing.
BCE and SGAPY also provide the opportunity to not only boost the overall yield of my portfolio but also increase its international diversification outside the US as well. Due to valuation issues, simply switching out BCE for shares of SGAPY is another option I am currently exploring.
If you enjoyed this article and would like to receive further updates and articles in the future, please feel free to hit the "Follow" button at the top of the page by the author's name.
Disclosure: I am/we are long BCE. I wrote this article myself, and it expresses my own opinions. I am not receiving compensation for it (other than from Seeking Alpha). I have no business relationship with any company whose stock is mentioned in this article.
Additional disclosure: I may initiate a long position in SGAPY within the next 72 hours. Articles I write for Seeking Alpha represent my own personal opinion and should not be taken as professional investment advice. I am not a registered financial adviser. Due diligence and/or consultation with your investment adviser should be undertaken before making any financial decisions, as these decisions are an individual's personal responsibility.
Editor's Note: This article discusses one or more securities that do not trade on a major U.S. exchange. Please be aware of the risks associated with these stocks.