The prices of the biofuel blending credits known as Renewable Identification Numbers [RIN] continue to stage an impressive comeback as Q2 draws to a close. U.S. refiners are required to obtain RINs, either by blending qualifying biofuel with refined fuels prior to retail or by purchasing RINs on the market outright in order to demonstrate the fulfillment of their biofuel blending obligations under the revised Renewable Fuel Standard [RFS2]. Independent (aka "merchant") refiners have found themselves purchasing most or all of their quota in recent years due to their lack of blending capacity. This has caused them to report large RIN expenditures in their quarterly earnings reports during past RIN price surges, with the price of the largest D6 RIN category moving as high as $1.18/gallon of ethanol equivalent in the last year. (Roughly 20 billion gallons of ethanol equivalent must be blended this year.)
Refiners' share prices rallied strongly in the weeks after President Donald Trump's November election victory. While Mr. Trump's favorable views regarding fossil fuel consumption and a broader improvement to investor sentiment contributed to the positive returns, shares of merchant refiners in particular surged following the appointment of Mr. Trump's friend and owner of merchant refiner CVR Refining (NYSE:CVRR) Carl Icahn to the position of "regulatory reform czar" in the Trump administration. Mr. Icahn has been an outspoken advocate of a change to the RFS2 known as the "Point of Obligation" shift that would reduce individual merchant refiners' RIN expenditures by increasing the number of entities required to purchase them (i.e., Mr. Icahn's proposal would increase the denominator while keeping the numerator stable). His growing influence in Washington D.C. prompted D6 RIN prices to fall sharply in the aftermath of the election as investors assumed that the White House would move quickly to overhaul the RFS2.
The rampant optimism regarding the Trump administration's political prospects that existed in the first quarter of 2017 has quickly dissipated as scandal after scandal has dominated the headlines. A new low to this outlook was set last week when Mr. Trump declared on Twitter that he is "being investigated" by the FBI after months of repeatedly announcing that no such investigation existed (although one of his lawyers subsequently argued that the statement was being misinterpreted). D6 RIN prices have surged by 83% over the last six weeks (see figure), with the largest daily gains coming after the Justice Department took the rare step of establishing a special counsel to investigate the 2016 presidential election.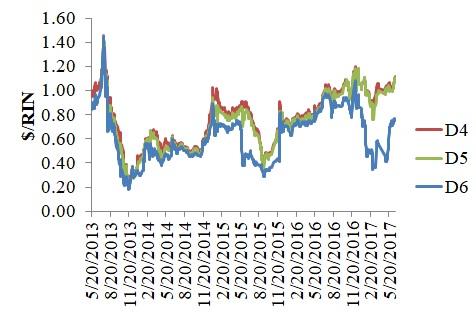 Source: EcoEngineers (2017).
The RIN market is signaling a belief that Mr. Trump now has insufficient political capital remaining to implement something resembling Mr. Icahn's proposed changes to the RFS2's Point of Obligation. In addition to the White House currently operating under severely distracting conditions (to put it mildly), members of the Senate opposition recently launched their own investigation into Mr. Icahn's specific role within the administration. CVR Refining further complicated matters earlier in the year by opening a substantial short position in the RIN market that presumably generated a large gain for the company as RIN prices fell, leading to allegations of possible market manipulation (and calls for government investigations).
Analysts have already identified rebounding RIN prices as a new headwind for Alon USA Energy (NYSE:ALJ), HollyFrontier (NYSE:HFC), PBF Energy (NYSE:PBF), and Tesoro (TSO), to which I would add Calumet Specialty Products Partners (NASDAQ:CLMT), Delek US Holdings (NYSE:DK), and Valero (NYSE:VLO) based on those firms' historical RIN expenditures. I should add that expert opinions continue to be skeptical about the impact of RIN prices on refiners' earnings, however, and the market has yet to unambiguously apply this uncertainty to merchant refiners' share prices. While CVR Refining's share price has fallen by double digits since early May (see figure), PBF Energy's share price is the only other one out of those listed to have declined over the same period. The others have all risen by as much as 17% in the case of Tesoro (although that company admittedly has not supported Mr. Icahn's proposal).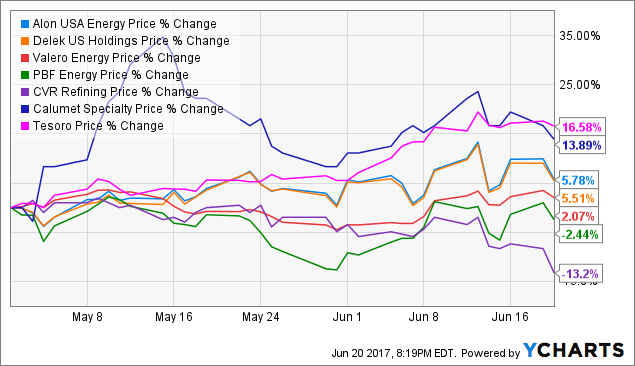 Declining petroleum prices in recent weeks could be offsetting some of the bearish impact of higher RIN prices, of course, since refining margins tend to increase as feedstock prices decrease. That said, the share prices of Casey's General Stores (NASDAQ:CASY) and Murphy USA (NYSE:MUSA), two fuel retailers that generate RIN surpluses and therefore nominally benefit from higher RIN prices, have also achieved mixed returns since early May. Investors would do well to keep an eye on RIN prices as the odds of the RFS2 being overhauled grow ever longer, but they should also be wary of analyst claims that major changes to RIN prices will have an outsized impact on merchant refiners' share prices. The headline RIN expenditure numbers that those firms will report in July and August will not necessarily present the full picture.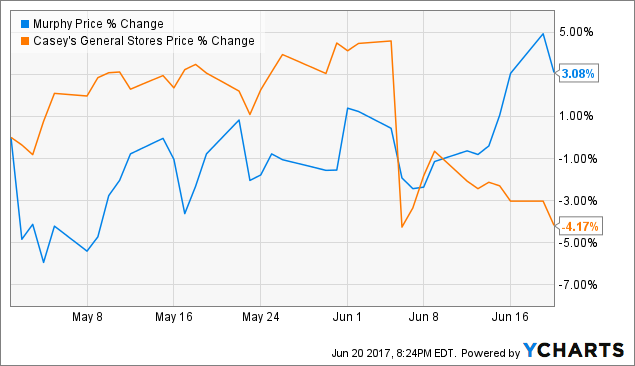 Disclosure: I am/we are long PBF. I wrote this article myself, and it expresses my own opinions. I am not receiving compensation for it (other than from Seeking Alpha). I have no business relationship with any company whose stock is mentioned in this article.