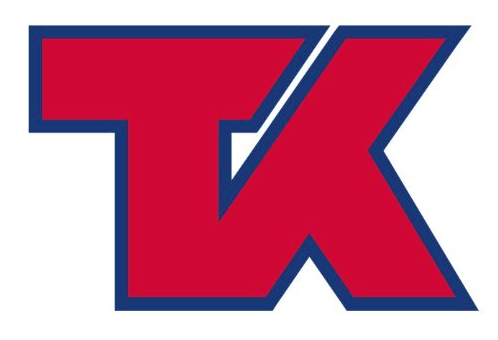 Overview: Current Sentiment vs. Valuation Reality
Teekay Corporation (NYSE:TK) is our current top idea at Value Investor's Edge. I believe it is the best common equity risk/reward proposition I've seen in my entire career. A world-class value investor, which has compiled a nearly 25-yr average annual return of 16% has also recently bought heavily into TK, paying up to $9/sh to build a cornerstone position.
Although the full length thesis can get quite complex, and has hence scared away many retail investors, the underlying idea is quite simple: Teekay has heavy upside leverage to cash flow from its daughter companies, namely Teekay LNG Partners (TGP). I believe this catalyst is under a year away from realization and will propel TK into multi-bagger status.
The single catalyst of TGP's future cash flow to TK is enough to make an investment in TK common in the mid-$5s worth a 140-200% return, likely within a year.
Teekay Corporation has other annoyances to deal with, namely near-term debt maturities that exceed current cash balances at its other daughter-firm Teekay Offshore Partners (TOO). Additionally, TK's third daughter-firm, Teekay Tankers (TNK), is in the cyclical crude tanker sector and is trading near record-low valuations.
Current market sentiment at Teekay Offshore has long since departed from reality, spurred by weakly researched downgrade reports, index removal, and Jim Cramer panning.
Although TOO's issues makes for bad headlines, even near worst-case outcomes result in TK valued near $13/sh. Even a marginal TOO recovery adds several dollars to TK's valuation.
This is one of the most asymmetric risk/reward situations I've ever witnessed, driven by the fact that TK corporation is not initially an easy company to analyze and dissect. Nearly every report out there, sadly including most mainstream analysts, gets basic calculations and business sector assumptions completely wrong. This difficulty to analyze, mixed with extreme panic at TOO, leads us to an investment opportunity of a career.
Onslaught of Bearish Sentiment
Teekay Corporation has suffered an onslaught of bearish sentiment, recently hitting record levels. Despite staging a strong recovery into early-2017 when shares briefly surpassed $11/sh, the shares have since hit full-reverse and have set fresh 52k lows. Ironically, TK is arguably in better overall shape today (based on forward prospects) than it was during mid-2015 when shares traded near $50/sh.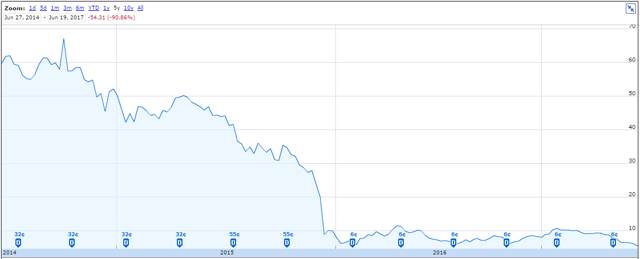 Despite solid progress at Teekay LNG Partners and upgraded charters at Teekay Offshore Partners, the stock slumped even further following their Q1-17 earnings report, released on 18 May. This was followed by a heavy downgrade by Morgan Stanley analyst Fotis Giannakoulis in early-June. Additionally, Jim Cramer discussed TK on his "Mad Money" show, making naïve comments overall (i.e. focusing on the price of oil when the vast majority of TK's upside is tied to LNG shipping) but otherwise sharing bearish sentiment on the name. Adding insult to injury, TOO was recently removed from the Alerian Indexes, which is a major one-off bearish momentum hit.
TK has been the victim of a non-stop onslaught of bearish sentiment, heavily tied to the weak price of oil, even though oil prices have almost zero bearing on our future value targets.
In the short-term, it hasn't mattered if these bearish sentiments are logically valid. The momentum for TK has been abysmal since early-April and each additional piece of news only served to bring the stock down further. The Morgan Stanley downgrade of TK from $8.00 to $3.00 contained numerous logical errors and confusing analytics, but headlines matter. We've recently posted our full-length public rebuttal to the Morgan Stanley report, so I won't repeat the point-by-point here, but I've flagged nearly a dozen logical and factual errors in the Giannakoulis report.
Teekay LNG Partners: The 'Secret' to Huge TK Upside
Teekay Corporation's prime jewel is their ownership and GP-position in Teekay LNG Partners. They currently own 25.21M common units and are entitled to 2% of all distributed cash flow due to their General Partner ("GP") role.
TGP alone is enough to get TK to a range of $13-$16 (140-200% upside) even with very bearish outcome scenarios from their other two daughter firms.
If we start discussing TOO or TNK recovery values, we'd be getting into 5 or 6-bagger range.
TK's role as the GP also gives them incentive distribution rights ("IDR"), which grant them a growing percentage of cash flow if TGP is able to make large payouts. This table is shown below, the subordinated period expired in April 2010 so the "minimum quarterly distribution" is no longer relevant.

TGP had been paying out steady, growing, dividends for a decade straight when they were forced to cut the payout significantly (by 80%, from $0.70/qtr to $0.14/qtr) in December 2015. This decision was required because TGP's growth projects from 2016-2019 required equity to fund the gaps. Throughout its history, TGP had raised equity in the open market, but the oil-related high yield panic during 2015 slammed the door closed on this opportunity. Management made a bold decision: they would cut the distribution by 80%, self-fund the entirety of the growth projects, and eventually raise the distribution back once the transition was complete.
Management has repeatedly stated that they plan to restore distributions once the growth projects and debt maturities have been financed. They are months away from achieving this.
All the 2018 secured debt maturities are easily covered by assets with long-term contracts. There is very little debt due in 2019 or 2020.
I've discussed the remaining (2018) TGP maturities in extensive detail in this multi-page report.
See below for a sampling of the historical distributions from TGP.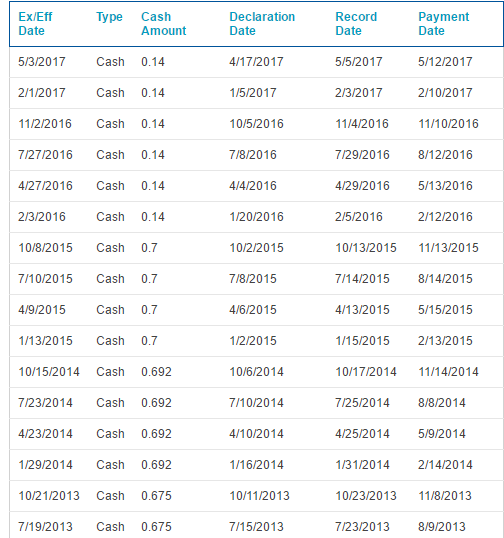 Naturally, the markets did not respond well to TGP's 80% distribution cuts. The majority of institutional owners were high-yield funds, which had mandates to invest in LP and REIT-style funds with strong yields. The majority of retail investors were seeking the same type of goals. Typically, when a company cuts payouts by a massive amount, it is time to run for the hills. Naturally TGP stock got slammed. Three weeks prior to the formal cut, TGP traded at $23. The day of the cut, they traded down to $10/unit.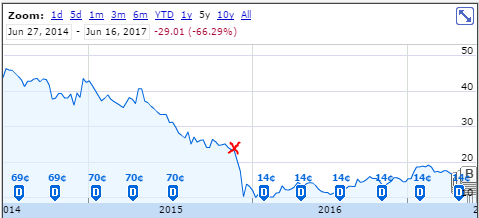 Yes, sadly the market is that broken. Throw the book out on the efficient market hypothesis as the exact same company lost 60% of its market value because management decided to make a smart capital allocation decision.
TGP has lost over 60% of its unit value due to a cut in payouts. Nothing else substantially shifted at the firm. In fact, TGP is set for massive fully-funded growth in the coming years.
From July 2010 to July 2015, TGP traded between $31-$46/unit. TGP is a stronger company today, yet trades near $14.50.
The slide below, from TGP's Q1-17 presentation, illustrates the financing progress and delivery timeline for the remaining growth projects at TGP. The planned debt program actually exceeds remaining payment requirements by $8M.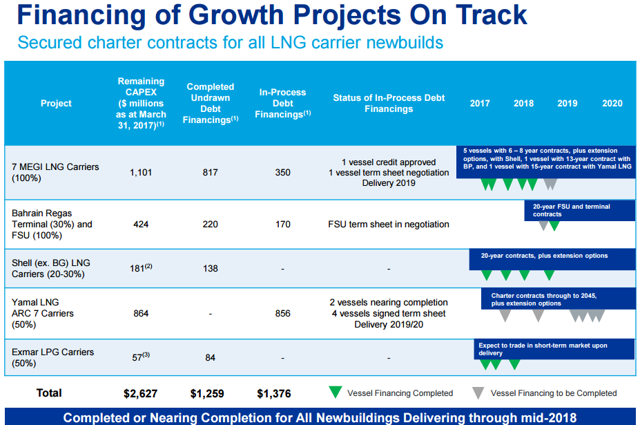 Teekay LNG Charter Backlog
TGP is positioned in the LNG transportation sector with minor assets (under 10%) dedicated to the partially related LPG transportation sector. Their charter backlog is unrivaled by all public comps including GasLog Partners (GLOP) and Dynagas LNG Partners (DLNG). GLOP has a $3.5B backlog (see slide 3 of their latest presentation) and DLNG has a $1.5B backlog (see slide 9 of their Q1-17 presentation), yet TGP has a backlog of over $11B.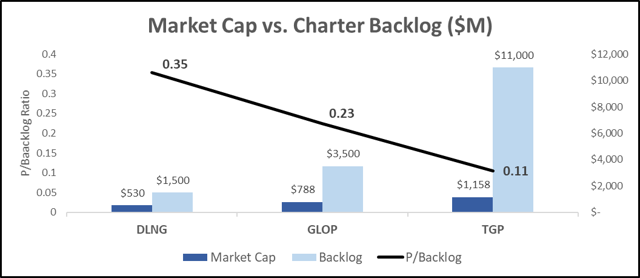 TGP has a revenue backlog roughly triple the size of their strongest competitor: GasLog Partners. TGP's backlog is over 7x larger than Dynagas Partners.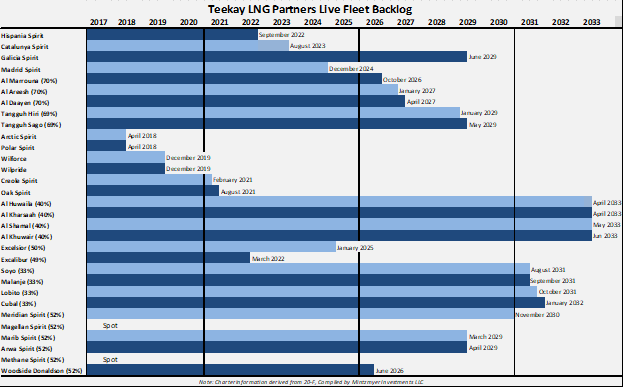 The chart above only represents their on-water capacity. The newbuild projects offer even more charter coverage. The slide below from the Q4-16 earnings presentation shows the newbuild charters. The dates on the right represent the date each ship is planned for initial delivery to TGP, the average ship has 17 years of charter coverage. The horizontal axis shows the duration of the fixed rate charters of these vessels, all are fixed well past 2020, and the majority stretch into the 2030s and 2040's.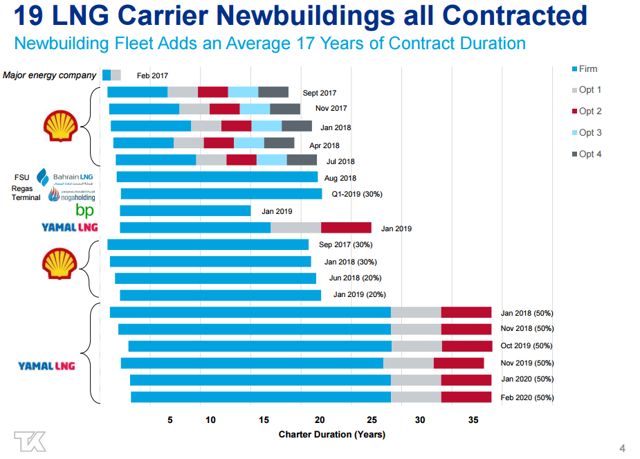 Again, TGP has over $11B of combined backlog, while their closest peer, GasLog Partners has only $3.5B.
TGP has a total backlog of $11B+. Their newbuild vessels are 100% contracted with an average duration of 17-years.
Here is the total GLOP contract backlog for comparison, note that 90% of their fleet is off charter by the end of 2020. Meanwhile TGP has 90% of their fleet on charters through 2021-2045.

TGP offers a far more stable source of income than their two primary comps, yet they trade at a significant discount.
This pricing discrepancy is explained due to the far smaller current payout; this is likely to change soon.
Teekay LNG Valuation vs. Peers
Admittedly backlog is a long-term metric and perhaps not the fairest method to value TGP vs. GLOP since the former has far longer charters. There are several other metrics we could utilize, these include forward distributable cash flow ("DCF") and net asset value ("NAV"). We can also compare net debt-to-asset ratios ("D/A") to see where TGP sits on a leverage basis.

The comp analysis clearly shows that Teekay LNG Partners does NOT have a higher all-in leverage ratio than its two direct peers, which would suggest that they should therefore carry similar ratios to DCF, NAV, and Backlog. However, the spreads remain massive. Pricing TGP between $28 and $43 seems crazy when units have a 52wk range of $10-$20, but this is actually right in-line with historical (2010-2015) price levels.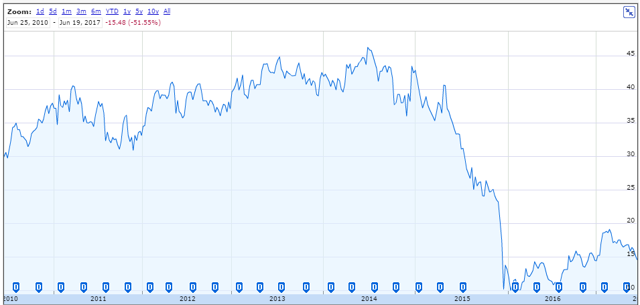 The difference? TGP paid out between $0.60 and $0.70/qtr during that period of time. TGP now pays just $0.14/qtr as they have avoided dilution and have 100% self-funded their entire growth program. When TGP begins raising their distribution and continues raising the payout through 2020, the price will likely return to previous levels.
The TGP Catalyst: Massive Payout to TK Corporation
TK Corporation owns 25.2M common units in TGP. If TGP traded in-line with peer valuations, between a range of $28 and $43, this valuation improvement alone (from the current $14.50) would boost TK's ownership stake by a range of $340M to $720M; however, this is only half of the benefit.
TK also has an IDR based on TGP's payout. The table was included above, but I've adjusted the numbers to show the average cash flow that TK will receive (blended GP column) as a result of higher payouts.
All of the IDR cash flow is in addition to cash flow received from their 25.2M common units.

As the chart shows, at the $0.70/qtr payout range (likely by mid-2018), TK is eligible for 13.6% of all of TGP's cash flow as a 'bonus.' When payouts increase to the $0.85/qtr range (likely by mid/late-2019), TK is eligible for 23.4% of TGP's total cash flow as a bonus. The chart below shows this payout regimen.
The annual proceeds reflect the combined cash flow from both the common units and the IDR. We can value these cash flows on a cash flow multiple of 8-15x, or we can value the IDRs by themselves at an 8-15x ratio and value the units separately at a justified dividend yield.
Valuation Approach #1: TGP Control Valued on Cash Flow Multiples
This approach is simplistic, but yields reasonable results based on valuing TGP as I believe it should be, a long-term investment with a reasonable cash flow margin. Keep in mind that this cash flow has nearly 100% profit margins, these are not EBITDA multiples, but rather the free cash flow to TK parent.

With a $0.70/qtr payout (by mid-18), TGP is worth $1.05B-$1.27B to TK, approximately $12-$14 in value per share of TK.
With a $0.85/qtr payout (by late-19), TGP is worth $1.68B-$2.02B to TK, approximately $19-$23 in value per share of TK.
Valuation Approach #2: IDR on Cash Flow & TGP at Market
While valuing the IDRs on a cash flow multiple is an indisputable approach, a rational argument might be that TK's 25.2M common units of TGP should be valued based on the current market pricing. To predict the future price of TGP, we need to look at the current yield of TGP's closest comps (DLNG and GLOP), which is currently a range of 9-12%.
If TGP pays $0.70/qtr, we can reasonably assume a trading range of $23-$31 by next summer. Using the same yield spread, we can reasonably assume a trading range of $28-$38 by late-2019 if they raise the payout to $0.85/qtr. Therefore, TK's direct ownership in TGP should be worth $580-$780M next summer and $705-$960M by late-2019.
We then need to add back the IDR valuations using the same method as above.

By mid-18, TGP is worth $930M-$1.2B ($10.50-$13.50/sh).
By late-19, TGP is worth a combined $1.53B-$1.95B ($17-$22/sh)
Teekay Offshore: Tremendously Misunderstood, Recovery Potential
Teekay Offshore is TK's second limited partnership firm, in which they own a stake of over 40M units. Similar to TGP, Teekay Offshore signed up for multi-billion growth projects with the goal to raise equity funds prior to asset delivery. They also got caught in a bind, but their situation was dicier than at TGP. Last summer, management took proactive measures, raising $200M in additional common and preferred equity while also securing $400M in bank financing. This appeared to be enough to complete the transition to healthy-status since current run-rate cash flow is close to $350M per year and annual EBITDA is set to grow by an additional $200M by mid-2018 (see below, Q2-16 presentation, slide 6).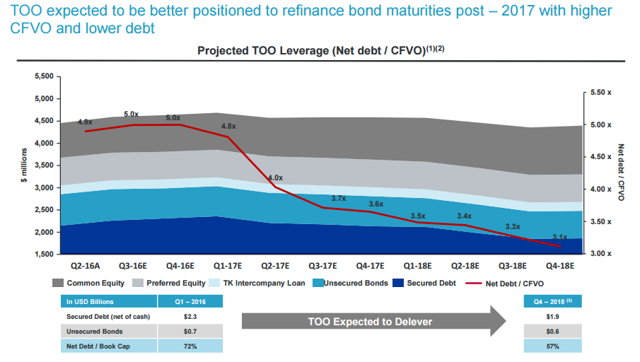 However, in May-2017, TOO divulged that Petrobras had cancelled their contract for the "Arendal Spirit UMS," an offshore support platform (basically a floating hotel), which meant $112M in related secured debt would become due by October 2017. The original charter expired in April 2018 and had already suffered from some issues with its dynamic positioning system.
Lost revenue from the Arendal Spirit cancellation represents only 1% of TOO's backlog. Debt is approx. 2% of enterprise value.
The Arendal is their only major asset not focused on the production-side (i.e. only asset not 100% required for oilfield operation).
The bigger issue was the timing. This debt was due in October 2017, right around the time TOO will already be facing a crunch due to other maturing secured debt facilities. Although TOO has a massive charter backlog, produces very strong cash flow, is set to increase annual EBITDA by another $200M by next summer, and has recently secured increased employment for other assets, the market has bitten off on the Arendal news story. This $112M debt concern has wiped out over $500M in market capitalization between TOO and their publicly-traded preferred equity (TOO-A/B).
Prior to the Arendal news, it appeared TOO had a clear path to financing growth initiatives even while maintaining dividends. More recently, management began discussing the possibility of raising funds via joint-venture partners during the Q4-16 conference call in February 2017. They reiterated this view in May 2017.
I've always avoided TOO because I believed there was risk in their financing structure; however, due to the GP/LP structure, I believe TK is heavily sheltered from the actual impact of any sort of restructuring. In fact, TK stands to gain significantly from this situation if they play their cards right as they can buy new units on the cheap and potentially even negotiate an IDR-reset, which could lead to significant cash flow improvements down the road.
TOO is widely misunderstood. They have a multi-$B backlog, assets and cash flow surpass secured debt by a wide margin
They are producing $350M in annual cash flow, and are set to grow EBITDA by an additional $200M.
There is some restructuring risk at TOO, but the current price action reflects extreme hysteria.
There are real risks here; chief among these risks is a serious damage to TK's reputation. If TOO does end up in the unlikely scenario of a full-restructuring, although I believe TK will likely emerge in prime shape, it will be extremely difficult to attract LP investors in the future. This could weigh on TGP's future valuation multiples as well as on future multiples for TK itself.
Additionally, TOO owes TK approximately $250M, split between $50M in related-party receivables and $200M in 10% unsecured notes. Although TOO's assets easily exceed the value of both their secured and unsecured debts, in an absolutely worst-case restructuring scenario, TK could be forced to convert part of these liabilities into new equity units. Finally, TK has guaranteed close to $320M of TOO's secured debt. This secured debt is on prime assets with fixed cash flow, so I believe realistic default is close to 0%, but in a worst-case scenario this debt could land on TK's balance sheet, further reducing their flexibility. However, these assets are prime shuttle tankers with 15-year charters to a consortium led by Exxon Mobil (XOM), so this is not a major risk overall.
The TOO exposure is not without risks, but TK sits in a very advantageous position as the General Partner.
Before we get too carried away with bearish outcomes, it is important to remember that TOO can save a significant amount of cash flow per year (approx. $80M) just by cutting distributions. Their expected cash gap by the end of 2017 isn't much larger than that when forward cash flows are considered (current annual cash flows of approx. $350M).
Likely Outcomes at TOO
Management has repeatedly stated that their debt levels are manageable and that they plan to raise some additional equity via pursuing joint-ventures with some of their assets. This viewpoint was once again espoused on 19 June at the TK Annual General Meeting.
"…for Teekay Offshore this means continuing to make progress towards delivering on its existing growth projects and continue to deleverage the balance sheet and build liquidity. As mentioned on our latest earnings conference call, Teekay Offshore has been working on a number of liquidity initiatives over the past several months. We are nearing completion on these initiatives and expect to update the market during the third quarter of 2017."
Although I am not investing directly in TOO, as I prefer the risk-reward inherent in TK shares, I believe the market has left sanity behind in regards to restructuring and fair valuation prospects. In an upside scenario where TOO is able to push back some of its debt obligations, these units could reach valuations as high as the $6-$8 range in short order. Even if we see some equity dilution in the near-future, we are likely to still see a unit pricing substantially higher than the current $2/unit level.
In the worst-case scenario of near-complete common equity wipeout, TK would actually lose very little. Their current stake in TOO is only worth around $80M at today's prices (under $1/sh). Meanwhile, if TOO did recover to the $6-$8 range, TK would benefit by gains of $170-$250M (nearly $2-$3/sh).
TK has very little practical downside to a TOO equity collapse, yet has 2-3x the upside to any level of recovery.
In fact, TK has a side lever to pull that could turn the TOO situation into a massive jackpot down the road. If TOO gets desperate for cash, TK could pay $50-$100M in exchange for resetting TOO's IDR structure to far lower levels, perhaps as low as $0.20/qtr for the top payout.
If TK pursues an IDR-reset at TOO, common units will thrive, and TK's IDR rights could be worth several hundred million by 2019.
Valuation Models: Current, Mid-2018 & Late-2019
The following section breaks down TK's valuation between the current regime, the mid-2018 expectations and late-2019 expectations. The valuation range holds TOO units at their current abysmal price level ($1.90/unit) and also holds Teekay Tankers shares at their record-lows ($1.70/sh). This is despite very impressive progress at TNK, including a recent merger that has positioned them as one of the largest shipping companies in the world.
Current Valuation
The following chart represents how the market is currently valuing TK. This model almost perfectly describes how the market is valuing each section of TK's business, which includes crisis-level valuations at both TOO and TNK and also includes ludicrously cheap levels on TGP, which includes $0 for the IDR rights, which we have demonstrated are worth nearly $1B by late-2019.
TK has three FPSO assets, the "Hummingbird Sprit," "Petrojarl Banff," and "Petrojarl Foinaven," which are listed in the latest annual filing (page 94) with a combined market value of $636M as derived from an independent broker (confirmed with management). Even though TK discloses that these valuations are exceeded by expected cash flows, we've written this valuation down by an additional 50% as a margin of safety to align with the currently weak sentiment in the sector.
As investors can see from this chart, the current valuation ($5.98) is reasonably close to recent market activity.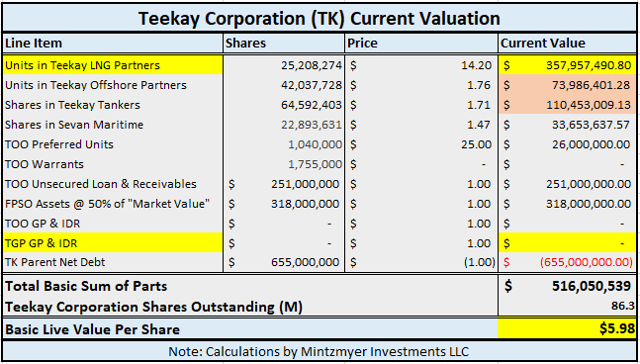 Mid-2018 Valuation
The current valuation range relies on several very bearish assumptions, several of which are likely to shift soon. The following chart represents how the markets are likely to value TK once TGP restores their distribution, likely by mid-2018. This is based on the mid-points of all valuation cases.
In the baseline mid-2018 scenario, TK is worth $14/sh, even while holding TOO and TNK flat at crisis-level valuations.
Even if TOO equity is written completely to $0, TK is still worth over $13/sh by next summer.
If TOO makes even a moderate recovery ($6/unit), then TK is worth over $16/sh.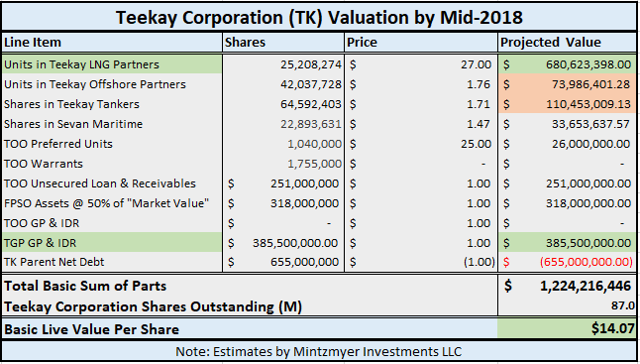 Late-2019 Valuation
The following chart shows outcomes by late-2019 given a TGP payout of $0.85/qtr, once again holding TOO and TNK at crisis-level valuations. This is based on the mid-points of valuation cases.
If TGP is able to achieve a $0.85/qtr payout by end-2019, then TK is worth over $21/sh: more than a 4-bagger.
This 4-bagger possibility is all without any real contribution from either TOO or TNK.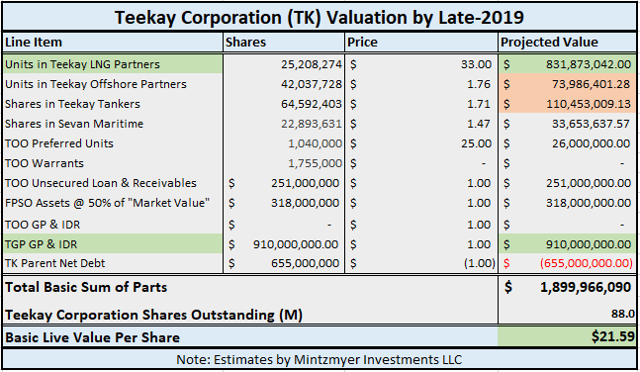 Bullish Recovery by 2020 for Tankers & Offshore
Although the price targets for mid-2018 to end-2019 offer upside of 150% to quad-bagger status, these are actually not the most bullish of targets. In fact, we are discussing fairly low hanging fruit considering TGP's current trajectory.
If we actually model what a real bullish scenario for TK looks like, one in which TOO fully stabilizes, offshore conditions improve slightly, and TNK rides into a mid-cycle of the tanker markets then the upside is even larger. The following chart represents what TK could look like in such an outcome by 2020. Note TGP is also valued towards the higher end of multiples.
In a true bullish scenario, TK could be worth up to $33/sh by 2020, which offers more than 6-bagger potential from today's share prices.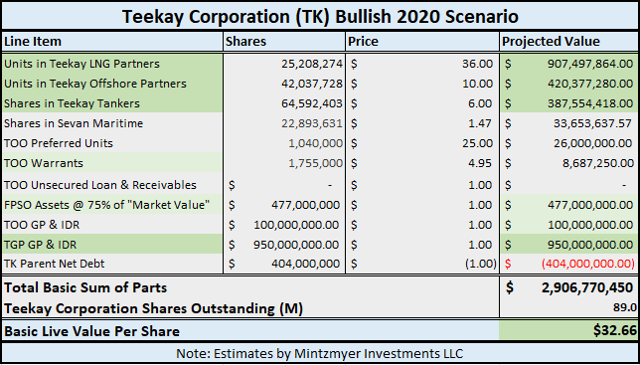 It's actually not that wild of a possibility if history is taken seriously.

Here are all the different models in one place, for easy line-item comparison.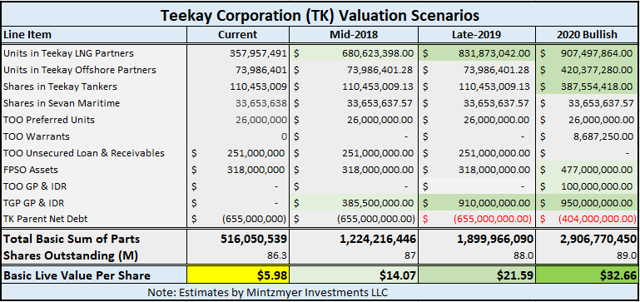 Cobas Asset Management: Performance & Position
I'm not the only investor who thinks the market is incorrect on Teekay. We have a powerful 'co-investor' in Teekay Corporation: Francisco Garcia Parames. Parames is Spain's most successful investor, accumulating an average annualized return of 16% over nearly twenty-five years (including two major crashes: 1999 and 2008). This places Parames in similar territory as Warren Buffett and Peter Lynch.
In early 2017, Parames starting investing for his own fund, "Cobas Seleccion Fund." According to Forbes and GuruFocus, just a few months after initial registration began in October 2016, Parames had attracted over 4,000 clients for his new fund. In May 2017, a bombshell dropped on the market and nobody noticed: Cobas acquired a 5.1% stake in TK, which represents a sizable portion of his portfolio (SEC filing). He also bought a position in Teekay LNG Partners.

This story was reported by top industry newsletter TradeWinds, but the TK stock price failed to move. Furthermore, in a London Value Investor Conference on 30 May 2017, Parames disclosed that the Teekay firms made up approximately 9% of his portfolio and that his price target was $19/sh. The stock price didn't move at all when this news was released, suggesting the market hasn't been paying attention due to the new status of this particular fund.
Spain's top investor, and arguably one of the best value investors in the world, has recently divulged a top position (approx. 9% of his fund) between TK and TGP.
The Cobas Fund paid around $9/sh between March-April for TK with a 1y target of $19/sh.
J Mintzmyer: Performance & Position
Past performance obviously does not guarantee future results. However, our record on high-conviction calls is clear as we've only gone above the 15% allocation range on a single position five total times over the past two years, as researched and disclosed via Value Investor's Edge.
Safe Bulkers Preferred D-Series (SB-D), after entering in November 2015 at a $7.70 basis (15% allocation).
Golar LNG Partners (GMLP), at $10.31 in late-December 2015 (40% allocation).
Seadrill Partners (SDLP), at $4.17 in late-December 2015, later averaged down to $3.21 (15% allocation).
Scorpio Bulkers 2019 Bond (SLTB), February 2016 at $9.10 (20% allocation).
Teekay Corporation, 40% allocation in October 2016 at $5.98.
TK is our top idea; the highest conviction value play of my career.
Conclusion
Teekay Corporation is a holding company that derives the majority of its value from its ownership stakes in its three daughter firms and its GP/IDR rights from Teekay LNG Partners and Teekay Offshore Partners. Even after heavily discounting its stake in TOO to near-$0 and holding its Teekay Tankers shares stagnant at cheap levels, TK is worth $13 based on likely run-rate cash flow from TGP, likely realized within one year. If TOO stabilizes, even in a fairly painful dilution deal, TK is worth $16/sh in under a year.
This position offers current upside of 140-200% to reach its fair valuation in under 1 year.
If we look ahead slightly further to mid/end-2019 potential cash flow valuations, then TK is worth between $21 and $25 with the majority of the variance depending on outcomes at TOO and TNK.
TK offers 2 to 3-year upside of 300% to 500% (a 4-6 bagger) depending on daughter company outcomes.
This is currently my top idea, and frankly, I believe this is the best common equity risk/reward position I've witnessed in my entire career. I believe we are on the cusp of a major valuation improvement as rationality begins to return once again.
This article is part of Seeking Alpha PRO. PRO members receive exclusive access to Seeking Alpha's best ideas and professional tools to fully leverage the platform.