In case you haven't noticed, a massive disruption is occurring on retail. Traditional brick and mortar retailers are struggling not just to compete, but for their very survival. Many retailers have filed for bankruptcy or are on the verge. More than 300 retailers have filed for bankruptcy this year. Brokerage firm Credit Suisse predicts that as many as 8,600 brick and mortar stores will shutter their doors in 2017.
The number of distressed retailers is nearing recession levels, tripling over the past six years. Many retailers are at risk and struggling with liquidity, not only due to the changing landscape in retail, but because they are overleveraged and crippled with debt at unfavorable terms. According to credit rating agency Moody's,13% of their total rated retail portfolio is distressed, rated Caa/Ca. To make matters worse, 19 of the Caa/Ca companies owe $5 billion in debt through 2021, with 40% of that due by the end of 2018 and spiking in 2019.
Certainly, one of "prime" disruptive influences in retail, prime as in Amazon Prime, has been Amazon (AMZN). Their recently announced acquisition of Whole Foods Markets (WFM) is yet another gamechanger in the retail sector, as Amazon sets its sight on the disruption of grocery.
Another important aspect of what Amazon is doing is that it isn't necessarily eschewing the idea of having physical stores. Obviously, Whole Foods has stores, 456 worldwide to be precise. And Amazon has been opening physical bookstores, with 8 locations and plans for as many as 5 more. Retail as we know it, is being turned on its head.
But Amazon isn't the only force causing the mass disruption of retail. The main disruptor has been the consumer itself. There has been a secular shift in consumer preference that favors shopping online. Competitive pricing, convenience, large selection, quick delivery, 24/7 access, and free shipping are just some of the aspects of online shopping that consumers are embracing.
Mall and in-store traffic has slowed in favor of shopping from the convenience of devices such as computers and mobile devices such as tablets, and smartphones. Improved user interfaces, site design, and secure payment options have further solidified this trend. Not to mention the fact that we spend so much time on these devices, especially smartphones, why not shop on them too!
While the percentage of online sales is only currently 8.3%, it is the fastest growing segment of retail, growing at a compound annual growth rate of 20%.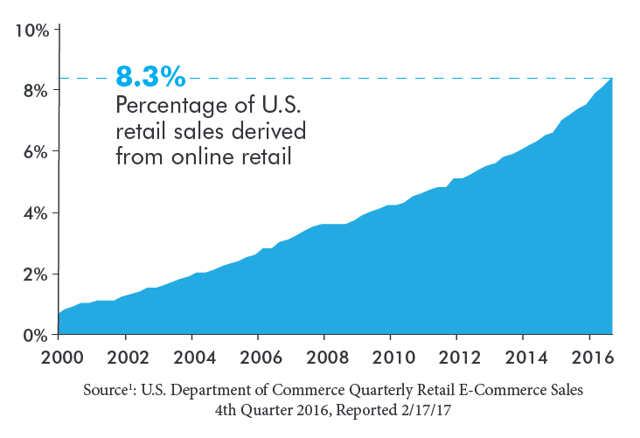 So how are traditional retailers responding? Wal-Mart (WMT) has responded with a slew of strategic acquisitions to ramp-up its online presence, first with its acquisition last year of ecommerce giant Jet.com. And now it is buying small and in-vogue brands such as the men's clothing brand Bonobos, women's fashion retailer ModCloth, and the brands Moosejaw and ShoeBuy. These acquisitions have not only expanded Wal-Mart's digital footprint, but also its talent pool of category experts. They are going head-to-head with Amazon. Other online initiatives include in-store pickup discounts and free two-day shipping.
And there is evidence that Wal-Mart's efforts are paying off. Its online sales jumped 63% in the first quarter, up from 29% in the previous quarter.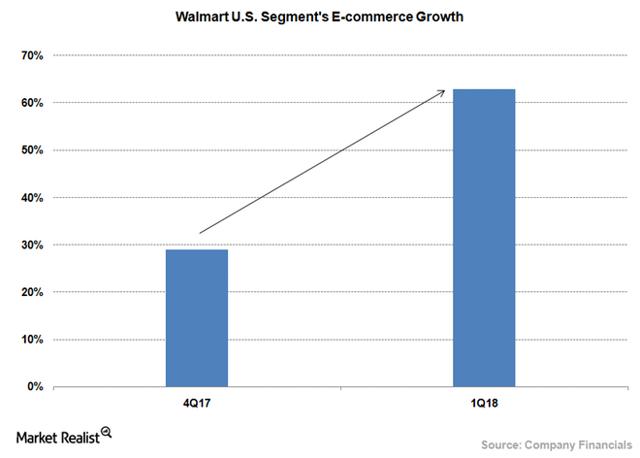 Best Buy's (BBY) recent results have also shown signs of improvement as they have successfully integrated online commerce into their business model. Domestic online revenue for the quarter came in at $1.02 billion, growing 22.5% on higher traffic and conversion.
It is clear that in order for physical store retailers to survive in the new retail environment, they must successfully integrate an online sales strategy as part of a, multi-pronged, omnichannel approach.
Just how massive has the outperformance of online retail companies been relative to its traditional retail peers? The SPDR S&P Retail ETF (XRT) has declined more that 7% over the last year, while the Amplify Online Retail ETF (IBUY) is up almost 42%. That's a performance spread of almost 50% over the last year.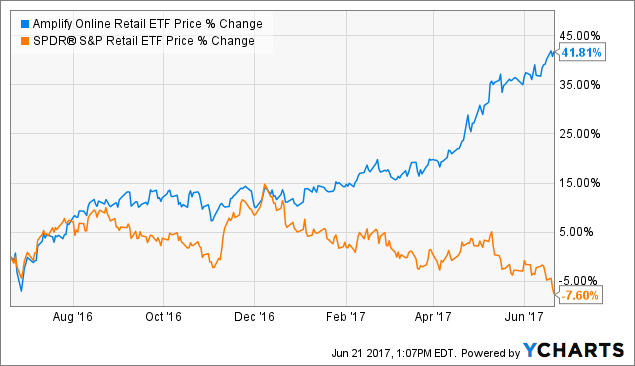 While Amazon is one of the top 10 holdings in the Amplify Online Retail ETF, there are many other innovators in online retail as well among the top holdings, such as online-only used car dealer Carvana (CVNA), online pet pharmacy, PetMed Express (PETS), and online home furnishing disruptor, Wayfair (W).
Carvana is a recent IPO in the space, debuting last April. Online meal-kit company Blue Apron just announced its intention to IPO as well. And outside the U.S., companies such as Chinese e-commerce giant Alibaba (BABA) are disrupting retail around the globe. Another unique aspect of online commerce is the lack of geographic boundaries.
The online disruption of retail is global phenomenon and it is not going away. If anything, future innovations in areas such as augmented reality will make the online shopping experience an even better alternative to shopping in-store, and without the lines and poor customer service.
One of Amazon's goals in opening physical stores is to transform the store and the in-store shopping experience into something unique and different. Apple Stores (AAPL) are showrooms for their products. Similarly, Amazon's physical stores are showrooms, distribution centers, and point of sale locations all-in-one.
There is no boundary to the reinvention that can occur among brick and mortar retailers. While some retailers such as Wal-Mart and Best Buy have made some progress in that direction, those are just baby steps. The possibilities for innovation and disruption in retail are endless.
Disclosure
EQM Indexes is the creator of the EQM Online Retail Index which has been licensed to Amplify Investments as an ETF. It is not possible to invest directly in an index. Exposure to an asset class represented by an index is available through investable instruments based on that index. EQM Indexes does not sponsor, endorse, sell, promote or manage any investment fund or other investment vehicle that is offered by third parties and that seeks to provide an investment return based on the performance of any index. EQM Indexes makes no assurance that investment products based on the Index will accurately track index performance or provide positive investment returns. EQM Indexes is not an investment advisor, and makes no representation regarding the advisability of investing in any such investment fund or other investment vehicle. A decision to invest in any such investment fund or other investment vehicle should not be made in reliance on any of the statements set forth on this website. Prospective investors are advised to make an investment in any such fund or other vehicle only after carefully considering the risks associated with investing in such funds, as detailed in an offering memorandum or similar document that is prepared by or on behalf of the issuer of the investment fund or other vehicle. Inclusion of a security within an index is not a recommendation by EQM Indexes to buy, sell, or hold such security, nor is it considered to be investment advice.