The Bank of England has come under some scrutiny over the past 12 months and with very good reason. The UK's interest rate setter had lowered the base rate to 0.25% late last summer after the 'turmoil' that has been promised by the Treasury Select Committee and the Bank of England's chief economist, Andy Haldane.
Back in July, the BoE had said that risks had started to crystallize as early as July last year. However the UK then went on to have relatively good data (in fact improved data in some cases) versus the Brexit expectations, even with the fall in the pound.
What I found quite ironic is that the BoE had been highly dovish, predicting doom post referendum, and in January, Haldane had issued an apology with regards to economic forecasting surrounding Brexit. Yet they still lowered rates while previously predicting that the pound would fall, probably exacerbating the cost push inflation being felt currently.
The issue regarding the pound and Brexit is a funny one, and I believe that Brexit was a mere catalyst for the pound's demise. The IMF had stated that it believed the pound was overvalued by 5-10% as early as 2014. The Balassa Samuelson theory says that a country's currency value should be in line with its productivity. Britain's productivity is one of the worst out of the major developed world nations. I think that says a lot about where the pound's value should be, and not where people believe it should be.
But back to the issue at hand. Andy Haldane and Mark Carney had been extremely dovish on the economy as previously stated. However, Andy Haldane has made quite an exuberant and cutting challenge to the governor's beliefs on the UK's interest rate setting policy. Have a look at the following chart.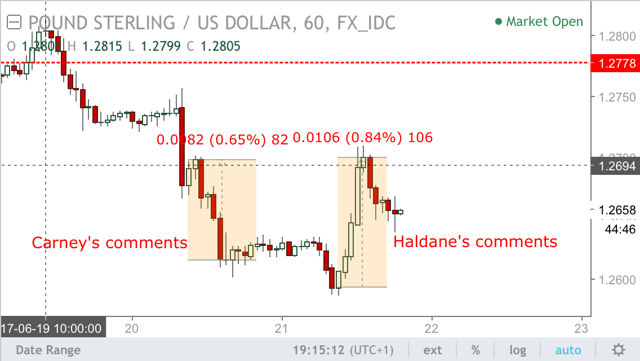 The pound reacted strongly on both days vs. the dollar and found some support later in the day.
Carney had said that he wants to keep rates on hold in order to keep continued stimulation. Today, Haldane said:
'"The risks of tightening 'too early' have shrunk as growth and, to lesser extent, inflation have shown greater resilience than expected. And if policy tightened 'too late', this could result in a much steeper path of rate rises later on, contrary to the MPC's collective expectation that Bank rate would increase 'at a gradual pace and to a limited extent'"
This is entirely conflicting with what Carney thinks. My opinion is that we need a rate hike in order to firstly, attempt to stem the house price rises we are continuously facing and secondly, try and stem this cost push inflation from. Wages are continuously sticky and house prices are killing many financially, as inflation is now higher than the average wage increase.
On Carney's mind, however, is probably retaining the financial stability that the bank has generated through the UK's QE program. Raising rates is likely to deleverage specific investments and lead to declines in the FTSE, proven today with the index ending the day in the red, down 43 at 7373 from the daily high at 7406.
I have said for a long time that rates have had to rise, never mind because of Brexit or being an inflation hawk, but to leave space to accommodate if any other crisis strikes. 18 month time lags in monetary policy is a long time, and not having the adequate accommodative availability could be hugely detrimental.
Disclosure: I/we have no positions in any stocks mentioned, and no plans to initiate any positions within the next 72 hours.
I wrote this article myself, and it expresses my own opinions. I am not receiving compensation for it (other than from Seeking Alpha). I have no business relationship with any company whose stock is mentioned in this article.